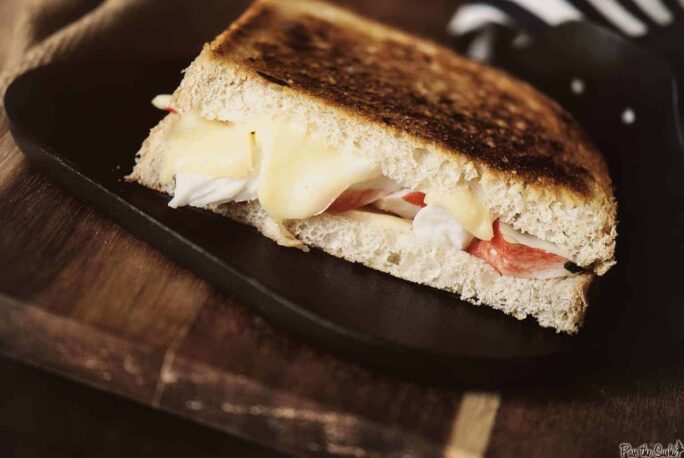 Believe it or not, until I made this sandwich, I had forgotten how amazing a grilled cheese could be. Until I took my first bite, I didn't know how perfect a grilled cheese with clumps of seafood in the middle could be. I could have eaten three and not given a crap about by arteries. I'm young, wild, dangerous, and you can't stop me.
When T-Fal sent over an email with this lobster grilled cheese and their tiny little grilled cheese griddle I was open to give it a try. This griddle is just that – a single egg – normal square white bread – one potato cake – or tiny pancake – griddle. It would be perfect for a dorm, small apartment, first time renter/home owner. It's adorable and tiny and serves a very unique purpose. That being said, I would never have had a lobster walking around my dorm – so I adapted this recipe to work for my tiny kitchen.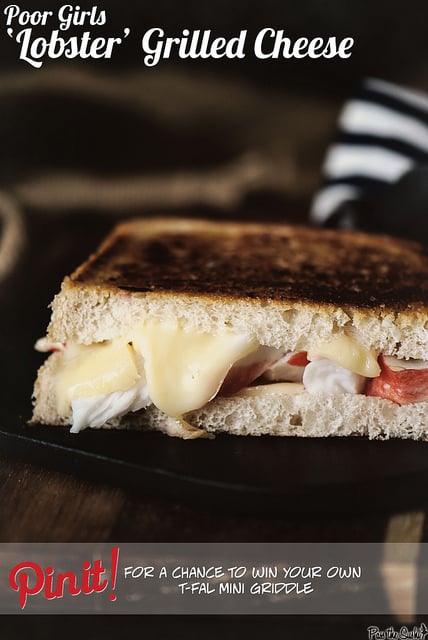 Poor Girls Lobster Grilled Cheese
In which I use imitation lobster to fulfill my seafood craving slathered in cheese. Also, because I'm too cheap to slather real lobster in cheese. 
Ingredients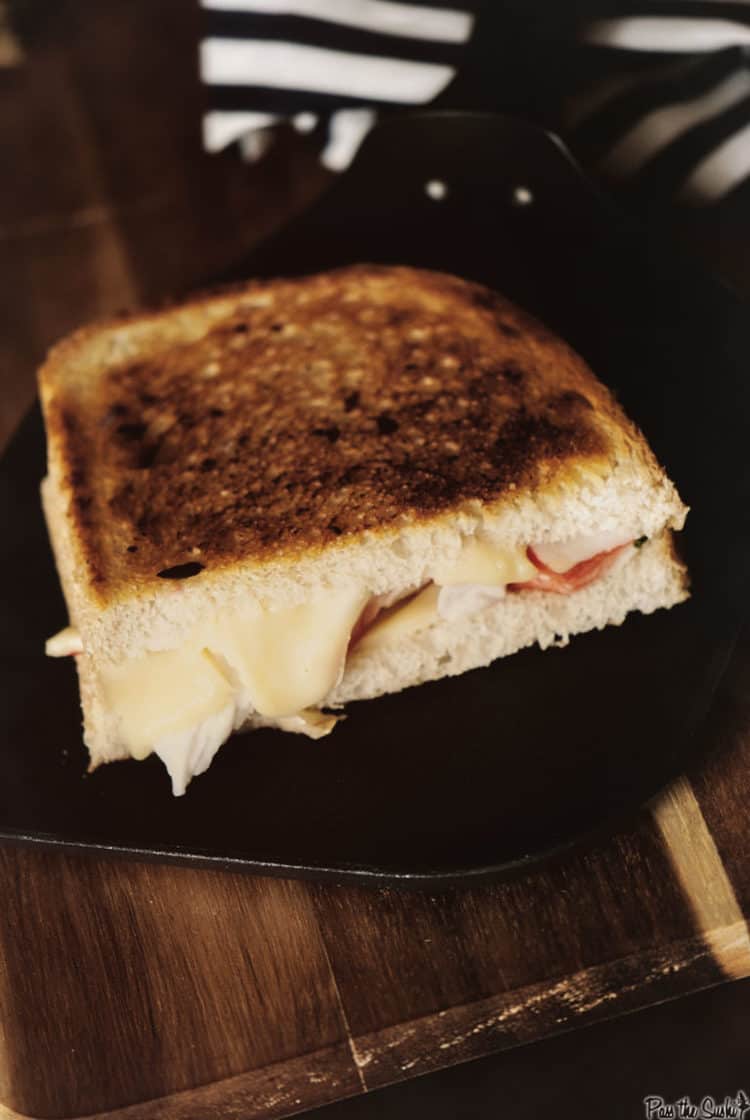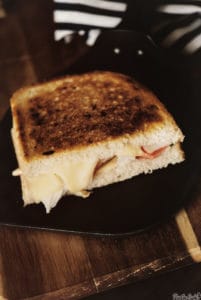 6 tbs butter, softened
1 teas shallots, minced
1/2 teas fresh herbs, thyme, tarragon, chives, ect, minced
1 cup imitation lobster or the real deal – go on splurge!
Kosher salt
Freshly ground black pepper
8 slices of fontina cheese
4 slices Thick sliced white bread
Preparation
With a fork, mix together the butter, shallots and herbs. Season with salt and pepper if needed. Roll in between plastic wrap and refrigerate until ready to use.
Preheat your griddle over medium heat. Melt butter ( a tbs at a time, I say don't waste good butter) in microwave or in a small saucepan over low heat.
Brush butter over the outside of one slice of bread. Lay on the griddle and top with cheese, lobster, more cheese and a quick brush of butter. Top with the remaining slice of bread, brush with butter, and press with the back of a spatula. Cook until golden brown on bottom and cheese has just started to melt.
Flip and press again. Cook until cheese is melted and bottom is golden.
Serve. Bite. Roll those eyes to the back of your head. Moan. Repeat.
Pin It to Win It!
Pin a pic from this post with a link to the pin in the comment section and you will be entered to win your own T-Fal Mini Griddle! 
Entries accepted through July 24th 2013. Winner will be contacted via email and announced on the following post.