Peanut butter Oreo popsicles are going to become your new favorite frozen treat. Trust me on this!
I'm sure I have burnt you out on popsicle recipes this summer, but pity me for I am ice cream maker-less. Not that I can really complain, because I don't have a vast amount of space in the freezer for one anyway. But the chimes have rung out in my mind and I am scurrying to get up all the summer fun posts I have been squirreling away before the leaves change color.
It was like a silent alarm went off in my head this weekend as I started contemplating holiday gifts. There are no birthdays or real celebrations from mid-September until December in our family. Everyone is either a product of cold winters or has their birthday stifled by other family holidays. Which means that from August 17th on, it's full on holiday shopping mode for me.
No, I wont be the person picking out my holiday ornaments before I hand out the last of last year's candy to the kids at Halloween. But I can start to plot. To stir up my ideas of grandeur, the most awesomest of awesome gifts, the tastiest party, the stocking stuffers and so on. I am like a freakin ninja squirrel of holiday presents, stocking up and storing for that special day. Sure, there are apples to be picked, pumpkins to be haunted, and turkeys to be carved, but from here on out, somewhere in the back of my head, the Christmas bells are ringing.
I hope that song is just as stuck in your head as it is mine right now.
There's no undoing that one. Sorry. But at least it has you thinking of cold things, like popsicles!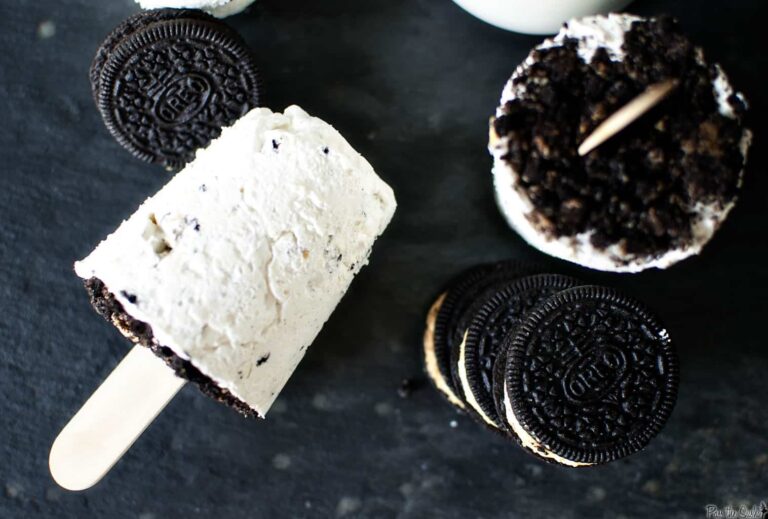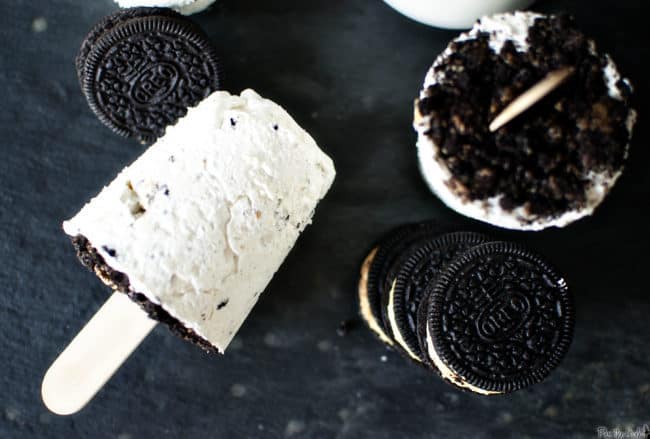 Peanut butter Oreo popsicles, if you please.
📖 Recipe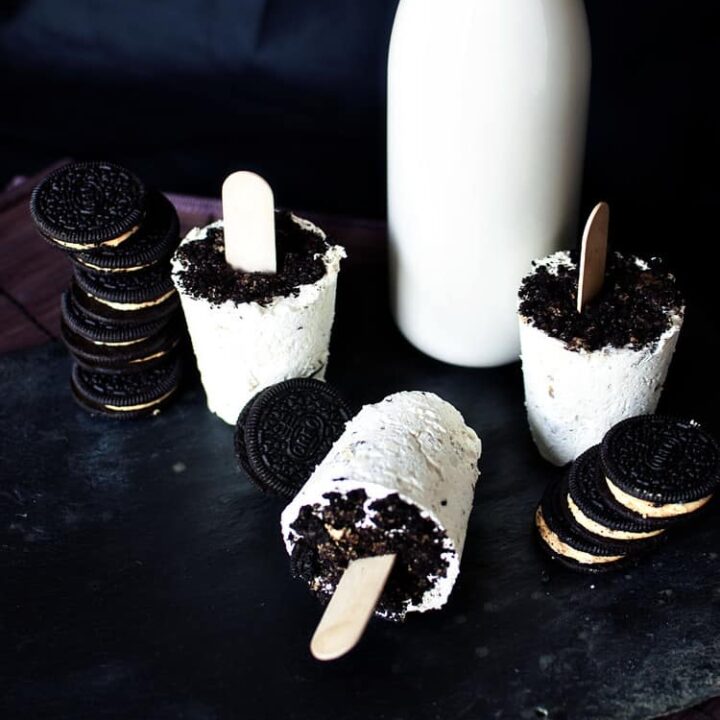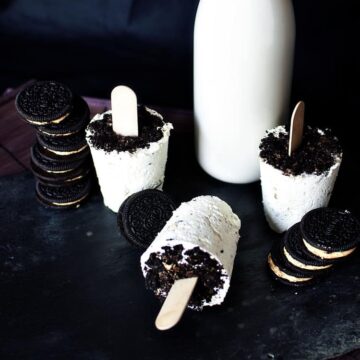 Ingredients
1

container whipped cream

-

not the kind in the squirty jar, thawed

8

ounces

cream cheese

-

softened

18

Peanut Butter Oreo cookies

-

plus 4
Instructions
In a ziplock bag, whack the cookies around a bit so that they are broken into large chunks. I like to use a rolling pin and let out some frustrations. Don't go haywire though, you don't want crumbs, yet.

In another bag with remaining Oreo's, beat the living day lights out of things for a fine cookie crumbly topping.

In a large bowl, whip cream cheese until light and fluffy. Fold in the whipped cream and cookie chunks.

Pour mixture into popsicle molds or wax lined disposable cups. Gently pat down to make sure all air bubbles are filled in. Insert your wooded craft sticks and sprinkle cookie crumbs on top, pressing gently with your fingers.

Freeze for at least 4 hours.

Remove pops from molds and enjoy.

To make this dessert "healthy", you could use light whipped cream and low fat cream cheese.
Nutritional informations provided as a courtesy and is only an approximatation. Values will changes based on ingredients used.
⭐ Tried this recipe? Rate it ⭐
Help out the next person and give it a star rating below!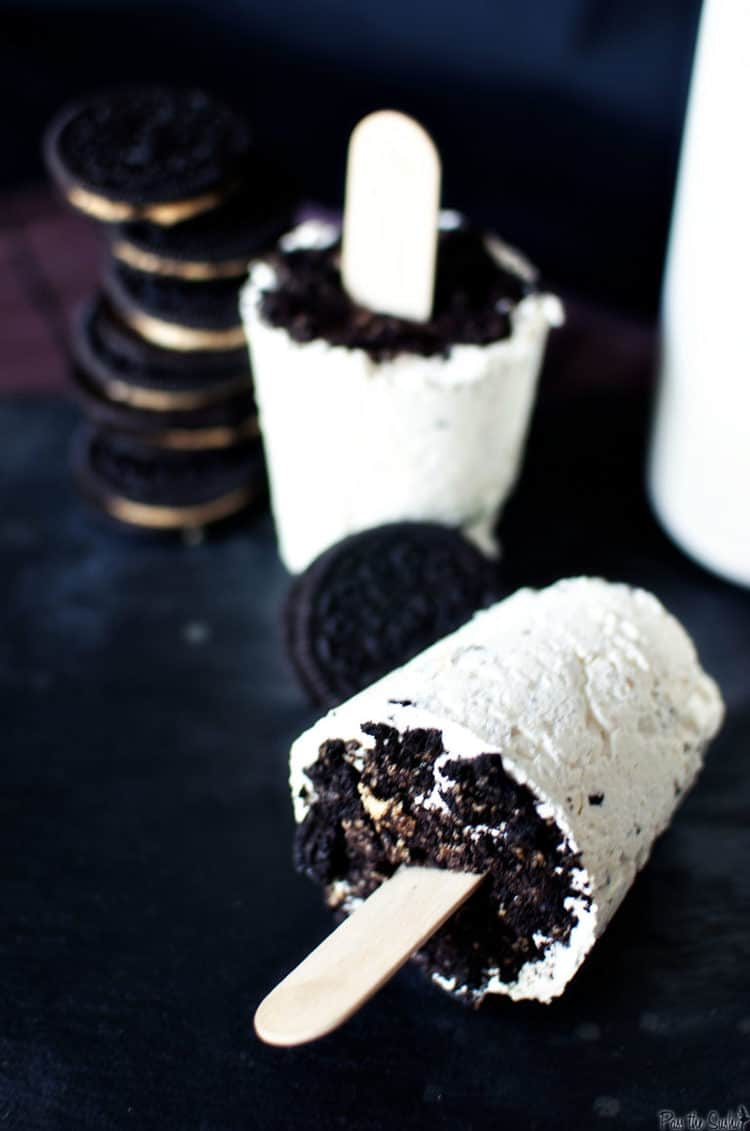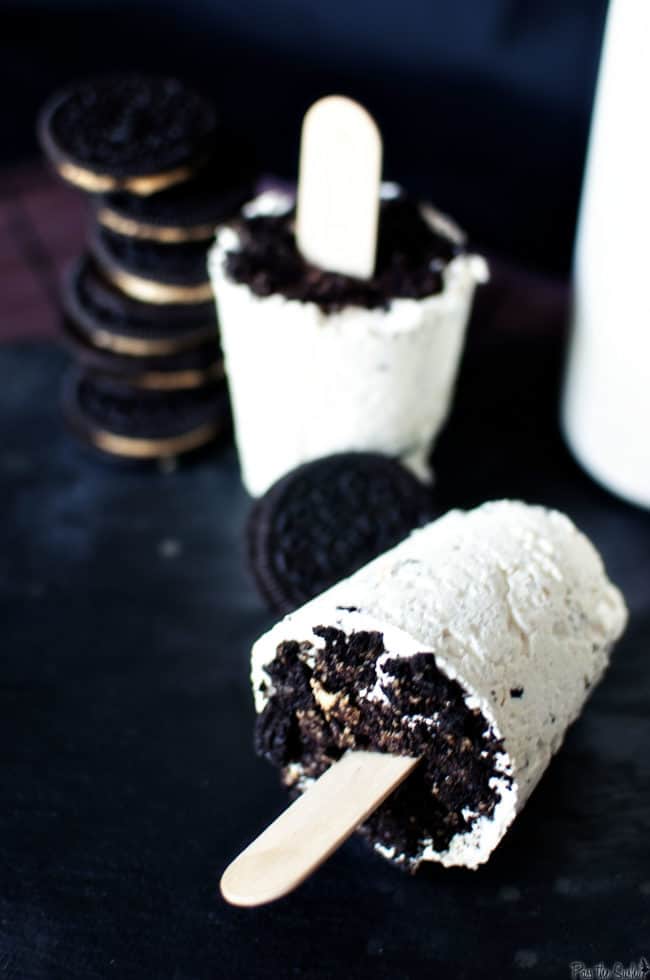 To be fair, Handsome's b-day is around the holidays. And so are several other awesome peoples, so it's not all Christmas planning.
If you are not a fan of the holidays, don't worry. Pass the Sushi will remain seasonal and fat kid friendly long before it becomes like the shelves of your local art store after the 4th of July.