Favorites come in many shapes and sizes. Favorites in music, for example, is dependent on the listener's tastes. When it comes to recipes, favorites are typically quick and easy, like these caprese appetizer skewers.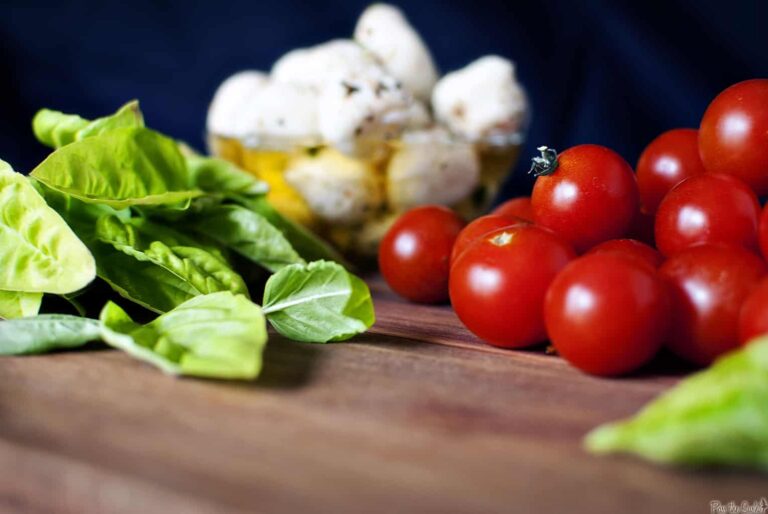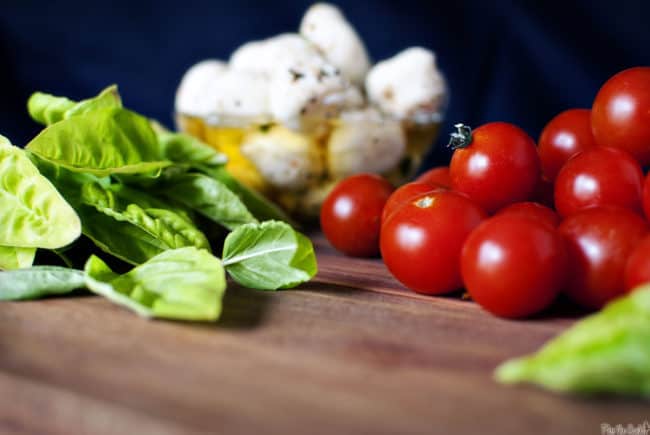 Remember the chain emails that asked you a billion questions so your friends could get to know you better? Yeah, after the 900th time I had to answer that my favorite color was red, I gave up. Filing those emails in spam every time I got one, begging my friends to stop sending them. We were in junior high school, so I'm sure that was why these were so fun for a while.
In the blogging world, I see similar things spread like wildfire and often don't participate, haunted by the memory of those emails. But I have seen this 7 links chain mail going around, and actually think it is pretty neat. After Ping and Steph tagged me in their posts, I couldn't resist jumping in.
It doesn't just ask generic questions, it asks ones that selfishly I love.
What posts are we most proud of? As a food blogger, I can tell you nothing is more deflating than spending 7 hours on a post, only to get few interested comments and little to no traffic to the hit. All while your quick dinner fat kid friendly throw stuff in a bowl and heat post goes viral. Sure, they are both yummy and were both posted for a reason, but dangit! Don't people see the effort in some of those other posts? Nope, because cupcakes and quick and easy recipes win out every. single. time.
I try not to let it get to me. Heck, I enjoy a cupcake every now and then and have vowed to not change what I cook in an attempt to boost hits (I do not like sweets that much). So here is my chance to shine some light on some posts you may have missed. I'm proud of these posts, and I invite you to go back and leave them a little extra love, because these are probably some of the posts that make me want to learn more and keep on with this whole blogging gig.
 1. The most beautiful post: This one is tough. What do you think my most beautiful post is? I'm sure there is one where I've tried to be verbally philosophical and that mumbo jumbo (actually, I try to keep it rather light on here) but immediately I think of pictures. I think this post has amazing pictures. Sure, its ground pig intestines, but hell, I think the pics are great! However, I think it was after this post that I sat back, realizing that I was starting to get the hand of this photography thing, and that it's not just luck. I will never be the beautiful Tartlette or the next Cannelle et Vanilla, but maybe I can take some pretty pictures from time to time.
2. The most popular post: If I had known that Bubble Up Pizza would be my most popular post, I wouldn't have posted it. It's not that I don't enjoy it (actually, its a favorite from my childhood), it's not that it's not yummy, it's not that I can't make the whole tray disappear. No, it's that there are many other posts that I feel I put effort into and would love for people to enjoy. I wouldn't have posted it if it wasn't good. I know that quick and easy suppers actually help out a lot of families and are appeal to all ages at the table, so I really do love that a lot of people enjoyed this one, I just didn't expect it to become what it did in my analytics.
3. The most controversial post: Oh, this was easy. After Tastespotting posted this on their Facebook page and I saw all the lovely comments about how disgusting of an idea it was, I sat back and grinned from ear to ear. It's not disgusting or gross. It's fat kid food. Pure and simple. I just wasn't afraid to post it, eat it and enjoy it. Unless you've been a vegan your entire life, I'm sure there's been a moment or two where you've indulged on something you wouldn't share with the world. So, hate me for it, but enjoy a bite of the Manwich!
4. The most helpful post: I'm not sure how to answer this one. Are my posts supposed to be helpful to you the reader or me? If it's for you, this one was probably helpful (though I really am not an experienced photographer). As for awesome posts with helpful recipes, this one is a party for the taste-buds.
5. The post that was surprisingly successful: Wow, this one! Seriously, those pictures are horrible. It's chicken wrapped in bacon. Sure, it's tasty, but how can I make that look good?
6. The post that did not get the attention it deserved: Easy. This one. This was hands down one of my favorite things to make. You should go snuggle with it, now.  If Handsome had to answer, he would say this little number. And then he would tell me I never make anything he likes over again. PS. This one could use a little love too, because it was slammin'. No lie.
7. The post that I'm most proud of: Probably somewhere in between here and here, I realized I wasn't picking recipes for the blog that I thought would get hits. I was picking recipes that I wanted to challenge myself with. I'm proud of almost all of my posts, so this is a hard pick.
Favorites all over the place! But there's still one more of my favorites to cover...


Caprese Appetizer Skewers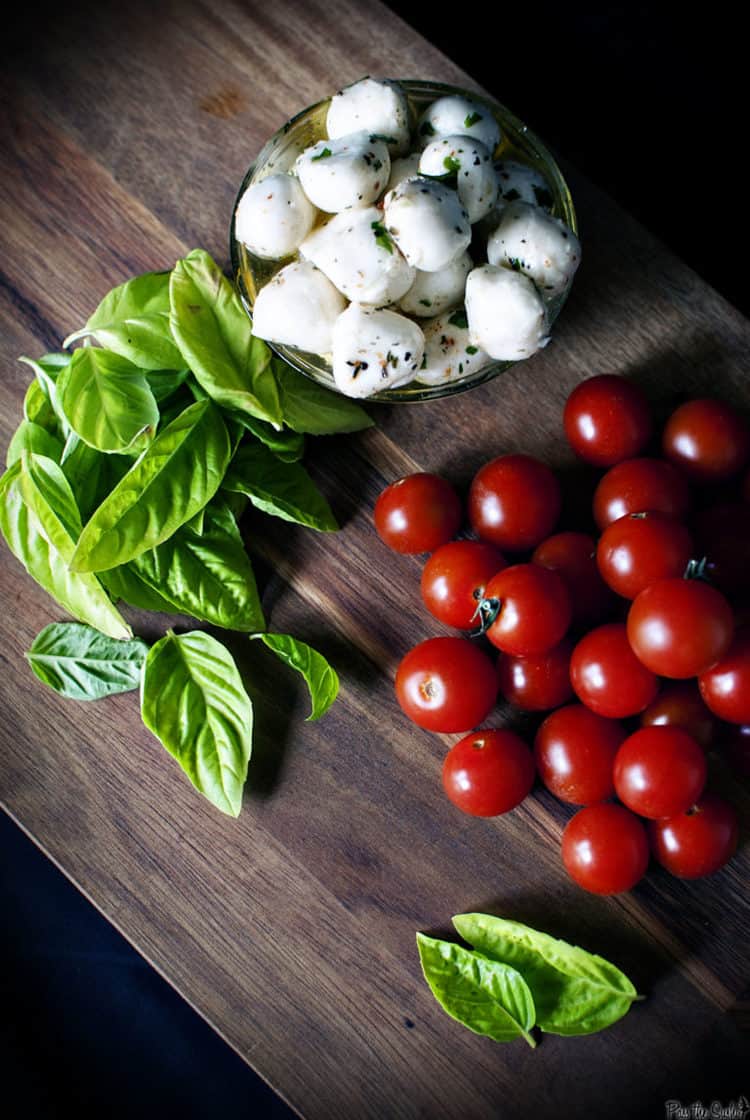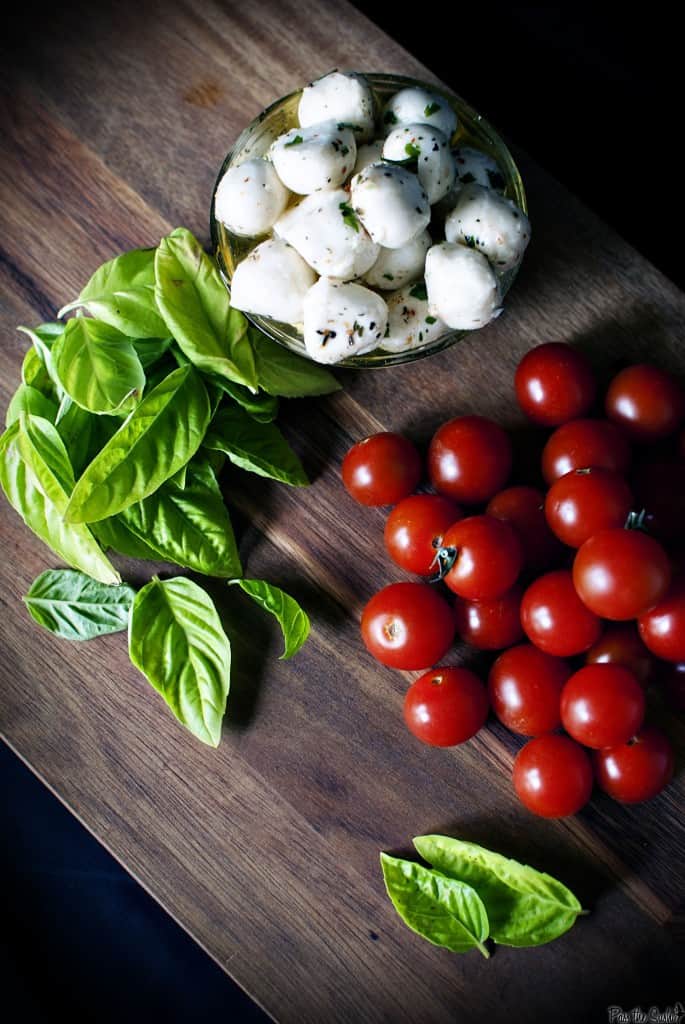 Adapted from everyone who ever thought cheese on a stick was an awesome idea. 
Ingredients:
15 wooden skewers
2 cups fresh basil
1 pint cherry tomatoes
1 container marinated mozzarella bites, 8 to 10 ounces
Preparation:
Slice cherry tomatoes in half.
Fold a basil leaf over the tomatoes and skewer. Follow with a mozzarella ball and repeat until skewer is ½ to ¾ full.
Lay on a platter and drizzle with a little of the leftover liquid from the marinated mozzarella.
These can be made with large toothpicks and only one tomato, basil and mozzarella on each for a smaller appetizer.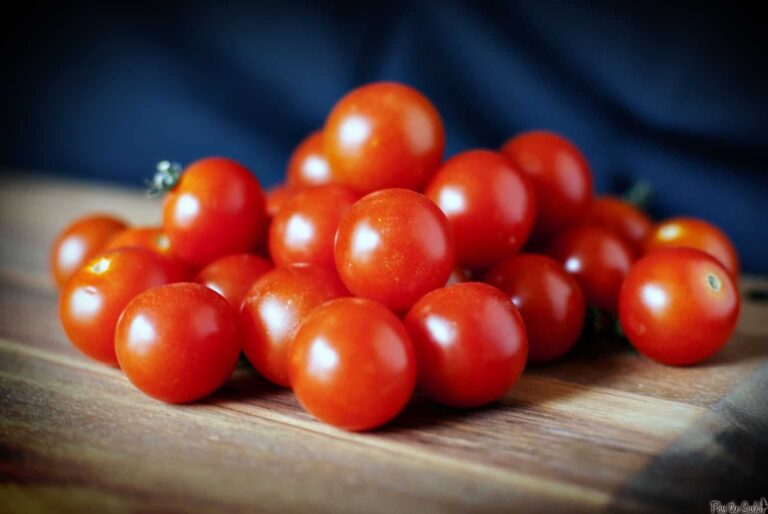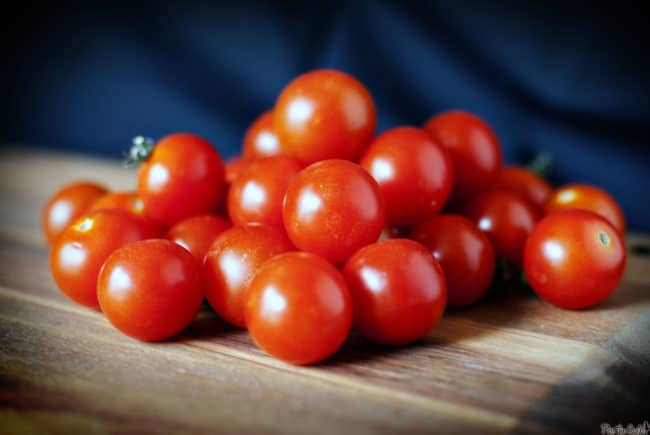 I really think this 7 links thing is a way to show off some posts. So instead of linking to 5 other bloggers like I am supposed to, I am inviting you to share your 7 picks on my facebook page. I want to see what favorites you are proud of.