Kandy Kakes are two tender sponge cakes with a smooth peanut butter filling between them, then dipped into chocolate. They're a childhood snack favorite that just had to be recreated! 
TastyKake is a treat brand I can remember snacking on since I was knee high.
I'm 99% sure it is not a nationwide brand, so you have to be from my neck of the woods to understand. It was awesome to find one of the many TastyKake treats in your lunch box from day to day.
A while ago, it was in the local news that TastyKake was closing. I was terribly saddened by the idea of another local company closing its doors and turning off the lights, especially one that had brought me so many smiles from a brown paper lunch bag. I believe they have been 'bailed out' and are still going to continue to make their delicious snacks – or at least I hope so because Hostess Ho-Ho's and Twinkies don't compare to the joy of TastyKake.
I can't imagine being up before the sun to launch the boat with my father without a 6 pack of mini chocolate covered doughnuts to keep my eyes open. Nor digging through my lunch box not to find a cookie bar, or rummaging through my grandparent's cabinets to find them barren of Krimpets. I've mailed TastyKake treats across oceans to friends who can no longer get their hands on them.
My favorite, and I would go as far to say 'fan favorite', are the Kandy Kakes.
Kandy Kakes were the perfect after school treat. Two small sponge cakes with a thin layer of peanut butter, dipped in chocolate; even better if kept in the fridge to make sure the chocolate didn't melt in your hands. So, at my initial panic over the possibility of TastyKake shutting down, I went on the hunt to recreate my favorite childhood snacks and found a recipe for Kandy Kakes that comes pretty darn close to the real deal.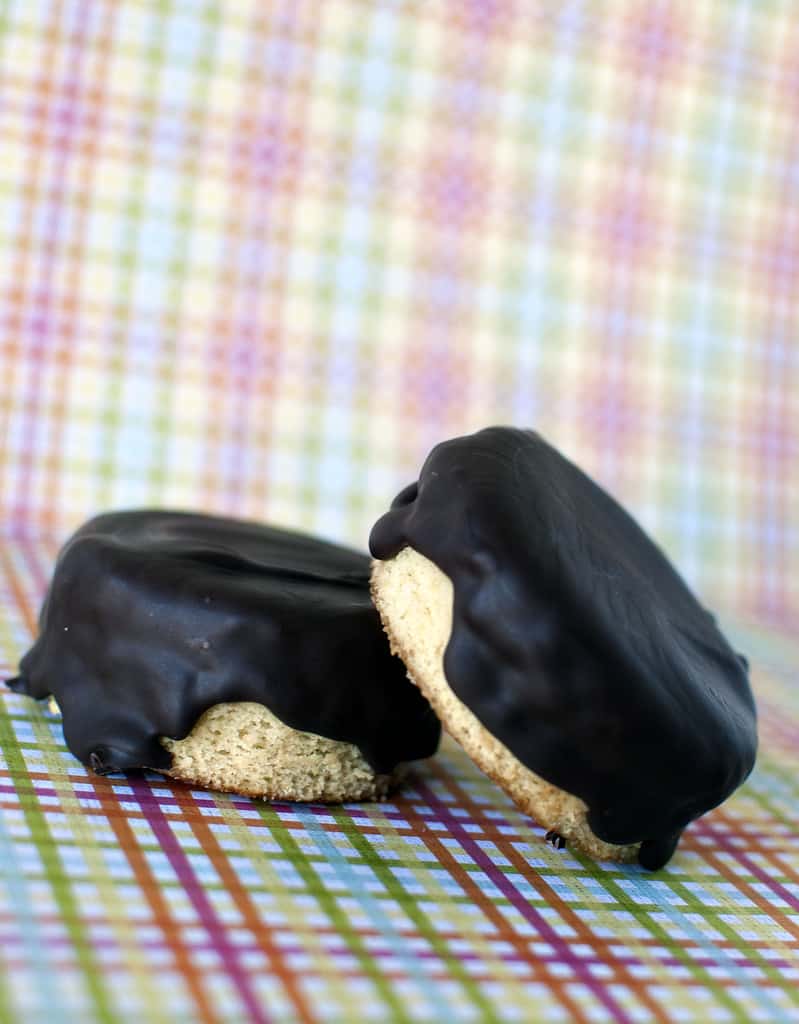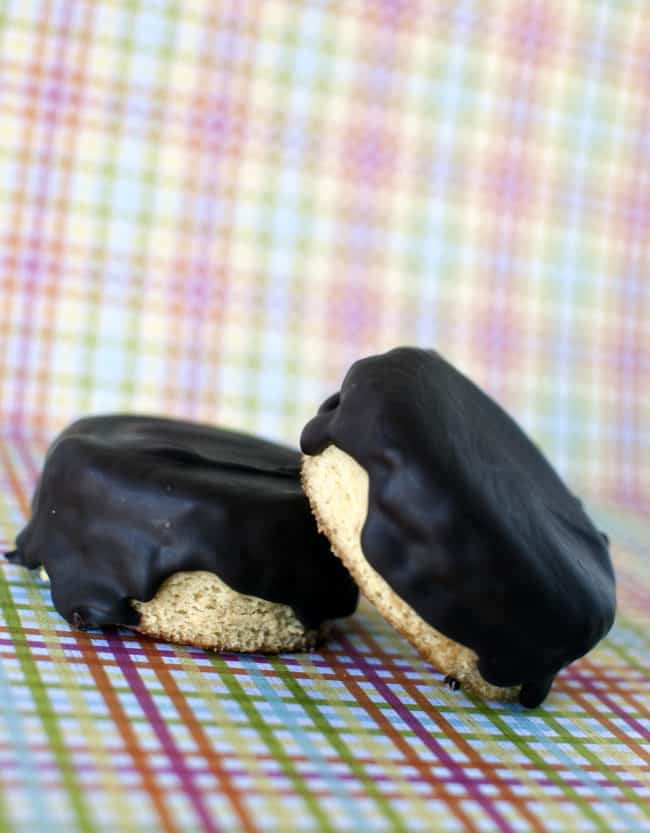 Peanut Butter Kandy Kakes

Found on bakingsheet from Gourmet magazine

Ingredients:

For cake:

4 large eggs, room temperature
2 cups sugar
1 tsp vanilla extract
1 cup milk (low fat is fine)
2 tbsp butter
2 cups all-purpose flour
1 tsp baking powder

For topping:

1 1/3-1 1/2 cups creamy peanut butter (do not use a "natural" kind)
1 pound milk chocolate, chopped

Preparation:

Preheat oven to 350F. Butter and flour a 17×11 1/2×1-in. jelly-roll pan, knocking out excess flour.
In a large bowl, using an electric mixer, beat together eggs and sugar until thick and pale, 3-5 minutes. Beat in vanilla.
While that is beating (or before, if you're not using a stand mixer), heat milk and butter in a small saucepan or in the microwave until the butter has just melted and the milk is steaming, but not boiling. Set aside.
Sift flour and baking powder into the beaten egg mixture and beat until just combined. With the mixer running, slowly stream in the milk/butter mixture until just combined.
Pour batter into prepared pan, spreading it out evenly, and bake for 20-25 minutes at 350F. Cake is done when a tester comes out clean and the top is golden and springs back when touched lightly.

Let cool on a wire rack for 5 minutes, then place small dollops of peanut butter on the surface of the cake. Use an off-set spatula to spread the peanut butter into an even layer, covering the entire cake.
Let cool completely, then refrigerate for 1-2 hours to make sure the peanut butter is set.

When chilled, melt the chocolate in a double boiler (bowl over a pan of simmering water), stirring constantly. Once it is smooth, pour it over the chilled cake and spread it evenly with an offset spatula.
Using a knife, cut the cake into 30 bars. It is not necessary to cut all the way through the cake, just into the chocolate/pb layers. Make sure the cuts are clear, so wipe your knife in between each. This will make it easy to divide up the bars when the chocolate has set. ( I used a round cookie cutter to mimic the shape of the original treat).
Return cake to fridge and chill until chocolate is firm (or overnight).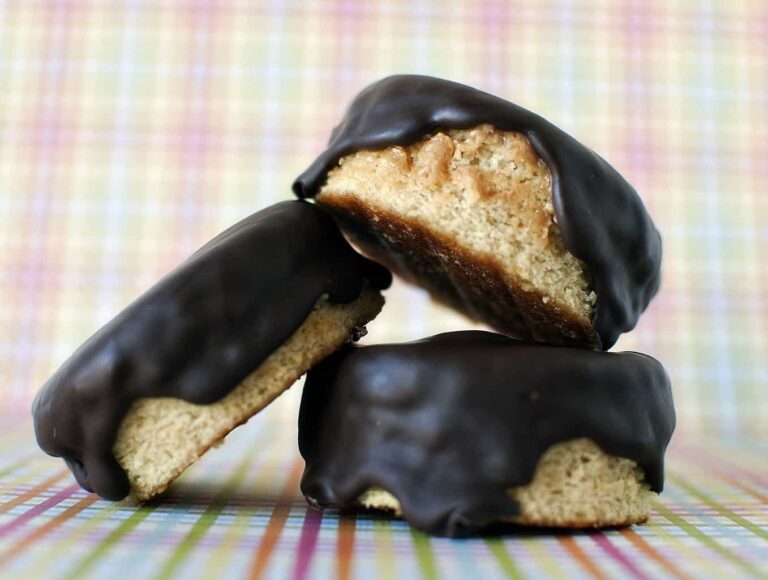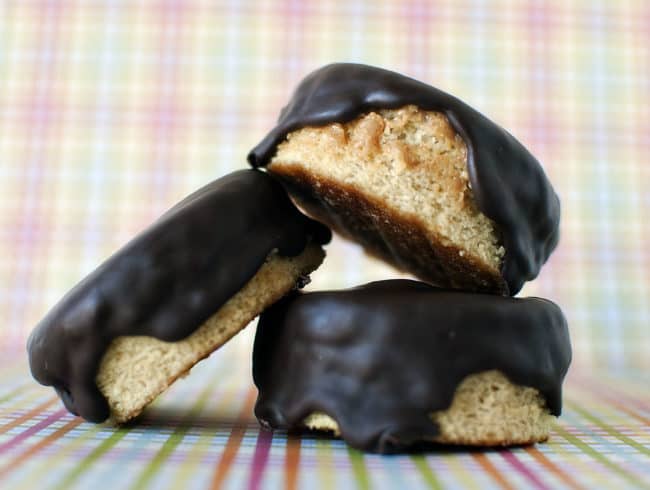 What about you? Did you grow up with Kandy Kakes? What was your favorite lunch box find as a child?