Baked chicken nuggets are quick and easy to make, so they're perfect for dinner when you have "no time for dinner".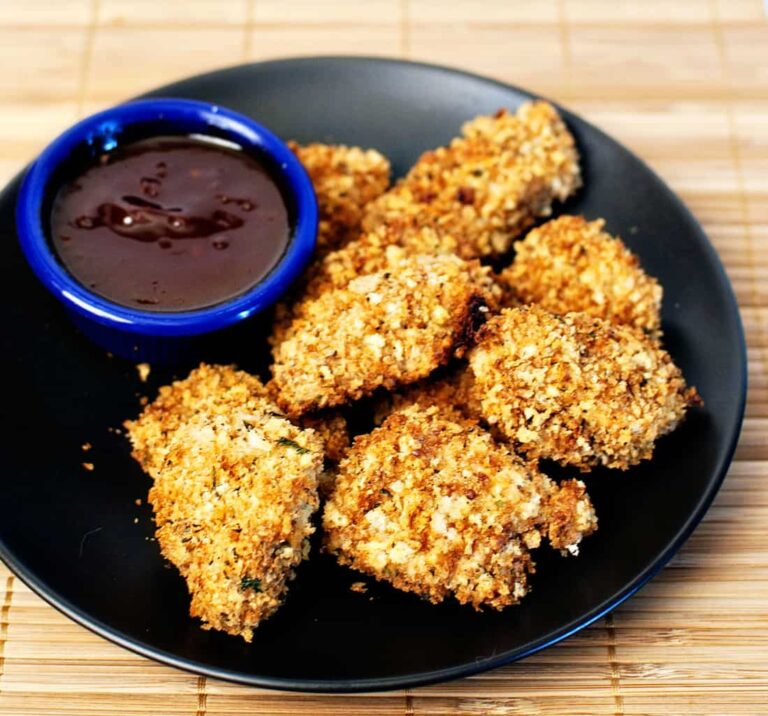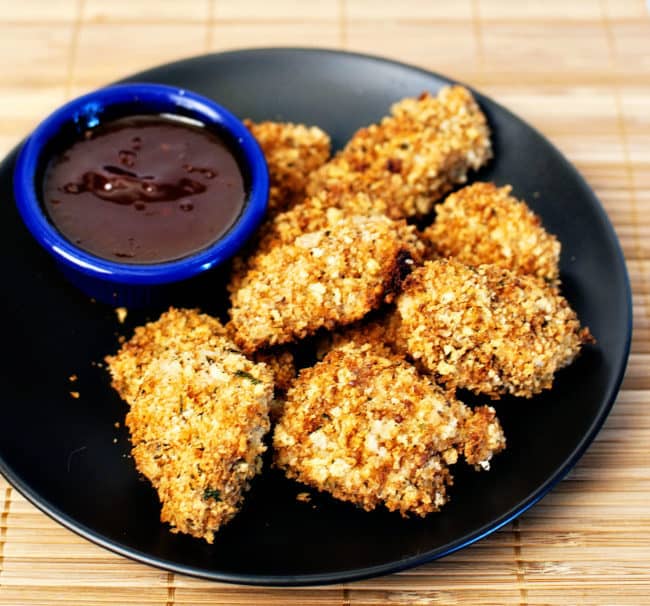 You know what I don't get? Not having time for dinner. What has changed so much that people now don't have the time for dinner? Make time. My family always had dinner together, it may have been Shake-n-bake with frozen Green Giant veggies, but it was time spent as a family at the supper table. I may not be at home with my father making me eat what's put in front of me, but I still serve dinner at the dinner table almost every night. No TV, no phones, no games. Dinner. Like baked chicken nuggets.
And what's with this not having the time for it? Doesn't it take time to call your order in and then wait for it to be delivered or go pick it up? (Unless they have invented those Jetson's instant dinner transporters and I don't know it yet…) I understand that every now and then it is late, and grabbing something quick on the way home is a solution, but I really believe in the quality time spent in the kitchen and around the dinner table.
Sure, Handsome may sigh every time I ask him to help in the kitchen, but its time we get to spend together. We're not staring at the boob tube, not communicating or interacting. It's time together in our tiny little cramped kitchen, and it's time that I love.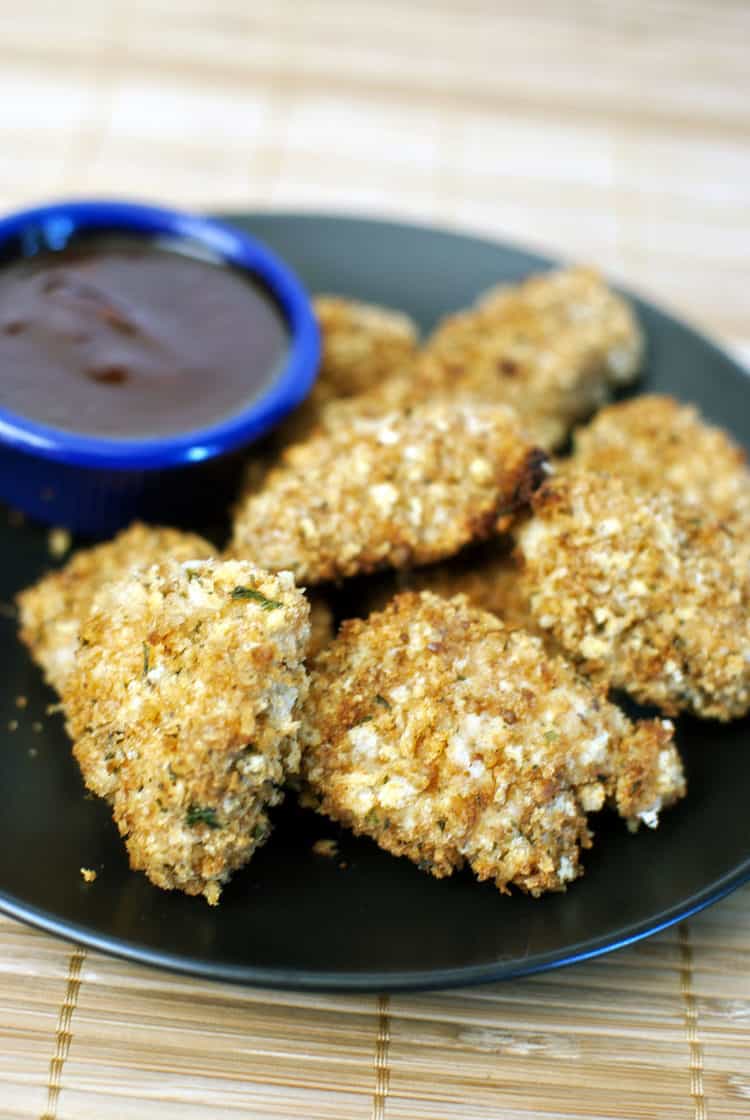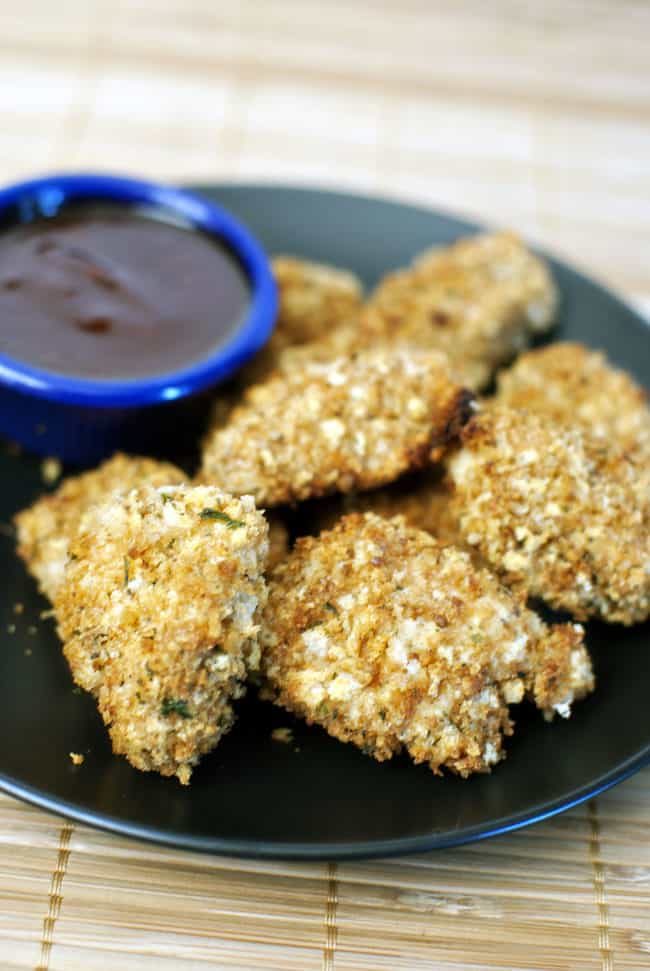 Baked Chicken Nuggets

Discovered on Tracy's Culinary Adventures, from America's Test Kitchen Healthy Family Cookbook

Ingredients:

2 cups panko breadcrumbs
2 tablespoons canola oil
1/2 cup all-purpose flour
1 teaspoon garlic powder
1/8 teaspoon cayenne pepper
3 large egg whites
1 tablespoon water
1 tablespoon Dijon mustard
1/4 teaspoon dried thyme
1 1/2 lb chicken tenderloins (or boneless, skinless breasts cut into 3/4-inch strips – or into small 1 to 2 inch nuggets)

Preparation:

Preheat oven to 475 degrees F.  Set a wire rack inside a rimmed baking sheet and spray the rack with cooking spray.

Combine the breadcrumbs and canola oil in a 12-inch skillet, and cook over medium to medium-high heat, stirring almost constantly, until golden brown.

Transfer the breadcrumbs to a wide, shallow dish and set aside to cool.  Mix the flour, garlic powder, and cayenne pepper together in a second wide and shallow dish.  Add the egg whites, water, Dijon mustard and thyme to a third dish and whisk vigorously until the egg whites are broken up and the mixture is foamy.

Season the chicken with salt and pepper.  Dredge each piece of chicken in the flour mixture (shaking to remove excess) then dip in the egg whites coating both sides completely.  Finally, place in the toasted breadcrumbs, turning to coat both sides.  Transfer to the wire rack and repeat with all chicken.

Spray the chicken lightly with cooking spray then bake for 10-12 minutes, or until the chicken is cooked through.
These baked chicken nuggets were surprisingly delicious!
I was impatient while toasting the panko, wondering if it would really make a difference or if it was just a waste of a step, but every step is worth it. These are crunchy, moist, baked deliciousness. (Let me just say these were so tasty I don't even remember what – if anything – I served as the side dish).