Chocolate chip cookie dough truffles cheesecake is one of those desserts that makes the problems of the world just melt away. Well, most of the time. You'll see what I mean.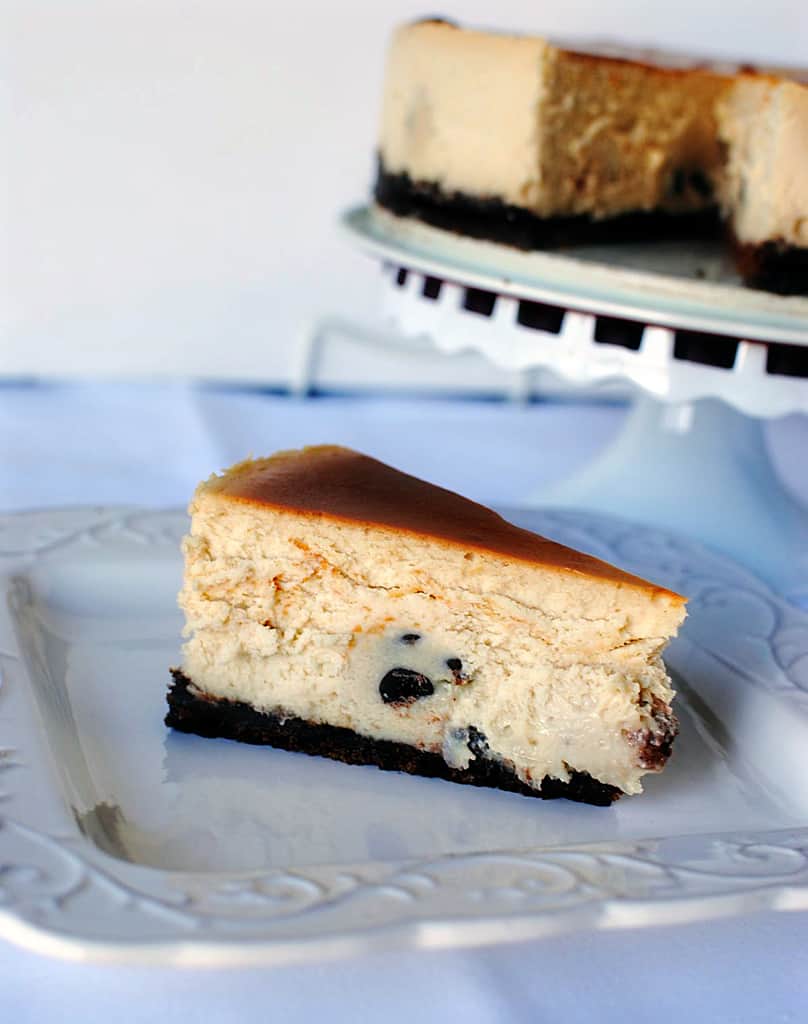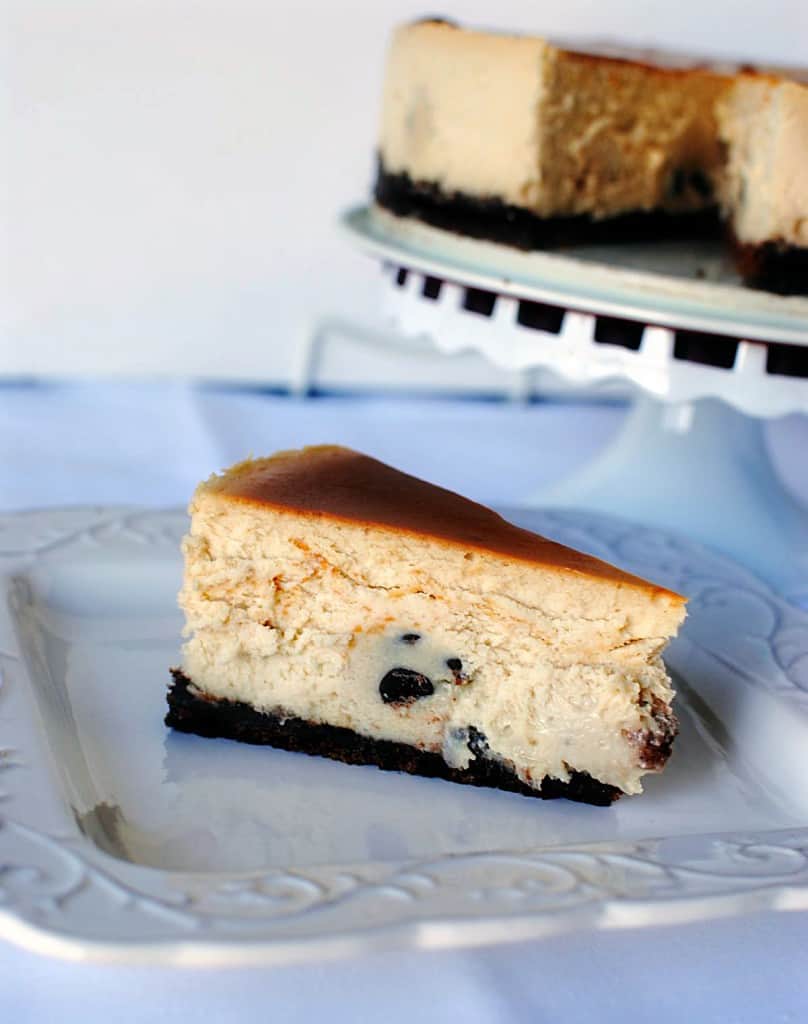 Last year on a cold winter's night while we were snuggled in bed, the house was broken into. I have tried to find a way to blog this out so that you will understand that while it was a terrifying event, we all had a good laugh about it at the end of the day.
It was 4 in the morning, our cars were parked in the driveway and the doors were all locked. There was snow on the ground and a dumb kid breaking into sheds stealing what he could carry to what was probably another car carrying the goods.
What possessed this person to break into our house, I'll never know. First of all, we are young, and Handsome owns his house, thus there is nothing worth stealing. Secondly, who breaks into houses with cars parked out front? And who breaks into a house if all you can see from the back window is a dog bowl 10 inches wide that sits a foot off the ground?
To top it off, I'm a very light sleeper. So the moment the door was popped open, I was up, and the dog was out the door after the culprit with Handsome right after him.
Remember, it's 4 am. Shock, snow, and PJs.
And here's where it all goes just plain humorous (well, if that can be said for a situation like this).
"Hey!", my BF yells out after the guy.

The ass clown stops in the neighbors yard, ducks down and replies, "What?"
Really?
Mind you, only seconds have passed and the world is spinning, but I am fully awake by now and amazed that anyone is this stupid.
Freezing and in a state of shock, the BF yells again.
"Who are you?" No response so he tries again, "Are you my neighbor?"
.....
Yep, just borrowing a cup of sugar.
"No, I'm your neighbor's friend."
.....
At this point all I can think is that if my cats got out into the dark and cold, I will kill this idiot. The BF dials 911 and in a matter of seconds there are cops patrolling the street with spot lights.
Nothing came of it and the person wasn't caught, but in hindsight it's a great story - minus the whole house being broken into part.
Marble was awesome and totally saved the day (We all know we've said our pet would lick a stranger to death before being mean - and yet).
If he had taken off in another direction in the backyard he would have fallen into a hole BF dug a while back for a project that he hasn't finished yet. #fail
And nothing will ever top the conversation that took place. Nothing.
Later that day, Handsome's truck got backed into in a parking lot. I can't remember it now, but I'm pretty sure there was a third crappy thing for the day, too.
Read this again and laugh. I promise that's what I did.
For an event like that, you need some chocolate chip cookie dough truffles cheesecake.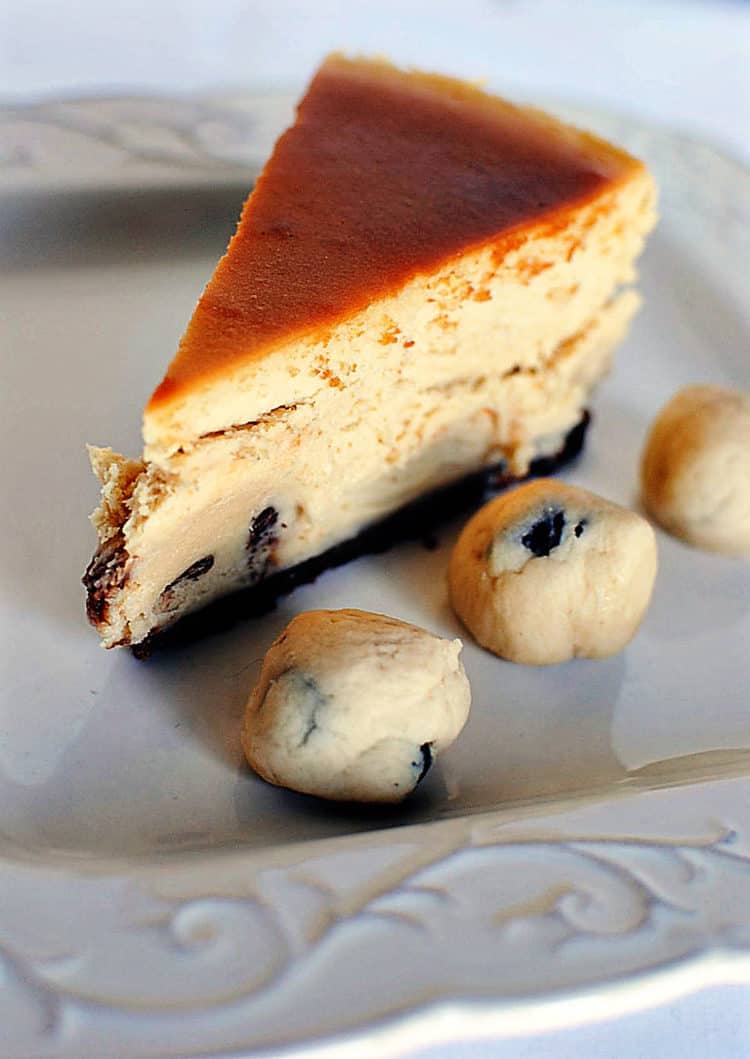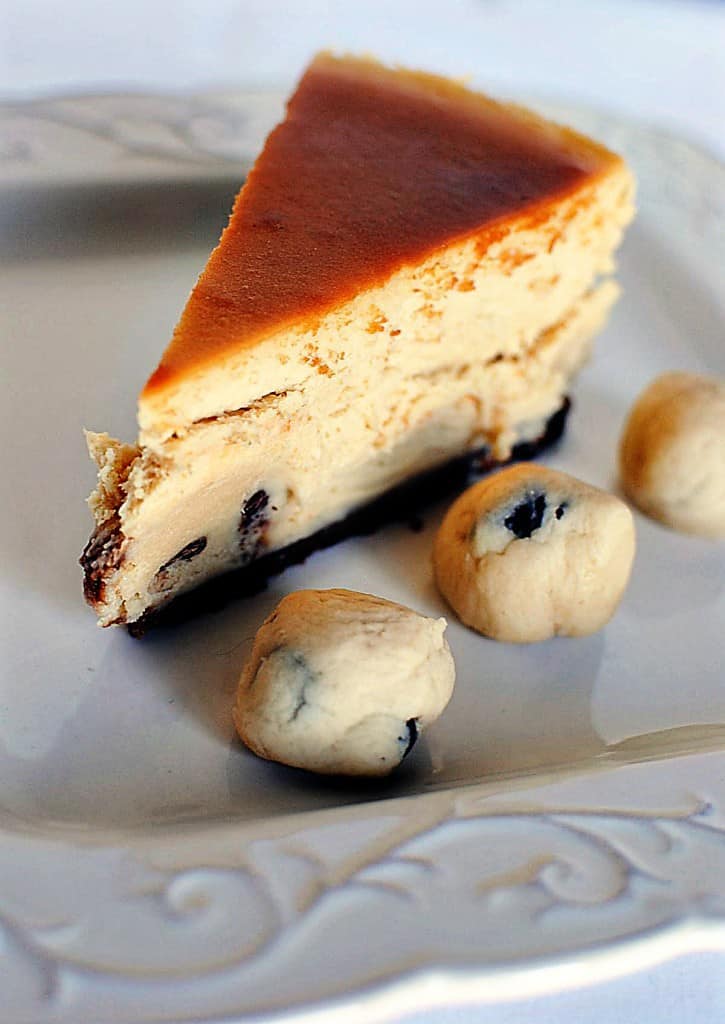 Peabody's Really Bad Day Fix-it-All Chocolate Chip Cookie Dough Truffles Cheesecake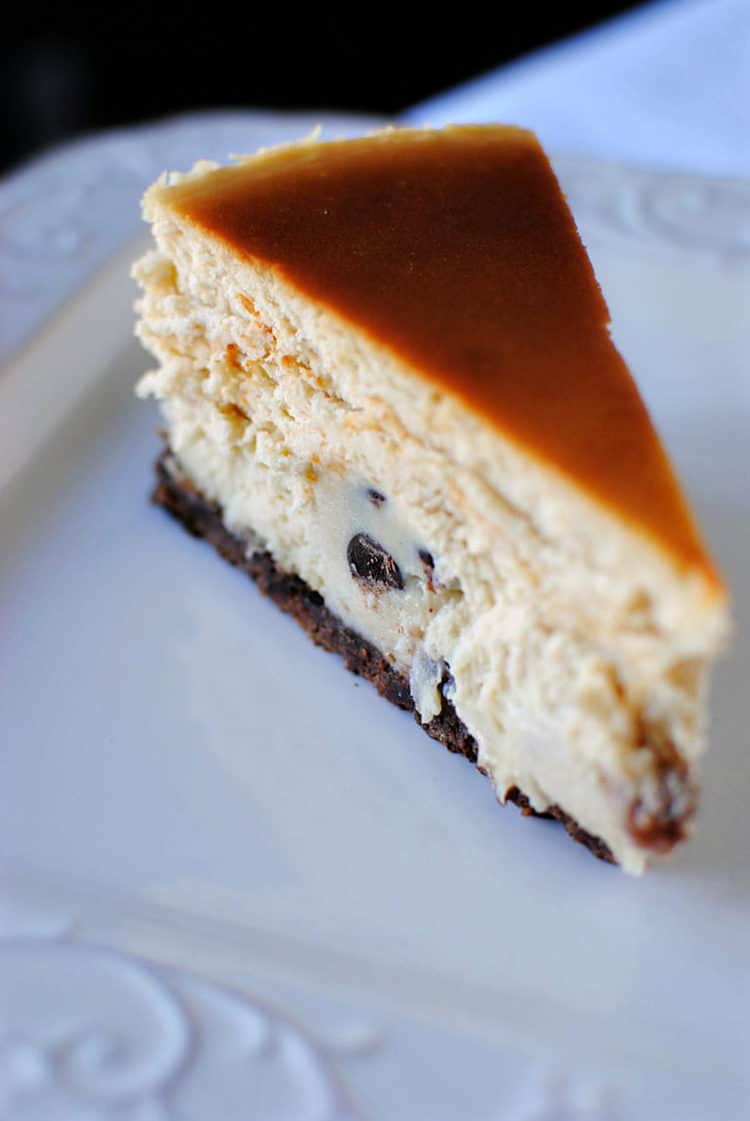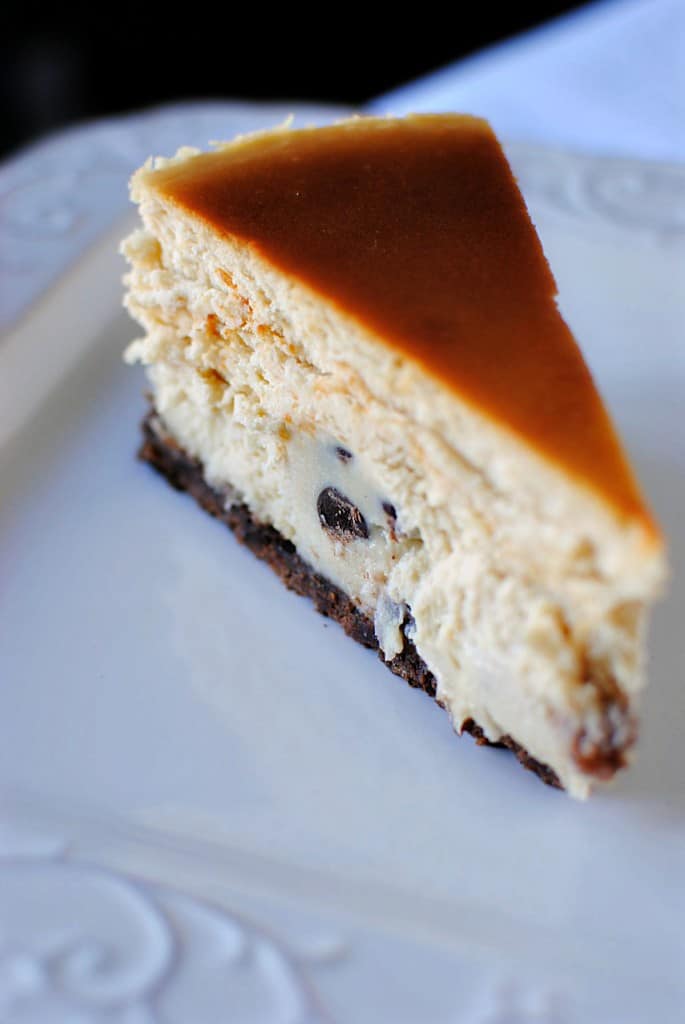 From Culinary Concoctions by Peabody
Ingredients:
For the cookie crust:
1 ¼ cups chocolate chip cookie crumbs (about 16 Chip's Ahoy Chunky in my case)
2 tablespoon sugar
¼ cup unsalted butter, melted
For the cheese cake filling:
32 ounces cream cheese
1 cup dark brown sugar, loosely packed
1 cup granulated sugar
2 tablespoon all-purpose flour, plus some for dusting the truffles
4 eggs
2 egg yolks
1 teaspoon vanilla
approximately 20 cookie dough truffles, plus 5-8 to place on top
Preparation:
Start by making the chocolate chip cookie dough truffle recipe, below.
Combine the cookie crumbs, 2 tablespoon sugar and melted butter. Press this into the bottom of a 10 inch spring form pan. Bake crust for 10 minutes at 350F and set aside. When cooled enough to handle, wrap the outside of the pan in aluminum foil to seal for the water bath later.
Mix the cheese and sugars with paddle attachment on medium speed, about 3 minutes. Add in the flour on low speed. Add eggs one at a time, scraping down the sides and bottom after each egg. Add the egg yolks and vanilla and beat until completely incorporated.
Place truffles into a large bowl sprinkle with flour and light coat each one with flour (this helps them not all sink to the bottom). Remove and excess flour and fold into cheesecake, reserving a couple to place on the top.
Pour the batter into the prepared pan. Place the last few truffles on top of the cheesecake.
Bake in a water batch at 350F for approximately 1 ½ hours. A knife inserted should come out clean when the cake is done.
Chill the cake overnight and then remove from the pan.
Chocolate Chip Cookie Dough Truffles
From Culinary Concoctions by Peabody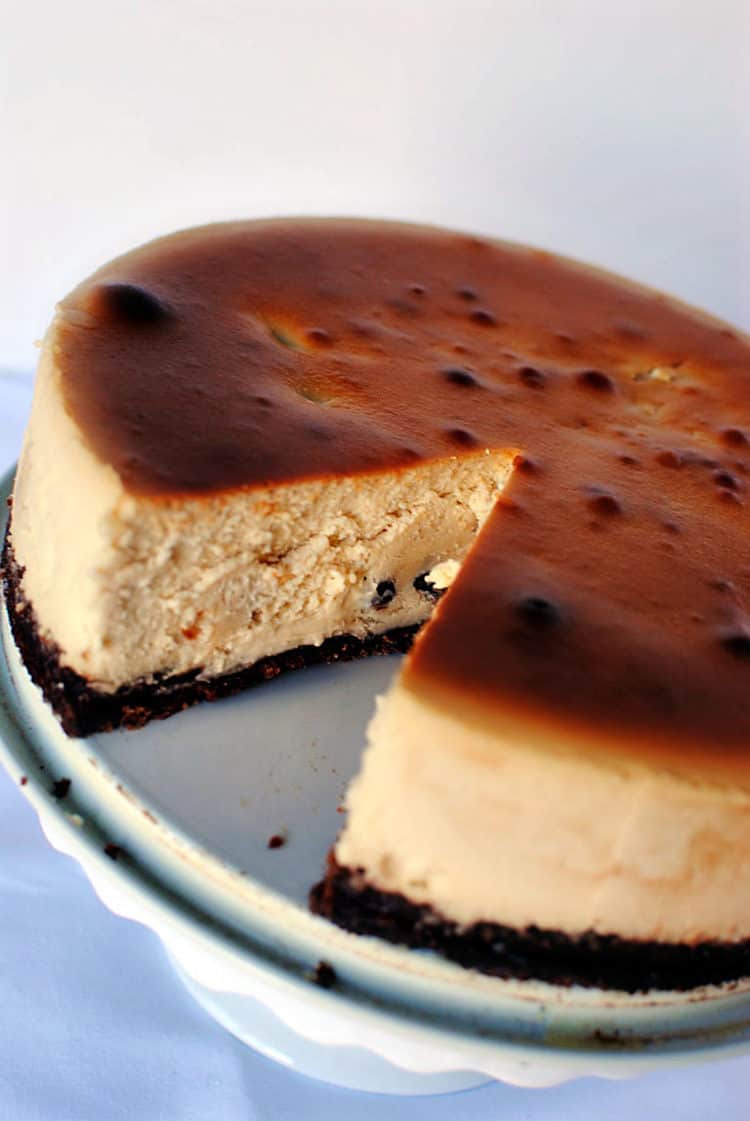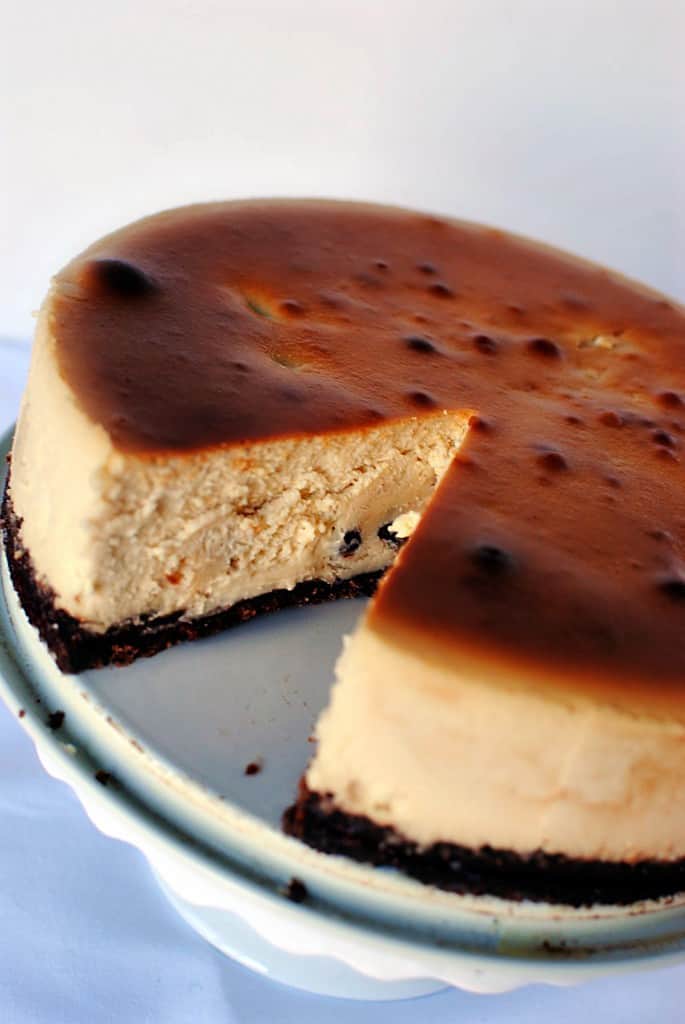 Ingredients:
½ cup unsalted butter, at room temperature
¾ cup packed brown sugar
1 teaspoon vanilla extract
½ teaspoon salt
2 cups all-purpose flour
14 ounces sweetened condensed milk
½ cup chocolate chips
Preparation:
Using a stand mixer (or a bowl and beaters), cream together the butter and sugar until light and fluffy, about 3 minutes.
Beat in vanilla.
With speed on low, slowly add flour, alternating with condensed milk, beating g well after each addition.
Fold in chocolate chips.
Shape balls into 1-inch balls and place into an air tight container. Store in freezer for at least 3 hours.
Makes about 45 truffles.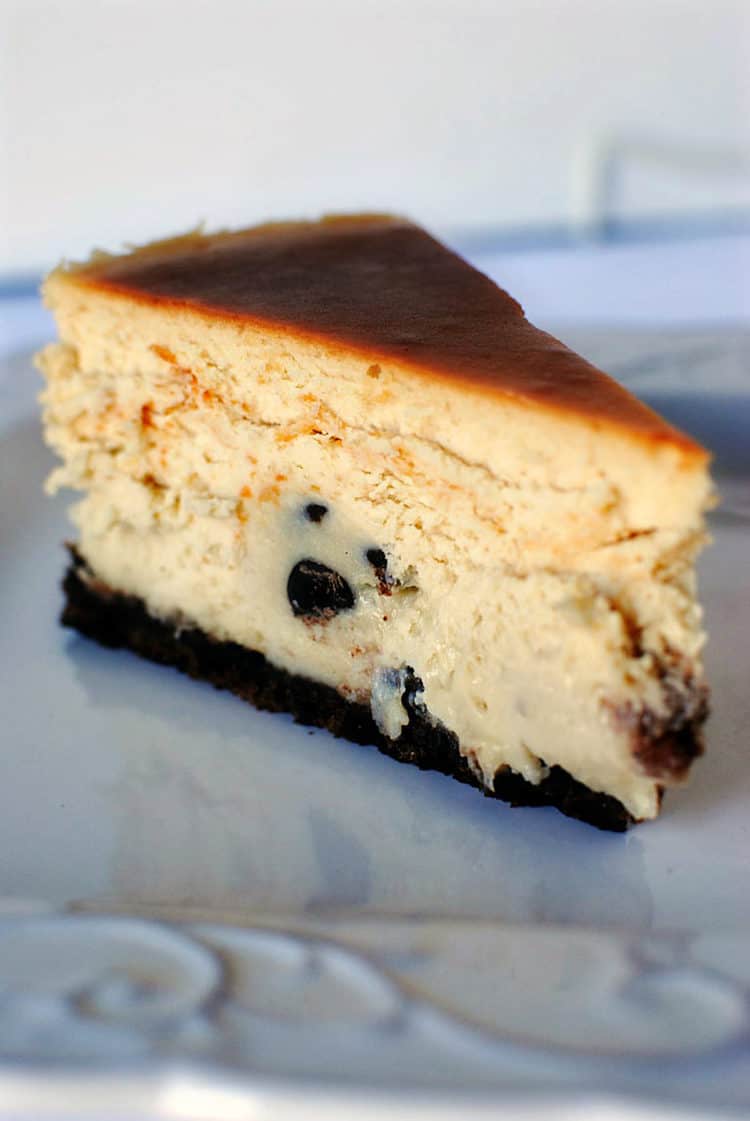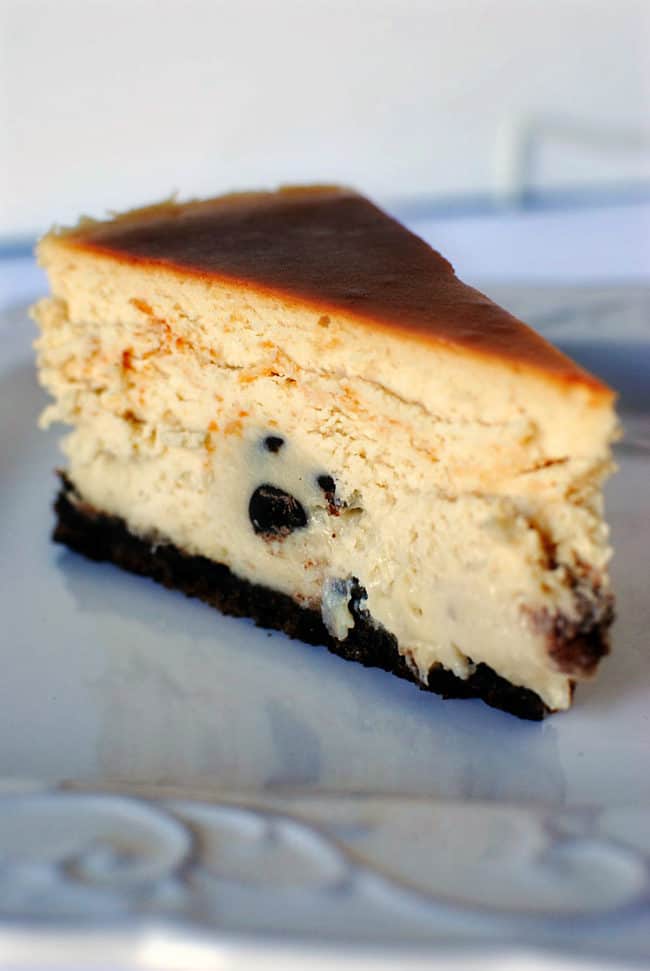 Now grab a fork, sit back, and enjoy this chocolate chip cookie dough truffles cheesecake. And don't forget to laugh.