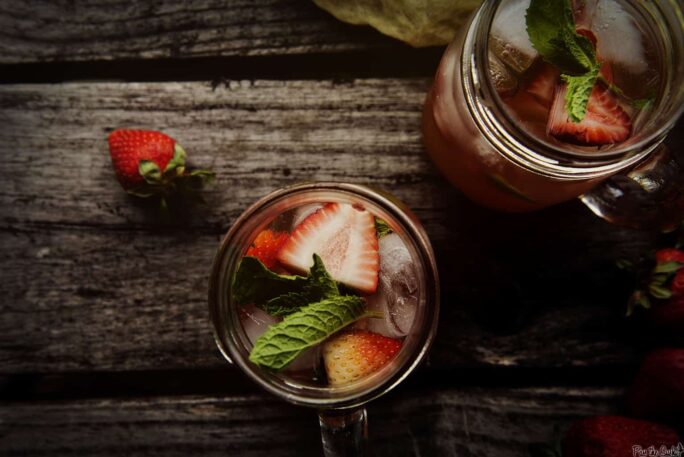 Whew! It's amazing what putting a little out there really does for yourself. Since I confessed to you guys on Tuesday that things weren't going to well and my one man pity party was officially canceled, I have a whole new perspective on things. It's like a breath of fresh air punched me in the face (literally, I'm sitting outside typing this and it's like 9 million degrees). I suddenly want to write with purpose and keep it real. The way blogs used to be before pinterest and facebook brain washed us into a forced numbers game.
Let's start with facebook. I am noticing more and more people checking their phones, iPads, computers, and other various electronic devices all of the time.
This morning in rebellion, I met a friend at a coffee shop.
It was as simple as that. We put our phones down. We sat. We talked. I hadn't seen his updates on facebook, I didn't know his son was rocking out in a band at a local restaurant, or that he was planning on stretching his recently injured leg. Well, I didn't know, until I sat and talked with him. Besides checking my phone to keep the time (which normally I wear a watch for), there was no need for the constant dinging and pinging of facebook updates and new emails.
And it was glorious.
Friday night, we turned off the TV, put down the phones, and Handsome and I danced in the living room to The Jackson Five and Ben King. We laughed as the dogs kept tripping us as our whole 'family' enjoyed a simple night in without anything going on but our own company.
I urge all of you to try it. Make a tech free night. Turn off the constant lifeline that feeds our impulse to check in and update. Shit it down and enjoy what life was 5 years ago where we could go 8 hours before checking email without a nervous breakdown that we may be missing something.
Sit back, make yourself one of these Mint Strawberry Crush cocktails, and remember what life should be like. We can instagram the details later…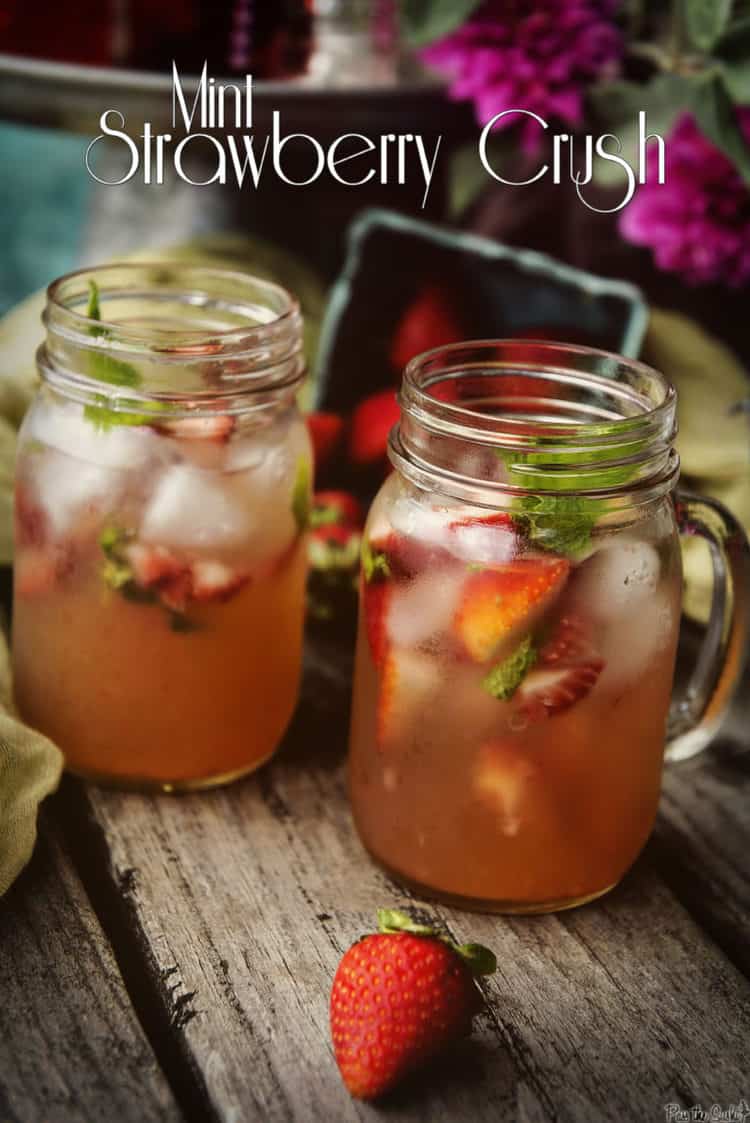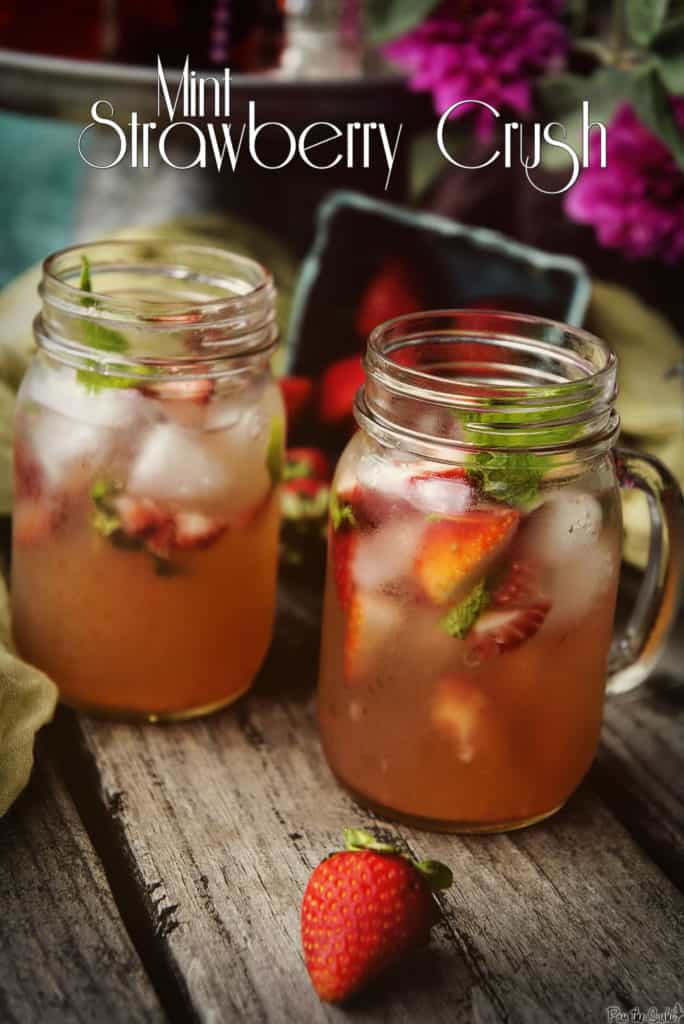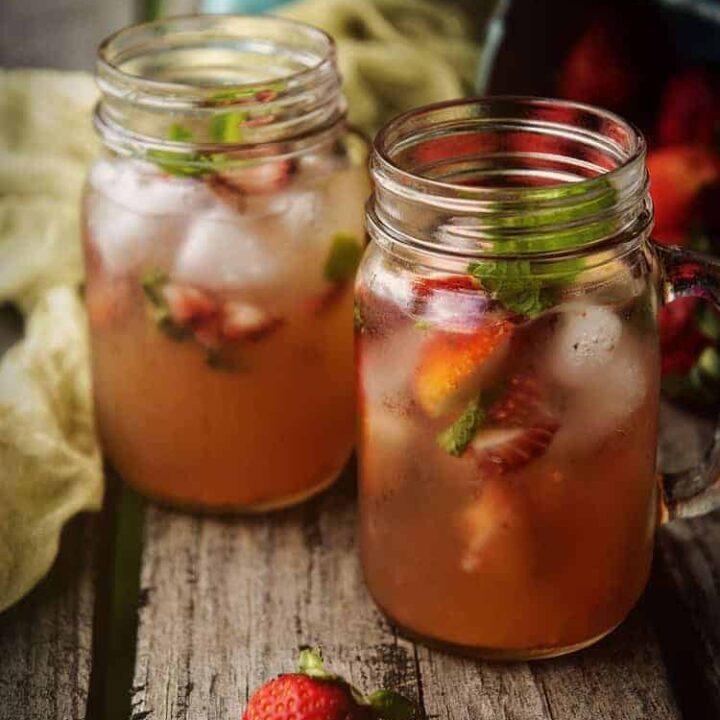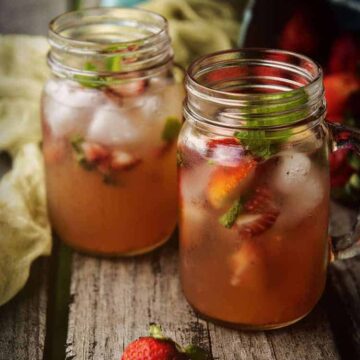 Ingredients
Couple handfuls of strawberries

-

chopped, plus extra for garnish

fresh mint leaves

-

plus extra for garnish

3

oz

brandy

1 1/2

oz

lemon juice

1

oz

simply syrup

ice cubes
Instructions
Muddle a few of the chopped strawberries with a few mint leaves. Add the brandy, lemon juice, simple syrup and stir to combine. Add the ice, cover and shake well until very cold. Strain the liquid into chilled glasses with fresh ice. Garnish with strawberries and mint sprigs.
Notes
BHG Special Interest Eat Well Lose Weight
Nutritional informations provided as a courtesy and is only an approximatation. Values will changes based on ingredients used.
⭐ Tried this recipe? Rate it ⭐
Help out the next person and give it a star rating below!