Cuban pork chops with mojo sauce. Delicious, juicy bone-in pork chops loaded with flavor and topped with a spicy citrus sauce called mojo. This is a recreation of a recipe from Guy Fieri. I think I love him...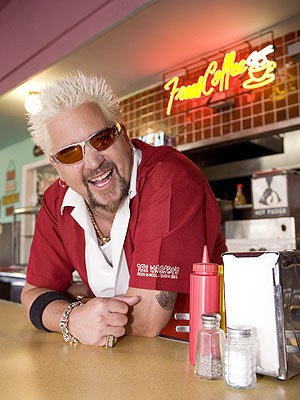 Don't worry, the BF knows it.
Guy Fieri seems like the kind of guy who everyone wants to get to know. He's real (if not, he's faking it really well). It doesn't seem like fame has ruined his personality. He's got charisma - Lord knows I'm a sucker for that.
To top it all off it seems like he really loves his family. That pretty much seals the deal. Don't get me wrong, it's not that hot for him, burning flame lusty type love. It's the I'd love to kick back and have a few drinks with him type of love.
So he has crazy bleached blond hair and wears his sun glasses like a tool, but really, the boy can cook. I have looked at some of his recipes and raised an eyebrow but every one I've actually tried so far has been spot on - including the two I prepared last night. These Cuban pork chops and the one of the best corn side dishes I've ever had.
Cuban Pork Chops with Mojo Sauce

by Guy Fieri

Ingredients

1 cup plus ¼ cup orange juice, divided
½ cup plus ¼ cup fresh lime juice, divided
¼ cup vinegar
4 (1-inch-thick) bone-in pork chops
1 tablespoon black pepper
2 tablespoons kosher salt
1 ½ teaspoons ground cumin
1 tablespoon garlic powder
1 tablespoon onion powder
1 tablespoon dried oregano
3 tablespoons canola oil
¼ cup chopped red onion
2 cloves garlic, chopped
¼ cup white wine
1 cup watercress, for garnish
1 Roma tomato, chopped, for garnish
½ avocado, sliced, for garnish

Directions

In a gallon-sized resealable plastic bag, combine 1 cup orange juice, ½ cup lime juice, and vinegar. Add pork and let it sit and marinate for about 1 hour in refrigerator.

In a small mixing bowl, combine all dried spices. Pat the pork chops dry with a paper towel and rub with the dry spice mixture.

Heat oil in a large saute pan over high heat. Place the pork chops in the pan and sear on 1 side until brown. Flip over and turn the heat down to medium-low. Add onion and saute for 2 minutes. Then add the garlic and continue to cook until garlic begins to brown. Pour in the remaining ¼ cup orange juice, ¼ cup lime juice, and white wine. Simmer until the liquid is slightly reduced and begins to thicken. The chops should be cooked through.

Remove the chops from pan and put on a warm plate. Continue to reduce juices in pan by half. Pour over the chops and serve immediately.

Garnish with watercress, tomatoes and avocado.
I served the pork chops with Guy's recipe for Green Beans with Roasted Corn and Green Onions. This has to be one of my favorite ways to serve corn, but I can't seem to find anyone else who enjoys creamed corn like I do. Its so light and delicious. I limited the green beans and red onion as I knew I would be the only one eating them. I did it up with the corn though.
Well, kind of... The grill broke while heating so I did boil the corn for a few minutes as opposed to roasting it on the grill. Works just as well.