Homemade sausage calzones are a beautiful thing. They're pockets of pizza dough that have been stuffed with sweet Italian sausage, bacon, fresh herbs, and lots of ooey, gooey cheese, then baked up until they're golden on the outside and outrageously delicious on the inside!
It's like a bazillion degrees outside today and I'm blaming it on the people who weren't happy with last weeks refreshing break mother nature granted us with. If it was a bazillion and it rained every now and then it may not be such a bad thing. It hasn't rained though. The grass is brown and my plants are starting to turn yellowish brown even though I've been making sure to water them. I'll be really sad if I lose my garden now due to a PO'd Mother Nature.
Speaking of hot…
I made a total newb mistake today and put my hand down on a burner that was cleverly disguised as off. Ha! Got me. I have been removing random things from the freezer to cool my burns for a few hours now. Dummy.
Oh, and speaking of hot again, but in a good way…
Homemade sausage calzones for dinner, anyone?!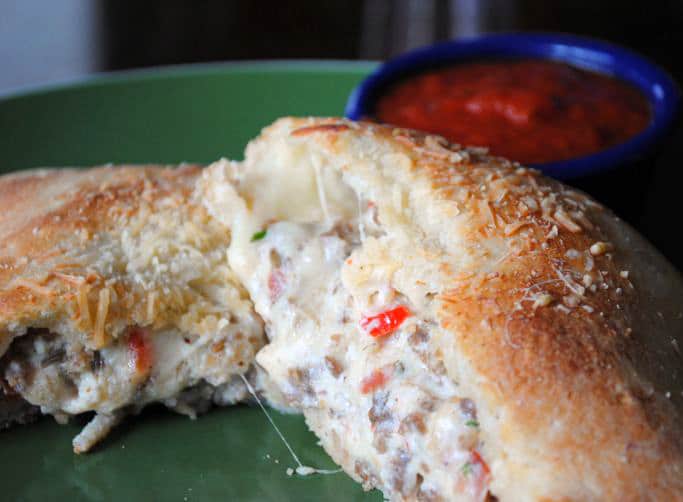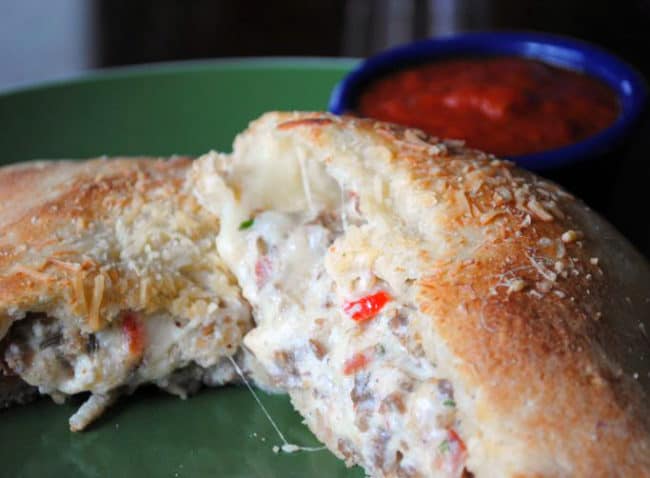 Homemade Sausage Calzones
from foodnetwork.com
Ingredients
1  pounds raw Italian sweet sausage, casing removed
1 tbs olive oil
1/2 onion, chopped
1 bell pepper, chopped
2 cloves garlic, chopped
2 cups ricotta
A handful flat leaf parsley, chopped
3 or 4 fresh basil leaves, chopped
1 cup grated Parmigiano
8 strips bacon cooked and drained
A few grinds black pepper
2 (10-ounce) tubes prepared pizza dough
2 cups shredded mozzarella
2 cups tomato, marinara or pizza sauce for dipping.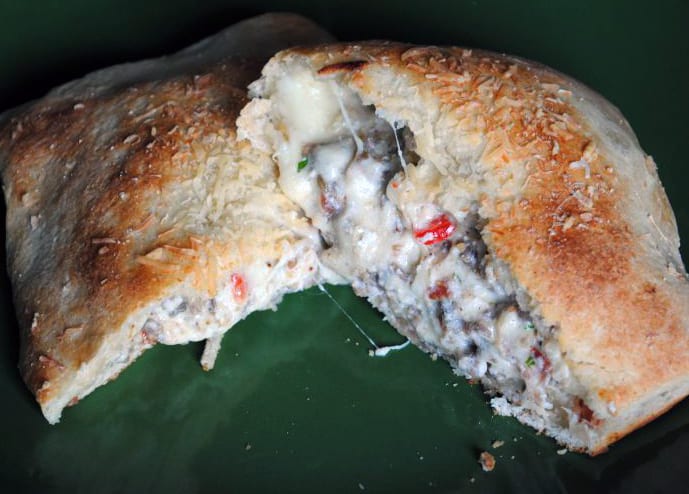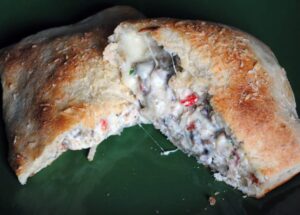 Directions
Preheat oven to 425 F.
Brown sausage in a small skillet in a drizzle of olive oil. Add peppers, onions and garlic. Let cook for 5 minutes. Transfer the cooked crumbled sausage and veggies to a paper towel lined plate to drain.
Combine sausage with ricotta, parsley, basil, Parmigiano, bacon and black pepper. Roll out doughs and halve cross-wise. Place a dough rectangle on a nonstick cookie sheet. Use 1/2 cup mozzarella on half of each dough rectangle and pile a mound of filling on half of the total area. Fold dough over and pinch edges to seal. The result is a rectangular turnover.
Bake calzones 15 minutes or until golden all over. Serve calzones with warm tomato, marinara, or pizza sauce for dipping.
The filling for these homemade sausage calzones was actually quite tasty and I may use the left overs in a pasta dish later this week.
These are a great quick dinner that can be customized to each person. Mushrooms, broccoli, pepperoni, ham – you get the idea (how do you think the bacon ended up in there?). It could all be thrown in to each individual calzone.
Off to go find a fresh from the freezer item….