This post is sponsored
by
Kelley Blue Book
;
however, all thoughts and opinions are my own.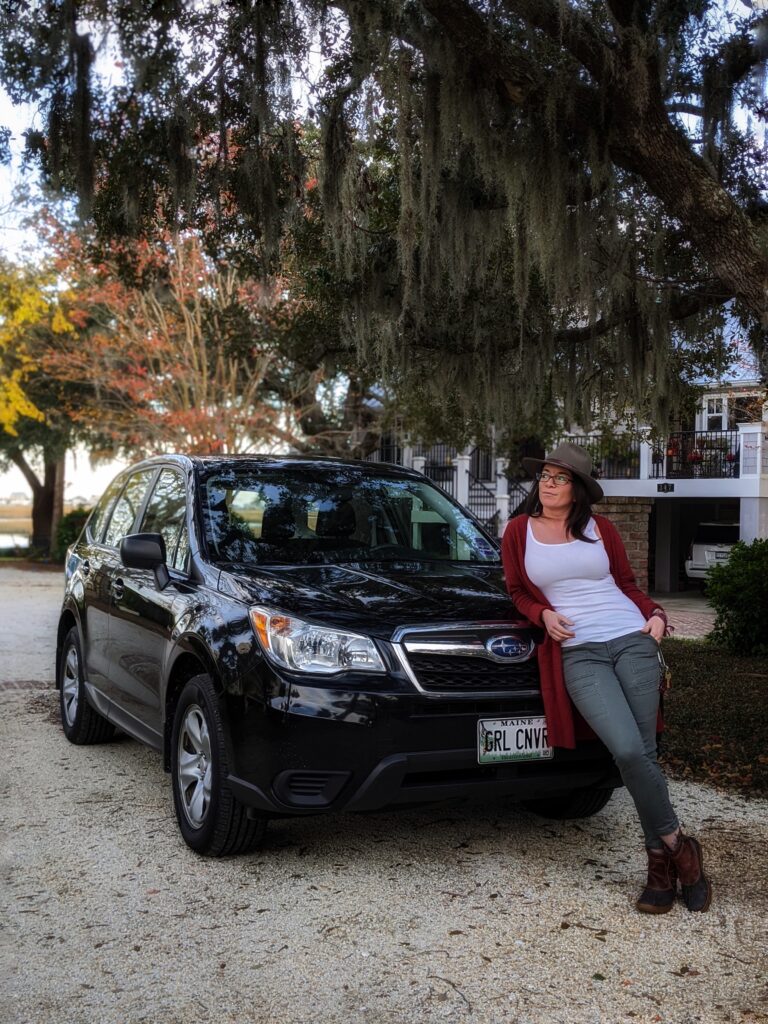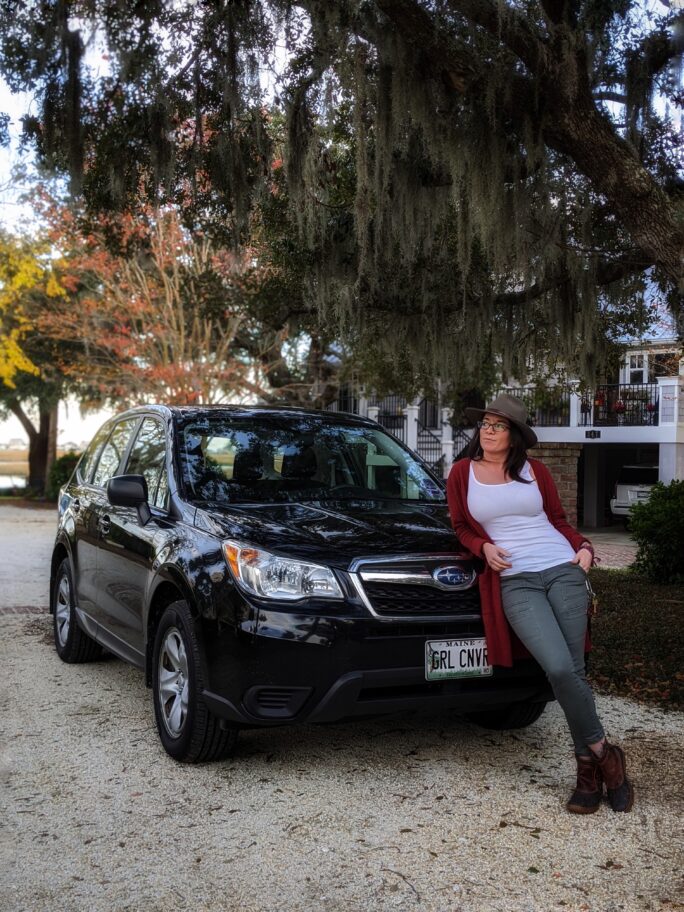 Planning a long road trip this year? I just discovered Kelley Blue Book's new, Maintenance Scheduler and Recall services that help me find fair prices for my emergency roadside needs no matter where I am!
Kelley Blue Book is the site I grew up checking, and rechecking, every single time I dreamed of buying my first new car. I would look at cars and pine over options and then check and see what they were worth, comparing local car lots against the reputation of KBB.com.
And then, when it came time to sell my first car, to finally buy MY first car, I went to KBB.com again to make sure I was getting the maximum value for my used car.
And now, I spend a lot of time on the road, putting an abusive amount of miles on that first car as I travel up and down the east coast and road trip with my faithful hound dog.
I am getting ready to head home for the holidays and have my trusty Subaru loaded with wood chunks and charcoal and a grill… because that's how I roll.
I also travel with a box of cheez-its in the back seat just far enough out of reach that I can only grab them when I stop to get gas.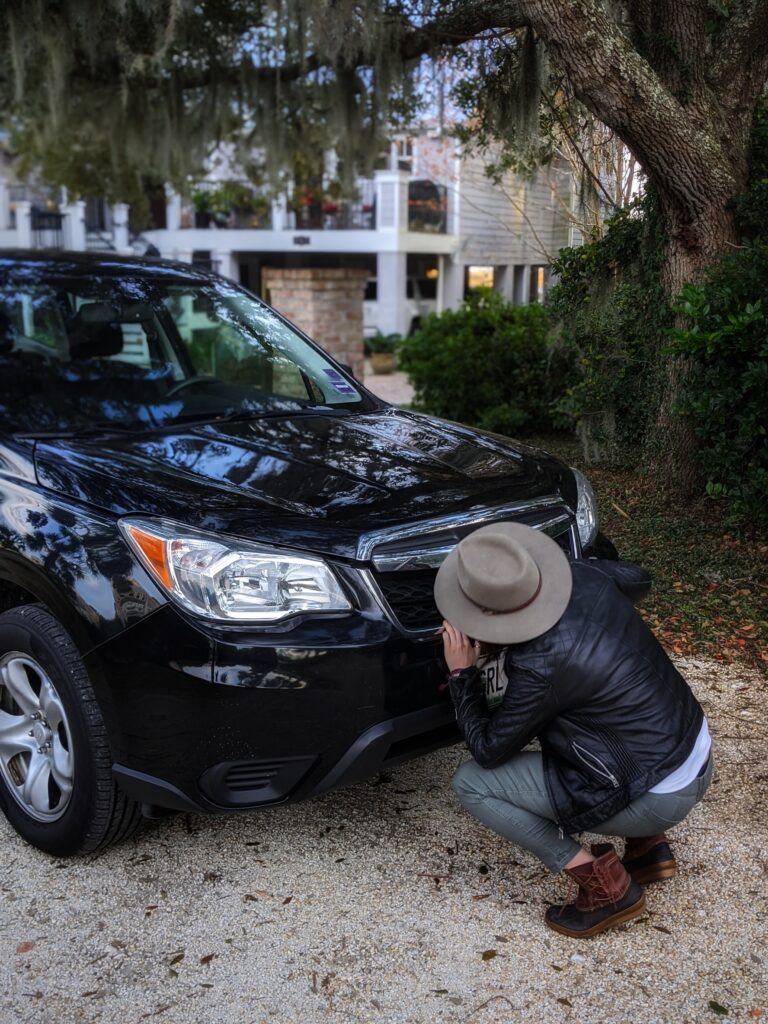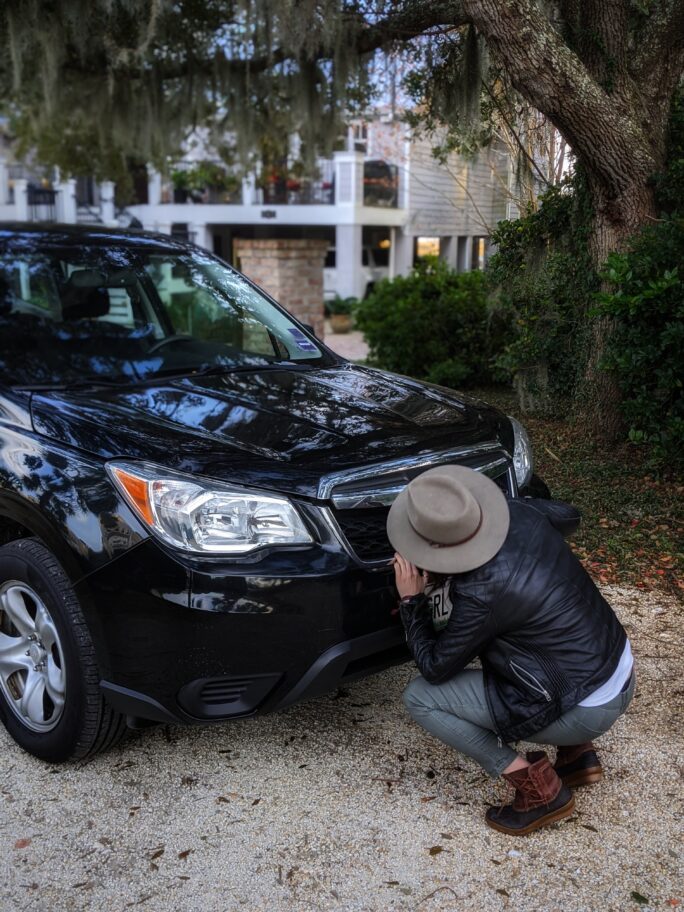 Essentials to Pack for a Road Trip
Paper map – should my phone die or there be no wifi signal
Extra USB charger (cuz I lose these way too much)
Snacks – see the above mention of Cheezits
Water (and cup – mainly cuz I hate paying for water and wasting plastic on the road!)
Blanket
Emergency Repair Kit – this was a gift to me years ago and it's been with me ever since
Sunglasses
Honestly, with as much as I drive, and some dark and snowy New England back roads, these things never leave my car.
Luckily, this trip has me up and down the east coast with hundreds of highway miles, a few funky coffee shop finds and a night or two at a friend's house. It will tip the odometer mark and I will be due for an oil change.
Being on the road trip – I put a lot of miles on my car and knowing when to schedule service can be tricky!
For me, it's not every three months…. It's when I hit the next milage note on these long trips. Which can be a few months or a quick couple of weeks! And that can be a little worrisome without having my normal go-to mechanic all of the time.
I am loving using KBB.com to schedule service with local dealerships! I know they are trustworthy and reliable. The service quickly helps me answer all of my service repair questions and since I don't get my paper mail too often, it can even alert me of recalls!
Did you know KBB.com had all these services?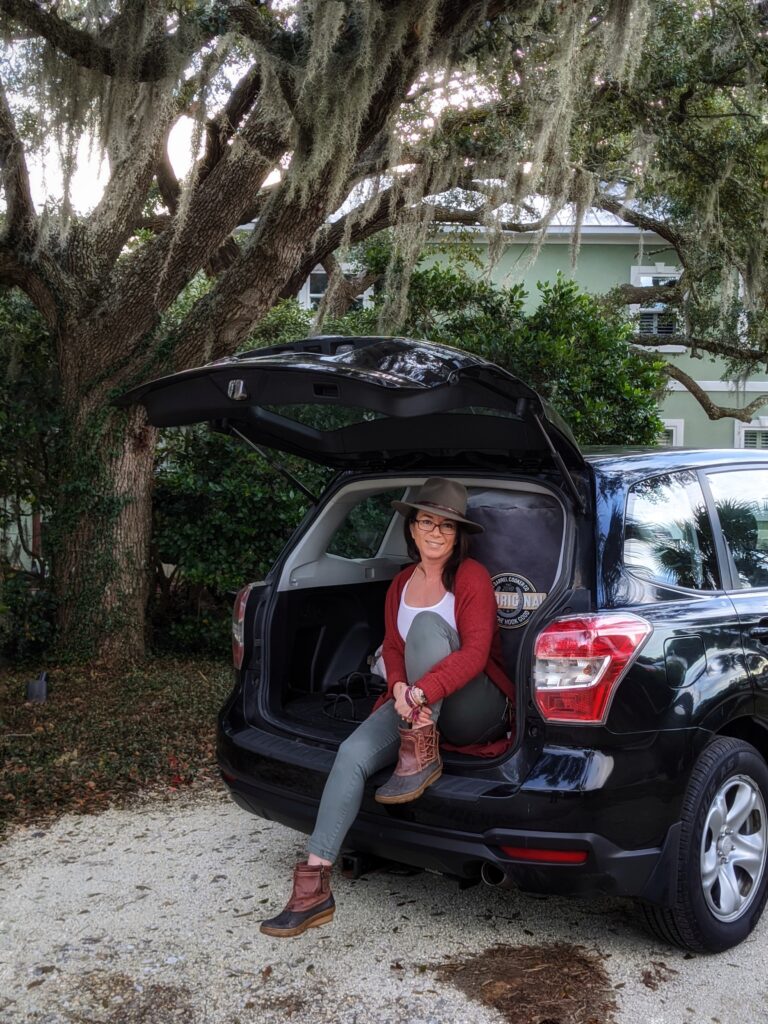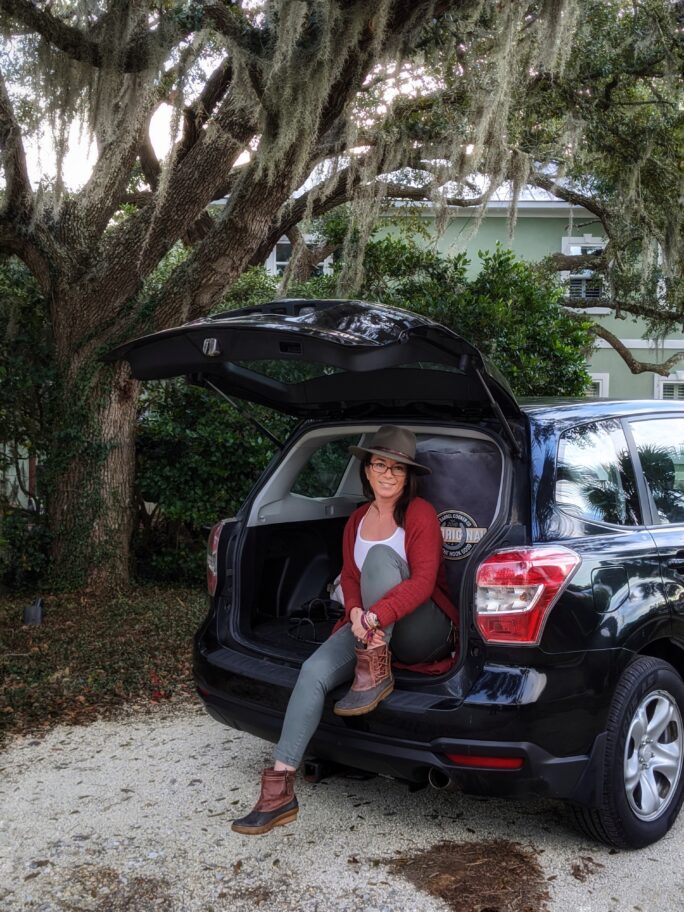 Tips for using Kelley Blue Books New Auto Repair Guide!
All you need to know is the Make and Model of your car.
Fill out the easy drop-down menu on the Auto-Repair Guide with the make, model and mileage for your car and the zip-code you are in.
From there, the next screen helps see a list of repair options. Pick the repair you need and just like when searching for a car's value, the scale of red to green pops up with an average price listed to make sure you are getting the most honest and fair service for your time.
It takes all of the guesswork out of on-the-road repair costs!
See the description of labor costs and parts.
KBB.com even shows the nearest service center for my car! I don't have to hunt out the nearest Subaru center, they give me the info right there to click thought.
Love that I can easily see what repairs cost with the Fair Repair Range Estimator
Bonus! Easily check for Maintenance Schedules and Recalls.
Life on the road means I am not on a clockwork schedule for any of my auto maintenance. And KBB.com also has a solution for that! Seriously, who knew?
Being able to pop in my make, model, and mileage to check my service needs and make sure my car is getting everything it needs is so comforting! It makes it so easy for me to pop in and make sure I am taking the best care of my car. And takes the worry out of missing a letter back home for a mandatory recall! I can just check it all online in under a minute!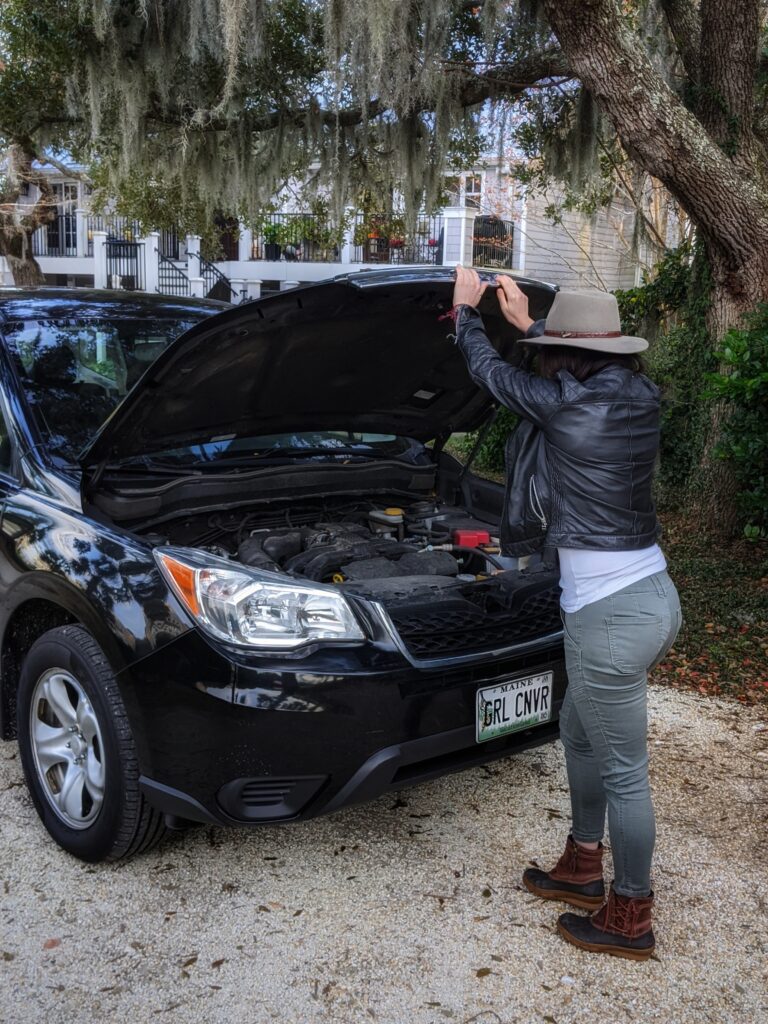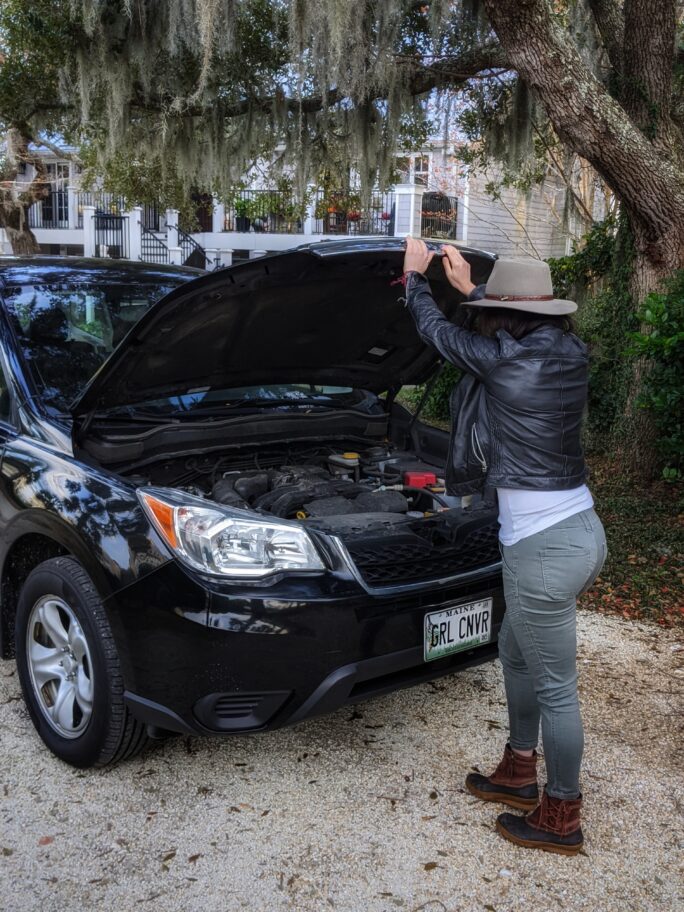 With the same steps as checking the fair repair estimator, I pop in my make, model, and mileage and I get a list of the scheduled maintenance needs. I have to admit, I use my car, abuse it even, but I do not think about the necessary updates that it may need to keep it at 110% but with this feature, I don't have too!
Since I work my cars hard, I keep every record and repair in the auto manual in the glovebox. That way if I ever need to know what I have invested in, or to prove good maintenance when I trade it in for that ultimate dream car that I have been stalking (a little too relentlessly), there's no chance of the paperwork getting lost.
How do you take care of your car on the road? What's in your essential travel kit?