Grilled Tequila Shrimp Salad; Fresh, tart, and oh so good.  This one will have you jumping at healthy options and dying for more.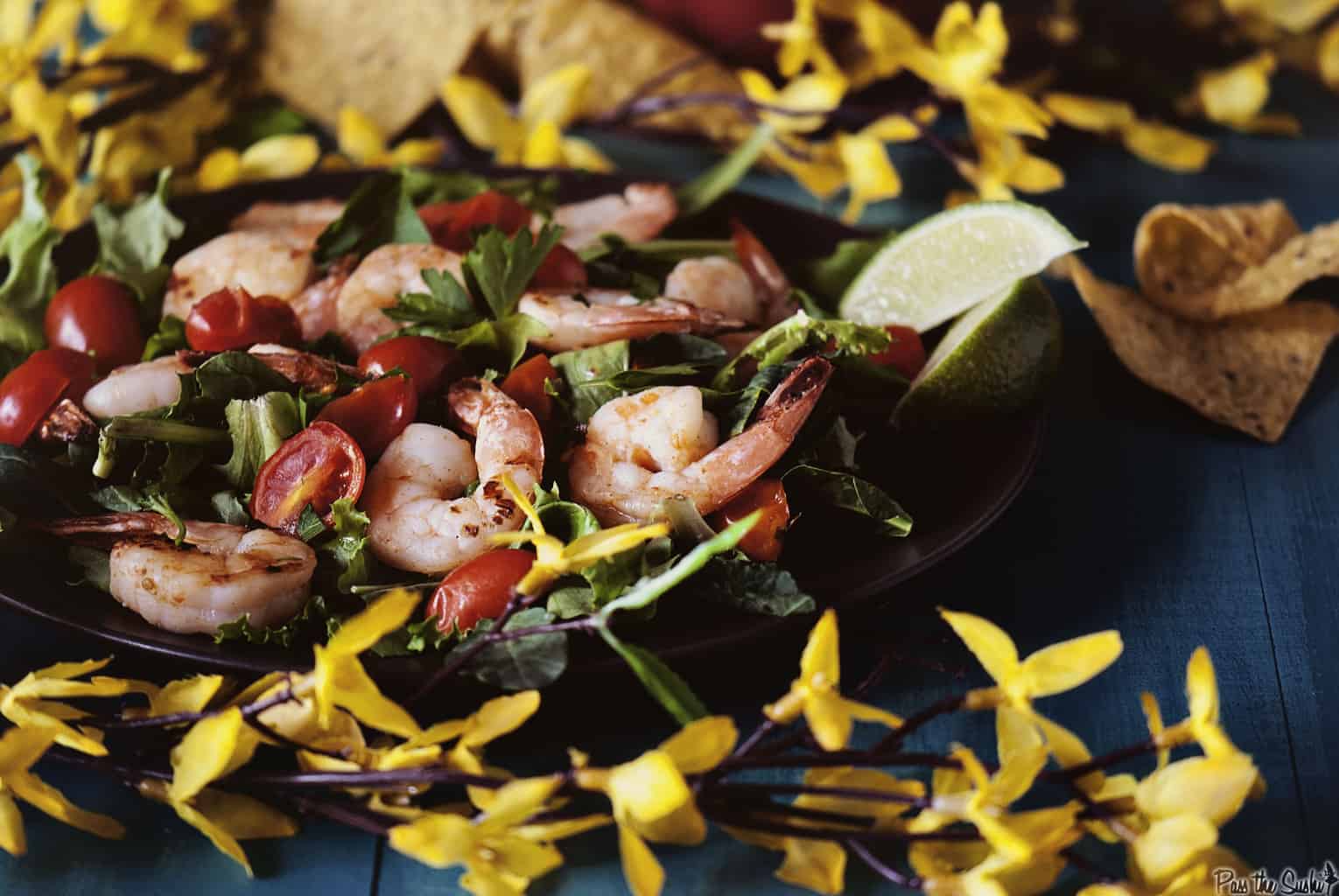 Chasing Matthew McConaughey – My Quest as a runner.
I have officially, with no plan or strategy, now ran in two 5k's and so far it's all been about this one pretty dude. I mean… pretty. Not a word often used to describe men. I'm convinced this man was bred from a tube in the All Spice test lab to be the man your man wants to be. His flowing hair was developed by Vidal Sasoon. His outdoors-man look sponsored by every North Face ad. And his perfectly tanned skin define the lines that ancient Greeks would believe that of a Gods. This dude makes rugged look like it could get a manicure wearing pink bunny slippers and no one would even bat an eye. And this guy has shown up to both of the races I have been in. He keeps showing up, and I can promise, I'll keep running.
This trail was all new terrain to me. I had no idea where the race was or what the course would be like. I am not an experienced enough racer to know what to look for in a course that not knowing doesn't really make a difference. We were in the hilly beautiful Brandywine region and I did not bring my A-game mentally. When I got there and people starting warning me to hold my energy for the second half, and this hill I would encounter. I started to psych myself out a bit. I need to stop over thinking. As a runner, as a mountain biker, I need to just keep my feet moving and I'll be good. A part of me wishes there was a switch that I could just turn off in my head while I was moving.
Start Time
At the start the group of racers balls up and I position myself behind Fatmarc, who I know is going to set a great pace for this run. They start and I'm pretty sure I watched my buddy, the one who I was going to trail the whole time, shove two kids out of the way, hurdle over about 4 others and fly off into the front of the pack. So much for that plan. But it was all good as I position myself at a good pace in a group that looks pretty serious. They all having running shirts on and gear and proper shoes. So I just assume they know what they are doing. I carry with them, as they shout out mileage, through the fun half of the trails. Things are up and down, single track and open, jumping logs, and tripping over rocks sort of run.
In the second half (like warned) the hills start to get a little steeper. I'm analyzing everything as if I was on my mountain bike and overall, enjoying the challenge of the run. The group starts to dismantle a bit and I kick it up on the coat tails of another assumed experienced runner and coast for a while.
It's not until after the fist hill that things start to unravel a bit for me.
I slip on a step water crossing, my laces come untied, and I'm getting winded. I ended up walking up a hill at a decent place but giving up a few positions with my choice. Over the final hill, I'm told there's under a half mile to go so I kick it back up again. I hit the final dash to the finish line with a supportive group of people cheering and kick it up to the end. My time wasn't as great as the last one, but the hills were far bigger. Overall, I can deal with it.
Today, I'm a runner.
I am not a super fast runner, or an experienced runner. But as of my second 5k Sunday morning, I am a runner. And apparently it only takes 2 5k's for me my brain to release crazy chemicals and me to become a total dick and want to become a faster more experienced runner. This young grasshopper is totally throwing patience to the wind. Now let's see if I can get this tenacity going for the bike as well.
Grilled Tequila Shrimp Salad
Because now I have to eat.  And I need my salads piled high with protein. And Tequila.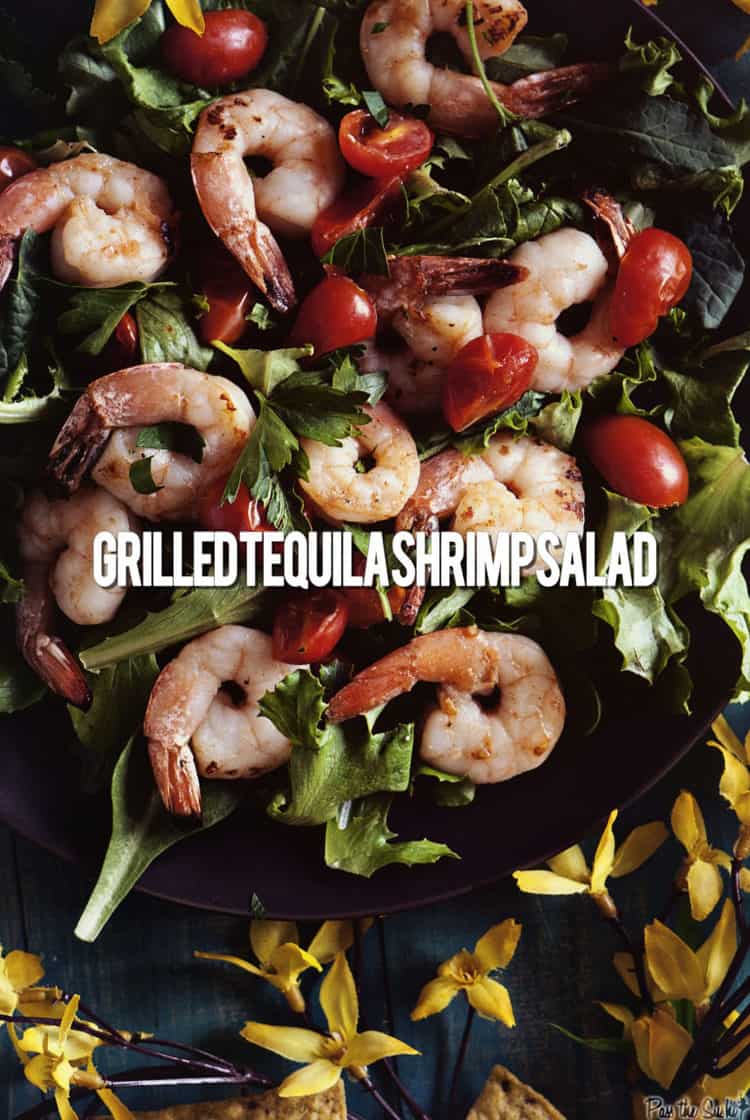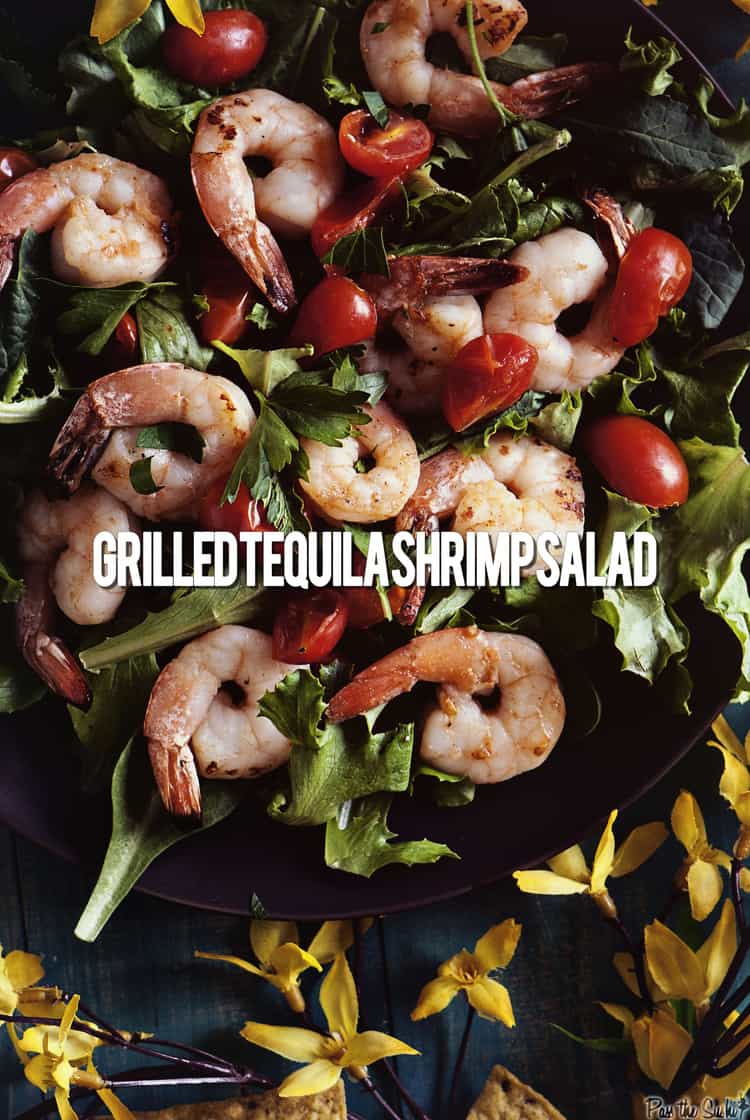 If you've tried this Grilled Tequila Shrimp Salad recipe, or any other recipe on passthesushi.com please don't forget to rate the recipe and let me know where you found it in the comments below. I love hearing from you! You can also follow along for more good eats and travel tips on Instagram @passthesushi & @girlcarnivore, Twitter & Facebook.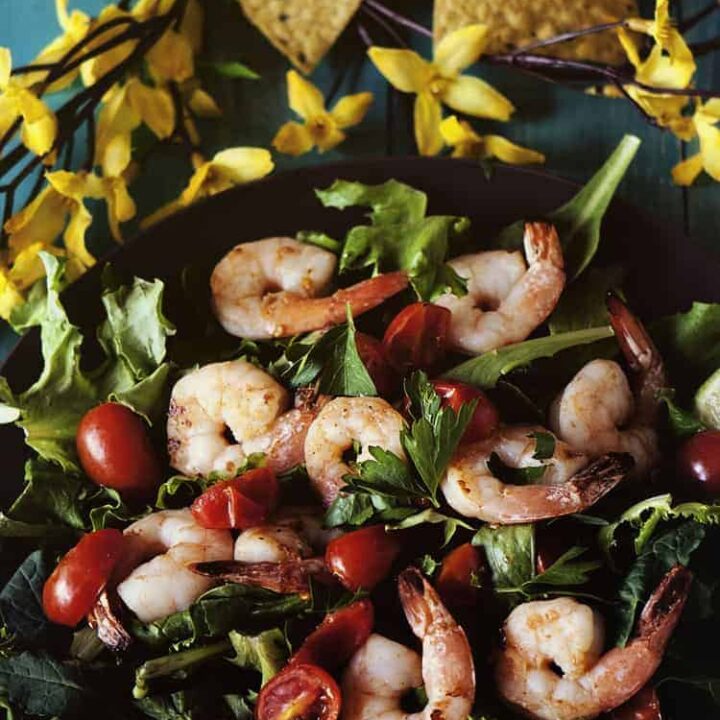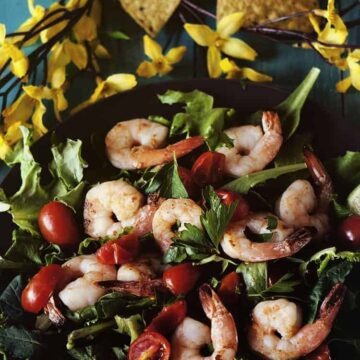 Ingredients
2

lbs

fresh shrimp

-

peeled and deveined

1

tsp

cumin

1/2

cup

orange juice

2

tbs

tequila

1/2

tsp

ancho chili powder

1/2

tsp

garlic powder

1

tsp

lime juice

1

cup

cherry tomatoes

Mixed greens of your choice for serving

fresh cilantro

-

snipped
Instructions
Place shrimp in a large ziploc bag. Combine the cumin, orange juice, tequila, chili powder, garlic powder, and lime juice in a bowl and pour over shrimp. 

Seal bag, shake about to spread out the liquid, and place in fridge for 30 minutes.

Preheat grill to medium high.

Meanwhile, slice the cherry tomatoes in half and prepare your greens.

Drain the shrimp and place in a grill basket with the cherry tomatoes. 

Grill over direct heat for 4 minutes. 

Stir and cook another 4 minutes or until shrimp are opaque and tomatoes have softened. Carefully remove basket from heat.

Serve shrimp and tomatoes over greens with a light vinaigrette.
For Tequila Lime Vinaigrette:
Combine 2 tbs tequila, 1 minced garlic clove, a dash of salt, juice of one lime, and 1/3 cup olive oil in a jar. Shake well.
Nutritional informations provided as a courtesy and is only an approximatation. Values will changes based on ingredients used.
⭐ Tried this recipe? Rate it ⭐
Help out the next person and give it a star rating below!
No children were actually shoved in the running of my 5k… that I saw at least.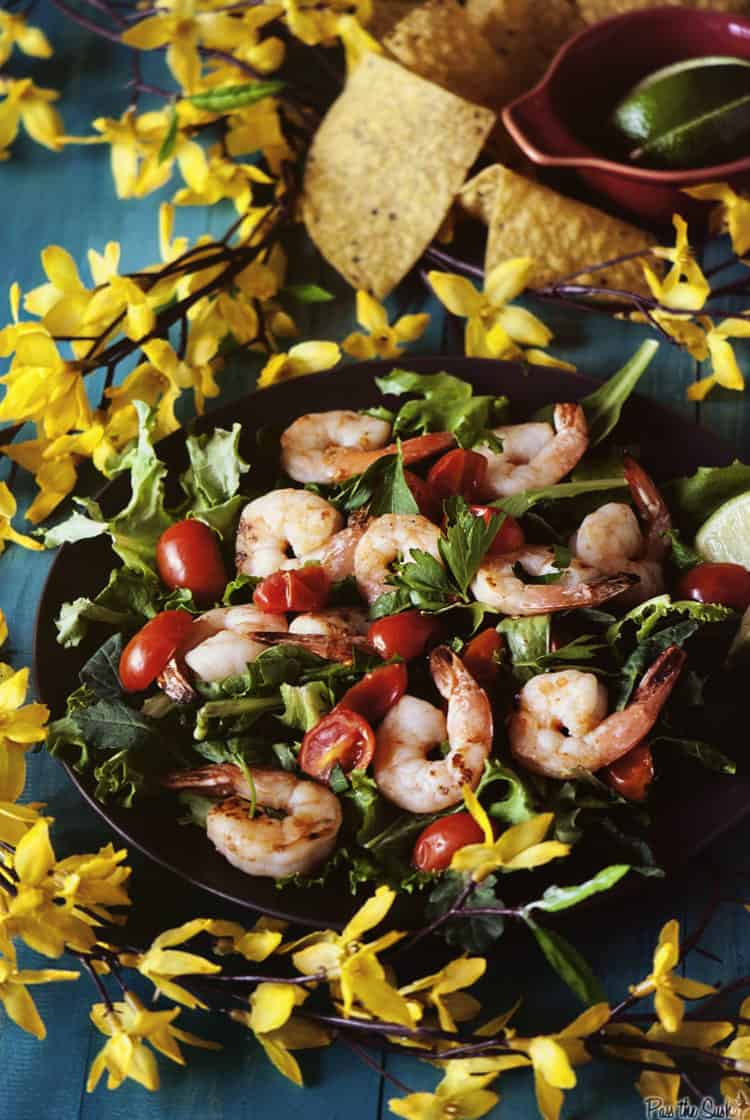 Need another protein packed salad option?  Try this one.