Churros mini muffins are bite sized muffins with the flavors of a sweet cinnamon sugar churro baked right into them. They're the perfect little snack!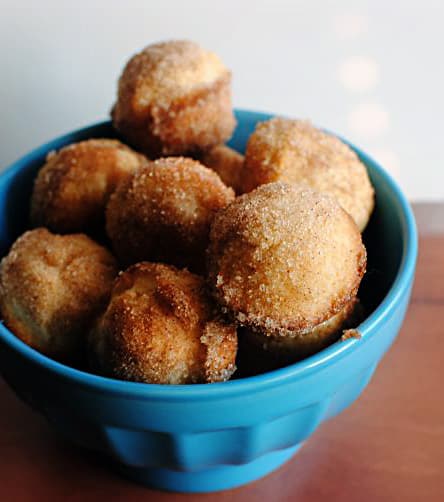 I consider myself relatively new to the blog-o-sphere and wow, can it be overwhelming! There's a lot going on when you draw the curtain back a little and take a peek inside.
There's networking, following, monetizing, conventions not to mention, cooking to maintain your own awesomeness. I would like to learn more about all of these things and I get the impression its kind of a dive on in sort of thing. The sort of thing you'll figure it out with some trial and error, but if any one has any advice, I'd love it because I don't even know where to begin.
The last food blog conference was Blogher, and I am reading so much about how amazing it was. The things you learn and get to see while there - wow! I want to go to that, not for blogging reasons so much as I really just would like to see and learn new things. The thing is, I didn't know such a thing existed until about 2 weeks ago. So I guess my question is how does one keep up with all the activity going on in the food blog world? How do you stay on top of it all and go to these events? Surely, not all, but I would like to go to one someday.
When I saw the recipe for these churros flavored mini muffins, I got a major craving to bake some up. They were just what my sweet tooth needed.
Churros Mini Muffins
from: Cook Shoot Blog
3 cups flour
2 teaspoons baking powder
1 teaspoon salt
½ teaspoon ground nutmeg
1 teaspoon Mexican vanilla
1 cup sugar
⅔ cup shortening
2 eggs
1 cup milk
Topping
1 cube butter (½ cup)
1 cup sugar
3 teaspoons ground cinnamon
Preparation:
Preheat oven to 350 degrees.  Place shallow pan of water on bottom rack of oven.
Cream the sugar and shortening together in large bowl & set aside.  Sift together, flour, baking powder, nutmeg and salt in medium bowl.  Add eggs & vanilla to sugar mixture.  Alternate adding ⅓ of the flour mixture and ⅓ of the milk, mixing well after each addition until all ingredients are well incorporated.  Be careful not to over mix.
Spray or butter 2 mini muffin pans and then fill each cup ⅔ full using a small cookie scoop.  Bake for 16 – 18 minutes until tops are just beginning to brown.
While muffins are baking, melt butter in a shallow bowl (big enough for dipping muffins).  In separate bowl, mix together cinnamon & sugar.  Increase amount of cinnamon to taste.
Immediately shake muffins out of pans onto a wire rack.  Dip each muffin in butter and roll in cinnamon sugar mixture.   You may need additional melted butter and cinnamon-sugar mixture depending on how much or little coating you prefer.
Makes approximately 3 ½ dozen.
The churros are really easy to make, but when you're wrapping them up, be sure to put the churros into an air tight container. They dry out pretty quickly otherwise.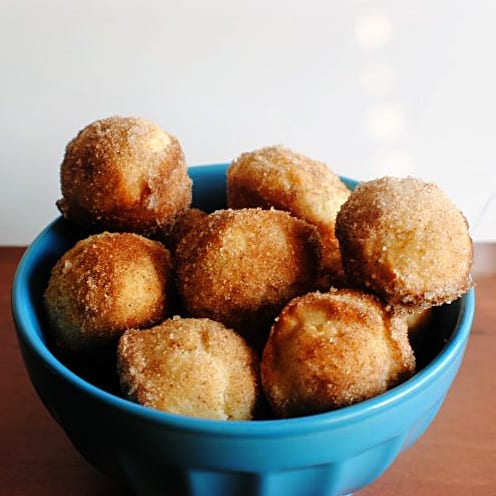 I have added an email sign up to the sidebar. I am only planning on emailing once a month with a recap of the recipes from that month and some other spiffy stuff I come across. Its new and shiny so if you would like to, please sign up. There's also a link to Facebook, Twitter and RSS subscription over there if you're feeling extra clicky with the mouse.
Thanks and enjoy!
Want to bake up some more muffin recipes? Try these out:
Double Chocolate Peanut Butter Muffins
White Chocolate Macadamia Nut Muffins