Asian pot stickers are the perfect appetizer for a night of homemade Chinese takeout. These delicious dumplings are filled with ground pork, scallions, and ginger.
My "Two New" for this week is a cheat, kind of. I didn't get to make two new recipes this week because of an overabundance of work – at both my 9-5 and my personal website design services (of which I am not complaining). However, what I did make was tough and it took two people in the kitchen to make. So – ha! That's how I'm justifying my personal failure this week.
Handsome and I made Asian pot stickers last night. I accidentally pulled ground pork the other night to thaw and rather then letting it go to waste, though, we both worked long and hard days, we decided to give pot stickers a whirl. So at 8:30 last night, we started peeling ginger, chopping scallions, and joyfully playing with my food processor. Well, he joyfully played with my food processor. I am a little concerned that he enjoyed it to much and I will come home tonight to find that every thing in the kitchen has been processed.
Cook's tip for making Asian pot stickers:
Keep a small dish of water handy for dipping your fingers into while folding and sealing the dumplings.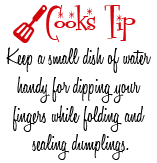 I have only made Asian pot stickers once before, with my friend and her mom, but the little tips and tricks I got from that experience really helped. We used a combination of his mom's recipe and one from Ming Tsai on the Food Network. We definitely need to improve our filling portion control.  Goldilocks would have been very disappointed if she'd stopped by last night. Overall, though, for out first time making pot stickers and it taking til 10 to eat dinner, it was pretty darn close to perfect.