Today's blog breaks the Pass the Sushi rules. There's no food - just ramblings from myself about the craziness that is my life.
A few weeks ago my cats moved into my boyfriends house (which was a personal meltdown for another day as I generally don't believe in living together). He (the bf) has a 70 lb lovable mutt. I have two 7lb adorable kittens. They have got to find some common ground. The dog gets jealous, herds the cats, and makes it very difficult to sit and cuddle with them, leaving me with gaping wounds from said scared kitten. The cats smack him around, get to sleep in bed, and are pretty much where my cuddle attention is eaten up 99% of the time. So really, I can't blame eit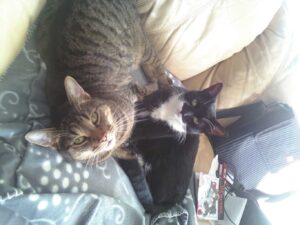 her of them.
However, cats in a new environment - hi-lar-ious. Kiori (the black and white girl) likes to play in water bowls. A 70lb dogs water bowl can spill water every where, come crushing down a flight of stairs in seconds and seep under the hardwood leaving you jumping up and down like an idiot trying to squeeze the water out.... Kiori, the curious kitten, likes to climb as high as she can, only to find that drop ceilings do just that - drop. Twice. Maddox has gotten his head stuck in between a chair and the wall and has chewed the plants, that my boyfriends mother just recently took the time to trim, to unrecognizable stumps ( and he's working his way through the fake one).  And one of them is apparently stealing the butter...