Cosmic brownies, just like the ones you ate during lunch at school. Only better, because they're homemade!
Ever noticed, for a kid, summer lasts forever. Fooooor.Evvvv.Eeer. The time ticked by slowly, even though your days were filled with sunshine and laughter. Occasional family trips felt like days, even though it was really only an afternoon. And you couldn't wait for school to start, to see all of your friends and show off that new 101 Dalmatians side slung backpack you scooped up.
OK, that last one was probably just me, and only in the second grade. Once. I swear.
Now, it seems like summer has come and gone in the blink of an eye, and I didn't even get the awesome summer camp trips. Before I know it, all of my friends are talking about how their kidlets are returning for another year, and I start to fear the return of school bus traffic and annoying college kids that need crossing guards to help them walk properly.
When I laid eyes on these Cosmic Brownies a while back on Amanda's blog, Fake Ginger, I was taken back to brown bag lunches and school days all over again. In hard contention for the number one spot on my childhood favorite list, right up there next to the TastyKake, Cosmic Brownies were always a joy to find in my lunch.
So, if you're packing the kids up and wondering what you can sneak in for a surprise, or are like me and just need an excuse for some brownie noms, try these on for size.

Cosmic Brownies
from Fake Ginger, adapted from Elle's New England Kitchen  
Ingredients:
For the brownies: 
1 cup granulated sugar
⅔ cup brown sugar
1 ½ sticks butter, melted
2 tbs water
2 large eggs
2 teas vanilla
1 ⅓ cups all-purpose flour
¾ cup unsweetened cocoa
½ teas baking powder
¼ teas salt
For the ganache: 
½ cup heavy cream
7 oz bittersweet chocolate
pinch of salt
Preparation:
For the brownies: Heat oven to 350F.  Line a 13 x 9 pan with parchment paper or aluminum foil, then lightly grease. Set aside.
In a large bowl, combine the sugars, butter and water with a whisk. Stir in the eggs and vanilla. In a medium bowl, combine the flour, cocoa, baking powder and salt. Stir the dry mix into the wet mixture and stir to combine. With a rubber spatula, spread the batter into the prepared pan. Bake for 18 minutes. Don't over bake (the key to a classic Cosmic Brownie was its dense fudgy texture).
Set aside on a rack to cool.
For the ganache: Place the chocolate in a bowl and set aside. In a small saucepan, heat the cream just to a simmer. Don't boil it, just wait till you see little bubbles starting to form around the edges. Remove from the heat and pour over the chocolate. Sprinkle with the salt and let it all sit for a minute or so. Gently stir with a rubber spatula until all of the chocolate is melted. Cool slightly.
When the brownies are almost completely cooled, pour the ganache over and spread it evenly over the top. Let loose with some sprinkles. Cool completely.
When ganache is set, lift them out with the foil and cut into small squares.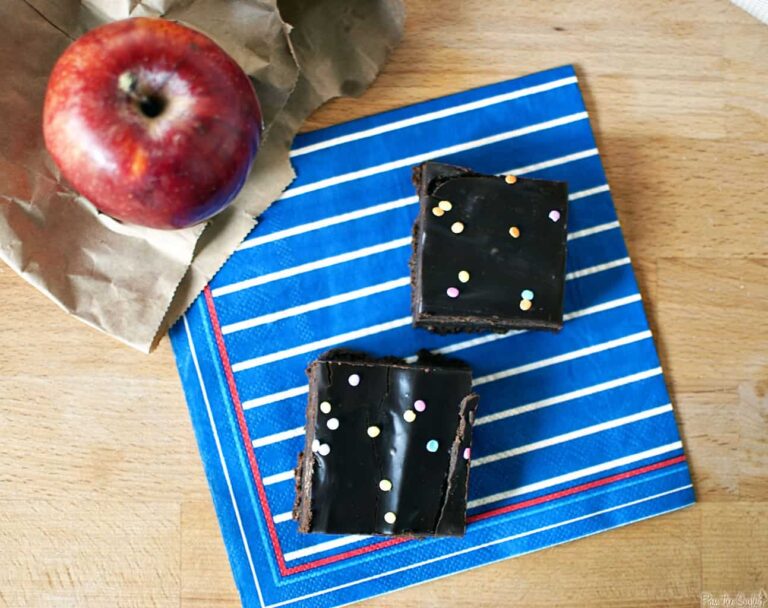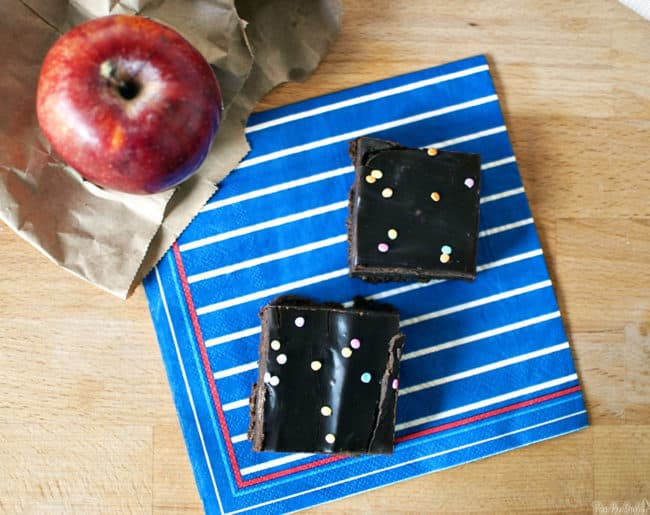 Traditional Cosmic Brownies come 2 to a package. Just enough to fill your inner fat kids left cavity, but it is really all you need for a great afternoon snack.