Chocolate mint sandwich cookies make a great addition to any holiday cookie platter. Crisp chocolate cookies with a peppermint cream filling. What's not to love?!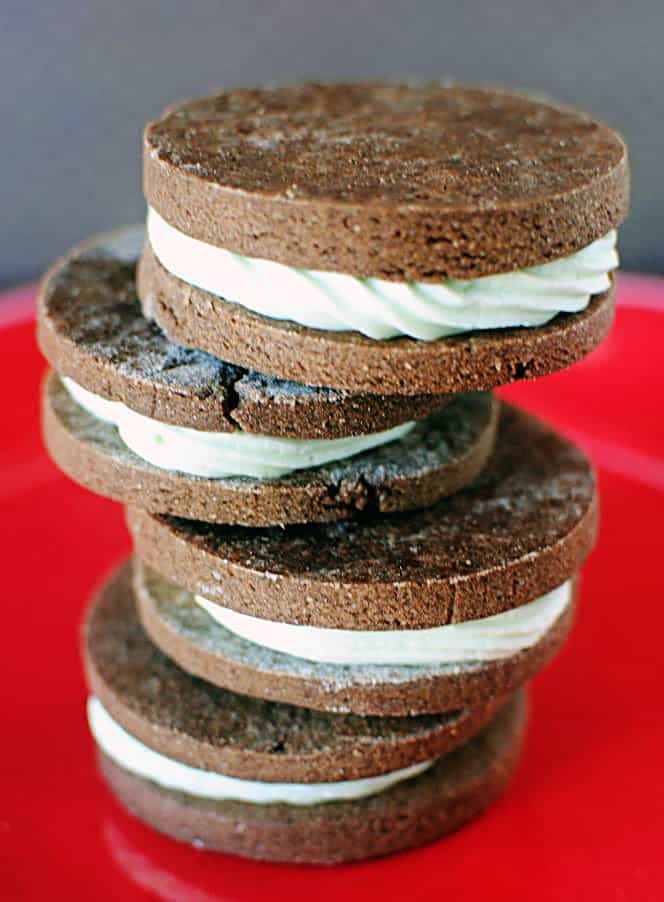 Two weeks ago, I scoffed at the ads for "last minute shoppers," but here it is December 15th and I am feeling the holiday crunch. Its that time of year though. Toys are being purchased and Walmart stores across the nation are picked barren of any cheap decorations. Ovens are heating up across the country to get the holiday goodies ready. Warm, delicious treats to be tested all month long to figure out which one is just right to put on the plate for Santa.
And when you're knee deep in the middle of it all – your father calls – needing you to run his holiday errands in the middle of it all. I love the man, but I swear, he does not believe I work or do anything at all some days.
Seriously, I work every Saturday from 10 to 6. Every Saturday he calls and asks what I'm doing. Don't get all "aw, that's so cute" on me. The man's only 40-something – he is fully capable of remembering when I work.
Now, back to the food:
As you get your cookie countdown in order don't forget to try these chocolate mint sandwich cookies.
Chocolate Mint Sandwich Cookies
from Better Homes and Gardens Magazine –  December 2010
Ingredients:
Cookies:
4 cups AP flour
1 1/2 cups unsweetened cocoa powder
2 teas espresso powder
1/2 teas salt
1 1/2 cups butter, softened
1 1/2 cups sugar
2 eggs
Peppermint Cream Filling
1 cup butter, softened
2 teas vanilla
2 teas peppermint extract
5 cups powdered sugar
2 tbs milk
Preparation:
In a large bowl, stir together flour, cocoa powder, espresso powder, and salt; set aside.
In a very large mixing bowl, beat butter with electric mixer on medium to high speed for 30 seconds. Add sugar. Beat until combines, scraping sides of bowl occasionally. Beat in eggs until combined. Beat in as much of the flour mixture as you can with the mixer. Using a wooden spoon, stir in any remaining flour mixture. Divide dough in half. If necessary, cover and chill for 1 to 2 hours or until dough is easy to handle.
Preheat oven to 350 degrees. On a lightly floured surface, roll half of the dough at a time until 1/4 inch thick. Using a 2 1/2 round cookie cutter, cut out dough. Place 1 inch apart on parchment-lined cookie sheet. Bake 10-12 minutes or until edges are firm. Transfer to a wire rack and let cool. Fill cookies with Peppermint Cream Filling. Chill for at least 1 hour before serving. Store in the refrigerator up to 3 days. Makes about 24 sandwich cookies.
For the cream filling:
In a large bowl, beat butter with an electric mixer on medium to high speed until fluffy. Add vanilla and peppermint extract. Beat in 2 1/2 cups powdered sugar. Beat in milk. Add remaining powered sugar and beat until smooth. Tint with green food coloring if desired. If necessary, beat in additional milk to make spreading consistency. Makes about 2 2/3 cups.
Wrap these chocolate mint sandwich cookies up in a cute container with a  bow and give them to someone special.
For those of you that don't know me or my family you are probably thinking I am an ungrateful spoiled brat. However, please know that we are sarcastic and smart with one another all of the time in my family and that I love my daddy very much, but yes, some days he just gets on my nerves. You should hear us in the kitchen together…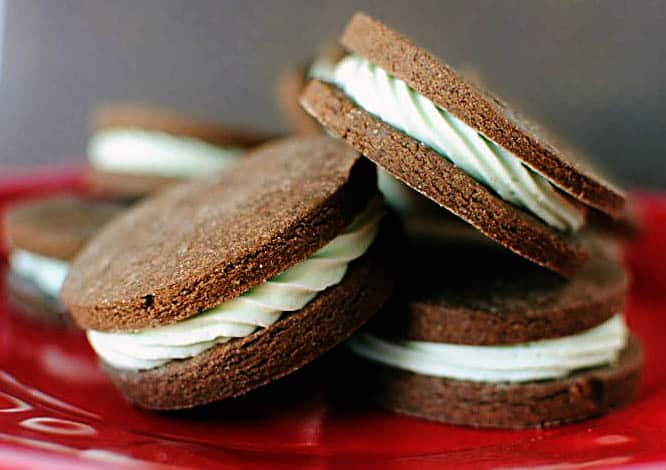 Update: This chocolate mint sandwich cookies post made it to FoodBuzz!