A simple and sweet moist coffee cake loaded with the bonus of hazelnuts and chocolate. Perfect for breakfast or dessert.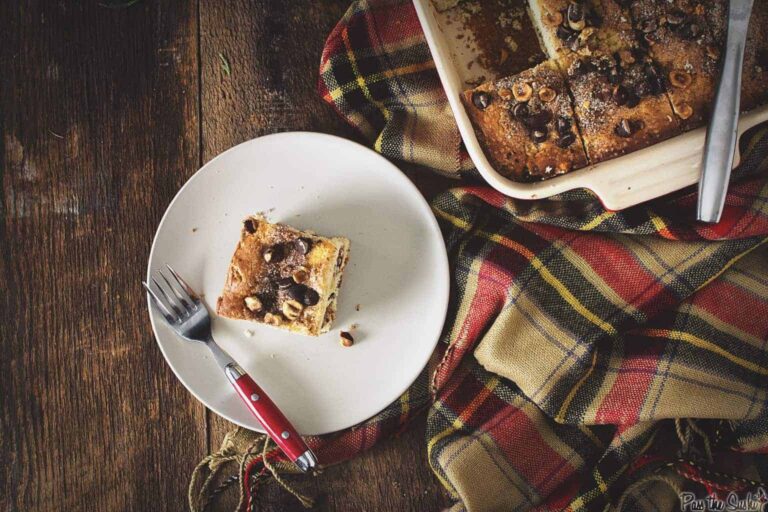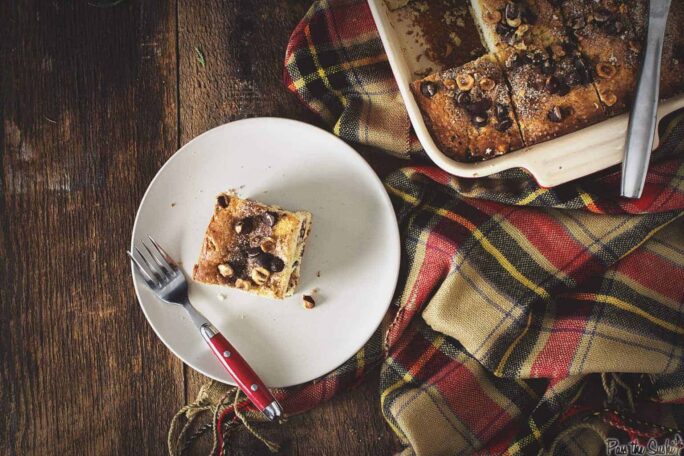 No one tells you being an adult is going to be fun. You see all the big kid pictures, the rock, the home, the countless hours spent climbing the ladder to put food on the table, and everyone seems to forget to tell you how fun it is going to be. They don't warn you that asparagus, coffee and beets are going to make your pee stink and that one day you are going to learn all about ingrown hairs all on your own. But no one really talks about how being an adult is just.... fun.
It's Tuesday night happy hour because you can and you have someone to drive you home. It's hanging out with people you choose to hang out with, not just people who are alphabetically near you and trapped in the same classroom. It's learning what really drives you and that sometimes, work is downright fun. That you will build relationships and bonds that are going to be thicker than blood with people you never imagined knowing. That you are going to go further than you can even dream at 15. No one talks about the joy in the little things. The day to day. The comfort of clean dishes and your bed. No one talks about the days that you voluntarily tuck yourself in at 9:30 like a boss because you earned it. Those accomplishments that you tack on as an adult are bigger and better every year. It's eating a giant bowl of ice cream for dinner and a ham sandwich for breakfast from time to time. Being an adult is awesome when you choose it to be.
There are days when it sucks. Days when the bills are too great and the time too short. Days when things really come to a halt and your world is rocked. There are the mountains you will climb and the dark alleys you will have to look down.
But if I had known at 15 where I would be today.... if I had even thought it possible.... who know's what I would have done differently. My adult-self is more confident, smarter, sassier and just more fun to be around than that 15 year old awkward girl could have ever known. And I am happy that I take the time to acknowledge it. To see it. And to really bask in it.
Now, I shall step down from my pulpit and eat a slice of cake... because I can.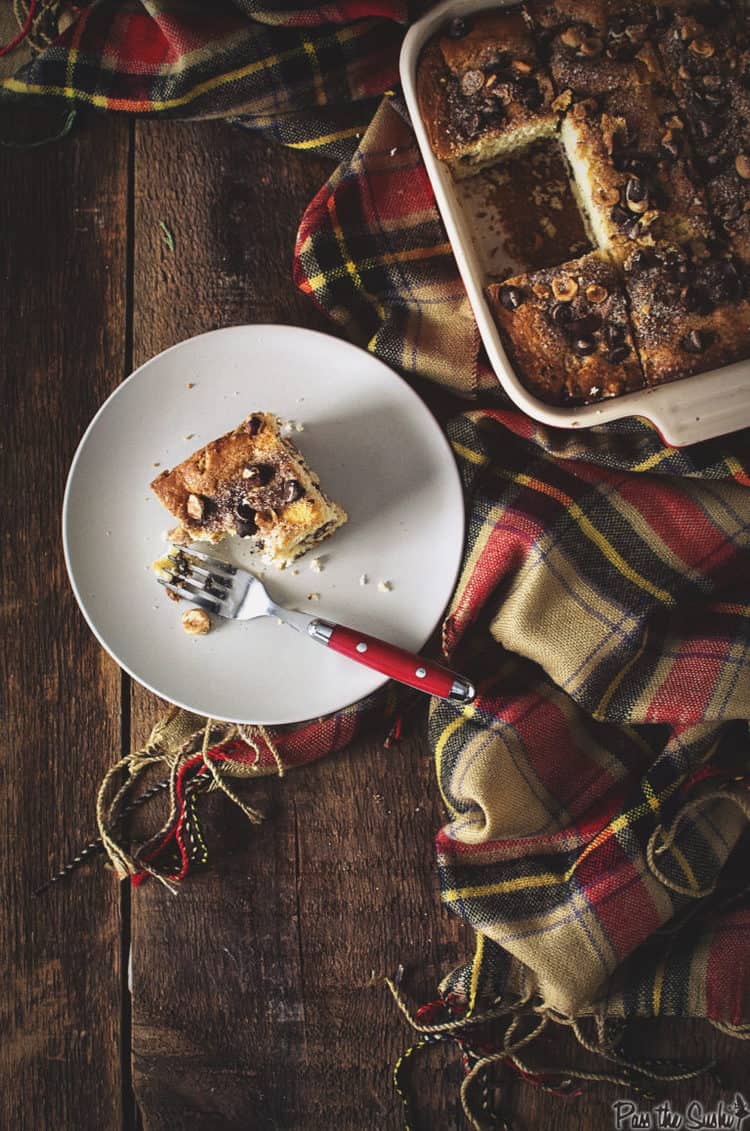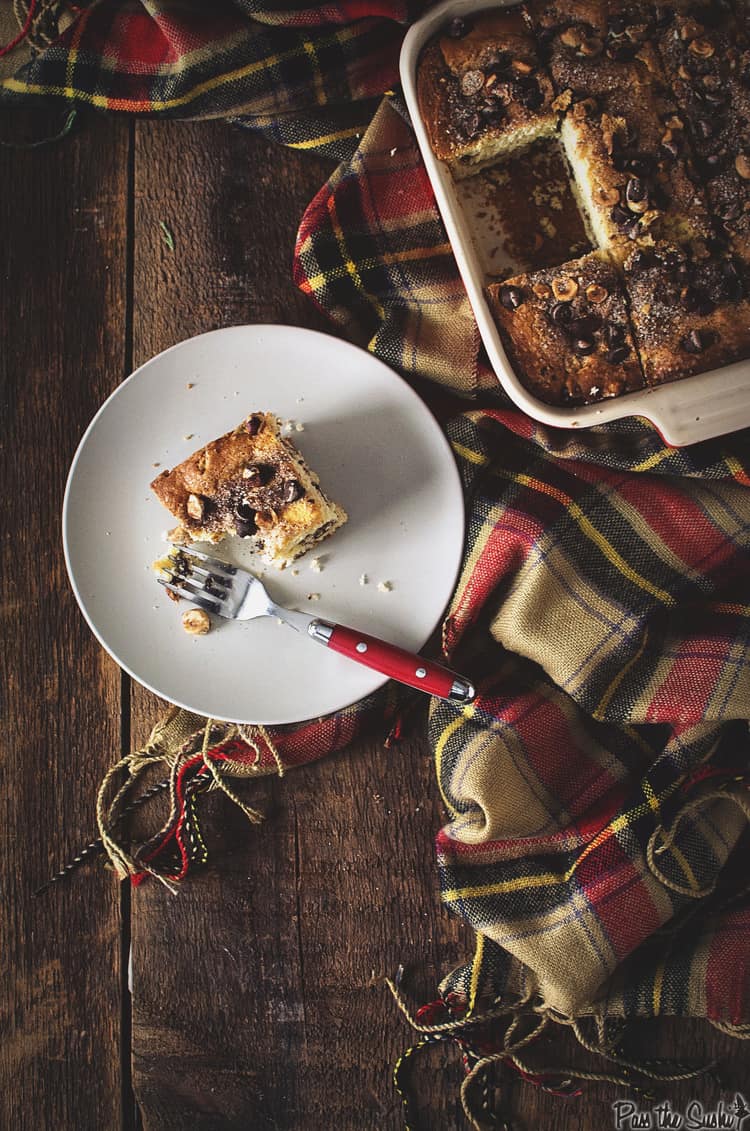 📖 Recipe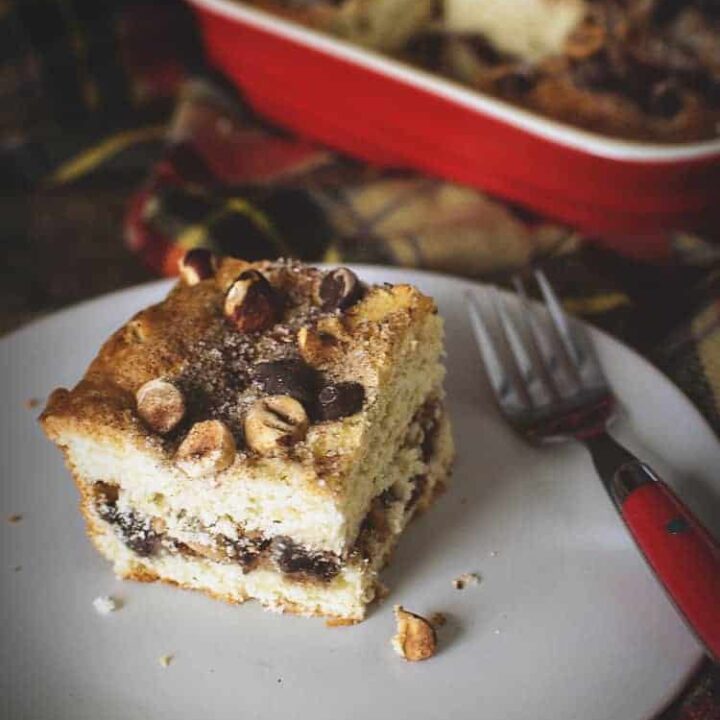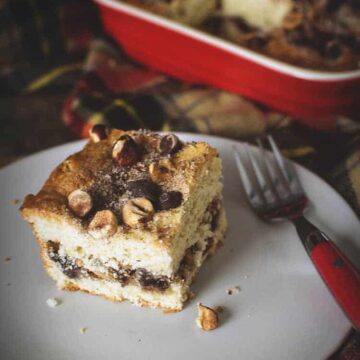 Ingredients
½

cup

unsalted butter

-

room temperature

½

cup

blanched hazelnuts

-

chopped

2

oz

semisweet chocolate chips

¾

teas cinnamon

2

tbs

sugar in the raw

¾

cup

sugar

1

teas vanilla extract

2

large eggs

2

cups

flour

¾

teas baking powder

½

teas baking soda

¼

teas salt

1

cup

plain whole vanilla Greek yogurt
Instructions
Preheat the oven to 350 degrees F. Grease a 9x9 baking dish.

Whisk the hazelnuts, chocolate chips, cinnamon, and 2 tbs of the raw sugar in a small bowl. Set aside.

Beat the butter and ¾ cup sugar in the bowl of your stand mixer until creamy. Scrape down the sides and add the eggs one at a time. Add the vanilla and mix to combine scraping down the sides again if needed.

Whisk the flour, baking soda, and salt in a bowl. Alternating with the yogurt, mix in the flour mix and yogurt until completely combined. The batter will be thick.

Smooth half of the batter into the prepared pan and sprinkle with half of the hazelnut mix.

Smooth the remaining batter over the top and sprinkle with the remaining hazelnut mixture.

Bake 40-45 minutes until golden.

Cool and serve.
Notes
Nutritional informations provided as a courtesy and is only an approximatation. Values will changes based on ingredients used.
⭐ Tried this recipe? Rate it ⭐
Help out the next person and give it a star rating below!