Fried fish dinner is a staple during the season of Lent. Cod fillets are battered, deep fried and served with rosemary potatoes.
If you hadn't noticed by the Filet-O-Fish being back on the menu at every local McD's chain, it's Lent. The thing is, I'm not Catholic. So much not Catholic that my Catholic grandmother threw 'holy water' at my infant self, calling me a 'pagan baby'.
That's right, I've been trouble since before I could talk. Whether that story is true or false, I'll never know, but my father was not Catholic and my mother came from a very strict Catholic family, so I can see it may have caused some problems.
Even though I'm not Catholic, I know a lot of people use the season of Lent as a chance to purge, cleanse and try to make better choices for themselves.  As for me, if you looked around my kitchen lately, you'd think I am making it a point to splurge on sugar.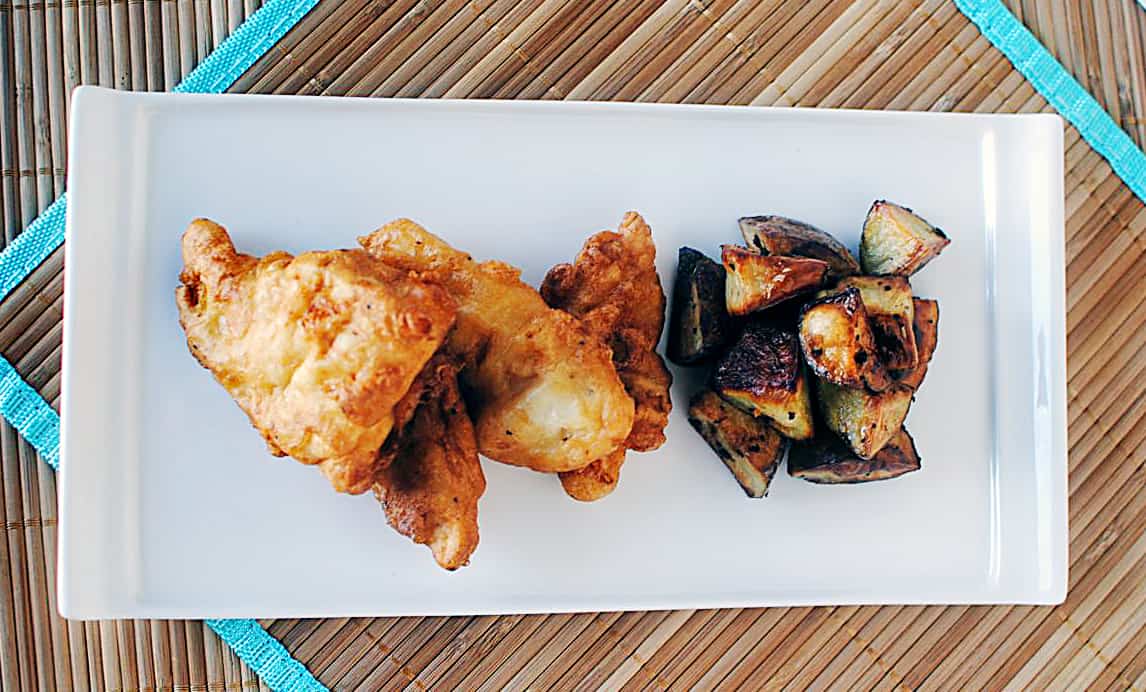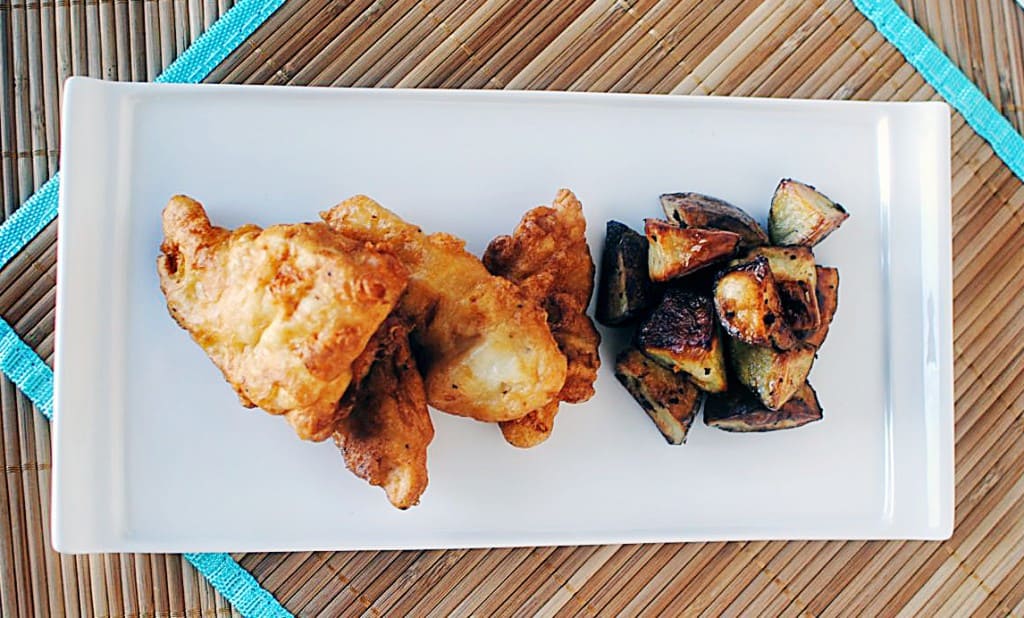 So here's my attempt to be healthy (although, it's a stretch), with a fried fish dinner and a healthier version of chips...roasted potatoes.
Fried Fish Dinner with Rosemary Roasted Potatoes
a la me
Ingredients:
16 oz cod fillets.
3 cups flour, divided
2 eggs
salt and pepper
1 bottle dark lager
Oil, for deep frying
Lemon and salt for serving
Preparation:
Heat oil in a large heavy pot or frying pan. Set up your dredging station. Place 1 cup of flour in one shallow bowl, lightly beat eggs and place in another shallow bowl. In a third large bowl, combine 2 cups flour, salt, pepper and beer, stirring to a consistency a bit thinner than a pancake batter. Place a wire rack with paper towels and set aside.
Working in small patches, dredge cod in flour, shake off excess flour. Dip in the egg and toss in the batter. Carefully place the batter dredged fish in the oil and fry for 4 to 6 minutes until golden brown. Lay on paper towels over the wire rack to cool and sprinkle with salt.
Serve with lemon slices.
Rosemary Roasted Potatoes
from Ina Garten, Barefoot Contessa
Ingredients:
1 ½ pounds small red or white-skinned potatoes (or a mixture)
⅛ cup good olive oil
¾ teaspoon kosher salt
½ teaspoon freshly ground black pepper
1 tablespoons minced garlic (3 cloves)
2 tablespoons minced fresh rosemary leaves
Preparation:
Preheat the oven to 400 degrees F.
Cut the potatoes in half or quarters and place in a bowl with the olive oil, salt, pepper, garlic and rosemary; toss until the potatoes are well coated. Dump the potatoes on a baking sheet and spread out into 1 layer; roast in the oven for at least 1 hour, or until browned and crisp. Flip twice with a spatula during cooking to ensure even browning.
Remove the potatoes from the oven, season to taste, and serve.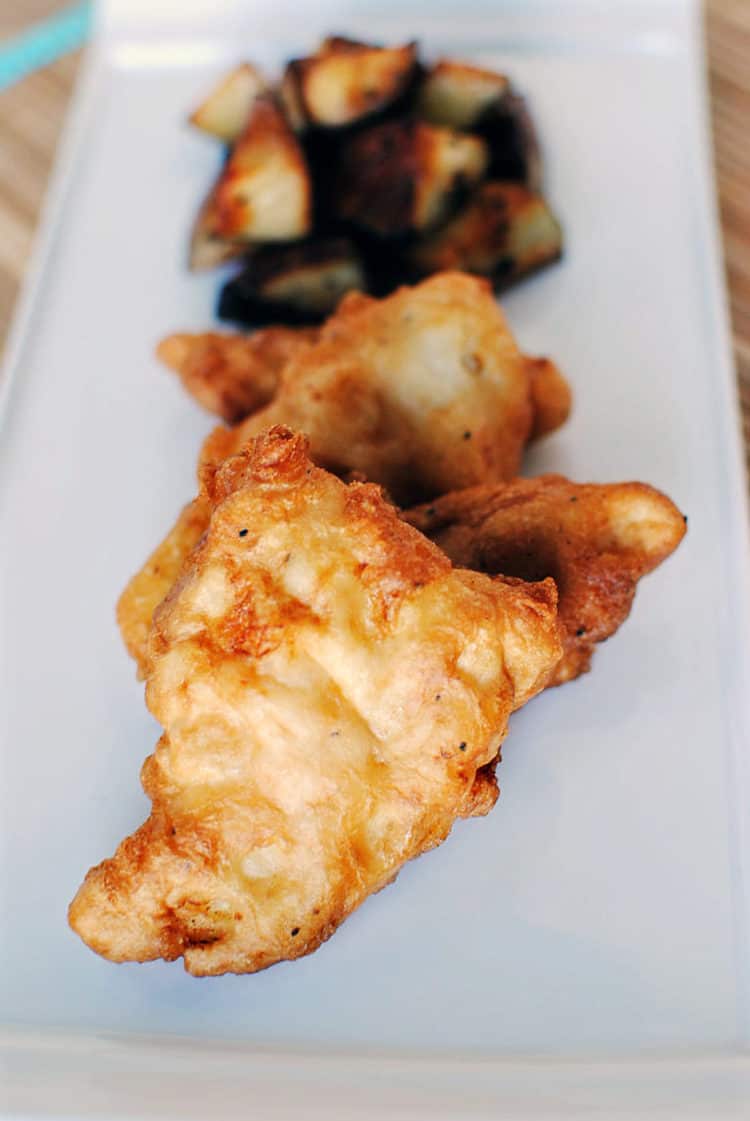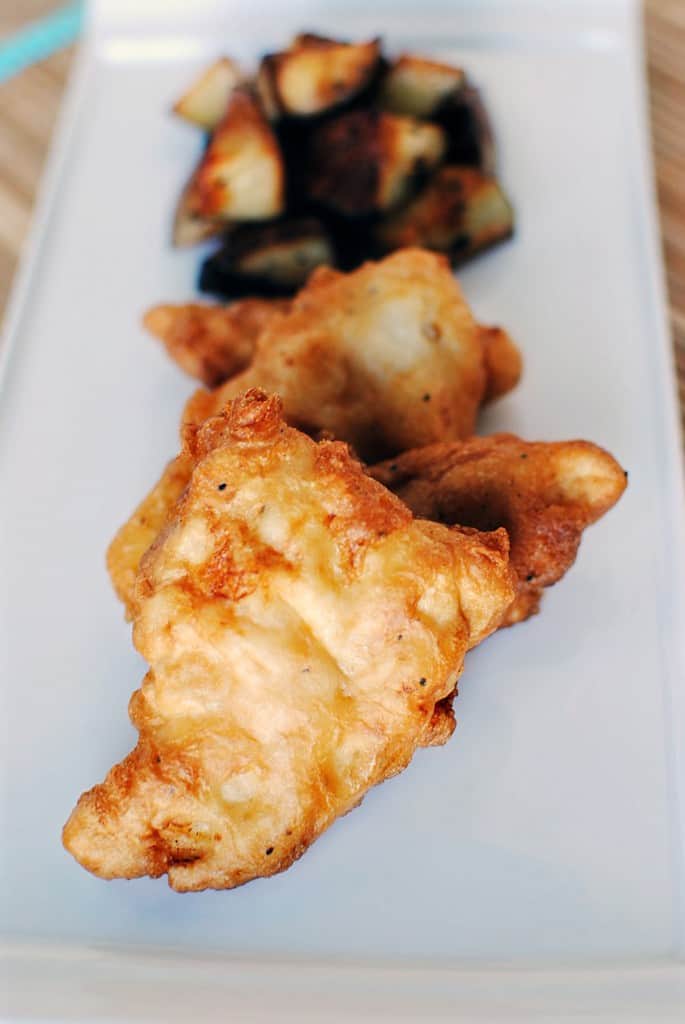 I would also like to say that I loved the filet-o-fish commercial with the signing fish last year (or whenever it was).