A moment ago, I had the thought to hide the frivolous purchase of yet more 'props' I made before my man got home. It isn't that I didn't want him to know that I was spending money, I just don't want to see the eye roll when he realizes there are two more plates to be meticulously piled into the cabinet. The second the thought passed through my head, I realized how ridiculous it was, however, I notice that a lot of my clients are on strict budgets managed by their significant others. I am not talking deadbeats who are gambling money away on magical variant covers that will someday be worth millions (they wont) while their bills are barely being paid and their children can't afford new school clothes. I am talking about full grown well established people who's bills are taken care of, families are well prepared for and significant others earn an income themselves. Some clients will often go as far as to spread out the payment types so that the other half doesn't catch on. Once again, I sell comic books. Superman, Iron Man, entertainment that averages about $2.99 a pop. So if you by 5 or 6 you are spending under $20 a week on entertainment. That seems like a rather good value to me. I know what one night a bar costs me, a single manicure, or that new lady piece I was eyeing up at the money sink that is Victoria Secret. And here I have customers who have to sneak about spending $20 a week on comics?
Handsome and I have a great relationship when it comes to money. The bills are paid, the food is on the table and with whatever is left some goes into savings and the other we don't ask each other about. If he wants new tires for the motorcycle, then poof, there are new tires. If I want yet another plate because I didn't have one in orange yet, then there's another plate. Now, if I was buying new plates every day and food was not being put on the table, I can see this being a problem, but I can't imagine having to justify myself to him or me ever questioning what he spends on our occasional non-necessary. I understand that children put a whole new spin on the money situation, but I think the same rules should apply. I can't remember a time when any one ever though to question my father on what he spent on his newest piece of fishing equipment. And why should they?

Biscuits with Creamy Gravy & Venison Sausage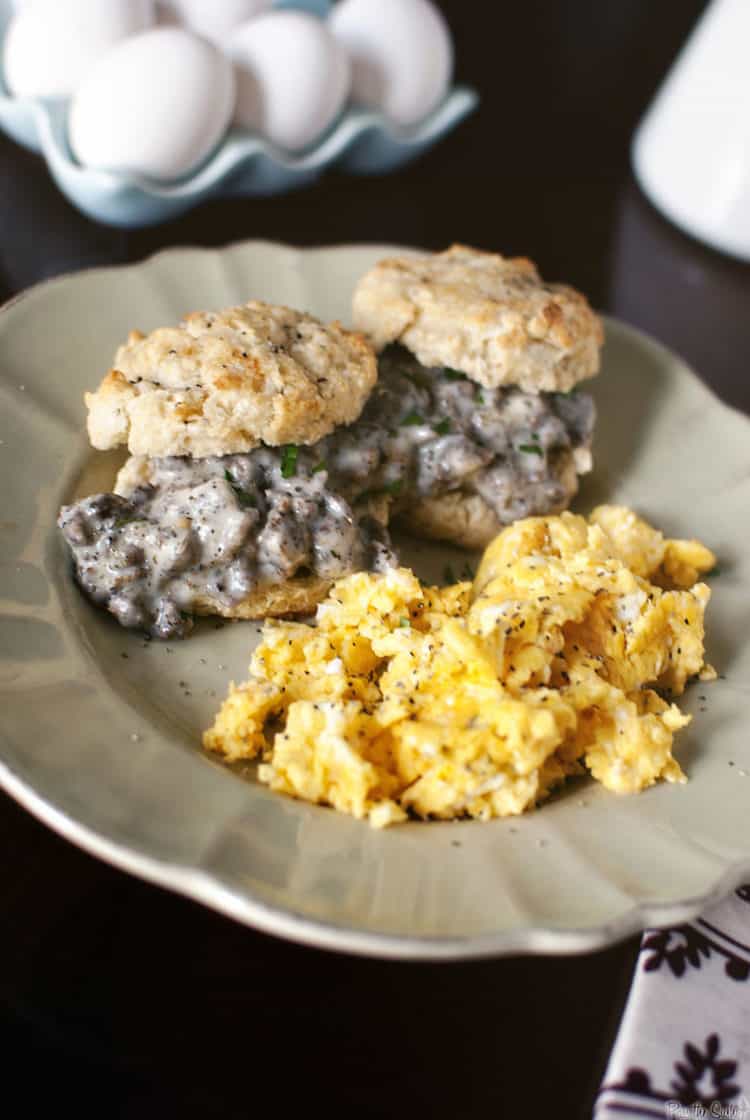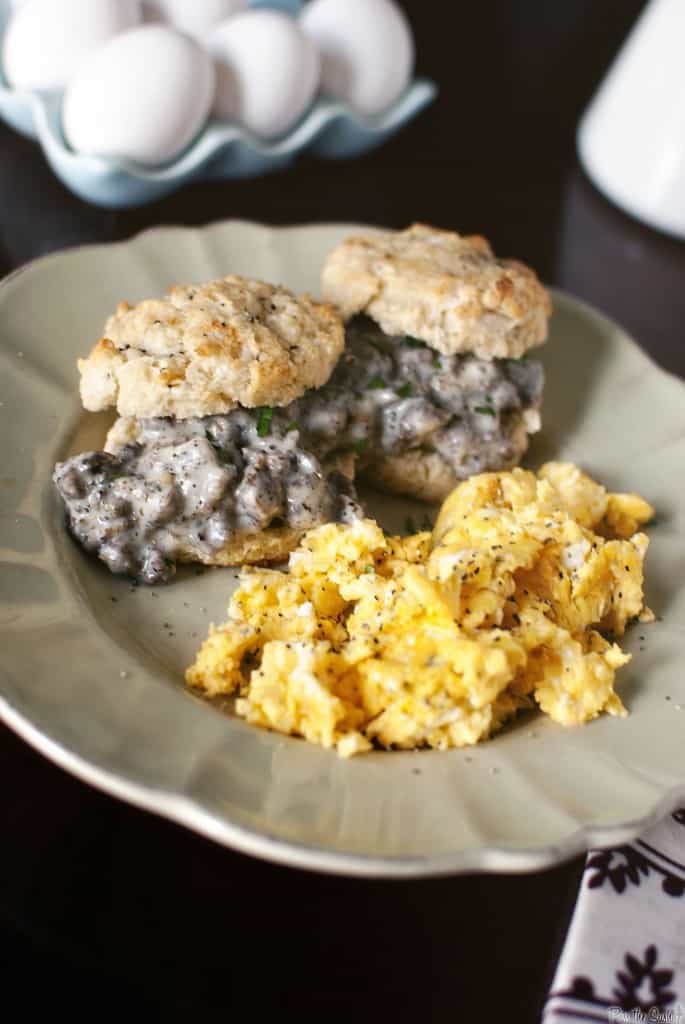 From Food Network Magazine October 2011
Ingredients
8 Black Pepper Buttermilk Biscuits
8 Sausage Patties
Cream Gravy
Chopped fresh parsley leaves, for garnish
Scrambled eggs, for serving
Preparation:
Slice each biscuit in half and put a sausage patty on the bottom half of each. Top with cream gravy and parsley. Serve 2 biscuits per person with eggs on the side.
Sausage Patties
Ingredients:
1 pound ground venison sausage (make sure your butcher has added pork fat or take this time to add some yourself)
2 cloves garlic, smashed and chopped into a paste
1 teaspoon onion powder
2 tablespoons finely chopped fresh sage
1 tablespoon finely chopped fresh thyme
2 tablespoons canola oil
Kosher salt and freshly ground pepper
Preparation:
Combine the pork, garlic, onion powder, sage, thyme and oil in a large bowl and season with salt and pepper. Cover and refrigerate for at least 30 minutes and up to 8 hours to allow the flavors to meld.
Form the mixture into 8 patties, each 1/2 inch thick. Heat a nonstick pan over medium-high heat. Cook the patties until golden brown and just cooked through, about 5 minutes per side.
**I wanted some serious sausage and gravy, so I opted to brown and crumble my sausage instead of making little patties. I mixed it in with the creamy gravy before ladling it over the biscuits.
Cream Gravy
Ingredients:
2 cups whole milk
2 tablespoons unsalted butter
2 tablespoons all-purpose flour
Kosher salt and freshly ground pepper
Put the milk in a small saucepan and bring to a simmer over medium heat.
Preparation:
Melt the butter in a small saucepan over medium heat. Whisk in the flour and cook for 1 minute without browning. Slowly whisk in the warm milk. Raise the heat to high and continue whisking until the sauce begins to thicken and the raw taste of the flour has been cooked out, about 5 minutes. Season with 1 teaspoon salt and 1/4 teaspoon pepper. Serve warm.
Black Pepper Buttermilk Biscuits
Ingredients:
4 cups all-purpose flour, plus more for shaping
1 tablespoon plus 1 teaspoon baking powder
1 teaspoon baking soda
1 teaspoon fine salt
12 tablespoons (1 1/2 sticks) cold unsalted butter, cut into small pieces, plus 4 tablespoons ( 1/2 stick), melted
1 1/2 cups buttermilk, chilled
1/2 cup heavy cream
Freshly ground pepper
Preparation:
Preheat the oven to 450 degrees F. Line a large baking sheet with parchment paper.
Combine the flour, baking powder, baking soda and salt in a large bowl. Cut in the cold butter using your fingers or a pastry cutter until the mixture resembles coarse meal. Add the buttermilk and mix gently until the mixture just begins to come together.
Scrape the dough onto a lightly floured counter. Pat into a 10-by-12-inch rectangle, about 3/4 inch thick. Use a 2-inch round cutter to cut out biscuits. Press together the scraps and repeat.
Place the biscuits 2 inches apart on the baking sheet; brush the tops with the cream and sprinkle with pepper (use 2 teaspoons total). Bake until light golden brown, 12 to 15 minutes. Brush the biscuits with the melted butter and transfer them to a wire rack to cool at least slightly.