These Mini Blueberry Donuts with Streusel topping are perfect for satisfying your donut craving, without leaving a cement weight in your gut.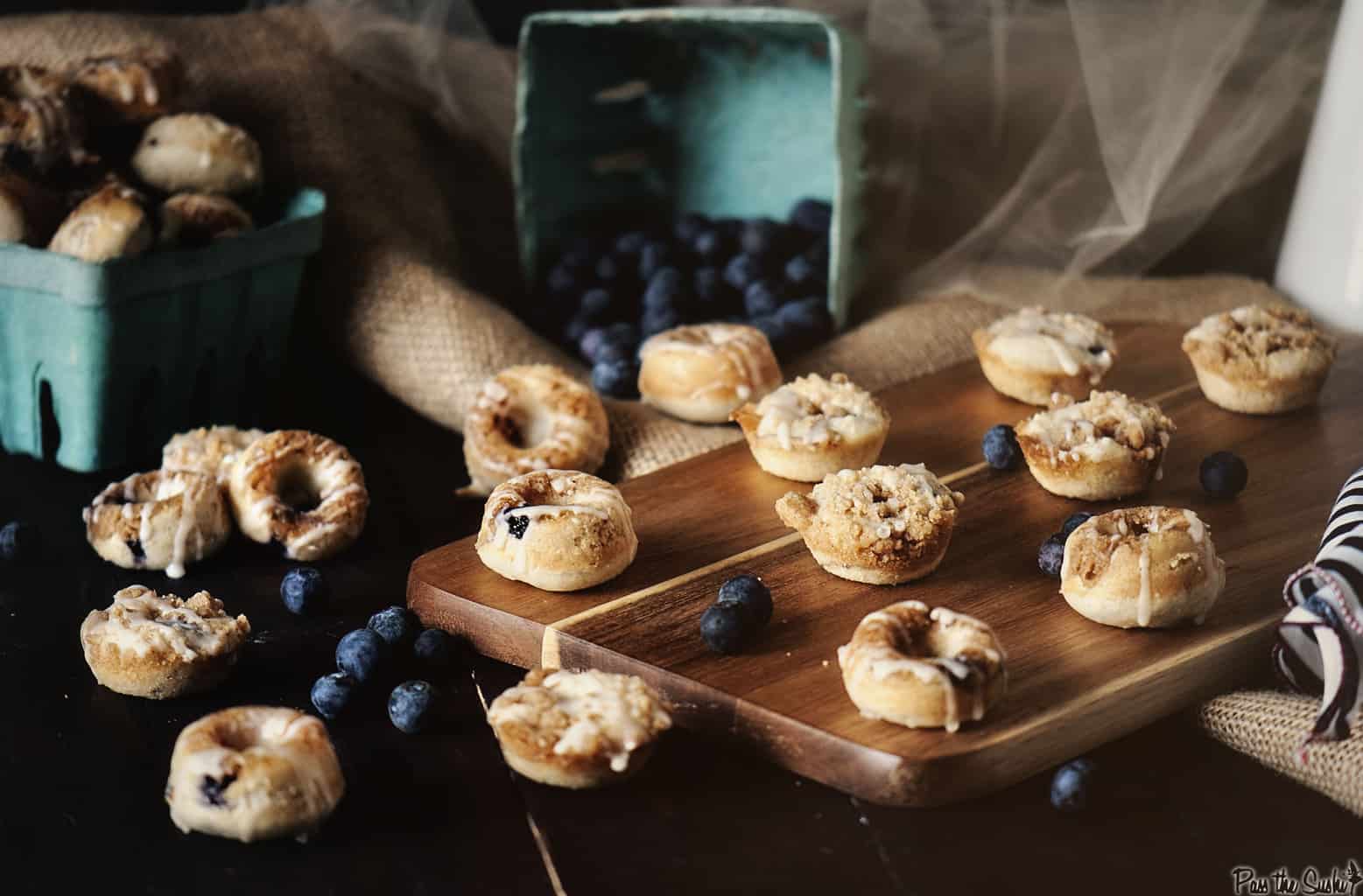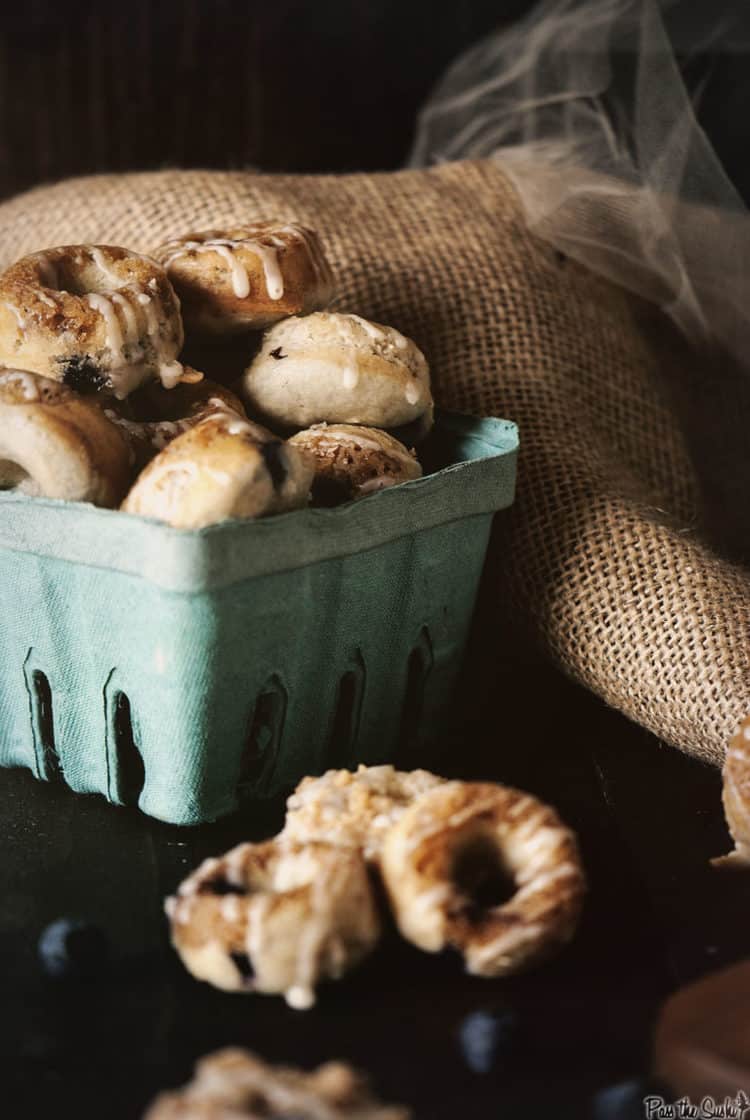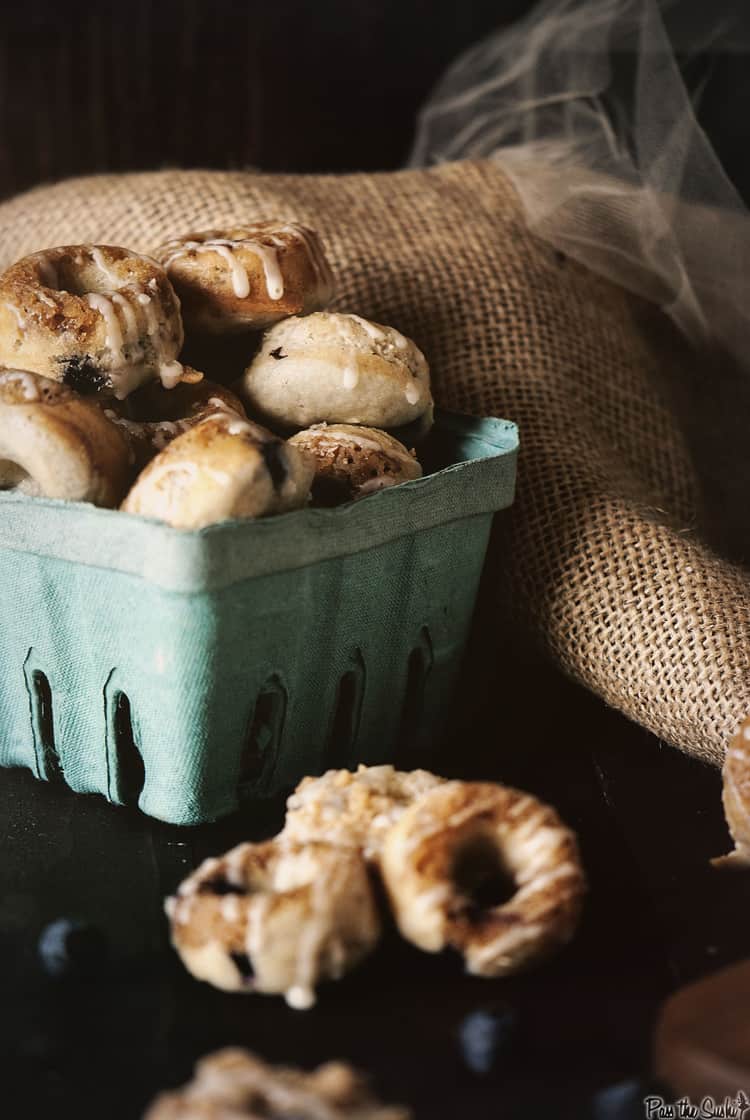 Let's have a little chat about etiquette. Internet etiquette that is.
Last week it was brought to my attention that one of my photos, along with the entire recipe was posted to a facebook page that wasn't mine. It's the internet. It was built to share information quickly. It was a recipe. I post recipes on the internet because I want people to try them. But copying and pasting an entire post to your own page without and credit is just plain wrong. Sadly, these sort of pages are springing up everywhere and the people who follow them feel that they are perfectly right in what they are doing (and have been downright mean to food bloggers - you know the people providing them with the content they are stealing).
For instance, the recipe below is not my own. I did not create it and I don't claim to. I've adapted it, put it in my own words and I include credit on every post directly below the title of the recipe and when applicable, a link to the original source.
If I claimed this recipe as my own, you would accuse me of stealing it. And that would be wrong.
Do I want my posts shared - heck yeah! A snippet and link back to my site on your facebook page, freakin sweet! Want to hit the print this button and make 35 copies for your co-workers to take home - boom diggity! That was like handing out 35 business cards - except you could lick them! Pin, tweet, and google plus away. But please don't try to jam the entire recipe into that post along with one of my photos. Not cool.
I know it's just a food blog, and those are a dime a dozen these days. But I create the food from scratch. Their is no magic editing, no savvy tricks, fake cheese, glue, or editor. It's me and my camera. Which takes time. I make the food, snap the photos, edit the pics, and write the posts. It's not my day job, and it doesn't exactly pay the bills, but please respect it. See, the money I make from this site does not come from Facebook or Pinterest. It only comes from actual clicks on this site. And its literally fractions of a penny to the thousand. When there is no need to click back to the site, you are taking bread off of my table, and future posts off of this blog.
Like these Blueberry Donuts with Streusel topping.
Less to drool over. Tragic right?
Moral of the story? Share with care ;D Yeah, I just went all Sesame Street on you.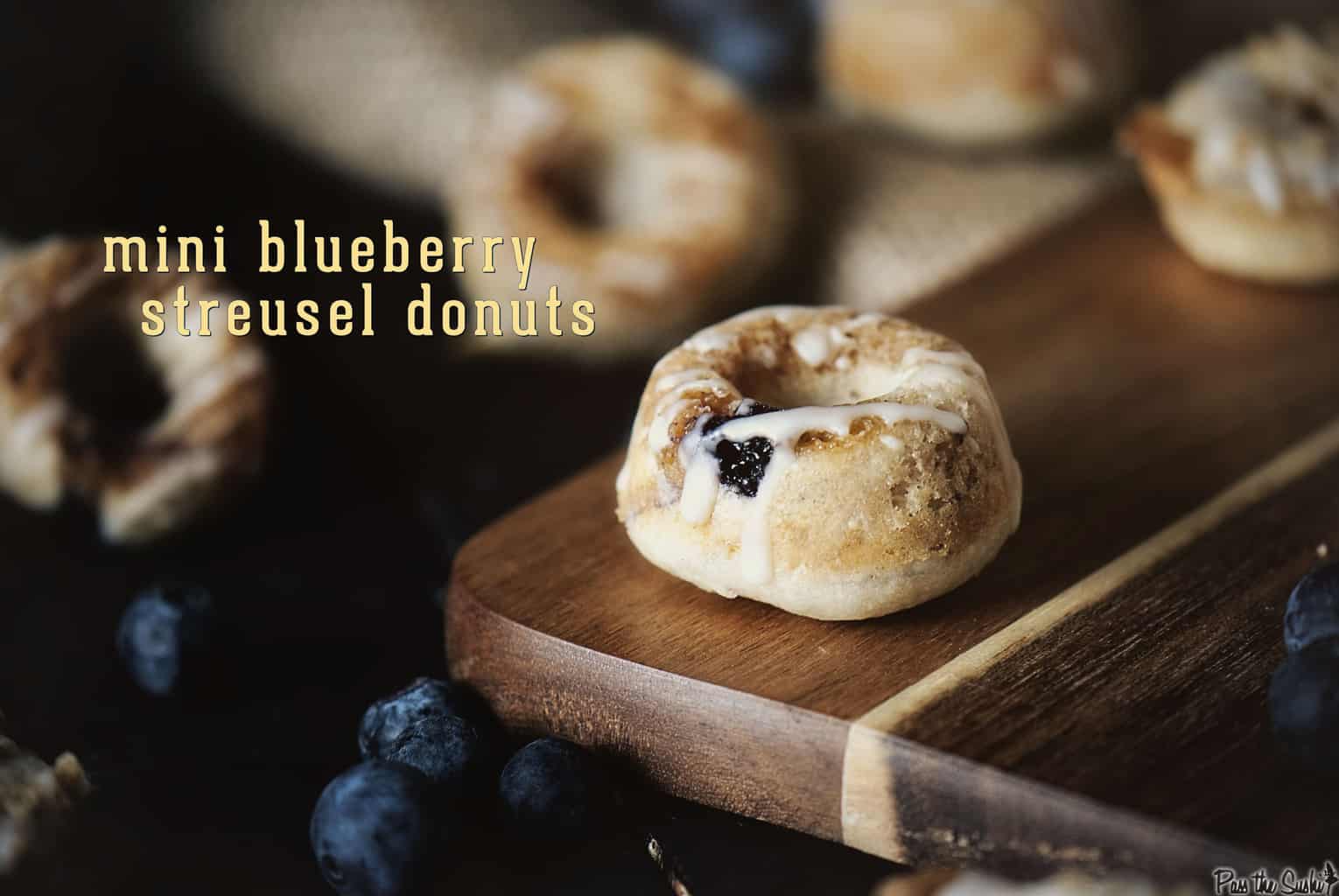 If you've tried this Baked Mini Blueberry Donuts with Streusel Topping recipe, or any other recipe on passthesushi.com please don't forget to rate the recipe and let me know where you found it in the comments below. I love hearing from you! You can also follow along for more good eats and travel tips on Instagram @passthesushi & @girlcarnivore, Twitter & Facebook.
📖 Recipe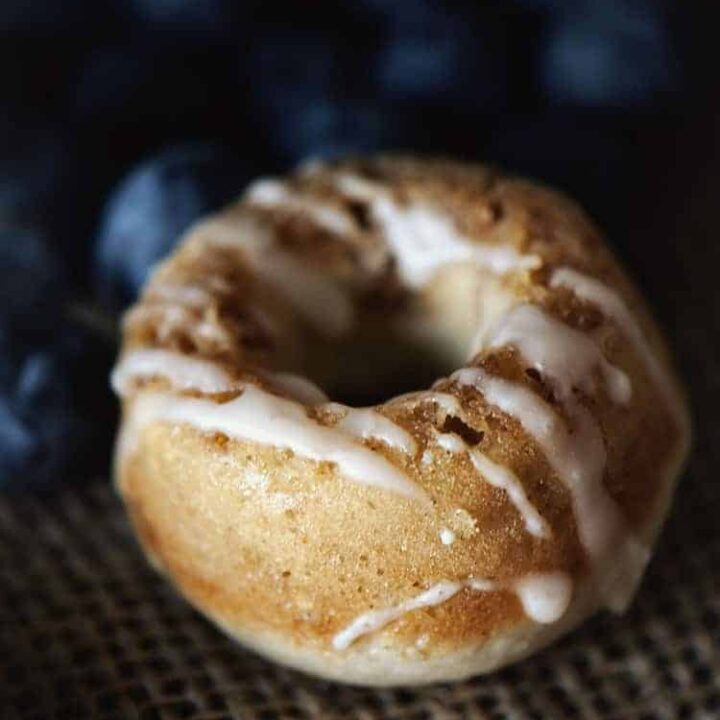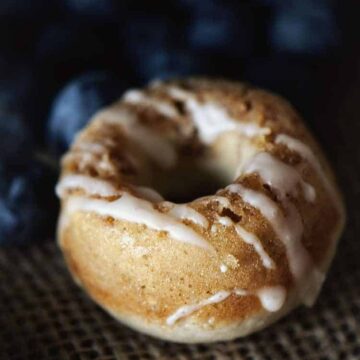 Ingredients
For the donuts:
1 ¾

cup

flour

2

teaspoon

baking powder

dash of salt

1

egg

¾

cup

sugar

3

tablespoon

vegetable oil

¼

cup

sour cream

1

teaspoon

vanilla

½

cup

whole milk

½

cup

frozen blueberries
For the streusel topping:
2

tablespoon

butter

-

melted and cooled

¼

cup

four

¼

teaspoon

cinnamon
For the glaze:
2

teaspoon

whole milk

½

teaspoon

vanilla

¾

cup

confectioners' sugar
Instructions
For The Donuts
Preheat the oven to 350 degrees F. Grease a mini donut pan.

Whisk the flour (reserving 1 tbs), baking powder, and salt in a large bowl.

In another bowl combine the egg and sugar until pale yellow. 

Add the oil, sour cream, vanilla, and milk. 

Gently fold wet ingredients into the dry ingredients until everything is just moist and no lumps.

Toss the blueberries in the reserved 1 tablespoon of flour. Fold into the batter.

Spoon the batter into a ziplock bag. 
Make the Streusel
With a fork, stir together the streusel topping ingredients. 

Sprinkle a little into each donut area of the greased pan.

Snip off the corner of the ziplock bag of dough, and fill each donut area half full. 

Bake for 7-9 minutes. 

Cool on wire rack for 5 minutes before flipping pan and turning out donuts to cool completely on a wire rack.
Make the glaze:
Whisk together the milk, vanilla and confectioners' sugar. 

When donuts have cooled and are still on wire rack, place wax paper under the rack to catch drips. 

Drizzle glaze over the donuts. Let sit for 5 minutes to set.
Nutritional informations provided as a courtesy and is only an approximatation. Values will changes based on ingredients used.
⭐ Tried this recipe? Rate it ⭐
Help out the next person and give it a star rating below!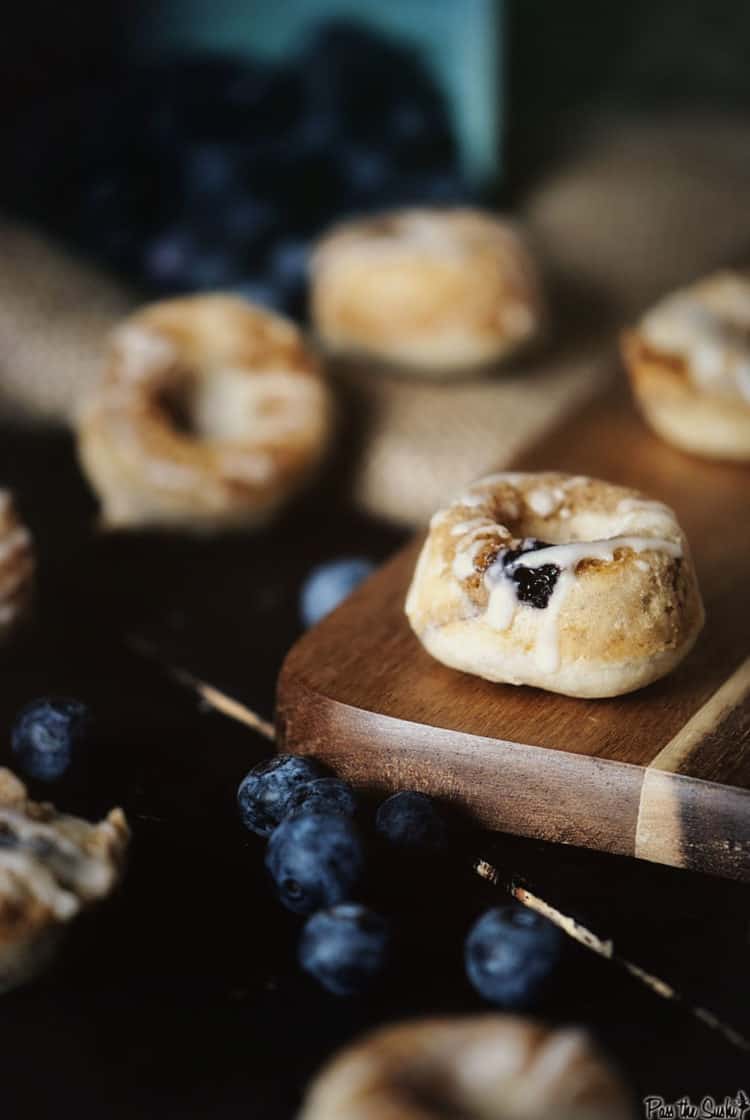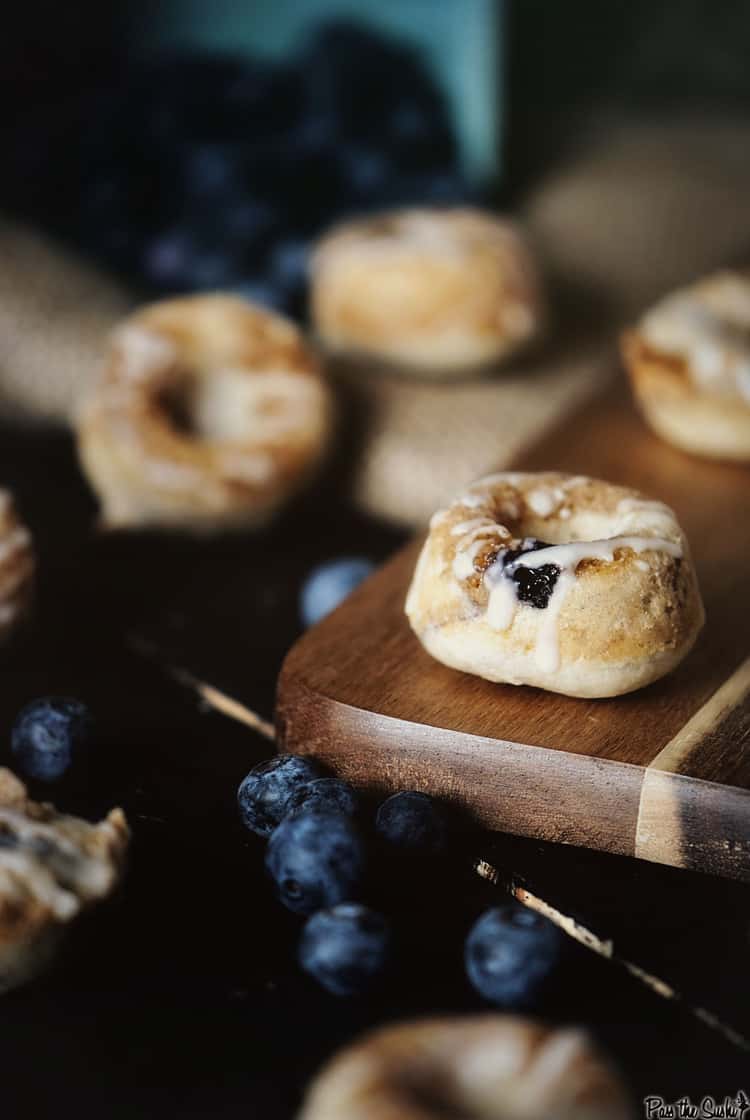 Looking for more Donuts?  Try these recipes out!
Peanut Butter Chocolate Donuts