2015 was a whirlwind year that I didn't see coming. I heard it referred to as the year that made up for things I missed out on while I was younger. Really, I am hoping that it was the year the put me further in the direction I need to go. Either way, it was a year filled with amazing opportunities and wonderful experiences. One that I hope will always make me look back and smile.
So let's break it down with some snaps and highlights from the past 365.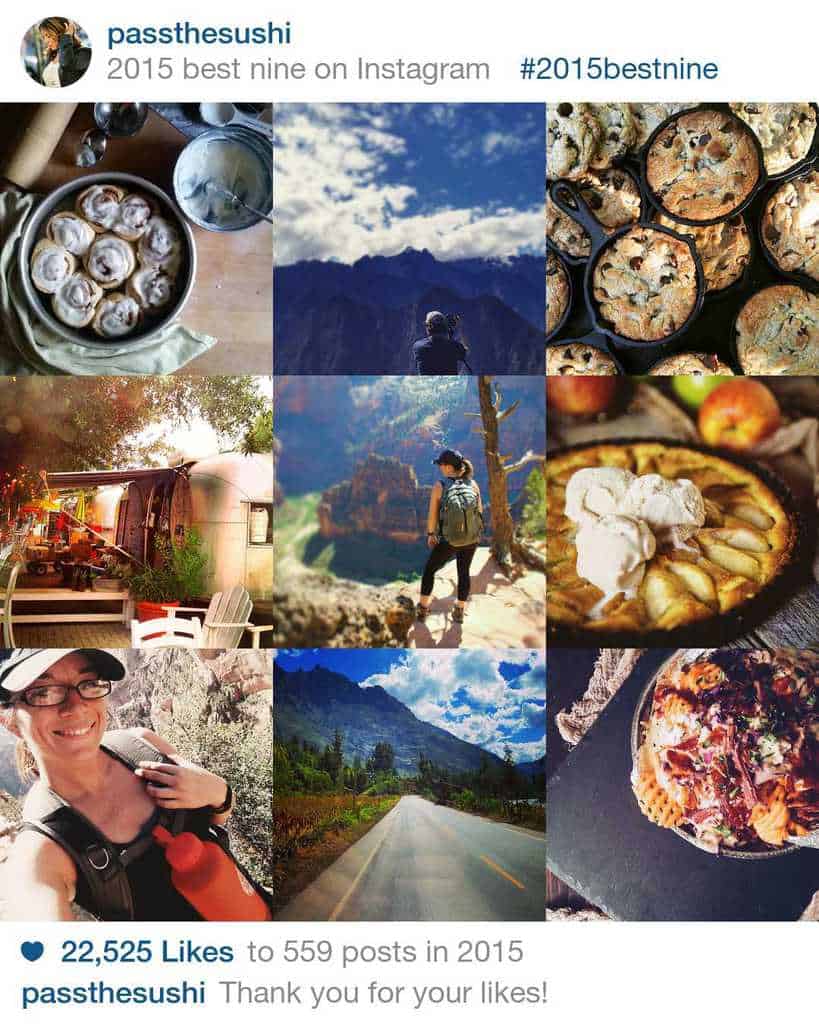 Launched a kick ass podcast with my buddy Peabody and we got to interview some great friends and fellow bloggers:
Truly and unexpectedly held onto a skunk. Yeah, didn't see that coming either.
Expanded my client base and started developing recipes for Omaha Steaks, Certified Angus Beef, and Char-Broil as GirlCarnivore.

Had a super sexy Mad Men Photoshoot
Shot a few menus for restaurants
Attended a beautiful workshop with Sarah Bradshaw
Set up a bold beautiful shoot with Gloss Salon
Road my bike – but not nearly enough
  Hiked a tiny chunk of the Appalachian Trail with a friend to scratch a little something off her bucket list.
Explored the beautiful city of Columbus, GA with the Char-Broil All Star Group (and ate some serious food – pretty sure where this is where it all went downhill) & started GirlCarnivore her own fancy instagram account.
Hopped on a plane and headed to Peru where I joined with The Giving Lens and lead photographers Peyton Hale and Jeff Bartlett on another amazing adventure and got to fall in love with the landscapes, work with the smiling local children and see the clouds settle over the peaks of Macchu Picchu.
Captured deep and beautiful memories for couples as their engagement and wedding photographer.
Ran my first half marathon. Missed my goal by 10 minutes. But, hey, now I have something to aim for next time, right? Oh, and let's not talk about that other blogger recognizing me as I lay sweaty and gross in the grass trying not to die. "Are you PasstheSushi?" oh god no, not today.
Got to babysit 4 kiddos for a few days in North Carolina. And I wouldn't trade that awkward weird panic of having no idea what I was doing for anything in the world.
Celebrated an amazing birthday for my boy with his very own cheeseburger.
Tested out my kayaking skills down the Brandywine River.

Ate a TON of meat at the Certified Angus Beef HQ in Wooster Ohio.
Patiently waited for clouds to break and fog to clear in a fun photography workshop in the Great Smokey Mountains.
Toured Portland Main for a foodie tour then met some local kick butt farmers and raced for Cabot Cheese in the Beach to Beacon 10k.
Consumed a TON of ice cream. (seriously, a shameful amount – with jimmies, like every time.)
Bounced down to Nashville for a crazy good workshop with Julie Paisley 
And added a day just to eat with my friend and expert host Catherine.
Judged the Delaware Burger Battle
Had the amazing and wonderful chance to hang out with some amazing food lovers (Ally, David, Christie, BJ, Scott, Merry) in Zion National Park at Food Fire Feast and hike the trails. (Which only made me want to hike more in the future).
Jumped over to Seattle for IFBC where I reconnected with friends, hung out with new people, and continued to eat too much.
Had a rock star photo shoot with the talented Trinity Photography and started some branding ideas with mad skills of Chelsea Foster-Hilt
I also played Pin-up for a minute (cuz, why not)
Jetted down to Florida for a retreat with some amazing ladies and attempted to paddle board. It was open, honest, and a really inspiring weekend.
There was a quick layover in Orlando with a buddy of mine who really rolled out the red carpet! Talk about a whirlwind 24 hours!
Next was Jamaica where I got to hang out with some fellow bloggers and do yoga on the beach with a wild spirit and meet a rowdy group of local schoolchildren.
I got an amazing surprise of having my photos featured in a bike magazine (bonus! a local race I love too).
There was a few days of stunning foliage spectating in Michigan's wild UP
A few days spent in Fort Lauderdale learning some ins and out's of the travel biz and hobnobbing with the greats.
And then a 15-day grand sightseeing adventure cruising the rivers through 5 countries in Europe from Amsterdam to Budapest. I had no idea how pretty those cities could be!
Shockingly, none of my jeans fit.
To round out the year, I bounced back to Michigan for one last tour of Ann Arbor – and fell in love with the community and vibe of the town (not to mention got to fly in a WWII plane!).
A must if traveling through Ann Arbor – stopping at the world famous Zingerman's Deli. #foodie #travel #puremichigan
Hosted another Toy Drive at Captain Blue Hen and the Star Wars Premier Party that pretty much had every fan ever in a tizzy for the new big screen adventure.
I know people. That know people. #starwars #darthvader #girlcarnivore
And finally settled back home for a relaxing New Year celebration with friends.
There were family dinners, birthdays, beer gardens, pet sittings, donut spillage, and a few earth shattering heartbreaks in there with all of it and about a million other small details that really matter when it all boils down. 2015 was unexpected and wild. I met an amazing amount of people that have truly inspired me this year. I'm not one for juju and what not, but I am really starting to believe that if you align yourself with people who inspire you, you just may go a little further than you thought possible. Here's to hoping that it was just the start.
What are you manifesting for 2016?