I'm all about the quick and easy meal from time to time. The king of quick and easy has got to be the stir fry. We love mixing it up and trying new ones and as part of my new years resolutions was to try to utilize more of my cookbook and magazines I knew the moment I saw this one we had to try it! I ripped it out (as per my knew organization process) and added it to the pile.

Sweet and Sour Pork
from Food Network Magazine, January/February 2011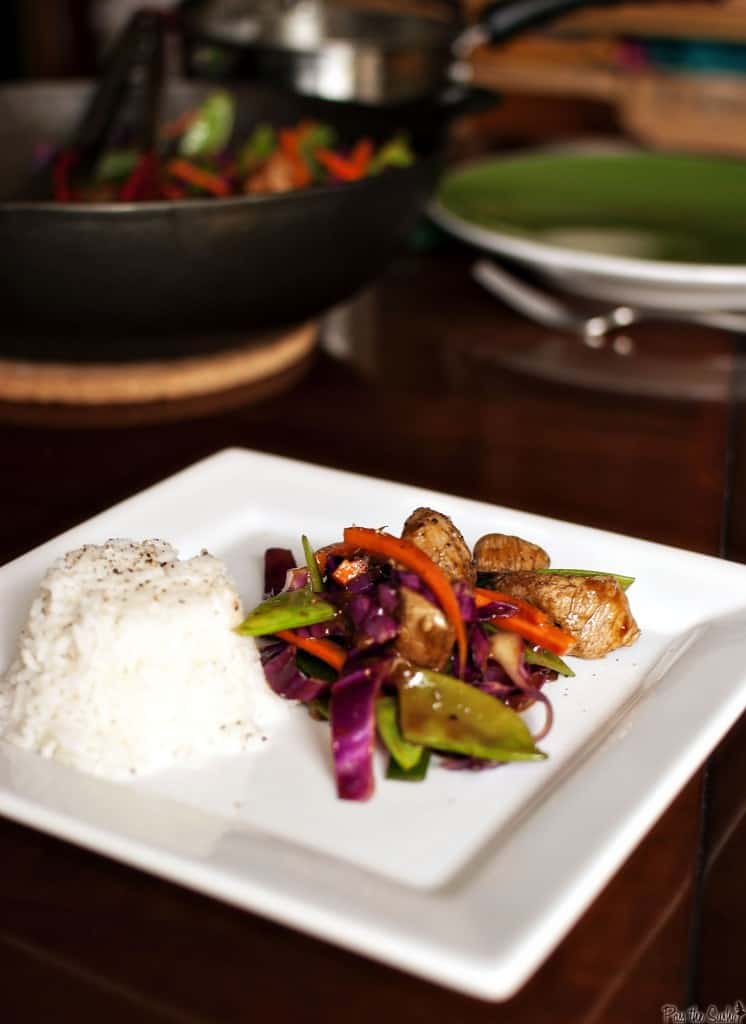 Ingredients:
1 lb pork tenderloin, cut into 1/2-inch pieces
2 1/2 tbs balsamic vinegar
Kosher salt
2 teas low-sodium soy sauce
1 tbs cornstarch
3 tbs ketchup
3 tbs sugar, plus a pinch (really, FN – is plus a pinch an actual form of measurement?)
1/3 cup water
3 tbs peanut or vegetable oil
3 cloves garlic, minced
2 carrots, thinly sliced
3 scallions, cut into 1/2-inch pieces
3 cups snow peas, cut in half
1/2 small head of cabbage, sliced thin *I threw this in
Preparation:
Toss the pork with 1/2 tbs vinegar and pinch of salt in a bowl. Mix the remaining 2 tbs vinegar, soy sauce, cornstarch , ketchup, 3 tbs sugar, 1/3 cup water and 1/2 teas salt in another bowl.
Heat 2 tbs oil in a large skillet or wok over high heat. Add the pork and slowly sit until it turns mostly opaque, about 2 minutes (my 1/2-inch to 1-inch pieces took more like 5 minutes to get to a point I was ok with serving). Remove the pork with a slotted spoon and transfer to a plate. Discard the oil and wipe out skillet.
Heat the remaining 1 tbs oil in the skillet, then stir-fry the garlic with a pinch each of salt and sugar, 15 seconds. Add the carrots and scallions and stir-fry until crisp-tender, 2 minutes. (Add a little water if the garlic starts to stick to the skillet.) Add the pork, snow peas and soy sauce mixture stir until the pork is cooked through and the sauce is thickened, about 3 minuets.
Serve with rice and enjoy 😀
I've never had a sweet and sour anything, but after trying this dish, I'm not sold. I didn't love love this one from Food Network magazine, but with amount of recipes in each issue, there's bound to be a few we don't love. It was a meal, and I packed a ton of veggies in without much prep-work or time wasted, but I wont be making this one again. Win some, lose some
.