Going into this year's Thanksgiving, take a step back and remember – no one's perfect! We've all had our fair share of entertaining flops, but take a tip from Julia Child and roll with it. I recently ripped out an article in Rachael Ray magazine where Guy, Spike and a few others I'd never heard of share their Thanksgiving horror stories from dropping turkeys on the ground while almost setting the house on fire to completely forgetting to cook the thing! I knew a person who cooked the whole thing upside down, not knowing any better and it was the best turkey they had ever had! So when the birds not done perfectly, the gravy is lumpy and the mashed potatoes are going cold, take a sip of something to get you in the mood and wing it. People will always rave about your food, but they are really there for your company. And if push comes to shove, I've at least got this for you to win anyone that stuck around for the morning after.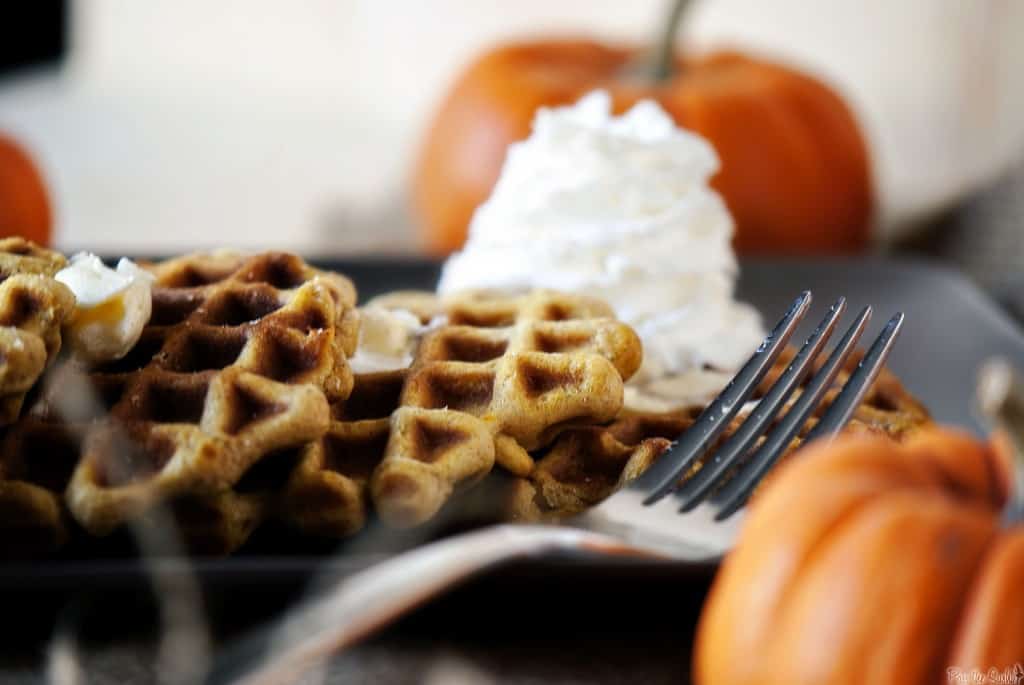 Pumpkin Pie Waffles
discovered on Tracy's Culinary Adventures, from Williams-S0noma 
Ingredients:
5 tbs unsalted butter
1 cup pumpkin puree
1/2 cup firmly packed dark brown sugar
1/4 cup granulated sugar
1 1/4 tsp ground cinnamon
1 1/4 tsp grated peeled fresh ginger
1/8 tsp ground cloves
1/8 tsp freshly grated nutmeg
Pinch of salt
1 1/3 cups all-purpose flour
1 tbs double-acting baking powder
1/2 tsp baking soda
1 cup milk
1/2 cup sour cream
2 eggs
2 Tbs dark rum
1 tsp vanilla extract
Vanilla ice cream and/or maple syrup for serving
Preparation:
Preheat a waffle iron. If you want to hold the finished waffles until serving time, preheat an oven to 200°F. Melt the butter; set aside. In a large bowl, combine the pumpkin, brown and granulated sugars, cinnamon, ginger, cloves, nutmeg and salt. Using a rubber spatula or handheld electric mixer, mix together well. Stir in the flour, baking powder and baking soda. The mixture will be thick and a little lumpy. Don't try to smooth it out; just mix until the ingredients are incorporated. In another bowl, beat together the milk, sour cream, eggs, rum and vanilla. Add the liquid ingredients to the pumpkin mixture and stir until combined. Fold in the melted butter. Whether or not your irons grids are well seasoned or made of a nonstick material, it is best to lightly butter or spray the grids for these waffles because the batter is quite sticky. Brush or spray the grids again only if subsequent waffles stick. Spoon out 1/3 to 2/3 cup  of batter (or the amount recommended by the manufacturers instructions) onto the hot iron. Use a metal spatula or wooden spoon to spread the batter evenly over the grids. Close the lid and bake until golden. If the waffle is hard to remove from the iron, peel it off gently and carefully. Serve immediately or keep the waffles, in a single layer, on a rack in the preheated oven while you make the rest.
These ran a little too greasy for my waffle iron and I ended up mixing about a 1/2 cup more flour in to make them old their shape and not just run off of the hot iron.