I've had so much fun this week with these Easter/Spring themed goodies. On a personal level, I crave more savory treats then the sweet ones but I love the responses and comments I get from my random posts (like yesterday's about Peeps) probably more then when I make an amazing dish because it is so unexpected. I do posts like those because they make me giggle, but it really makes me feel good when I get the impression that it may have made you giggle a little too.
Next week we go on a diet (no, not really – but it wont be all sugar – I promise). For our Easter basket finale, I bring you the Because I Can Cadbury Creme Egg Cupcake from the wonderful and always entertaining Peabody. I saw this recipe a year ago and have been waiting with much anticipation to give it a try myself. Cadbury bunny eggs are the one Easter treat I look forward to every single year. I only allow myself one or two at most of the amazing cream filled devils (because I'm sure they are the type of candy that has a direct correlation to diabetes) but oh those bites. I always take a little off the top and eat out the filling before returning to the rest of the wonderful chocolaty shell.
And in a cupcake? Really, do you even need to ask a girl if she wants one?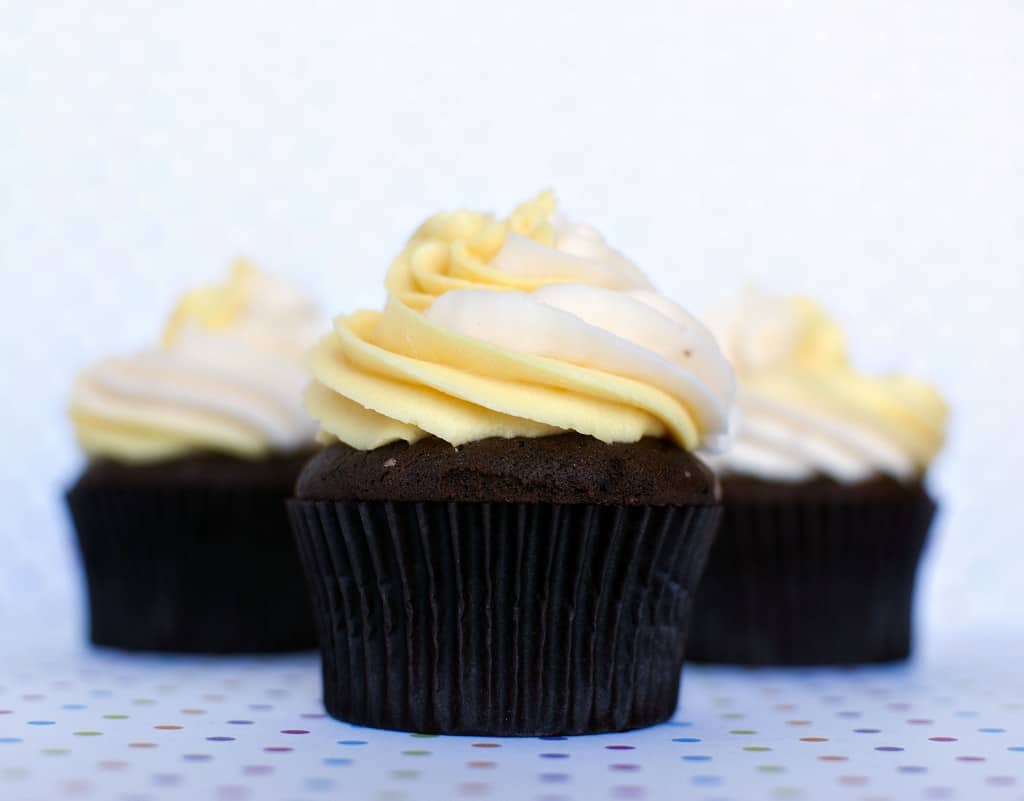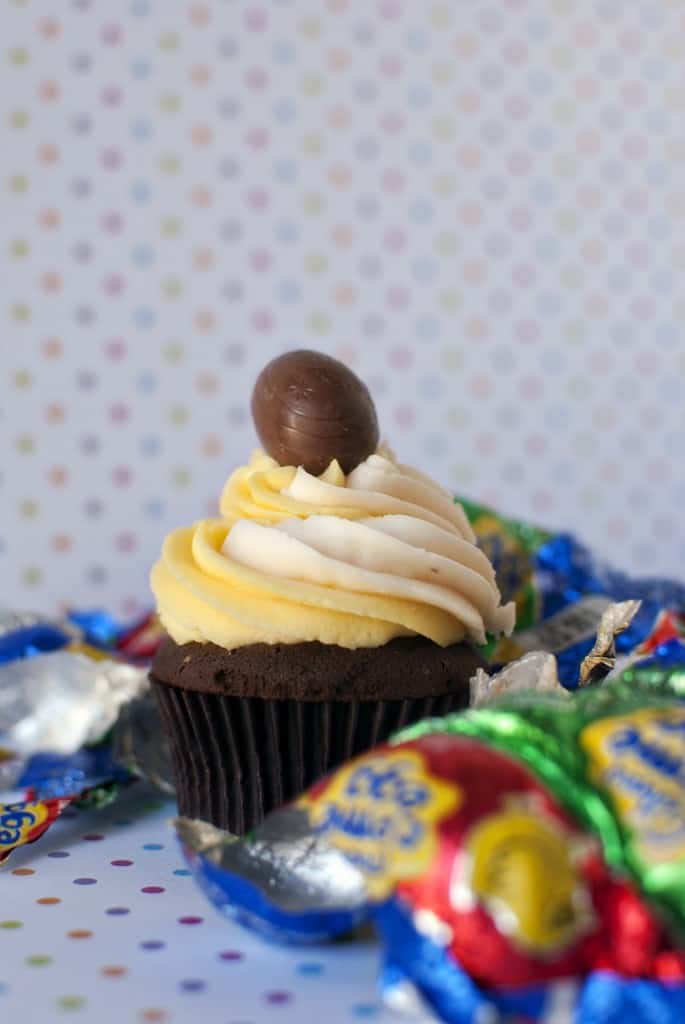 Cadbury Creme Egg Cupcakes

Recipe from Culinary Concoctions by Peabody, Cupcake original recipe David Lebovitz

Devil's Food Cake:

Ingredients:

9 TBSP unsweetened cocoa powder
1½ cups cake flour (not self-rising)
½ tsp salt
1 tsp baking soda
¼ tsp baking powder
4 ounces unsalted butter, at room temperature
1½ cups granulated sugar
2 large eggs, at room temperature
½ cup water
½ cup whole milk

Preparation:

Adjust the oven rack to the center of the oven and preheat the oven to 350 degrees. Butter two regular size cupcake pans.

Sift together the cocoa powder, cake flour, salt, baking soda, and baking powder in a bowl.

In the bowl of a standing electric mixer, or by hand, beat together the butter and sugar about 5 minutes until smooth and creamy. Add the eggs one at a time until fully incorporated. (If using a standing electric mixer, stop the mixer as necessary to scrape down the sides to be sure everything is getting mixed in.)

Mix together the water and milk. Stir half of the dry ingredients into the butter mixture, the add the water and milk. Finally stir in the other half of the dry ingredients.

Fill cupcake pans 2/3 of the way full with cake batter. For regular size bake 20-22 minutes. Mini bake 13-15 minutes.

For the Crème Egg Filling Buttercream Frosting:

the centers of 20 Cadbury Crème Egg scooped out (save the chocolate shells for décor and filling)
1 cup unsalted butter, at room temperature
6 to 8 cups powdered sugar
1 TBSP vanilla extract
milk to thin frosting

Preparation:

Place the butter and egg filling in a large mixing bowl, mix until fluffy. Add 4 cups of the sugar (one cup at a time) and vanilla extract. On the medium speed of an electric mixer, beat until smooth and creamy, about 3-5 minutes.

Gradually add the remaining sugar, 1 cup at a time, beating well after each addition (about 2 minutes), until the icing is thick enough to be of good spreading consistency. If too thick, thin out with milk.


You can take half of the icing and color it yellow for effect. You will also probably have little bits of chocolate that stayed with the crème filling, no worries, it's tasty.

For the Chocolate Shell Ganache

Ingredients:

10 ounces of chopped up Cadbury Crème Egg Shell, if you don't have enough to make 10 ounces, then add some milk chocolate chips to it
1 cup heavy cream

Preparation:

Put chocolate in a medium bowl.

Bring cream to a simmer in a saucepan and remove from heat. Pour over chocolate. Let sit 5 minutes.

Whisk in chocolate until smooth. Let set up at room temperature. (I had to refrigerate the ganache as it was 9 billion degrees in my kitchen at the time)

To assemble the cupcakes:

Take chocolate shell filling and place into a pastry bag fitted with a small tip.

Take tip and place into cupcake squeeze filling into cupcake using the cone method. (I used a pairing knife and a plastic bag because I was feeling lazy at this point).

Frost cupcake and top with chocolate shell piece.
How was my first attempt at two-toned frosting? I'm diggin it.
Now, lets hope that for the next major holiday I can be as prepared as this one and have some awesome recipes lined up head of time. In the meantime, who else is in serious need of some red meat? (It may have something to do with all of the sugary posts this week and my meatatarain side – but my fridge is packed with meats and poultry at this point. Funny how these things work).