Last year while on a group ride that was a little too slow for even me, a rider looked over and told me some day I would have to get a 'real bike' if I wanted to be taken seriously. Wow… really? First, I think anything you have to pedal yourself is a real bike. I mean, lets be real, the bike will never make the ride – it will always come down to how well the rider can handle the bike. And on that note, I am still a novice.
But, I finally got a 'real bike'. Actually, I got two. And Handsome got one himself. Cuz if your going to break the piggy bank open, you might as well use a sledgehammer. ; )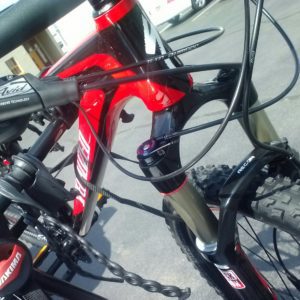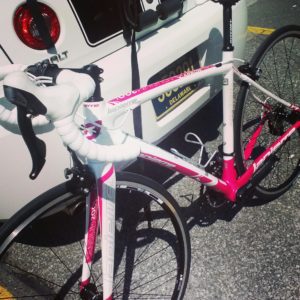 And since I didn't have the energy or time (after getting sucked into this crazy Amy hot mess) I'm just going to jump right into the key lime cheese cake bars. We can be honest with one another, you aren't drooling over your keyboard cuz of that lean mean carbon machine up there.
No-Bake Key Lime Cheesecake Bars
from Food Network Magazine March 2013
Ingredients:
For the crust:
1/2 cup unsalted butter, cut into pieces
2 oz semisweet chocolate, chopped
1 9 oz package chocolate wafer cookies
2 tbs sugar
For the filling:
1/2 cup fresh Key lime juice,about 10 Key limes
2 teas unflavored gelatin powder
1/4 cup sugar
2 8 oz packages cream cheese, at room temperature
1 14 oz can sweetened condensed milk
1/2 teas vanilla extract
2 oz semisweet chocolate, chopped
Preparation:
Line a 9×13 baking dish with aluminium foil, leaving enough extra to hang over the edges. Melt the butter and chocolate in a microwave safe bowl and melt in 30 second intervals. stirring between each blast. When melted and smooth, set aside. Pulse the cookies and sugar in a food processor until finely ground crumbs. Through the feed tube, with the processor still running, drizzle the melted chocolate it. Using your fingers, or the bottom of a glass, press the crumb mix into the bottom of the pan. Place in fridge.
In a small saucepan, warm the lime juice over low heat. Add the gelatin and sugar and whisk until completely dissolved, remove from heat and cool slightly.
In the bowl of your stand mixer, beat the cream cheese on high speed until smooth, about 4 minutes. Add the sweetened condensed milk and beat until smooth again. Mix in the gelatin and vanilla.  Mix 30 seconds longer. Scrape down the edges and give it one more mix.
Pour the filling over the prepared crust, smoothing out the top. Chill for at least 6 hours or overnight.
Place chocolate in a ziplock bag. Microwave in 30 second intervals, using your fingers to mush and mix the chocolate until melted. Snip off a tiny bottom corner of the bag and drizzle over bars. Refridgerate until ready to serve.
When ready, pull the bars out using foil handles and slice.