What could possibly take the place of this meat mavens love of all things flame kissed and charbroiled and boot my weekly grill recipe now that fall is officially here and baking season is upon us? (Man, I really hope that opening sentence got you as pumped as me). Well, think warm, comforting, and cozy. Think of thick blankets and bonfires. Think of the smell of roasted chicken, onions, potatoes and fresh bread filling the house.
Yeah, it's time for soups and stews in the PtS kitchen. For every week of fall I am going to feature a delicious and hearty soup to warm those bones. I know some parts are still enveloped with warm temperatures and long days, but after the first sip of steamy broth, it wont matter. You will be melted away into the soft knits, warm sweaters  and snowy days. Yeah, we're going there.
Even if it was over 90 degrees when I started cooking this chili to be prepared for you AND it was the day my air conditioner decided to bite the dust. Yes, I was sweaty and the house was hot, and chili was the furthest thing from a giant cold ice cube, but it was delicious.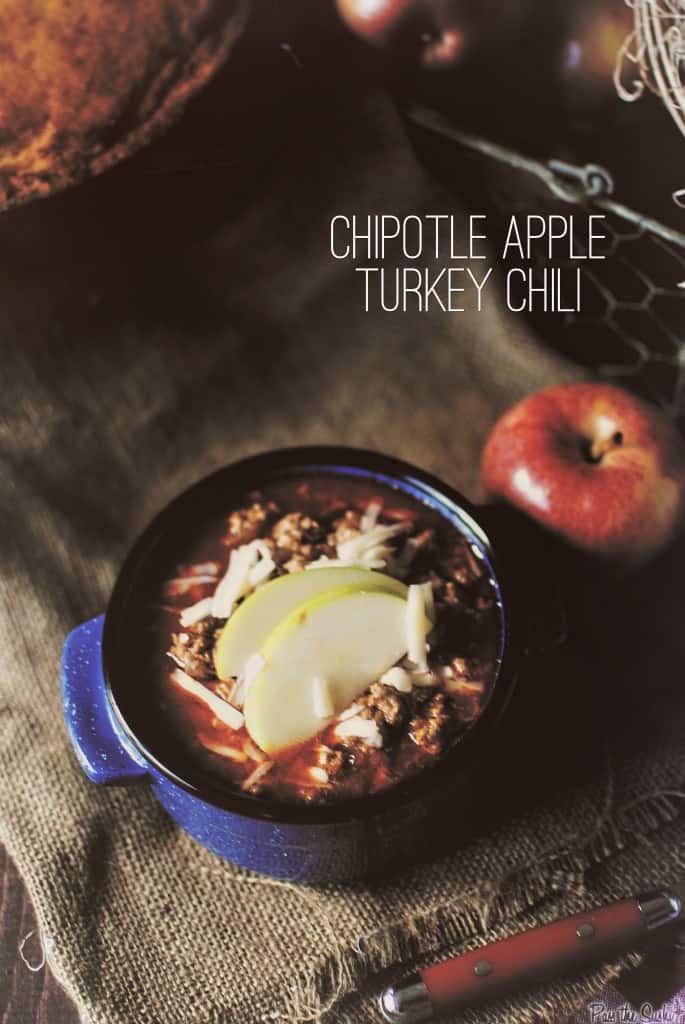 Chipotle Apple Turkey Chili
from Rachel Ray Magazine
Ingredients:
2 tbs olive oil
2 lbs ground turkey
1 can chipotle chiles in adobo sauce
Salt and pepper
1 tbs ground coriander
1 tbs ground cumin
1 tbs smoked paprika
1 red onion, chopped
2 large cloves garlic, chopped
2 green apples
1/2 lemon, juiced
1 cinnamon stick
2 bay leaves
3 tbs tomato paste
1 1/2 cups chicken stock
1 cup cider
Shredded super sharp white cheddar cheese, toasted pumpkin seeds and/or honey corn bread, for serving
Preparation:
Heat the olive oil in a large dutch oven over medium-high heat. Add the turkey and cook until brown,  breaking it into chunks while cooking.
Using a food processor, puree the chipotles and 2 tbs of the adobo sauce.
Stir 2 tbs of the chipotle puree into the ground turkey; season with salt and pepper. Reserve the remaining puree to adjust the heat at the end of cooking (I ended up using all of it storing the remaining chipotles in the fridge). Stir in the coriander, cumin, paprika,  onion, and garlic.
Peel and dice one apple into 1/2″ chunks, add it to the chili. Slice the remaining apple and toss with the lemon juice; Set aside.
Add the cinnamon and bay leaves to the chili, cover and cook, stirring and lowering the heat, for 10 minutes. Stir in the tomato paste, then the stock and cider; simmer for at least 20 minutes. Because I like to let flavors mingle, I let the pot simmer for over an hour.
Top the chili with the cheese, reserved apple and the toasted pumpkin seeds if desired. Serve with cornbread.
Honey Cornbread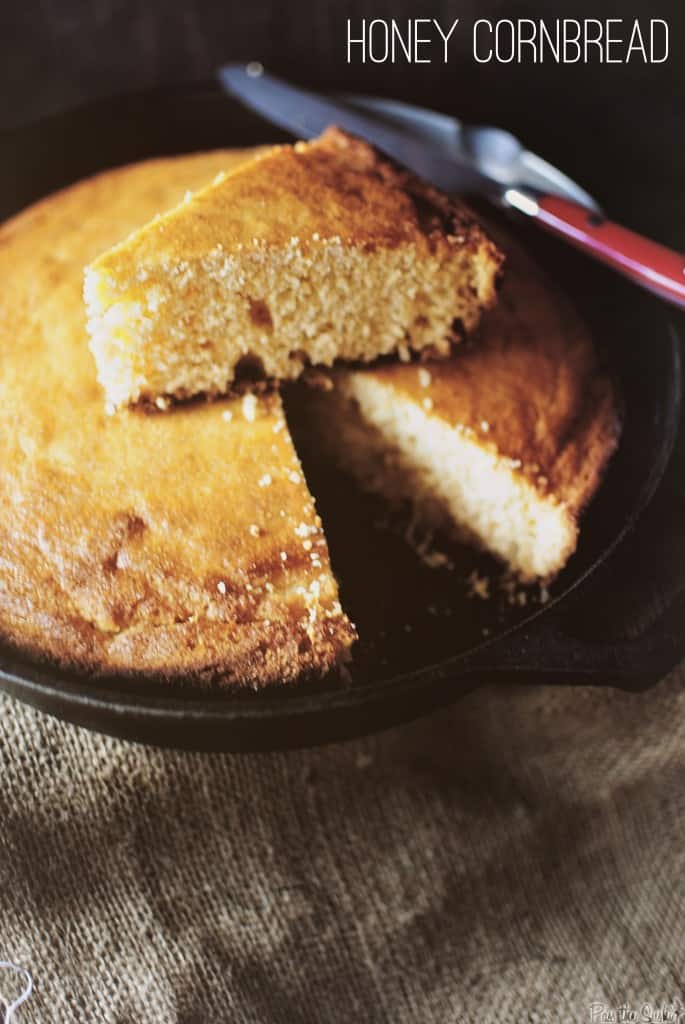 from Cooks Country September 2012 
Ingredients: 
1 cup buttermilk
2/3 cup honey
2 eggs
4 tbs unsalted butter, melted
1 1/4 cups flour
1 cup cornmeal
1 teas salt
1 teas baking powder
1/4 teas baking soda
Preparation:
Preheat the oven to 375 degrees F. Grease an 8×8″ square baking pan.
Whisk the buttermilk, honey, eggs, and butter together until thoroughly combined and no streaks of honey remain. In another large bowl, whisk together the flour, cornmeal, salt, baking powder, and baking soda.
Whisk buttermilk mixture into the flour mixture until thoroughly combined. Pour the batter into the prepared pan. Bake until golden brown, 30 – 35 minutes, and a toothpick inserted in the center comes out clean.  Cool in pan for 5 minutes. Turn cornbread out on a wire rack and cool for 15-20 minutes longer before serving.
*I prepared mine in a cast iron skillet preheated in the oven for 5 minutes. I added 1 tbs of butter to the hot skillet and coated the bottom before pouring in the batter. Cook for 30 minutes.