This easy lemon pie recipe will cool you down and try to help you forget how hot and sticky humid is outside. It's full of fresh lemons, and the graham cracker crust is perfect with it.
It's been blazing hot here with no break for rain. The humidity is so thick you could slice it with a knife… So not my kind of weather. Heat I don't mind. Humidity = ew. My garden is suffering hardcore. I'm sad to see everything turning shades of brown with all the work I put into it. Weeds apparently love long dry spells and lots of humidity because they are flourishing. My next garden will be made of weeds. Resilient isn't even the word….
I realized I was missing prime pie season with all the great berries that are fresh at the moment. Then I remembered that neither of us would eat a berry pie of any sort. So, determined to make a pie this week, I grabbed a magazine.
Here's an easy lemon pie recipe from the cover of this month's Southern Living
If only I could get my whipped cream to look like theirs.
Zesty Easy Lemon Pie
From Southern Living August 2010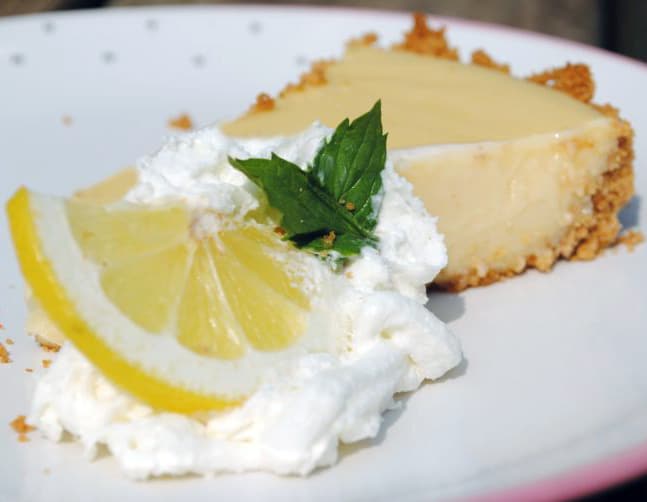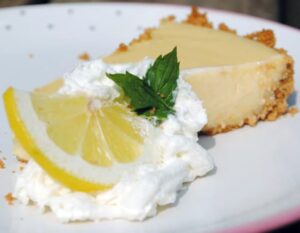 Ingredients
1  cup  graham cracker crumbs
3  tablespoons  powdered sugar
3  tablespoons  butter, melted
6  egg yolks
2  (14-oz.) cans sweetened condensed milk
1  cup  fresh lemon juice
1  cup  whipping cream
2  tablespoons  powdered sugar
Garnishes: lemon slices, fresh mint leaves
Preparation
1. Preheat oven to 350°. Stir together first 2 ingredients; add butter, stirring until blended. Press mixture on bottom and up sides of a 9-inch deep-dish pie plate. Bake 10 minutes. Let cool completely on a wire rack (about 30 minutes).
2. Whisk together egg yolks, sweetened condensed milk, and lemon juice. Pour into prepared crust.
3. Bake at 350° for 15 minutes. Let cool completely on a wire rack (about 1 hour). Cover and chill 4 hours.
4. Beat whipping cream at high speed with an electric mixer until foamy; gradually add powdered sugar, beating until soft peaks form; dollop over chilled pie. Garnish, if desired.
I haven't had the opportunity to slice this easy lemon pie open and give it a try yet, but I will update this post with my opinions on that when I do. I just wanted to get this up here.