You've booked your campsites and have your route planned, and now it's down to the wire for getting on the road! Here is my ultimate packing list and tips for first time RV trips!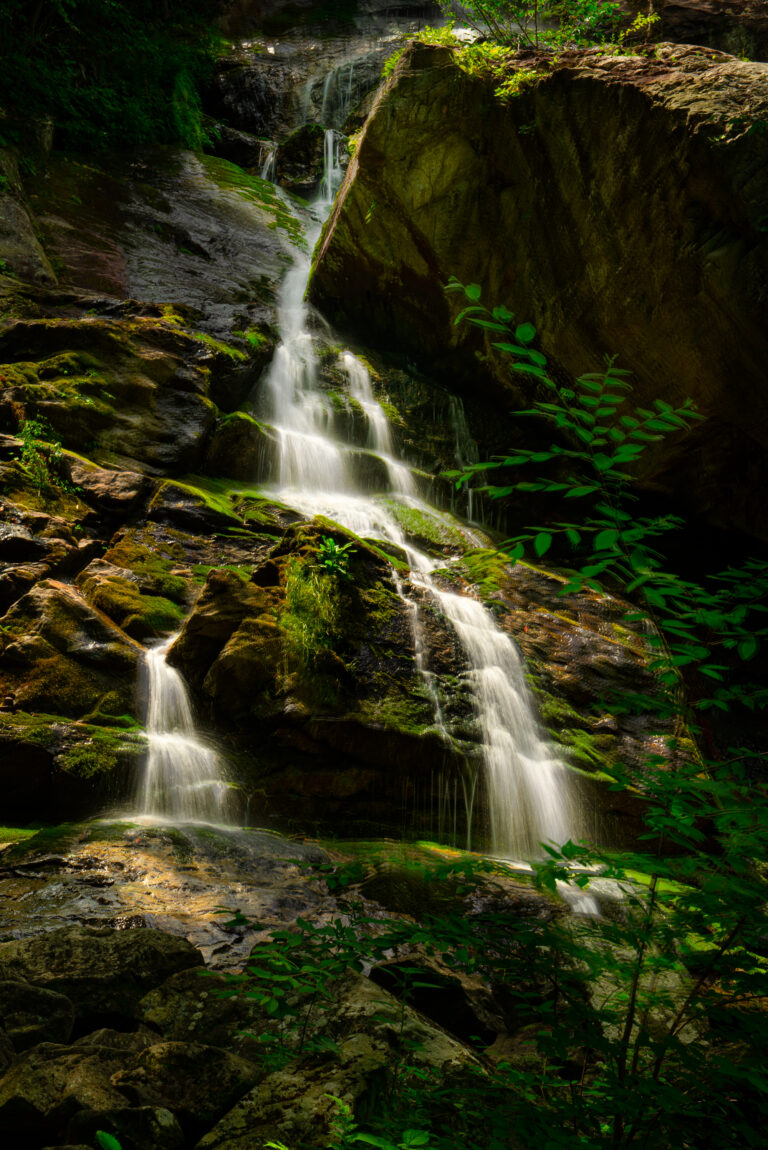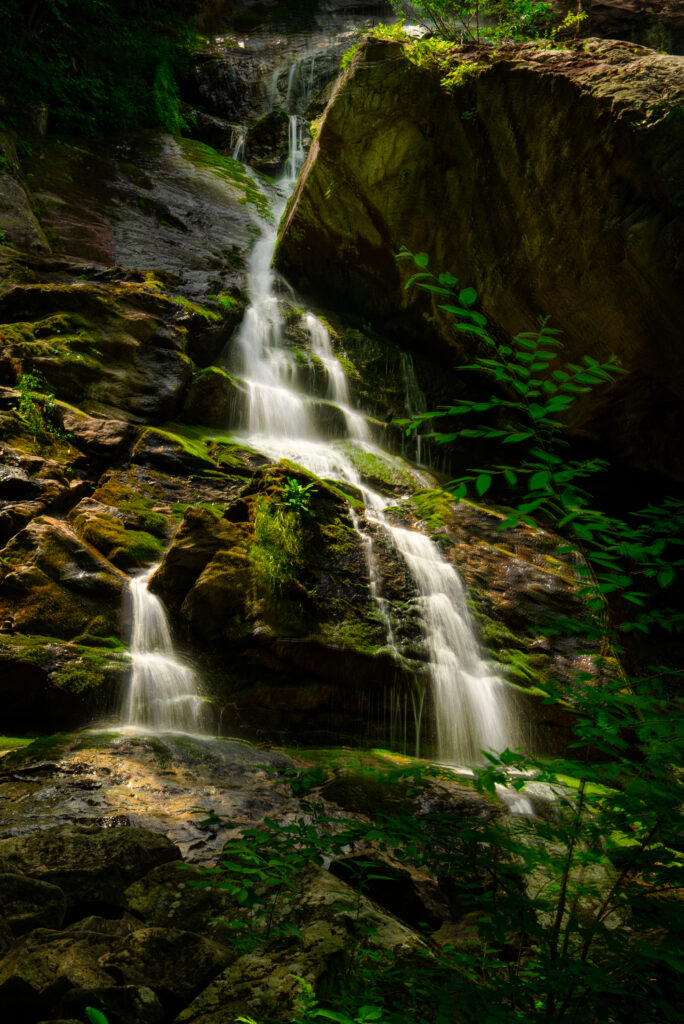 This post is in partnership with GoRving, and let's be honest, that's like my dream partnership. All thoughts and opinions are my own. I didn indeed love it this much.
Ever since I was a little girl, I have loved the idea of traveling across the United States. Taking a classic highway, blaring some tunes, and hitting the road for adventure with a hundred cheesy stops along the way. I have always wanted to map out a route along from National Park to National Park, collecting memories and polaroids along the way.
In my mind, I can even see the tinge that time leaves around the edges of a photograph. And now, I here I am, in my 30's and looking to create those moments, finally. I can see my mutt and I hitting the road and living the life, campfires, mountain roads, and amazing sunsets. It feels like a bucket list dream, and one that has never been more accessible to anyone – especially with the movement of van life (something we can all thank mellinails for).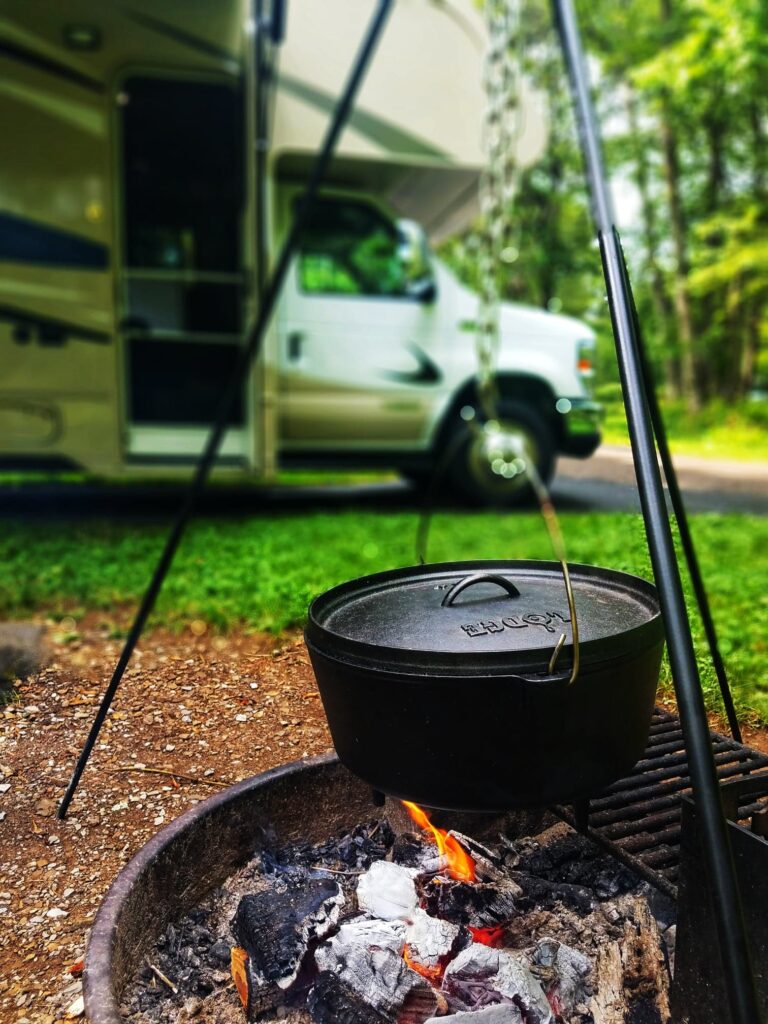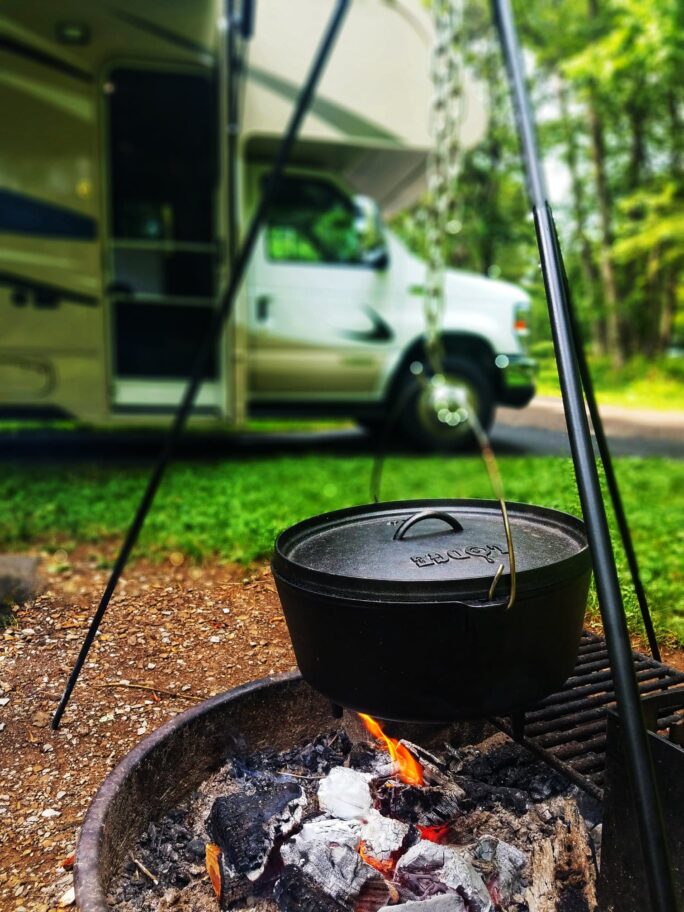 A few weeks ago, I teamed up with GoRVing for an epic trip through the mountains of Virginia. I recreated a childhood trip my mother took me on, stopping at the same places and reliving the experience from a very personal space. But this time, every afternoon when it downpoured on my campsite, I didn't have to fight with soggy gear. I simply went inside and listened to the thunder in the distance and relaxed.
Here's what I learned from my week long camper trip: What to pack, what to leave behind, and a few handy tips for safe storage.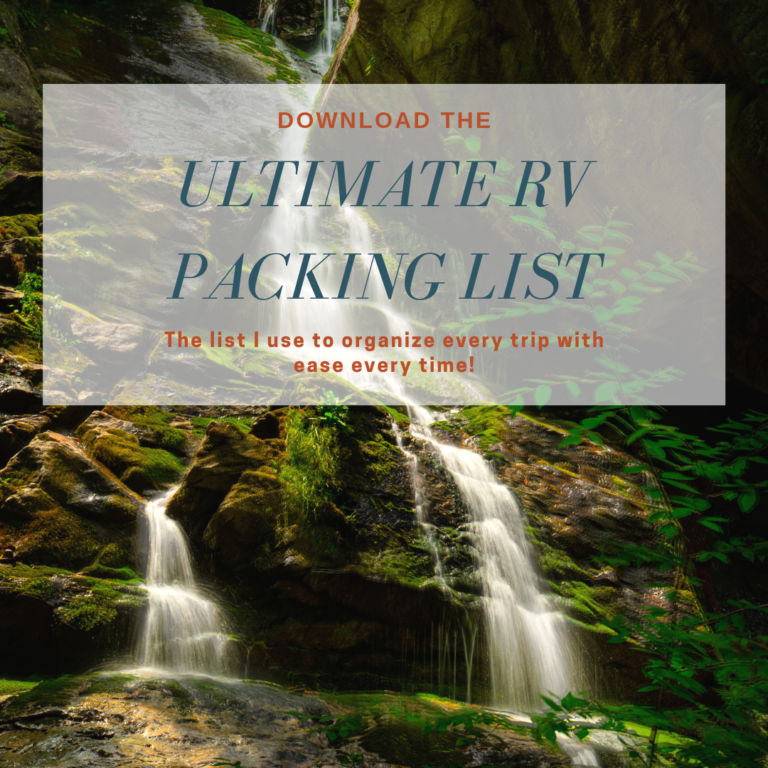 What to pack for a first time RV trip
Want a printable? Download my Ultimate RV Packing List now!
If you are renting a camper for the first time, be sure to read what it comes with so that you can scratch off anything you don't need before you even start packing! Make sure the RV is stocked with up to date fire extinguishers as well. Safety first.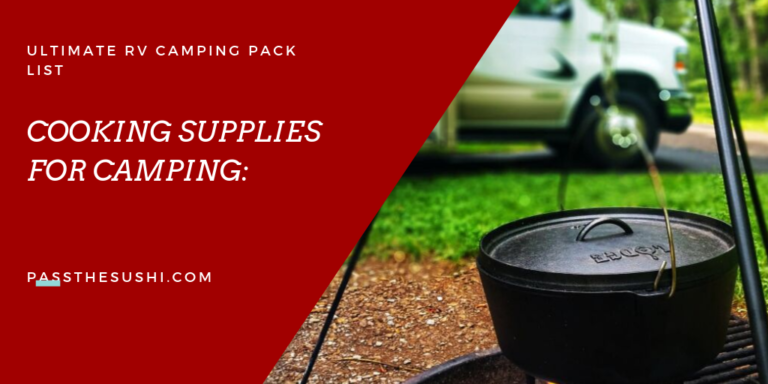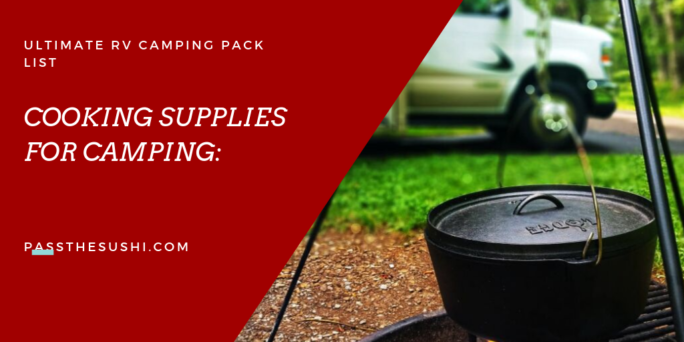 Cooking Supplies for Camping:
1 Plate per person
1 Bowl per person
1 mixing bowl
1 mug / glass per person
1 Chef knife
1 cutting board
Propane grill* (I love, and will always love a classic Coleman, however, this bulkier Char-Broil portable grill does make some dreamy grill marks).
Small propane canisters* (skip and buy at camp store if saving space)
Tongs
1 French Press
1 pot (I really love this Lodge Dutch Oven, but it may be a bit more than the average person needs)
1 skillet
Bottle opener
Trash bags
*The portable propane grill is a total optional thing. Your RV has a stove, your campsite will have a grill. Only pack if you aren't comfortable cooking over fire and will use.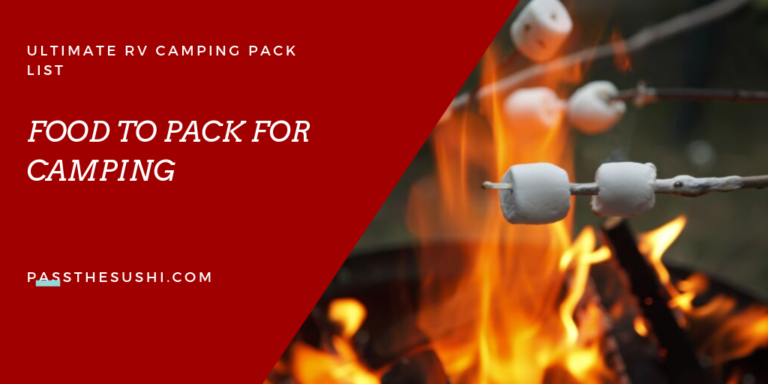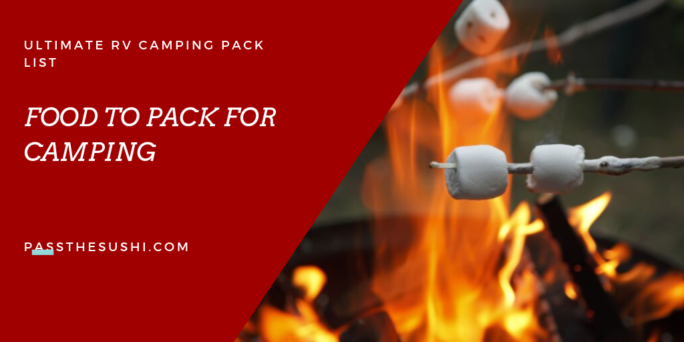 Food to Pack for Camping:
Don't bring much food down besides granola bars and snacks for the drive. Another thing I pack ahead is condiments so I don't waste money on items I don't need. See my list of condiments to pack ahead below. Otherwise, stop at local markets and stock up on just what you need. RV refrigerators and freezers aren't huge, so don't overpack it with things you aren't going to use. Once parked, here's what I buy:
Water x 2
Coffee
Butter
Eggs
Yogurt
Breakfast sausage
Bacon
Bagels
Hot dog rolls x 2
Hamburger Buns x 2
Bread
Deli Meats
Cheese
Hot dogs
Brats
Ground Beef
1 tri-tip or big steaks
1 chicken, cooked
Onion
Pepper
Cucumber
Greens
Tomatoes
Granola
Marshmallows
Graham Crackers
Chocolate Bars
Baked Beans x 2
Condiments to Pack:
Ketchup
Mustard
Mayo
Relish
Salt
Pepper
Olive Oil
Salad Dressing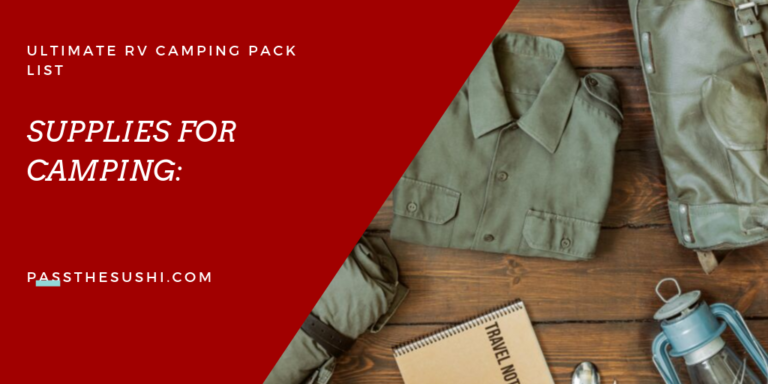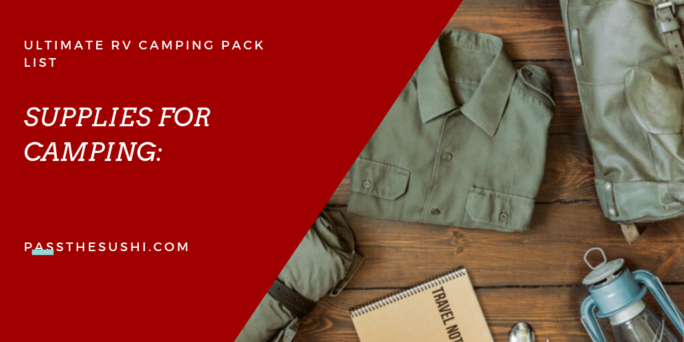 Clothing (Per Person) :
Nope, I don't have a change of clothes per day per person, because the truth is, you can rinse and hang a lot of these items to reuse. Save the space and roll with the minimal packing
1 or 2 Swimsuits
1 or 2 pairs of sweat wicking pants (I am obsessed with Kuhl pants when I travel)
1 or 2 pairs of shorts
4 pairs of socks
7 underwear
5 Shirts / Tank tops
1 set PJs
1 hoodie
1 rain jacket
1 pair sandals
1 pair boots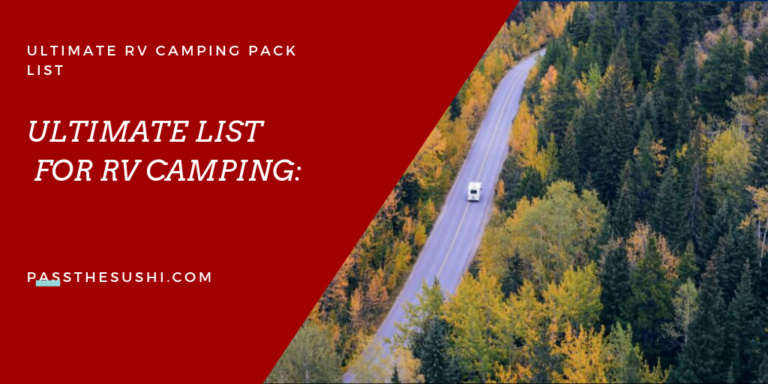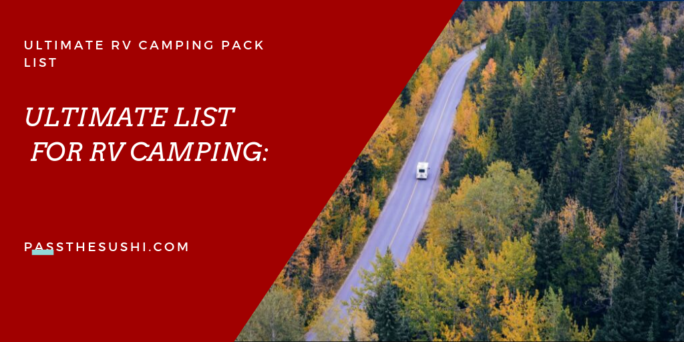 Other necessary supplies
Marin toilet paper
First Aid Kit
Any needed prescriptions & vitamins
Pocket knife
1 12′ rope
Flashlight
Bed Linens / Sleeping Bags
Pillows (cuz if you are sleeping in an RV you might as well have a good pillow)
1 towel and washcloth per person
Soap
Shampoo
Dry shampoo
Toothbrushes
Brush / Comb
Sunscreen
Dish soap
Sponge
Dish towel
Floor mat (Or yoga mat that doubles as floor mat if you have one in the car)
Broom
Other fun supplies
OK. ready to download the complete checklist now? Just click here.
Tips for Efficient Packing & Storage:
To make sure things compress down easily, pack in dry bags that you can squeeze down. Suitcases can take up more space than needed.
Store all the outdoor cooking supplies and unused items in the additional under storage in your RV to keep the inside clutter free while you're living in it.
Embrace rubber containers for anything you don't have latched down.
Store plates and dishes inside large bowls or skillets while traveling to avoid them sliding around.
Store everything in an area with a latched door to prevent spills and breakage while traveling.
Make sure all latches are closed before driving.
What you DON'T need to pack for your first RV trip:
Wood. There will be firewood available at any campground and most don't allow you to bring wood from out of state anyway. Save the space and only buy what you need.
Extra clothes. Seriously, do not overthink this. Rinse and repeat. Unless you are trying to impress someone…
Duplicates of anything (except shoes, have at least one spare just in case they get waterlogged)
Spare blankets – one sleeping bag per person is really all you need.
Anything you are over thinking. No really, trust me. You'll be fine.
Now that you have your list ready to go, here are some places you should check out on your trip to get you inspired.
If you've enjoyed this travel review or any other adventures on Pass The sushi, let me know where you found us in the comments below, I love hearing from you! Be sure to check out my other fun travel tips and follow along on Instagram @passthesushi & @girlcarnivore, Twitter & Facebook.