Salted caramel chocolate tart tastes amazingly like a Twix candy bar. Salted caramel and chocolate inside of a tender shortbread crust. The perfect dessert on good days… and bad days.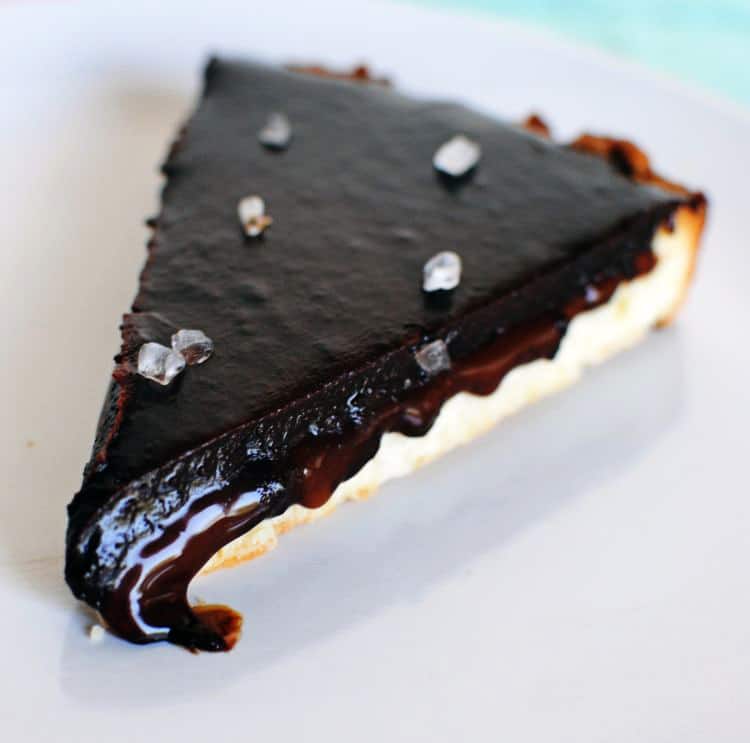 In about 6 hours the alarm clock is going to go off… not once but at least 4 times with seven minute intervals before someone will get up and get out of bed. Do you know what wakes me up? The alarm clock ringing once. The third time, with Richard Cheese singing Hot For Teacher blaring through the speakings is just bloody annoying. I am not a bright eyed and bushy tailed morning person but I get up. I may not speak for an hour, but I get up. Let me check my email, grab some caffeine and get a shower. Then we can talk. But it only takes once for the alarm clock to get me out of bed…. Not an hour of snooze.
I wish there was a way to pay someone back for this, but there isn't. The only morning I could do anything would be on a weekend, when he is off and I am getting ready for work, and its just plain wrong to screw with someone when they can be sleeping in. In the meantime I will fill my mornings with insanely violent thoughts directed at the ass-clown that fills the morning silence with his annoying radio ramblings.
Salted Caramel Chocolate Tart
adapted from Dessert First

makes (1) 9-in tart or (6) 3 1/2-in tartlets
Ingredients: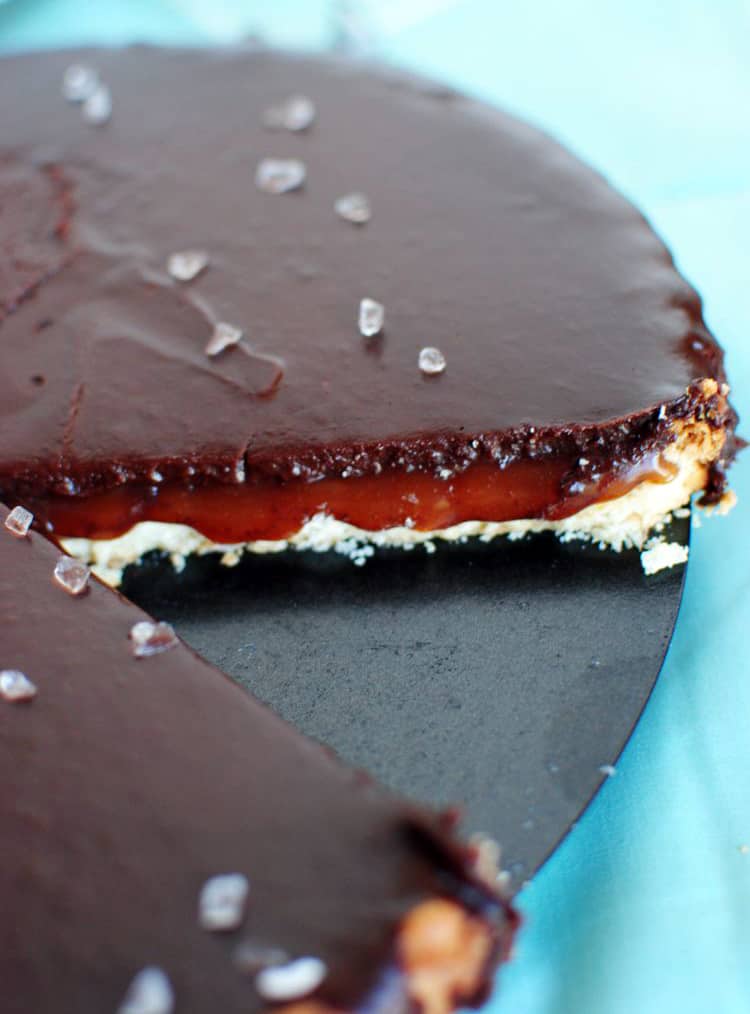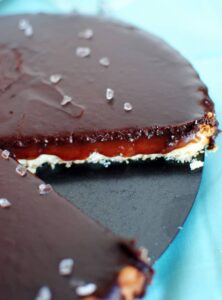 Pâte Sablée
10 tablespoons (5 ounces) unsalted butter, room temperature
1/2 cup (3 1/2 ounces) sugar
2 eggs, room temperature
2 cups (8 1/2 ounces) all purpose flour
1 teaspoon salt
Caramel:
1/2 cup  heavy cream
1 cup sugar
pinch of Maldon sea salt
Chocolate Ganache
12 ounces bittersweet (60%-66%) chocolate, coarsely chopped
2 cups heavy cream
Preparation:
For the pâte sablée:
Cream butter and sugar together in a stand mixer. Add eggs and mix just until incorporated. Add flour and salt and mix on low just until incorporated.
Scrape out dough onto a piece of plastic wrap and form into a disk. Wrap fully and refrigerate for at least 1 hour or overnight.
Flour work surface and roll out dough to 1/4″ thick. Lay into a 9″ tart pan or tart rings of your choosing and trim excess dough with a knife. Refrigerate for an hour before baking.
Preheat oven to 350 degrees F. Line tart shell with foil and fill with dried beans or pie weights. Bake for 30 minutes (check earlier if you are baking individual tarts), turning halfway through.
Remove foil and weight and bake for 10 more minutes (individual tarts may not need additional baking time). Tart shells should be lightly golden. Remove from oven and let cool fully on wire rack before filling.
For the caramel:
Place cream in a small saucepan and bring to boil. Set aside while you cook the sugar.
Combine sugar with 5 tablespoons of water in a heavy saucepan. Cook over high heat, stirring, until sugar dissolves. Bring mixture to boil and cook without stirring for about 4 minutes until it turns dark amber. Swirl to ensure it cooks evenly.
Take mixture off stove and pour cream slowly into the sugar (it will boil up so don't pour in all at once.)Stir until incorporated and smooth.Add in salt. If caramel has cooled too much and become thick, place over heat and warm until it is liquid enough to pour.
Pour the caramel into the tart shell, covering the bottom evenly. Let cool until it firms and is no longer shiny. You can place the tart shell in the refrigerator to speed up the process.
For the ganache:
Place chocolate and salt in a heatproof bowl. Place cream in a small saucepan and bring to a boil on high heat on the stove. Pour cream over the chocolate and let sit for a few minutes. Then whisk slowly and gently to combine. Do not stir too vigorously as this incorporates air into the ganache and gives it a less smooth and velvety texture.
Pour the ganache into the tart shell over the caramel. Let set at room temperature for at least 3 hours or up to 12 hours.
Sprinkle the caramel chocolate tart with sea salt before serving.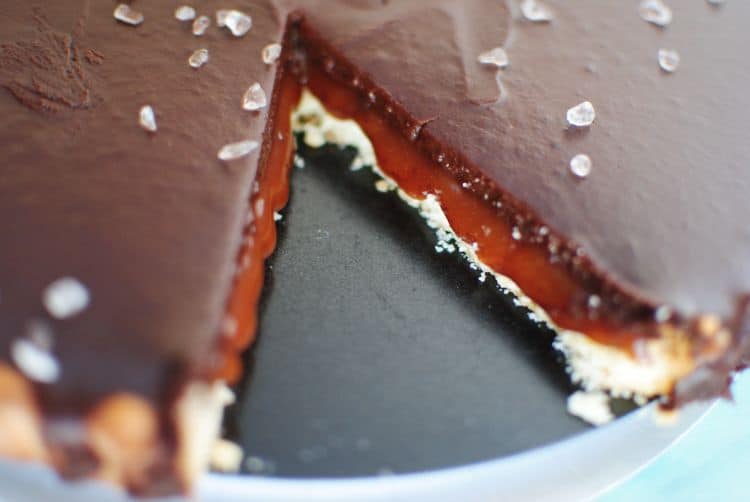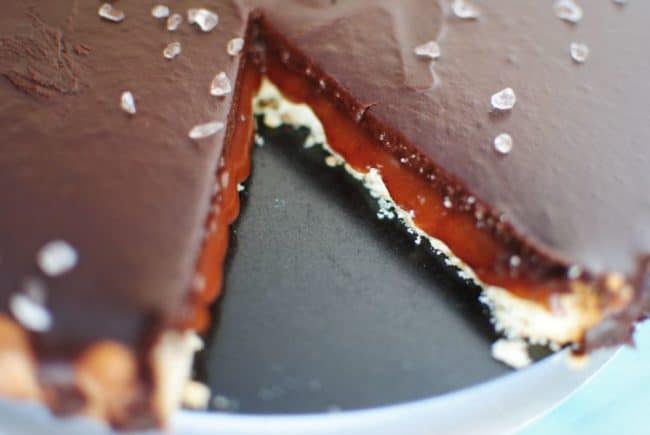 Looks like a lot of work, but this came together very quickly. My salted caramel chocolate tart was not nearly as pretty as I would have liked it, but for my second tart (first one I've rolled out), I'll take it. (LIES… it took all of my self control not to bake another one for better photographs).
PS. If you don't know who Richard Cheese is please take this time to sample some of his music. Its great. 🙂