Swiss black forest cake is a beautiful showpiece for a dinner party, or for any reason you may want to make it.
You know what I look forward to most? Those nights when it's just my man and I sitting in the basement watching bad movie, sneaking popcorn that I didn't want from him and mocking one another for our taste in movies. Those nights are my favorites. As much as I love a random drive to the beach or a night out on the town the ones at home with no expectations really seal the deal for me. However, those nights meal smaller, not so complex meals and I miss the excuse to whip out my fancy spatulas.
My second favorite has to be the nights when we have company over. A few friends and a great meal. Good company around the fire pit, sticks and marshmallows in hand,  beer and good laughs all around. Those are the memories I dig. And what are those nights for besides showing off your mad skills in the kitchen. 😉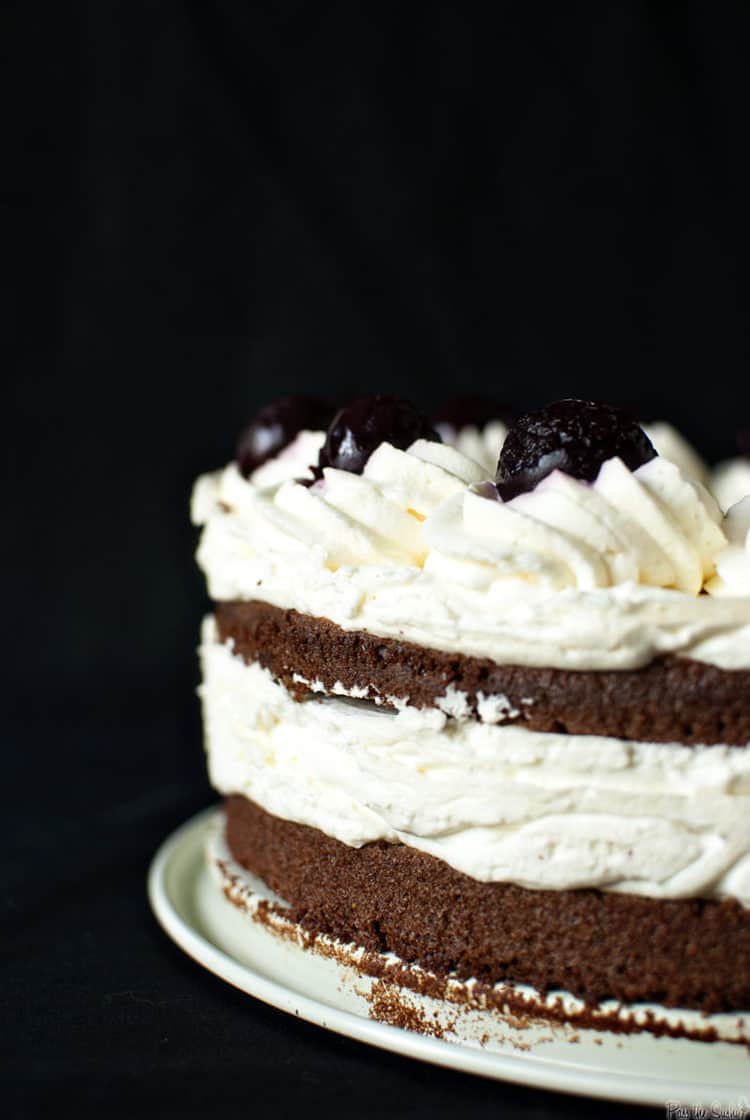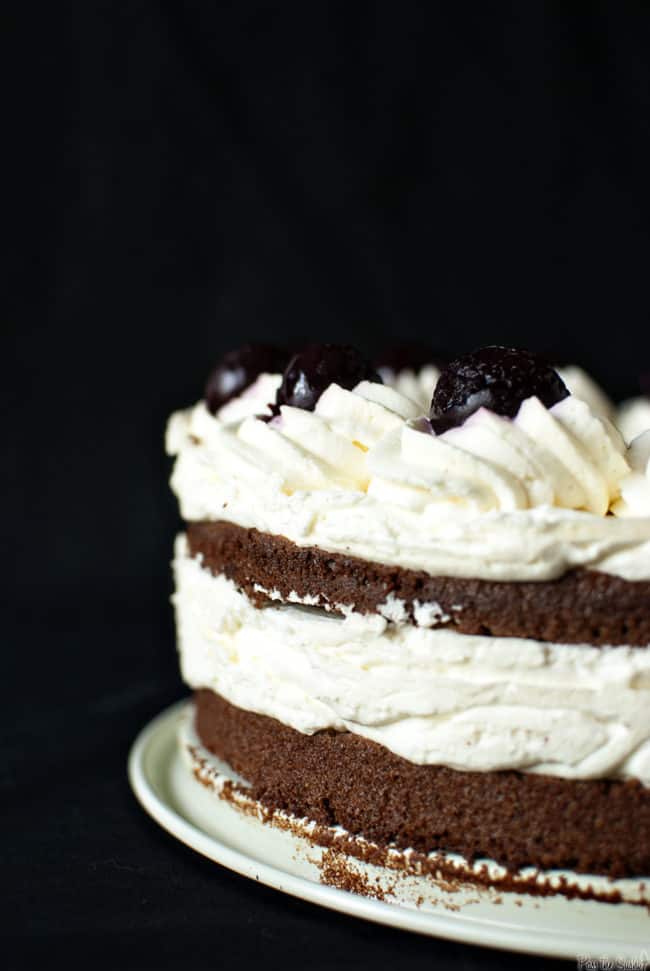 Swiss Black Forest Cake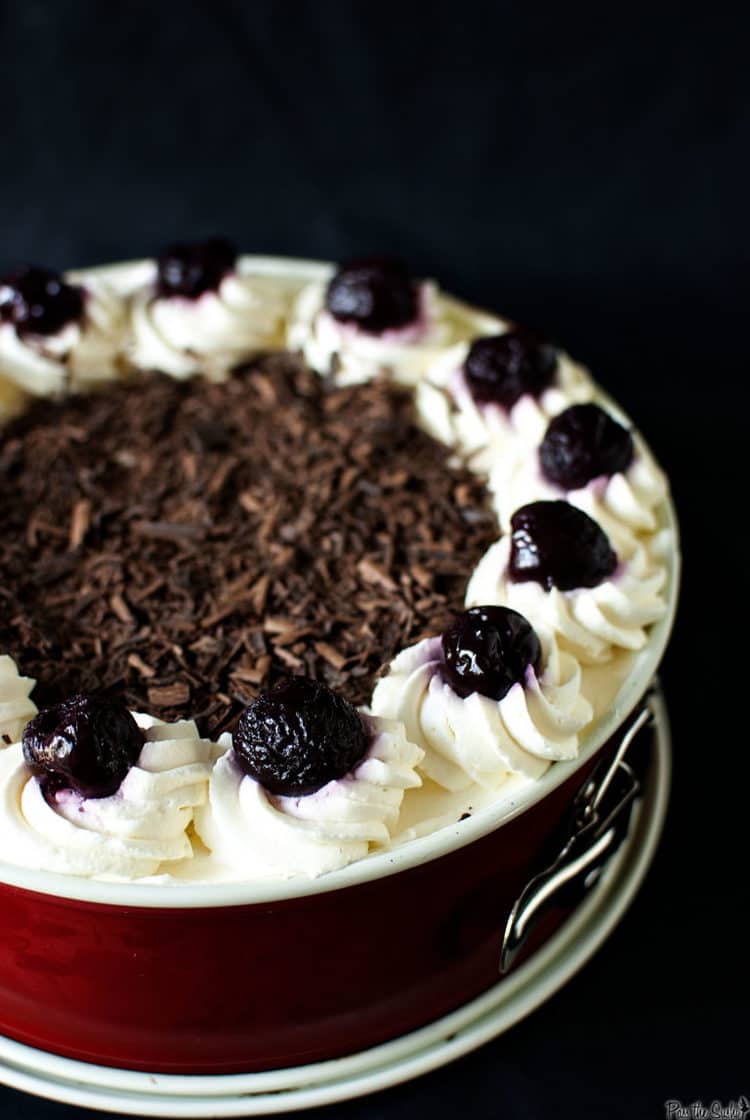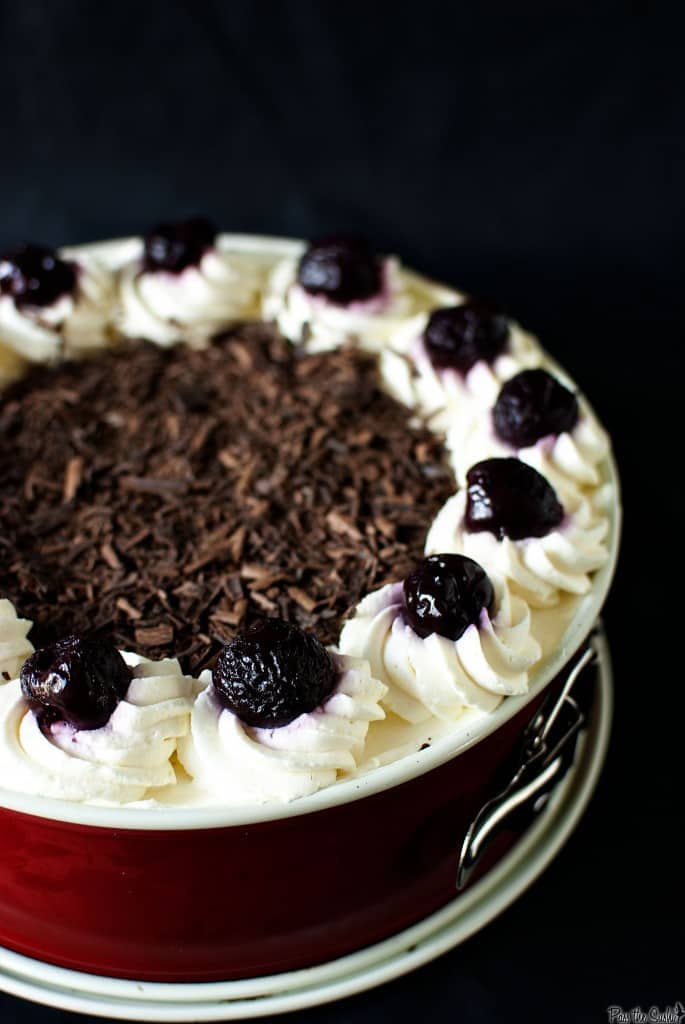 Discovered on Hot Polka Dot, Adapted from Rose Levy Beranbaum's The Cake Bible.
Ingredients:
4 ounces semisweet chocolate, chopped
1/2 cup boiling water
4 eggs
1/2 cup granulated sugar
3/4 cake flour (or substitute)
2 1/2 tsp powdered gelatin
1/3 cup water
3 cup whipping cream
3 tbsp granulated sugar
1 1/2 tsp vanilla
1 454g can pitted bing cherries
3 tbsp spiced rum
1 ounce semisweet chocolate, grated or shaved
Preparation:
Preheat the oven to 350 degrees and position a rack in the center. Butter and flour a 9 inch spring form pan and set it aside.
In a small heavy sauce pan combine the chopped chocolate and water then bring it to a slow boil over low heat, stirring constantly. Remove it from the heat once it thickens to a pudding consistency and stirring leaves temporary lines in the surface. Set it aside and let it cool to room temperature.
In a large bowl with an electric mixer and the whisk attachment beat the eggs and sugar until they triple in volume. Gently but quickly fold in the cake flour half at a time until it's just incorporated. Next fold in the cooled chocolate mixture.
Pour the batter into the prepared spring form pan and bake it for 25 – 30 minutes until a toothpick inserted into the middle comes out clean. The top of the cake will rise while baking then lower slightly when it's done and feel springy to the touch. The sides will also shrink as they pull away from the pan.
Transfer the pan to a cooling rack and allow it to sit for 10 – 15 minutes before releasing the cake from the spring form to cool completely.
While the cake is cooling start on the Super Stabilized Whipped Cream. Refrigerate a large mixing bowl and whisk attachment for at least 15 minutes.
Meanwhile in a small heatproof bowl combine the gelatin and water. Let it soften for about 5 minutes then place the bowl in a pan of simmering water, stirring occasionally, until the gelatin is dissolved. Set the gelatin mixture aside and let it reach room temperature before adding it to the whipped cream, about 7 minutes.
In the chilled bowl beat the cream and sugar until traces of beater marks begin to show distinctly on the surface. Add the gelatin mixture in a steady stream while beating constantly then add the vanilla and beat it further until stiff peaks form.
Drain the can of cherries and reserve the syrup. Set aside 12 cherries to top the cake later. With a cake leveler or a long serrated knife level off the top of the cooled Chocolate Génoise Cake and slice it into 2 even layers. In a small bowl combine the reserved cherry syrup and spiced rum then drizzle it evenly over each cake layer.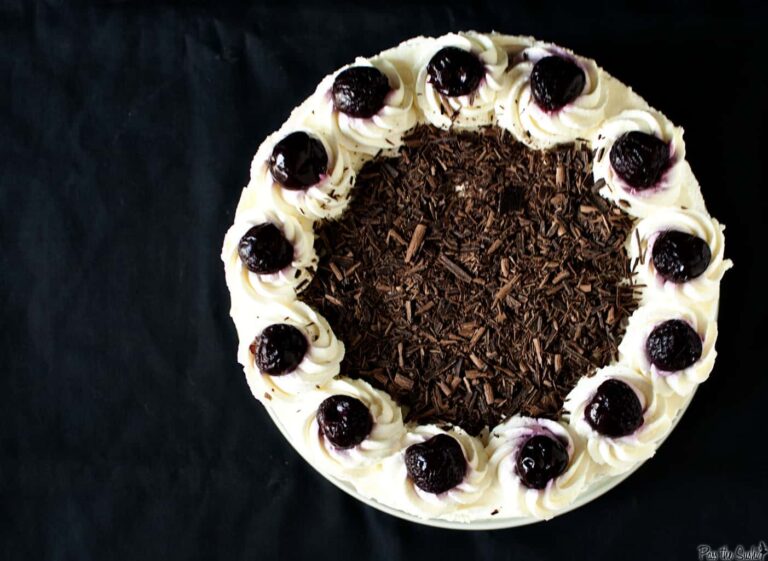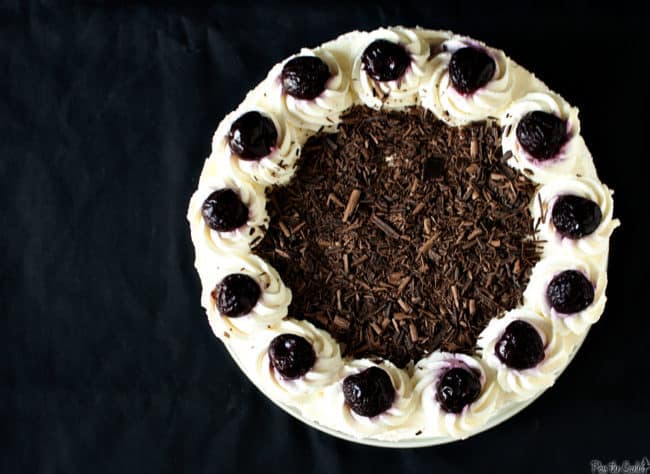 I loved making the Swiss black forest cake, and trying to sneak cherries into our house without Handsome noticing (#fail). My warning to anyone who wants to make this ahead of time is to not place the cherries on top until the last minute. Mine shriveled and stained the cake a bit in the fridge. I was still proud to serve it, but it didn't have the wow factor it did a few hours before.