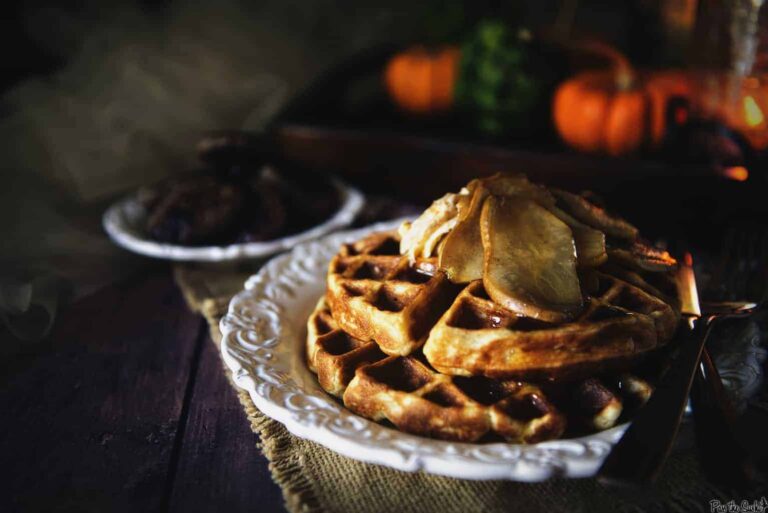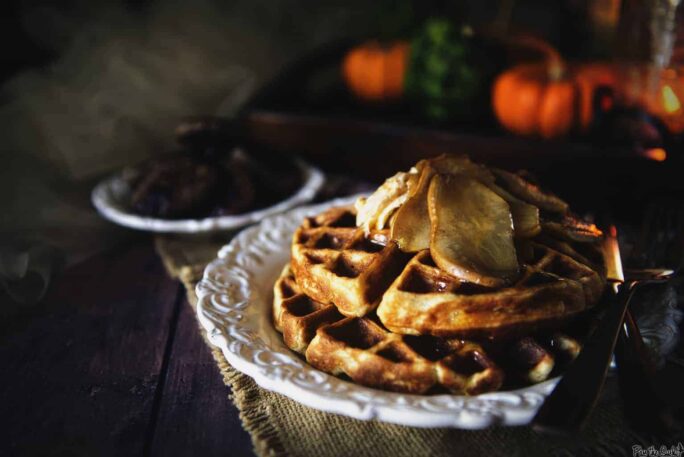 There's been no words lately. Things have been oddly bleak as the skies have been a little gray and the trees in my area quickly popped crisp and bright for a day before turning a little dull on my drive in to the office this morning.
Food blogs are not the place for waxing poetically about the trials and tribulations of life. They are for big stunning photos of food that make you want to dive in and forgo calories. They are for pinning Thanksgiving inspiration and sharing delicious treats with friends and co-workers via facebook. They aren't for talking about heavy things.
And yet, I know some people that do it so well....
Heavy things have been on my mind lately. We lost a respected member of the community that I hadn't realized was strongly built through the ties of the internet last week. It rocked us. I actually read the post wrong and went back to read it three times before it sank in. A community member was gone. And not just a stranger. A friend. One I had just stepped away from photographing a race to sit on a park bench and talk with on the phone not a week before. A friend I had just shared a silly message that I had no business affording in Jamaica with. A friend I had just shared A5 wagyu beef with a few weeks before. One who the moment I announced I was going to Cambodia for the first time encouraged me and connected me with her sister who had been and would be returning. I had just been joking about going to Cambodia with her when she went to visit. Part of me wasn't joking. I really did want to join her. And part of me knew if I did show it, she may just be ok with it.
And now she is gone.
Today, I stepped into my office. Our home away from home where we share laughter and joy with people week after week. I had broken down last night and finally started to digest some things in my own way. I put words on paper. Not words or sorrow or memories for her family to read. Just words that helped me to process things swashing around in my mind. Things that helped me deal.
I will never forget the day my mother passed. I found myself sitting in the blue vinyl booths of my shop - not yet employed there - lost and confused. I don't even know why I was there. It was just comforting and familiar. Something I needed in a world where so many places weren't. Paul, the previous owner (and still an employee to this day) came over and sat with me. I am sure he was as unsure what to do with me at the time as I was. But there was comfort there.
I logged into my email in my little area I have declared my office in our back room. I was chatting away with the guys when I read the news. One of our customers had passed.
Customers of Captain Blue Hen Comics are anything but just a passing number and name. They are an extension of ourselves. We are friends. We are their weird comic loving family who checks in on one another. We know you, your dog, we've met your baby. When you don't get enough to eat, I bring you in extras from the soup I made last night. When we need to help someone, we rally. I have watched boys grow into young men, first dates, first loves, and more.
I stared at my computer monitor in horror.
We lost a family member.
The night of my mother's death, I sat with her closest brother and a small group of loved ones. We were at a restaurant, a weird place one may think to be for such horrible news. But between that comic shop booth and that table with a few close friends, somehow it helped the process. Somehow the stories shared over those meals - and many they have been - helped me heal.
So here I am, with pear waffles for you and a very long post about nothing that makes me want breakfast. But as I sat there digesting the news. Breaking it down and raging a little inside of the loss of such a great young person, I was thankful to have known him. Thankful to have been a part of his life. Thankful to have been on the list to get the message. I am raging as I write this, confused and angered, and unable to put it aside to muster a generic post for the blog.
For that, let's say that breakfast is a moment that doesn't get cherished as often as it should. That piles of pancakes and a giant waffle on the weekends is something to look forward to.  Family meals and dinners with friends are memories to be made and savored. Breakfast with family is a small moment we get with only those close enough to see us in our pajamas, hair disheveled, and makeup-less. It's a special time when the smell of bacon frying can stir us from our slumber and bring us together to slosh on the syrup and butter, before the to-do's overtake our thoughts.
It's a moment we can make time for. Who will you spend it with?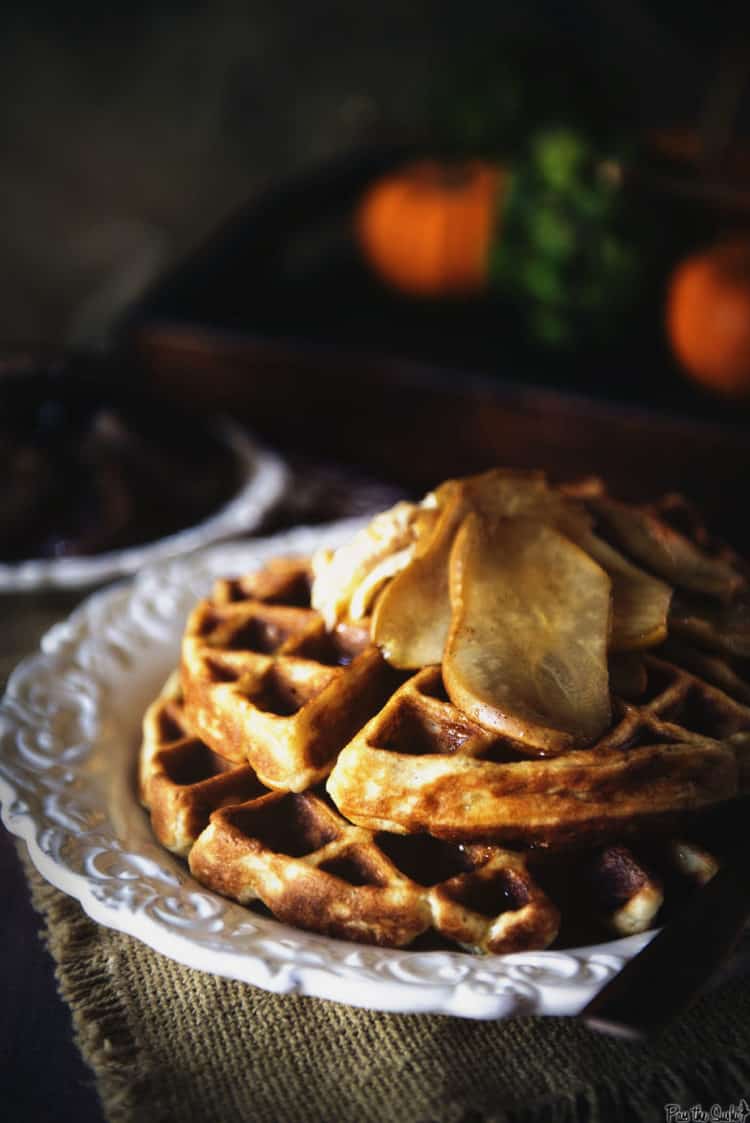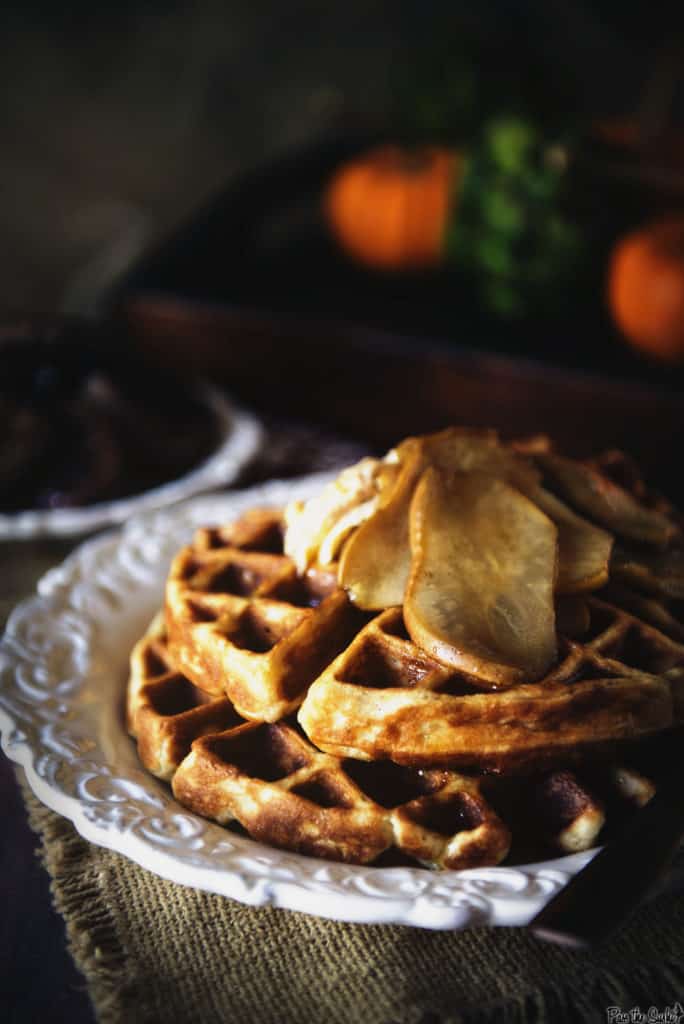 📖 Recipe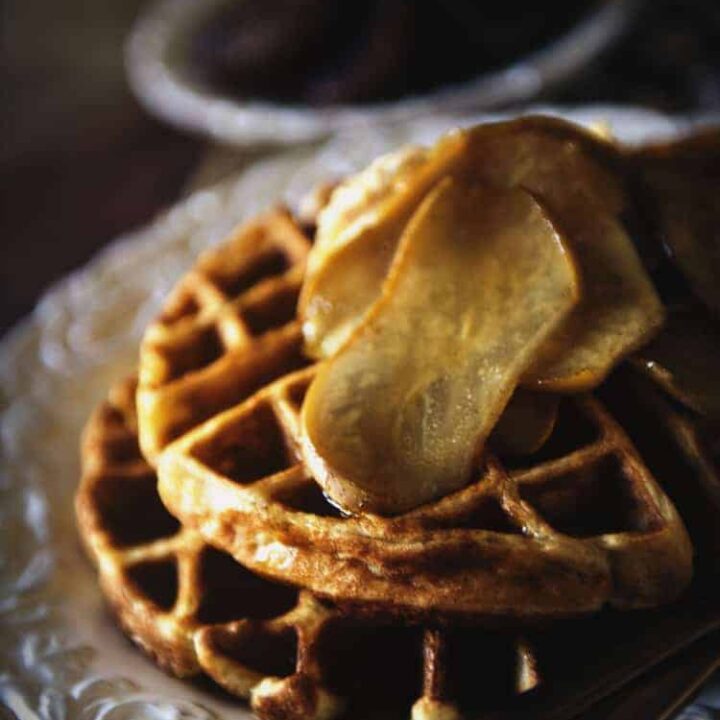 Ingredients
For the Pears
2 - 3

pear

-

thinly sliced

2

tbs

Amaretto

1

tbs

French Vanilla Kahlua
For the Waffles
2

cups

flour

2

tbs

sugar

¼

teas cardamom

⅛

teas nutmeg

2

teas baking powder

1

teas baking soda

¾

teas salt

2

cups

buttermilk

6

tbs

butter

-

melted and cooled

2

large eggs

1

tbs

French Vanilla Kahlua

Cinnamon sugar butter and real maple syrup for serving
Instructions
In a small skillet, arrange the sliced pears over medium heat. Add the Amaretto and Kahlua and allow to simmer until the liquid is gone and the pears are soft.

Meanwhile, preheat the waffle iron and make the waffles. Sift the flour, sugar, cardamom, nutmeg, baking powder, and baking soda together in a bowl.

Whisk the buttermilk, butter, egg and Kahlua together in a bowl or mixing glass. Pour into the flour mixture and stir until just combined.

Scoop out batter into greased waffle maker and cook until golden. Repeat as needed for the batter.

Serve the waffles with soft cinnamon sugar butter, maple syrup, and pears piled high on top.
Notes
Nutritional informations provided as a courtesy and is only an approximatation. Values will changes based on ingredients used.
⭐ Tried this recipe? Rate it ⭐
Help out the next person and give it a star rating below!