Shredded beef  is one of those foods that can be used in so many different ways. In breakfast burritos, for an over-the-top grilled cheese sandwich, or for delicious shredded beef sliders. The slow cooked goodness makes them melt in your mouth!
We have a winner! Fooddreamer has won a copy of Baked Explorations from last weeks giveaway! Congratulations and enjoy! The Baked books are amazing. 🙂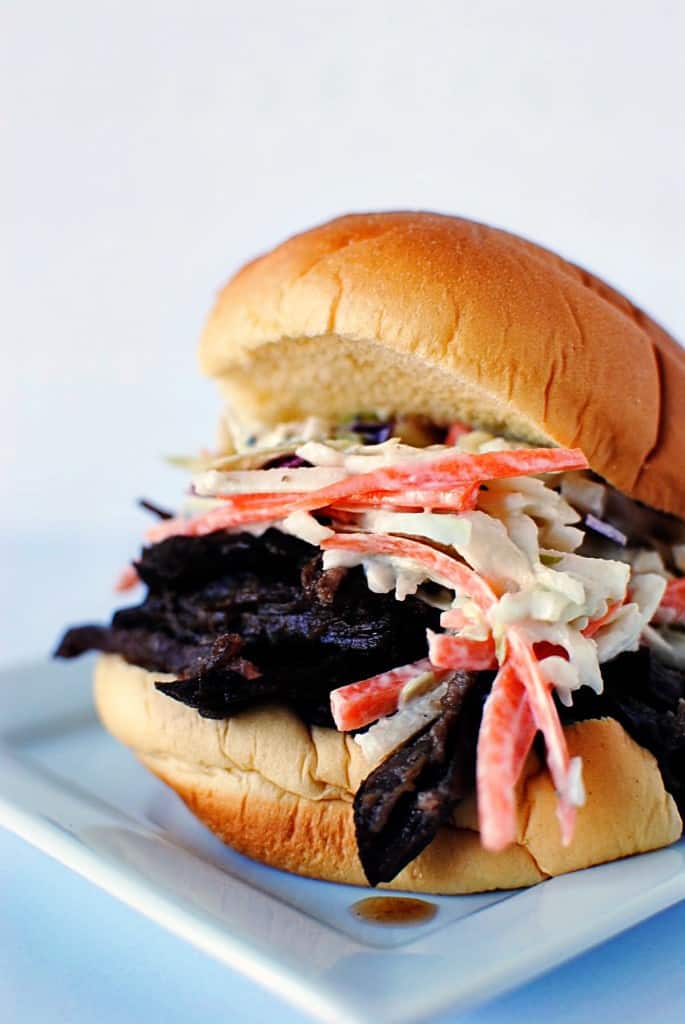 I totally just lost my train of thought because of House. Normally, I am not one to watch TV, but I've taken to having it on in the background on the nights that Handsome is in school. The problem is that I have gotten so used to not watching shows that I really have no idea what shows are on, much less what's going on in the shows. House is easy because someone gets sick, 45 minutes of drama, then House cures them.
Wilson totally just said something about ninja squirrels and anything I had to say went out the windows and now there are zombies… Zombies on House? I really did miss something.
These shredded beef sliders are another one of the 'must try now' finds. I had pulled a venison roast from the freezer with no definitive plans and decided to try and go for it. Am I glad I did! The sauce that you'll make to coat the meat after its shredded is delicious! The slaw on top is such a nice sweet crunch to contrast the meat. Delicious.
Shredded Beef Sliders with Carrot Apple Slaw


From Evil Shenanigans


For the beef:

2 tablespoons vegetable oil
1 1/2 -2 pound chuck roast, trimmed of large pieces of fat
1 teaspoon kosher salt
1 teaspoon fresh cracked black pepper
2 cups beef broth
2 medium onions, peeled and quartered
6 cloves of garlic, smashed
1 jalapeno, cut in quarters
2 chipotle peppers in adobo, chopped
2 tablespoons light brown sugar
1 cinnamon stick
1 teaspoon celery seed
2 teaspoons cumin
2 teaspoons coriander
1 tablespoon smoked paprika
1 tablespoon chili powder
3 strips thick cut, smoked bacon, chopped

For the slaw:

1/2 cup mayonnaise
1/3 cup sugar
1/3 cup apple cider vinegar
1/2 teaspoon kosher salt
1/2 teaspoon fresh cracked black pepper
1/2 savoy cabbage, finely shredded
1 large carrot, peeled cut into matchsticks
1 Granny Smith Apple, peeled, cored, and cut into matchsticks

For the sauce:

2 cups braising liquid from beef, strained
1 cup packed light brown sugar
1/3 cup ketchup
2 teaspoons dry mustard powder
1/2 teaspoon ground red pepper, optional

16 slider buns, or 8 standard sized buns

Preparation:

In a large skillet over medium high heat add the vegetable oil.  While the oil heats season all sides of the roast with salt and pepper.  Once the oil shimmers add the roast and brown it thoroughly on all sides, between 3-5 minutes per side.

While the roast browns add the onions, garlic, jalapenos, chipotles, sugar,all the spices, and the bacon to the slow cooker.  Place the browned roast on top of the vegetable mixture.  Add the beef broth to the skillet and bring it to a simmer, scraping the brown bits off the bottom of the pan.  Pour the broth into the slow cooker.

Cook the roast on low for 8 hours, or until the roast is falling apart tender.  Allow to cool for two hours in the broth before removing from the slow cooker and shredding.

While the beef cools prepare the slaw.  In a large bowl combine the mayonnaise, sugar, vinegar, salt, and pepper until well combined and smooth.  Add the shredded cabbage, carrots, and apples and toss until thoroughly coated.  Cover with plastic and chill for at least one hour.

Once the beef has cooled strain two cups of the liquid into a medium pot.  Add the sugar, ketchup, mustard powder, and red pepper and bring to a simmer.  Cook until reduced by 1/3,  about twenty minutes.  The sauce should be fairly thin.

To assemble place the shredded beef on the bun, drizzle with sauce, and top with slaw.

I used a venison roast instead of beef. I knew it would get dry in the Crock Pot, but I wasn't worried because it was going to be slathered in sauce and topped in slaw. I didn't have beef stock on hand, so I used a about a cup of a good port, a dash of Worcestershire, and some water for the liquid.