Every year about this time the geese seem to become placated with their surroundings. I never considered my area south enough for a bird to be comfortable through the winter, but our ponds are filled with hundreds of geese, the fields lined with them and causal strolls through the park become dangerous missions filled with little land minds. Some people mind the geese, some people enjoy them. I don't mind them have an opinion either way about their mass numbers and odd choice in the sunny tropical south. (Though, this winter they may be on to something).
Every year though, there are a few scattered pairs that pull on my heart strings. They can always be seen close together near a drainage ditch and a busy intersection. There will be a small flock of goslings later in the spring and the birds will stand close guard until eventually they vanish.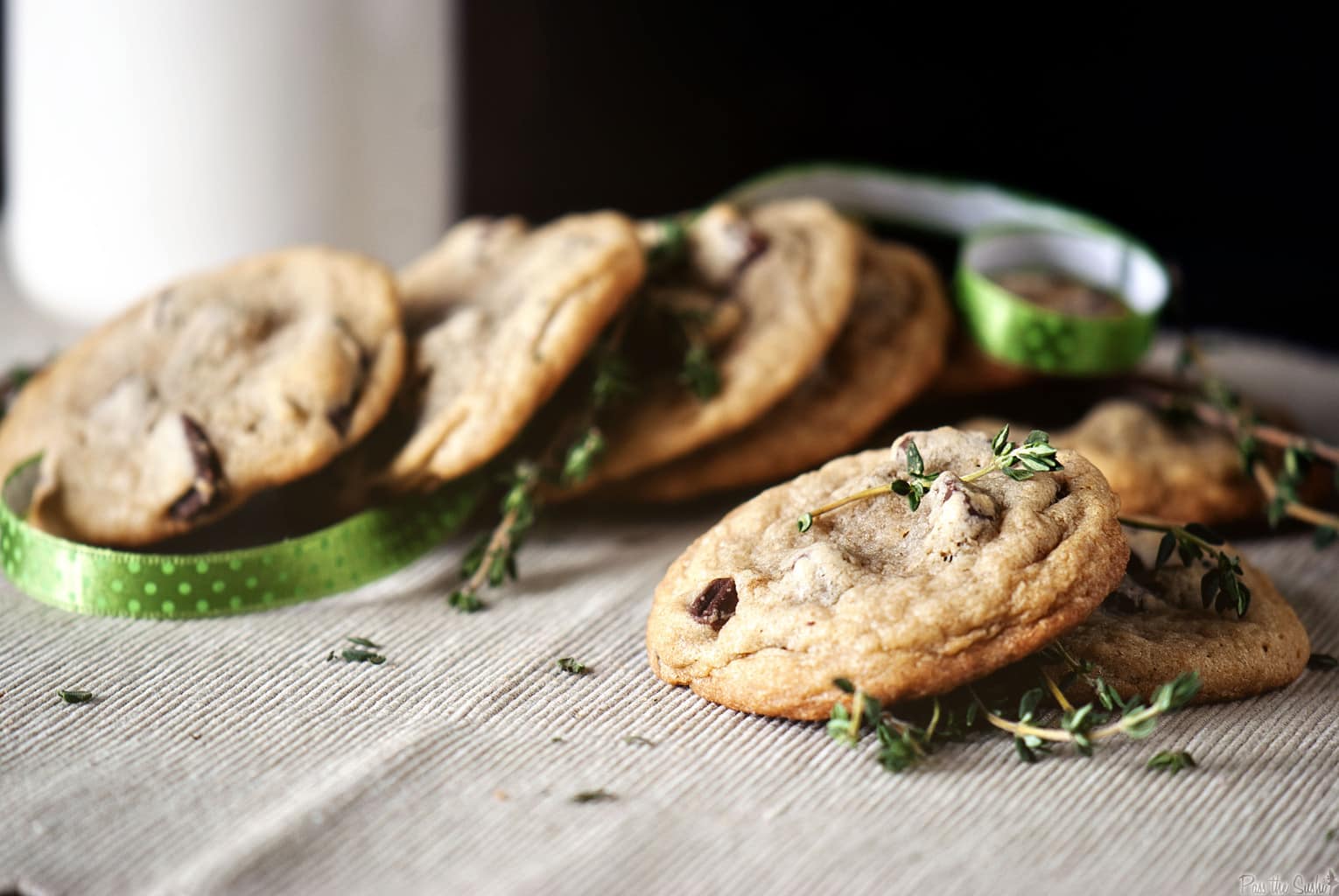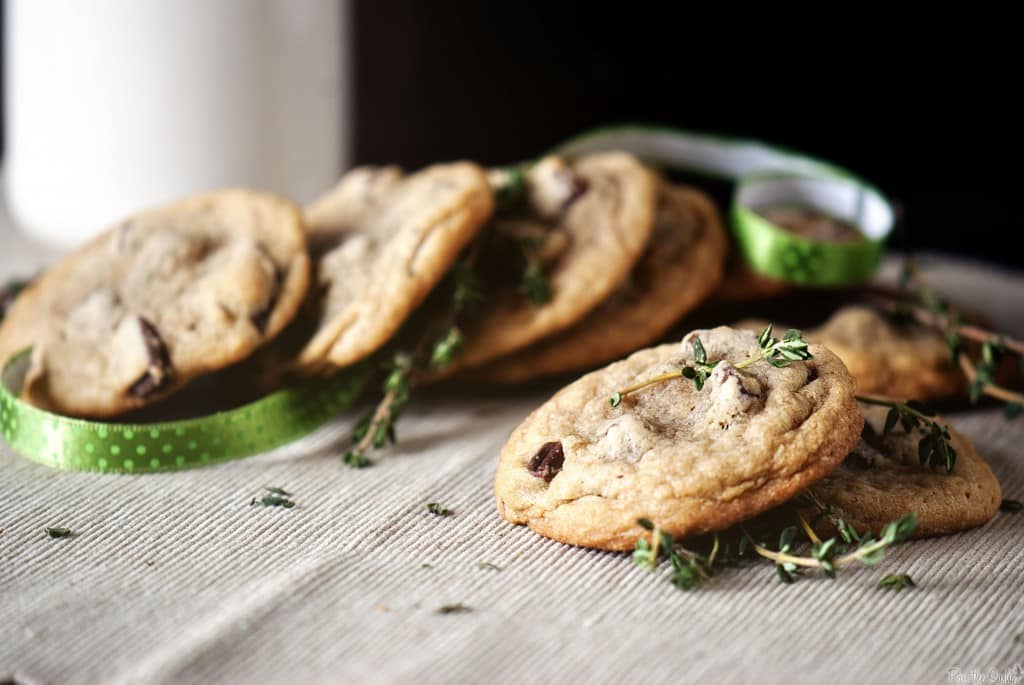 Are they rebellious loners who broke away from the pack or have they lost their way and are waiting for the call from above to join up with another flock. Are they safe in their tiny drainage ditch or are they in constant peril with the rushing drivers not more than 6 feet away.
These are the things I think about when I driving. I try to slow at the spots where I know the geese and their future family will be. Please tell me I'm not alone in these thoughts.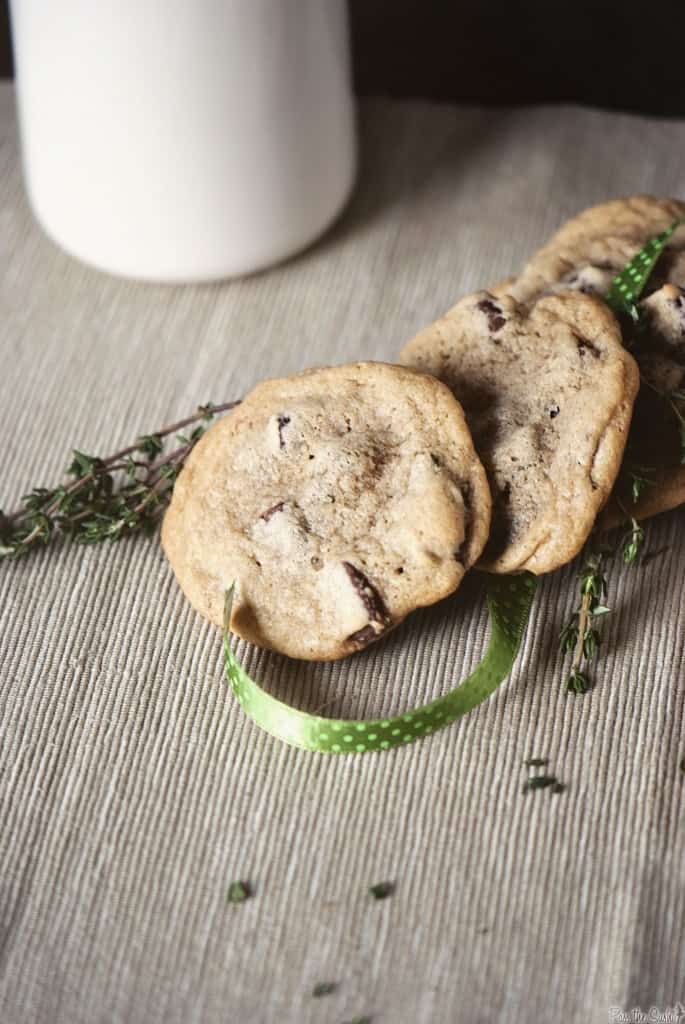 Sea Salt and Thyme Chocolate Chunk Cookies
from Desserts for Breakfast and the back of a Nestles Chocolate Chunk bag
Ingredients:
2 ¼ cups all-purpose flour
½ teas baking soda
1 teas kosher salt
2 tbs fresh thyme leaves
1 cup butter, softened
¾ cup granulated sugar
¾ cup packed brown sugar
1 teas vanilla extract
2 large eggs
2 cup dark chocolate chunks, or chips
½ teas sea salt, coarsely ground
Preparation:
Preheat oven to 350 degrees F. Line baking sheets with aluminum foil or parchment paper.
In a medium bowl, whisk together flour, baking soda, kosher salt, and thyme leaves. Set aside.
In the bowl of a stand mixer, cream butter and sugars together. Add vanilla. Add eggs, one at a time, scraping down sides as needed. In three batches, combine the flour mixture until combined.
Remove bowl from mixer and fold in the chocolate chunks.
Using a small ice cream scoop or two spoons, scoop out tablespoon size portions of cookie dough onto sheets. Sprinkle with sea salt. Bake 9-11 minutes until golden brown.
Cool on for 5 minutes on sheet before transferring and cooling completely on a wire rack.
The thyme flavor is mild right out of the oven, but who can resist a warm chocolate chip cookie? Give it a day or so and the thyme really starts to pop in these.