A few years before the birth of this blog, I was struck with the knowledge that there was a lot of food out there I had never tasted. New flavors, textures and cuisines all together I had never even given notice to. The rest is history. Now, wrought with heavy debate, I can not choose my favorite type of food, my favorite meal, dessert or more. And every day I discover more.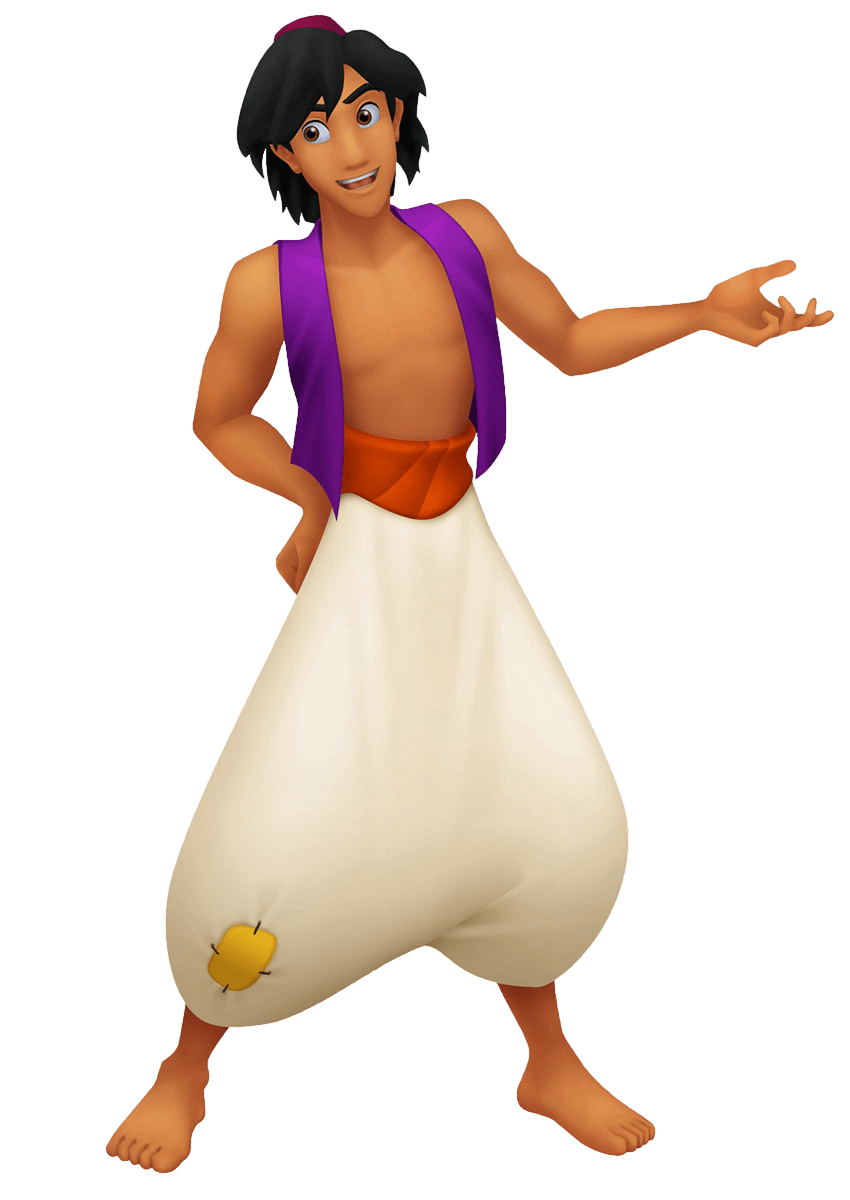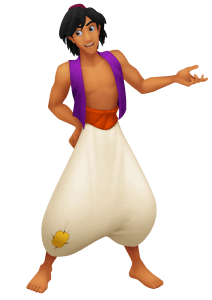 Once you are open and willing to try new things there is so much more out there then you could have ever imagined. One of the moments that shocked my taste buds was my first bite into a falafel… It was everything my umami loving self wanted – and it was perfectly vegetarian. The closest moment I have ever had to being a vegetarian. It was the most delicious little bite I had ever experienced.
Falafel isn't something I get to make to often in this mac and cheese white bread household, but when I can sneak in the flavors on something like chicken fingers – I jump all over the chance! I saw this, ripped it out of the magazine and made it. No eyebrows raised at the table, no questions asked… Secret mission falafel chicken won.
So get the kids involved in these exotic flavors by pairing these falafel-crusted chicken fingers with Disney's Aladdin, and whether you have a prince, princess, or both, they will all enjoy! (seriously, the Genie still cracks me up)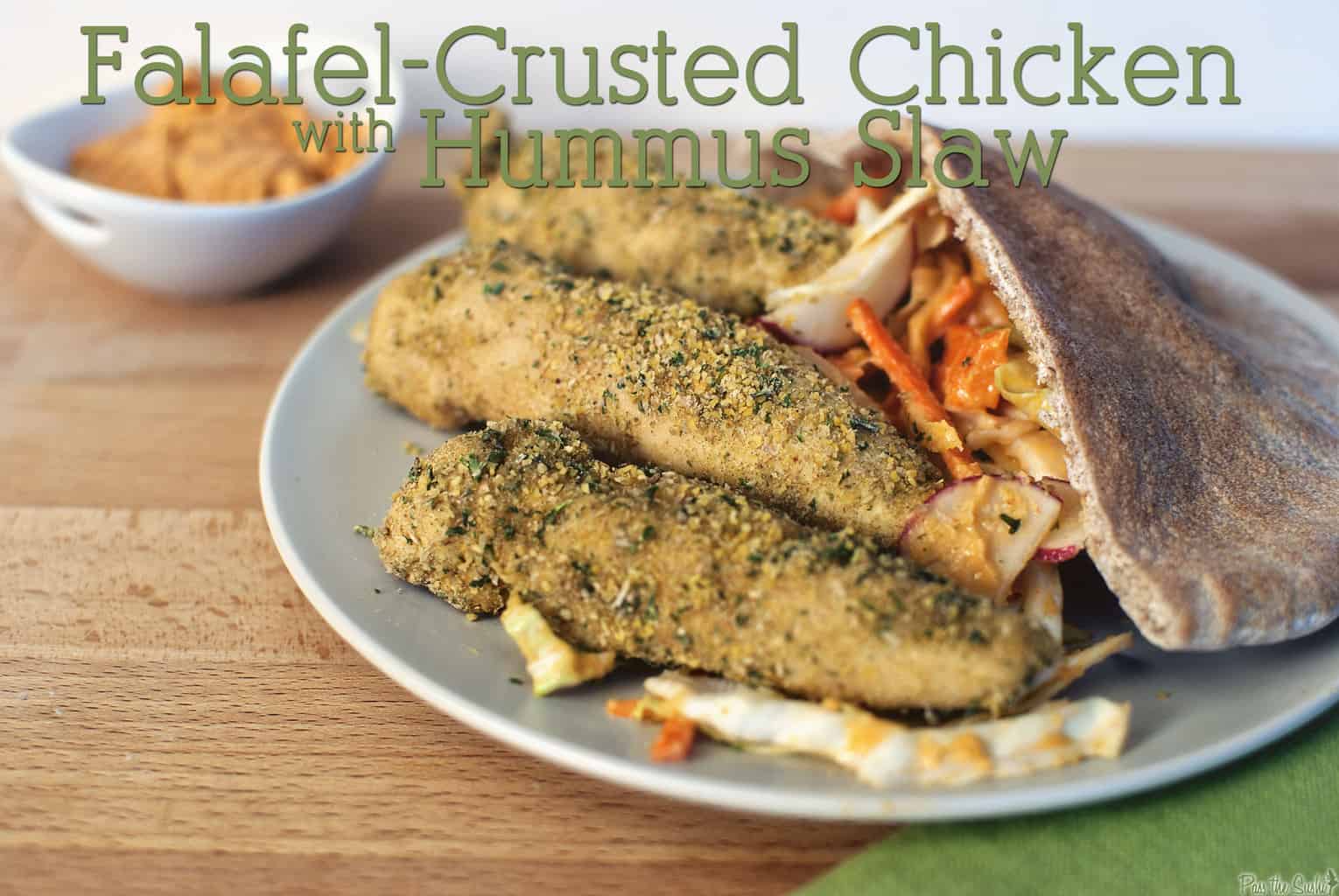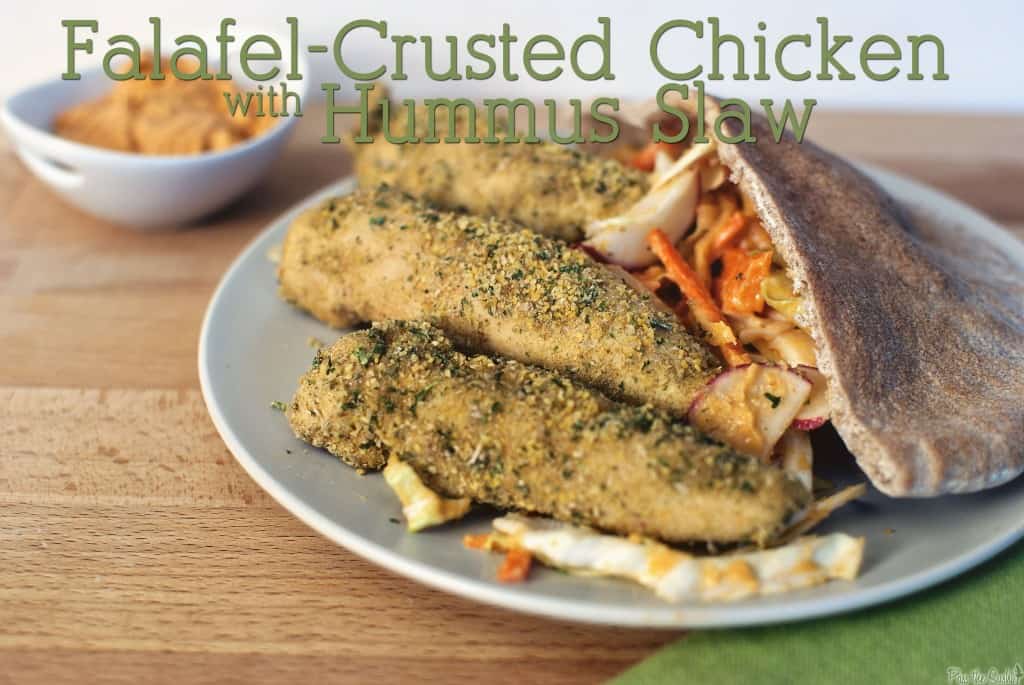 Falafel-Crusted Chicken with Hummus Slaw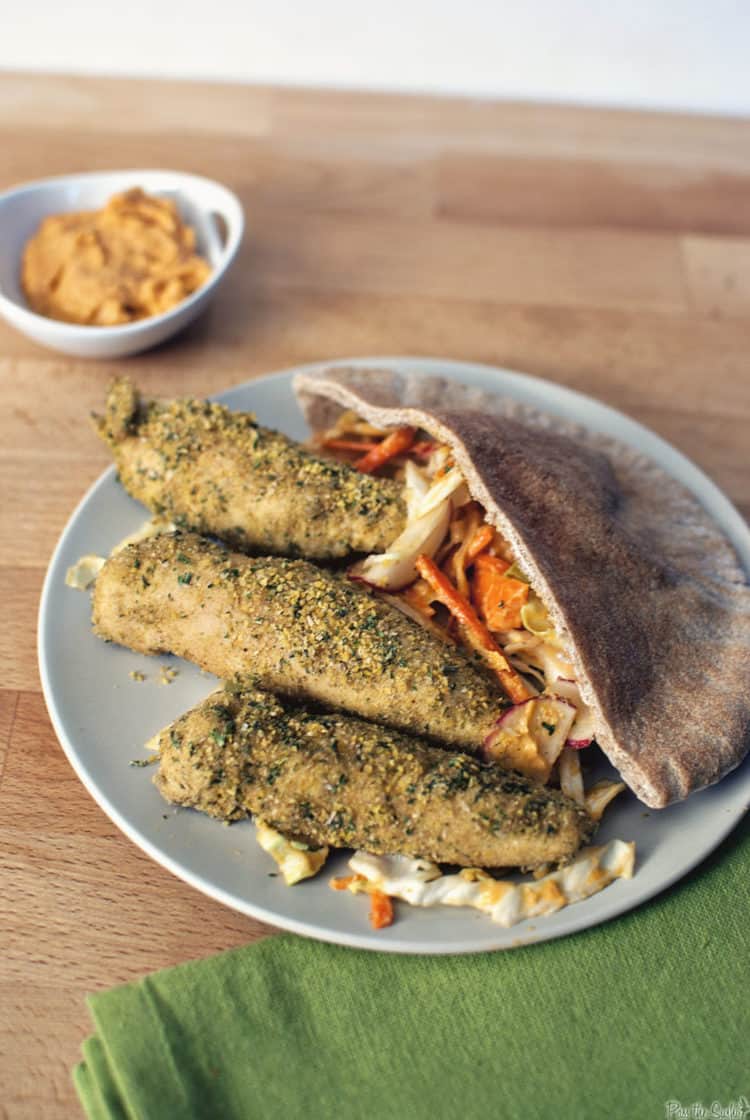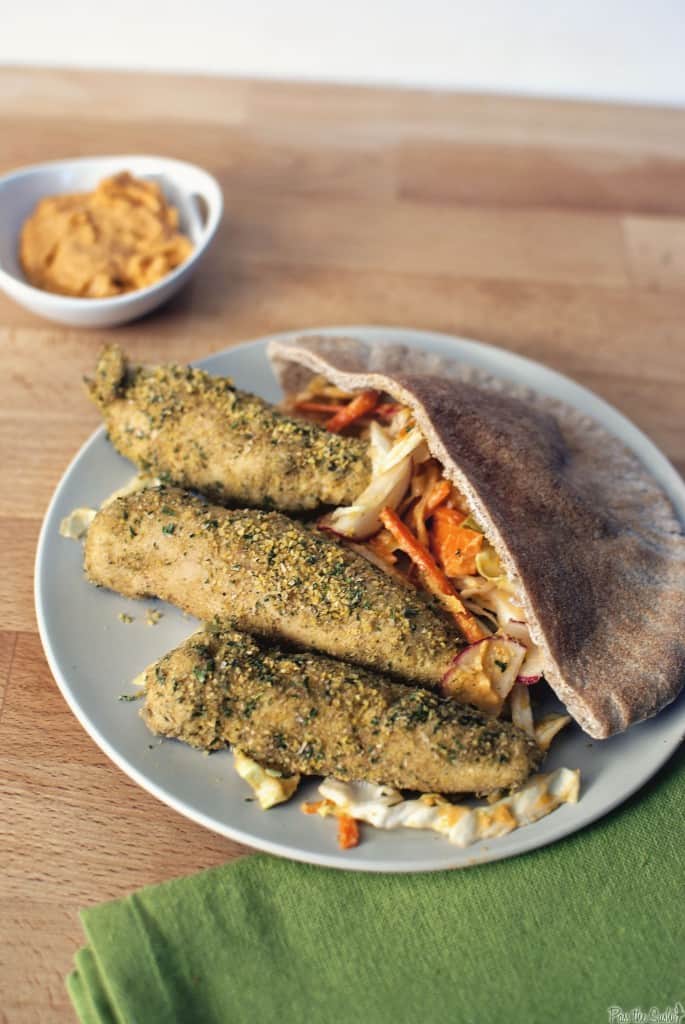 from Food Network Magazine Jan/Feb 2012
Ingredients:
Cooking spray
3 skinless, boneless chicken breasts (about 1 1/4 pounds), sliced into 1/4-inch-thick strips
1 tablespoon extra-virgin olive oil
1/2 cup falafel mix
2 whole-wheat pitas, halved
6 tablespoons hummus
Grated zest and juice of 1 lemon
1/2 teaspoon harissa or other hot chile paste*
4 cups shredded coleslaw mix
6 radishes, halved and thinly sliced
1 cup chopped fresh parsley
Kosher salt
Preparation:
Preheat the oven to 425 degrees F. Set a rack on a rimmed baking sheet and coat with cooking spray. Toss the chicken with the olive oil in a large bowl, then add the falafel mix and toss to coat. Arrange the chicken on the rack and bake until golden and cooked through, about 10 minutes. While the chicken is baking, stack the pita halves and wrap them in foil; warm in the oven, about 5 minutes.
Meanwhile, mix the hummus, lemon zest and juice, harissa and 3 tablespoons water in a large bowl. Remove 2 tablespoons of the hummus sauce and reserve. Add the coleslaw mix, radishes and parsley to the remaining hummus sauce and toss. Season with salt.
Divide the chicken among plates and drizzle with the reserved hummus sauce. Stuff the slaw in the pitas and serve with the chicken.
*if you think chile paste or harissa is too hot for the taste buds at the table, try using a hummus with some punch (like roasted red pepper) and omitting this ingredient all together.