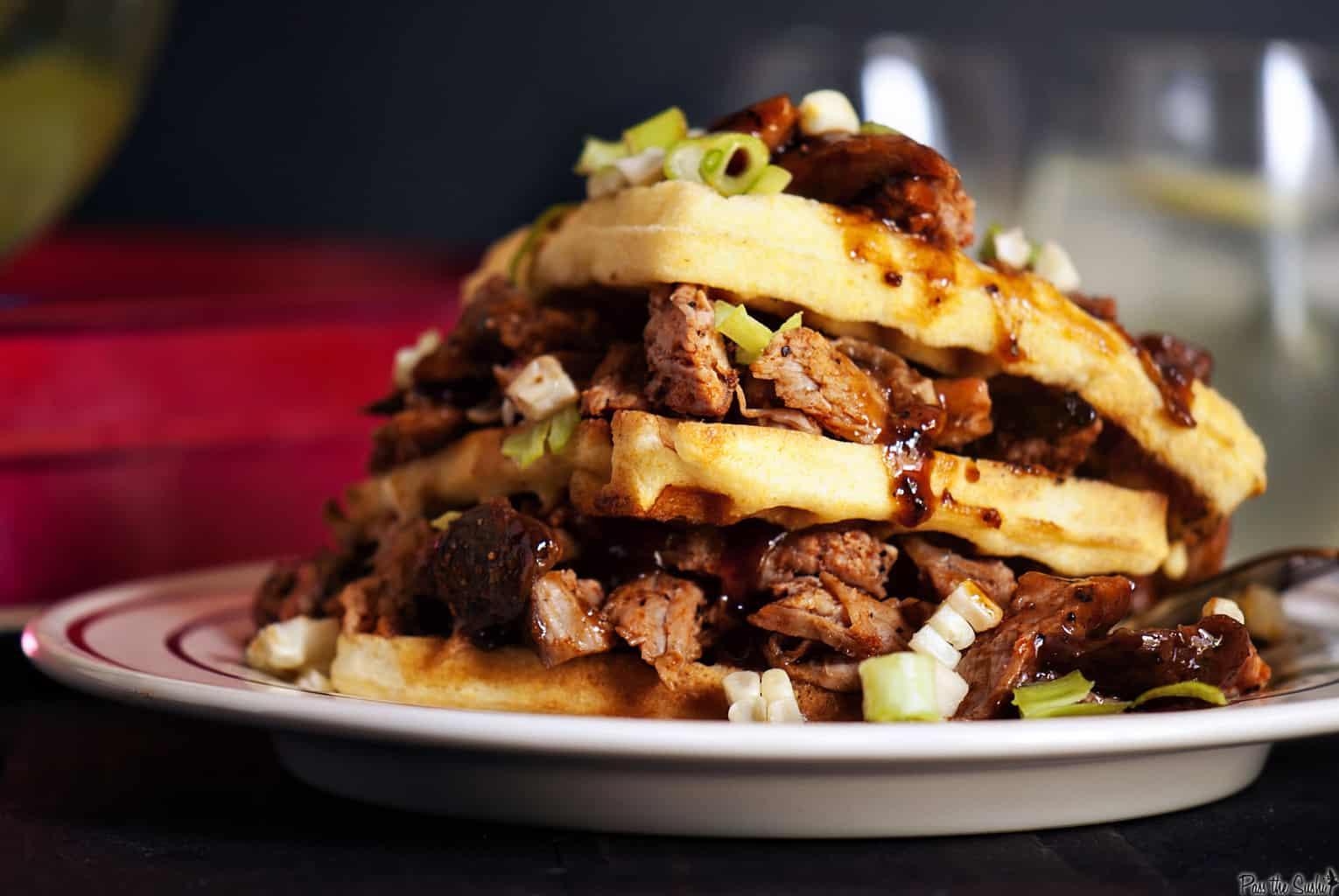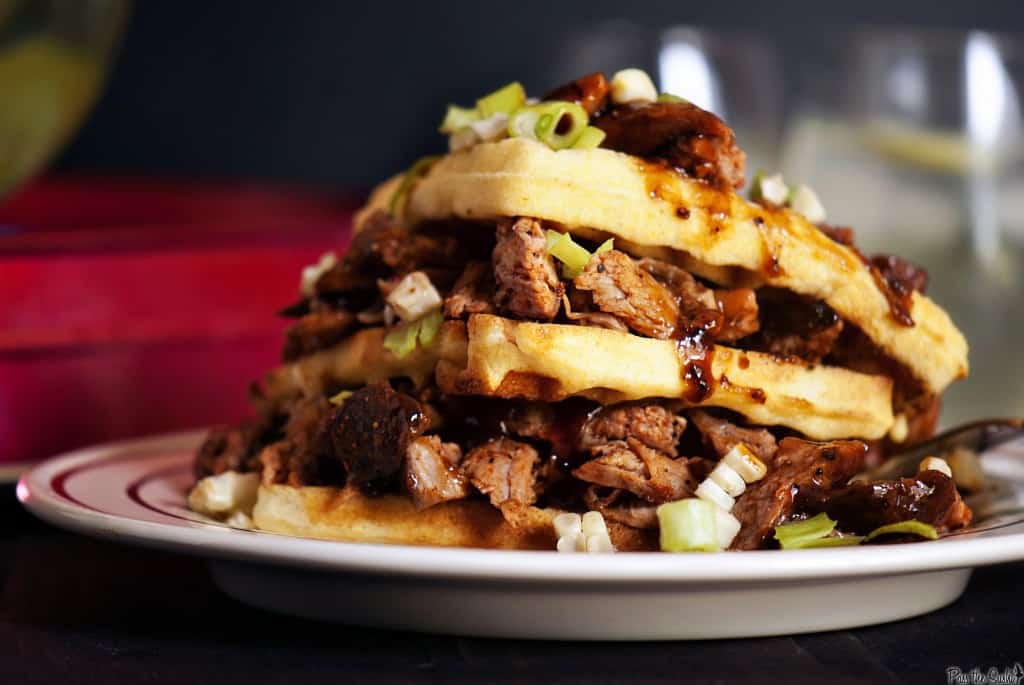 Last week at Big Summer Pot Luck the topic of jealousy was brought up. How sometimes we cdan see another blog, a more successful person, a cuter house,  or a perfect kitchen and that sometimes we can become jealous of these things. For me, I am jealous of those cute couples that work together in the kitchen. You know the ones that always have the amazing how to photos while one person cooks and the other snaps away. I will never have cute how to pictures featuring me in an apron for two reasons. One, my boyfriend still thinks it's weird when he comes home from work to find me snapping pictures of the evenings meal in my pajama bottoms on the deck in the back yard. Two, he is not a foodie. We are still working on a 12 step program for him now that we don't have an entire shelf in the pantry devoted to shells and Velveeta.
So, when the idea for savory waffles popped into my head as I looked at all the leftovers from that smoked pork I had to be sneaky about going about it. Where I know that barbecue and cornbread are a match like Olympic swimmers and Speedos, I also know convincing my boyfriend that a waffle can be a savory and amazing thing not needing a ton of syrup is about darn near impossible.
Yes, I may have had an epic fat kid moment by waiting until Handsome left for work early one morning to make myself cornbread waffle pulled porkwiches and I may have hidden all evidence of the existence of such thing from him… and I may have really enjoyed it all a little too much. Hey, you can have your chocolate ice cream, give me the meat.
The pulled pork tucked in between the savory cornmeal waffles really goes a long way. The extra bonus of the corn and scallions makes this recipe pop. The bonus, this recipe really is as easy or complicated as you want to make it.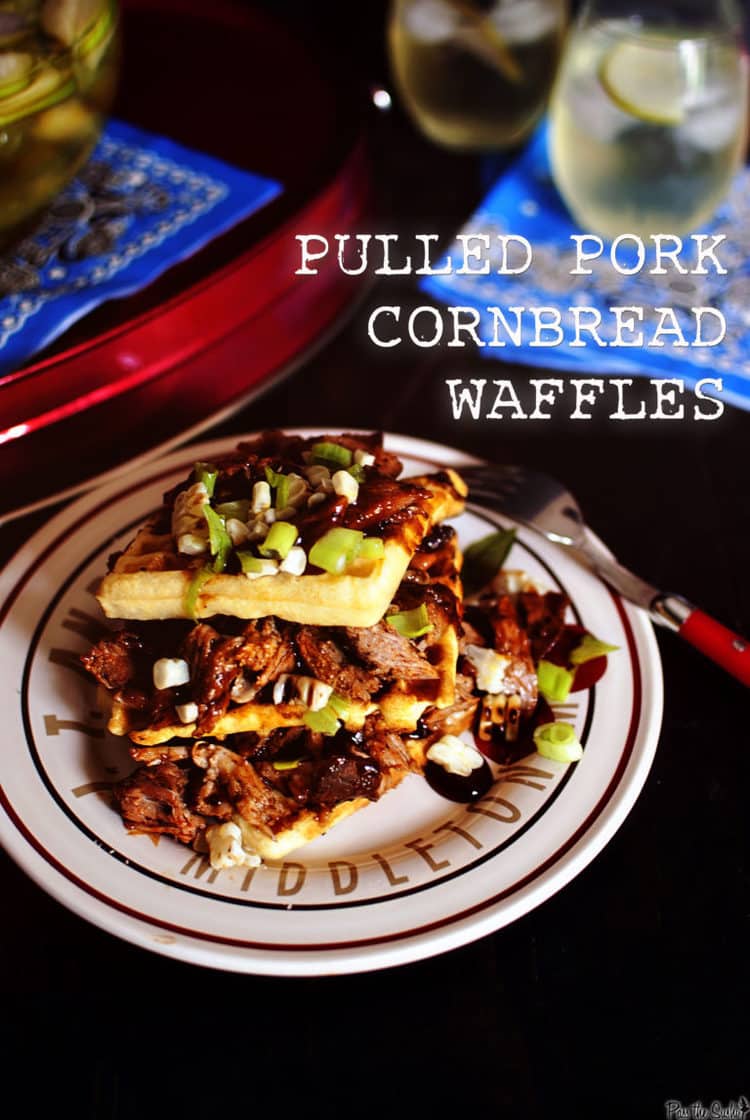 Pulled Pork Cornbread Waffles
Ingredients:
1 box Jiffy cornbread mix
1 1/4 cup milk
2 tbs butter, melted and cooled
2 egg
3/4 cup cheddar cheese, shredded
1 -2 cups pulled pork
1/2 cup barbecue sauce *optional
1 ear of corn, grilled
1/4 cup scallions, diced
Preparation:
Preheat oven to 200 degrees F. Line a baking sheet with a metal wire rack; set aside.
Preheat waffle iron. Following the directions on the box of Jiffy cornbread, mix the cornbread mix, milk, butter, eggs and cheddar cheese together. Spray waffle iron with non stick cooking spray and prepare waffles as directions indicate for your waffle iron or until they are crisp and cooked through. Place waffles on prepared baking sheet and place in oven to keep warm.
Reheat your pulled pork with additional barbecue sauce if desired.
Slice the kernels off of the corn and stir in the scallions.
Remove the waffles from the oven and layer with pulled pork. Sprinkle with corn and scallion mixture. Serve with additional barbecue sauce to taste.