Pimento cheese sirloin sliders are a delicious and easy New Year's Eve appetizer. Also the perfect snacks during the New Year's Day football games!
Christmas came and went and now its time to ring in the new year with snazzy parties and fancy cocktails. I have been invited to a few of such events, but as I am mass amounts of excitement in the real world, I will probably just sit at home enjoying the evening with my own private stash of bubbly. After how much fun I had making Christmas dinner though, the idea of throwing a last minute hurrah at my house had been pinging around in my head. (Says the girl that had no dessert to offer.)
New Year's Eve appetizers seem to be on everyone's mind when I asked on Twitter what today's post should feature.
These pimento cheese sirloin sliders are uber tasty little treats if you are having yourself a shindig this Saturday night.

Pimento Cheese Sirloin Sliders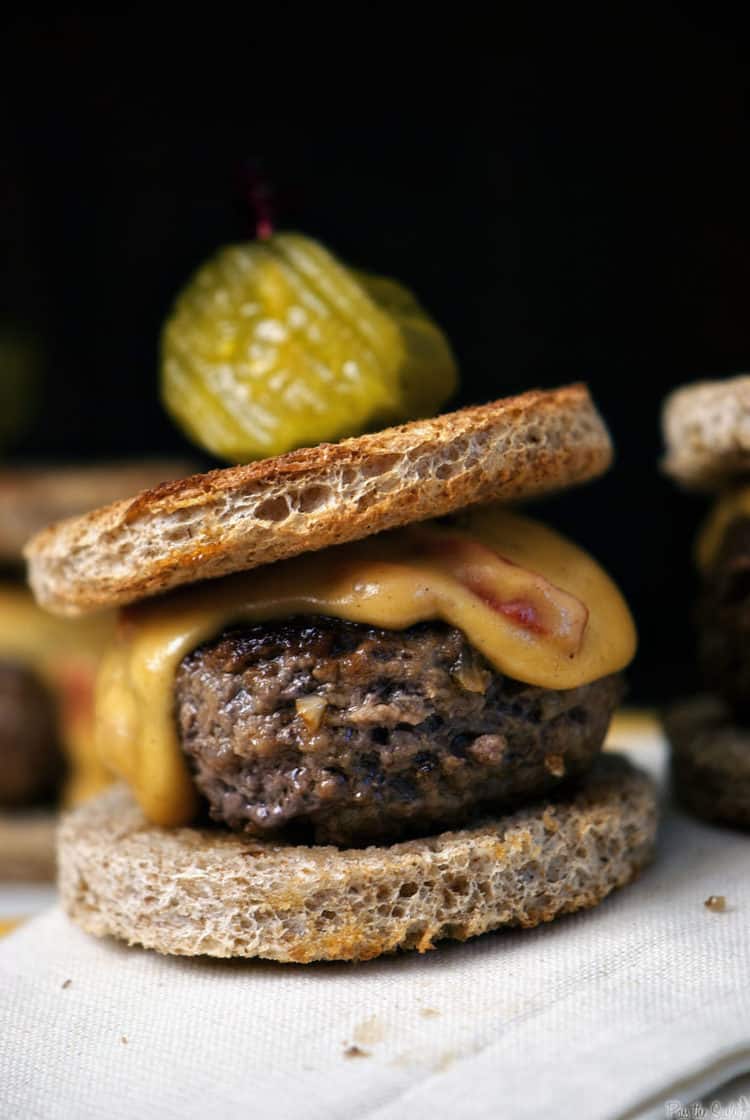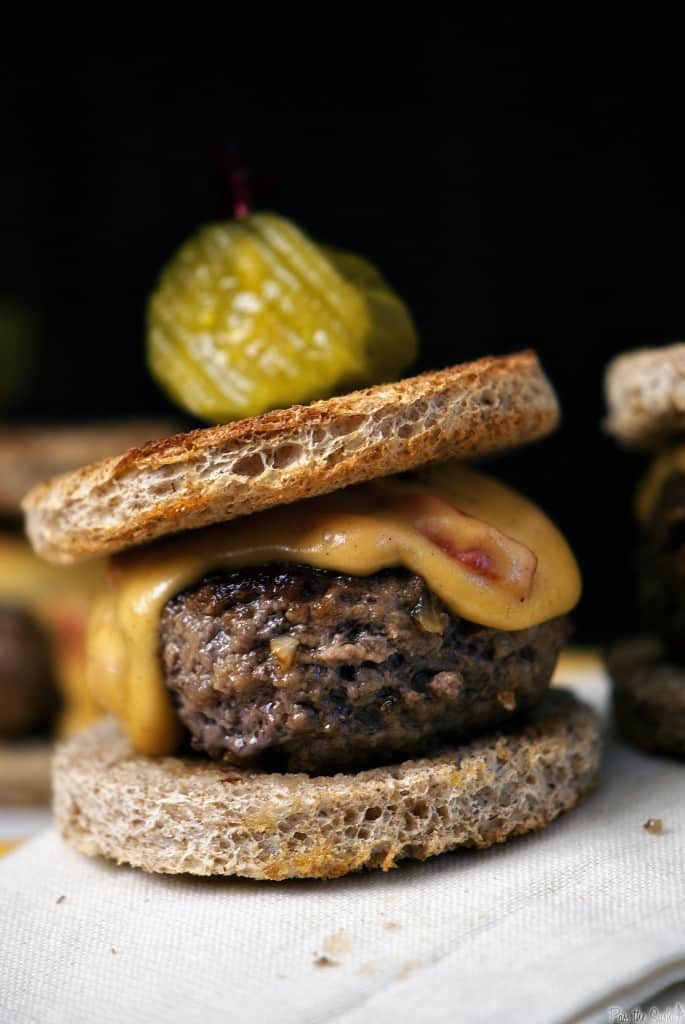 From Rachael Ray Magazine (you know Rach, dates on your pages would be super helpful)
Ingredients:
16 slices white or wheat bread
1 1/2 lbs ground beef sirloin
2 to 3 garlic cloves, grated or finely chopped
3 to 4 tbs gated onion
1 tbs paprika or sweet smoked paprika
1/2 cup lager beer (I used a bottle of Dogfish head)
Salt and pepper
Olive Oil
2 tbs butter
2 tbs flour
1 cup milk
1 cup shredded sharp yellow cheddar cheese
3 tbs well-drained chopped pimentos
1 tbs yellow mustard
several drops hot sauce
8 slices dill pickle chips
Preparation:
Heat the oven to 350 degrees F. With a biscuit cutter, cut the bread into 3 inch rounds or trim into slider sized squares. Arrange on a baking sheet and bake until lightly toasted and golden, 8 to 10 minutes.
Combine the meat with the garlic, onion, paprika, beer, salt and pepper. Mix and form 8 burger (about 3 inches each) and drizzle with olive oil. Heat a griddle pan or large cast-iron skillet over medium-high heat. Cook the patties for 3 to 4 minutes on each side.
Meanwhile, in a saucepan, melt the butter over medium heat. Whisk in the flour and milk and simmer to thicken for about 3 minutes; season with salt and pepper. Melt in the cheese and stir in the pimentos, mustard and hot sauce.
Divide the patties among 8 toast slices and top with the cheese sauce and another slice f toast. Garnish with the pickles and secure with toothpicks.
Congrats to Jenny @ Savour the Senses! She won my holiday swag giveaway!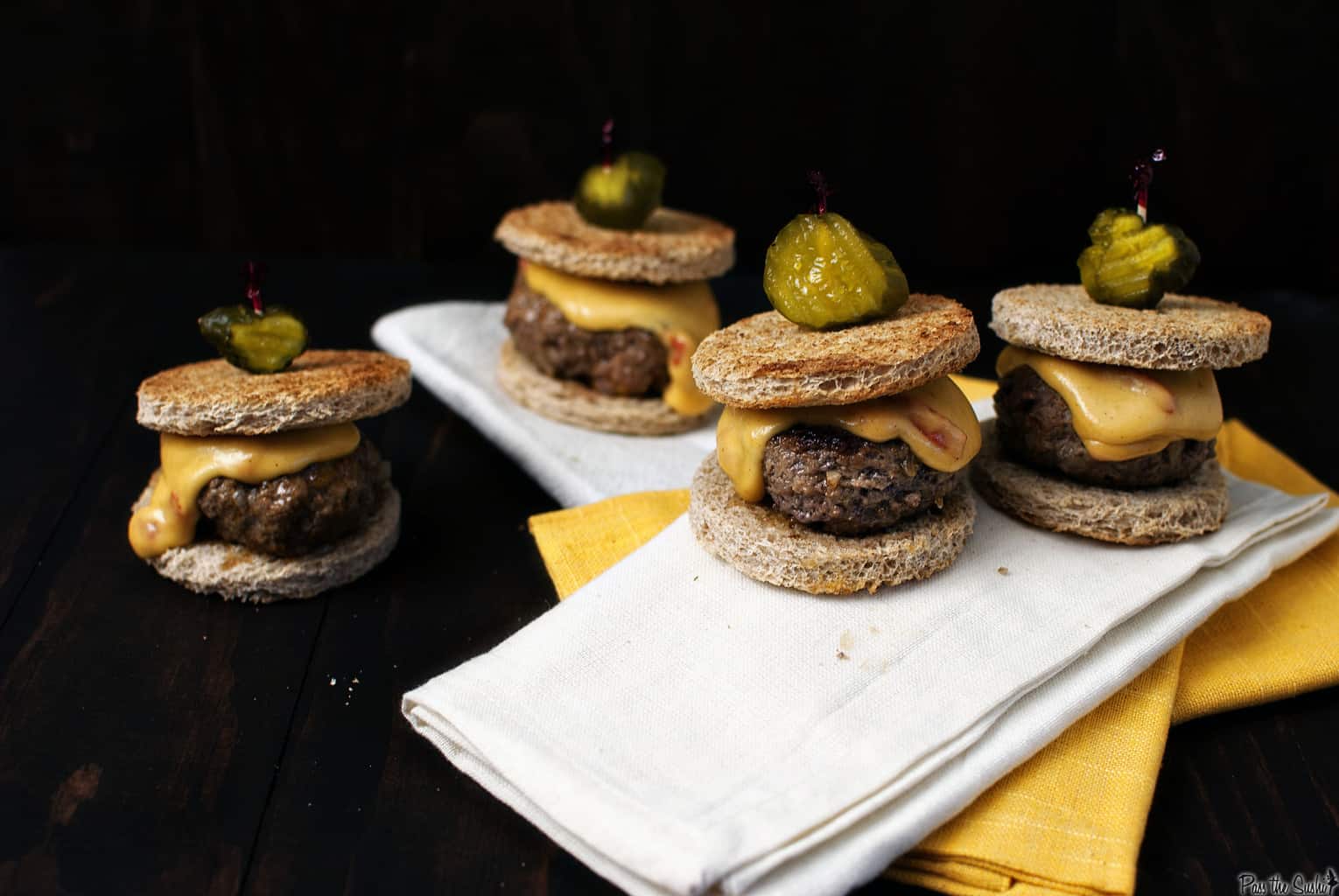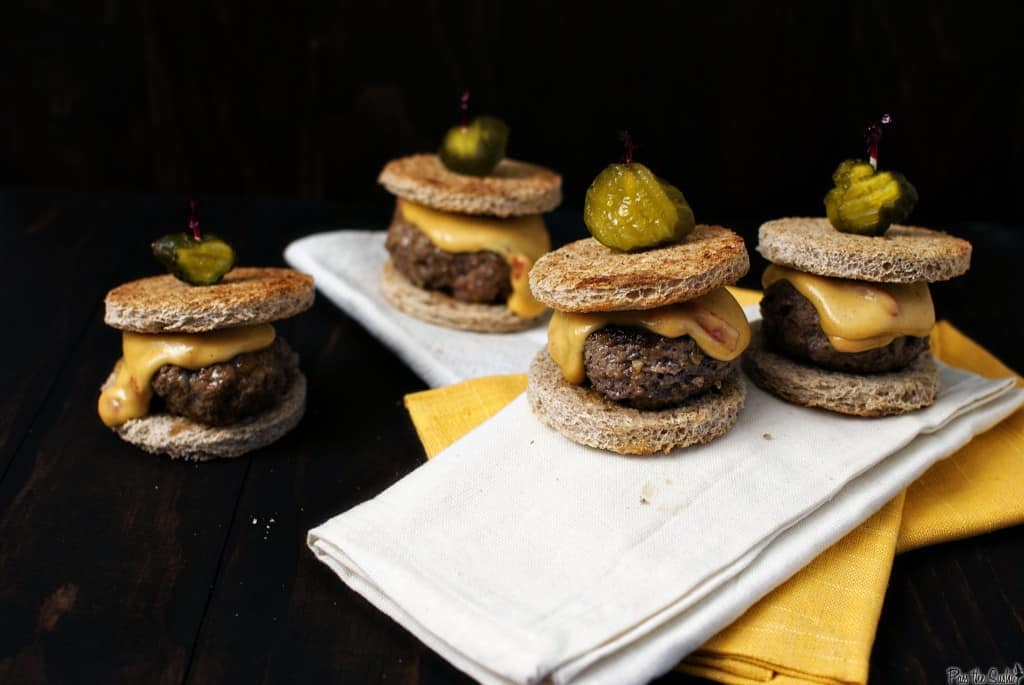 What are you doing this New Year's Eve?