Pesto tortellini gratin is a warm, comforting meal, full of flavor!  Salty pancetta, pesto, and tortellini combine with a creamy white cheese sauce to be baked with a crispy Parmesan cheese topping.
Who needs reality TV – if you could follow Handsome and I around on a mundane Tuesday night, you would never slump to the lows of the Jersey Shore ever again. I promise.
See, we are a sippy cup kind of special. You won't hear us having thought provoking conversation that would eventually lead to the cure for cancer. No sweet poems would pass our lips with candlelight and music filling the air. No long conversations about the duldrums of one's job.
Nope. You'd see him chasing me around the house with a spoon covered in macaroni  and have to put up with our 45 minute debate over the validity of the word 'fishes' backed by only the song from the commercial for Goldfish crackers. Yeah, we keep it classy in this house.
45 minutes, I kid you not, of "Fishes is not a word." Followed by "But, I love fissshess cuz their soooo delicious." Debated with "And how many fishes are in a pond?" Answered by more commercial jingles. " Yes, we are the worlds most interesting couple.
Top that with pesto tortellini gratin, Mr. Dos Equis.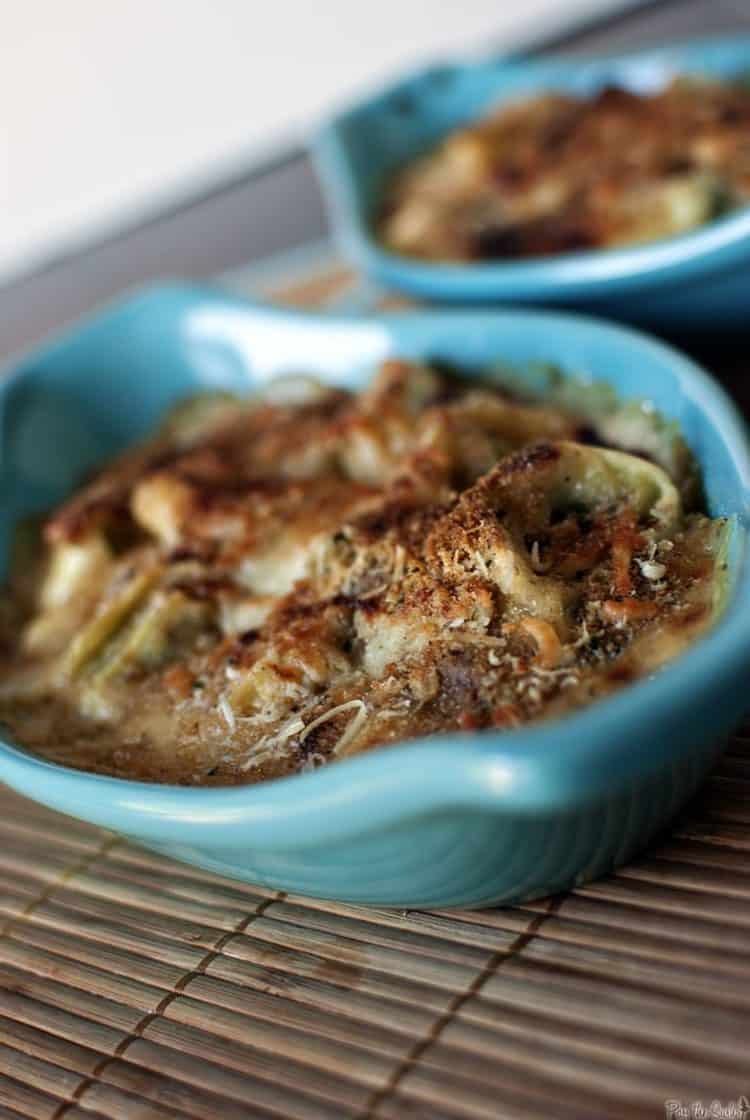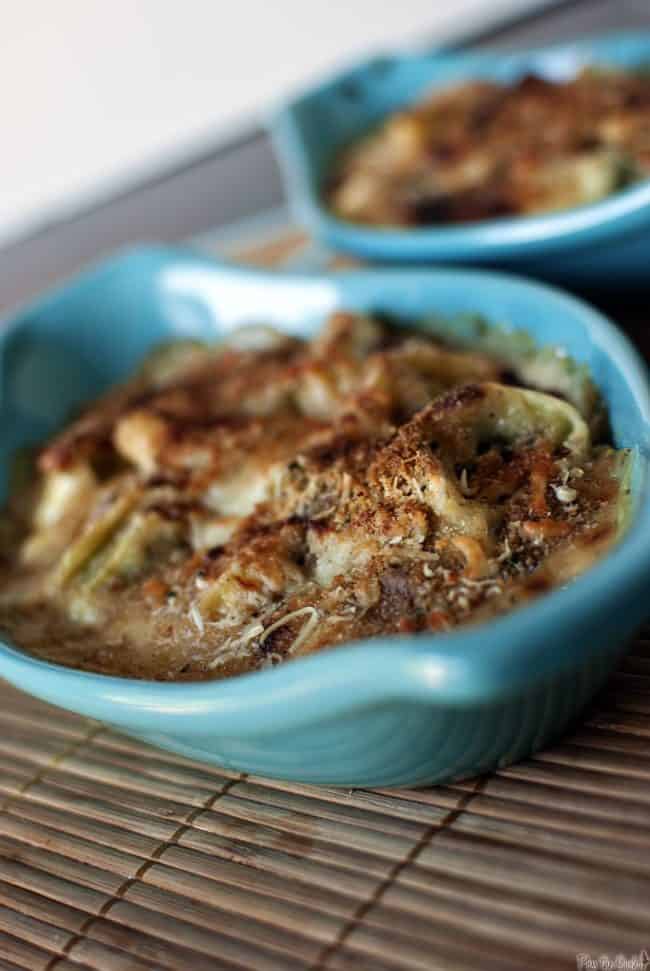 Pesto Tortellini Gratin
This one's all me
Ingredients:
2 tbs olive oil
1/4 cup diced pancetta
1/2 medium onion, diced
1/2 teas red pepper flakes
2 tbs flour
2 cups milk
1 cup fontina cheese, shredded
2 sprigs thyme
1/2 teas cayenne pepper
1/2 teas oregano
1 package frozen tortellini (I used Trader Joe's Pesto tortellini – if you can't find pesto tortellini, stir in 2 tbs pesto before adding the tortellini to the gratin dishes)
1/4 cup Parmesan cheese, shredded
Preparation:
Heat olive oil in skillet over medium heat. Saute diced pancetta until crispy, about 3 minutes. Add onion to pan and saute 5 more minutes, or until onion is soft. Add red pepper flakes.
Sprinkle flour over skillet and cook 2 minutes. Slowly whisk in milk. Once the milk has been whisked in and no lumps remain, add in cheese, thyme, cayenne pepper, and oregano. Let cheese melt and flavors mingle, stirring constantly until thickened.
Meanwhile, cook tortellini to al dente according to package, drain, rinse & heat oven to 350 degrees F.
In greased gratin dishes, individual ramekins or an 8×8 baking pan, divide tortellini up evenly in one layer. Pour sauce over tortellini and sprinkle parmesan cheese on top.
Bake for 20-25 minutes or until golden brown and bubbling.
Serve and enjoy.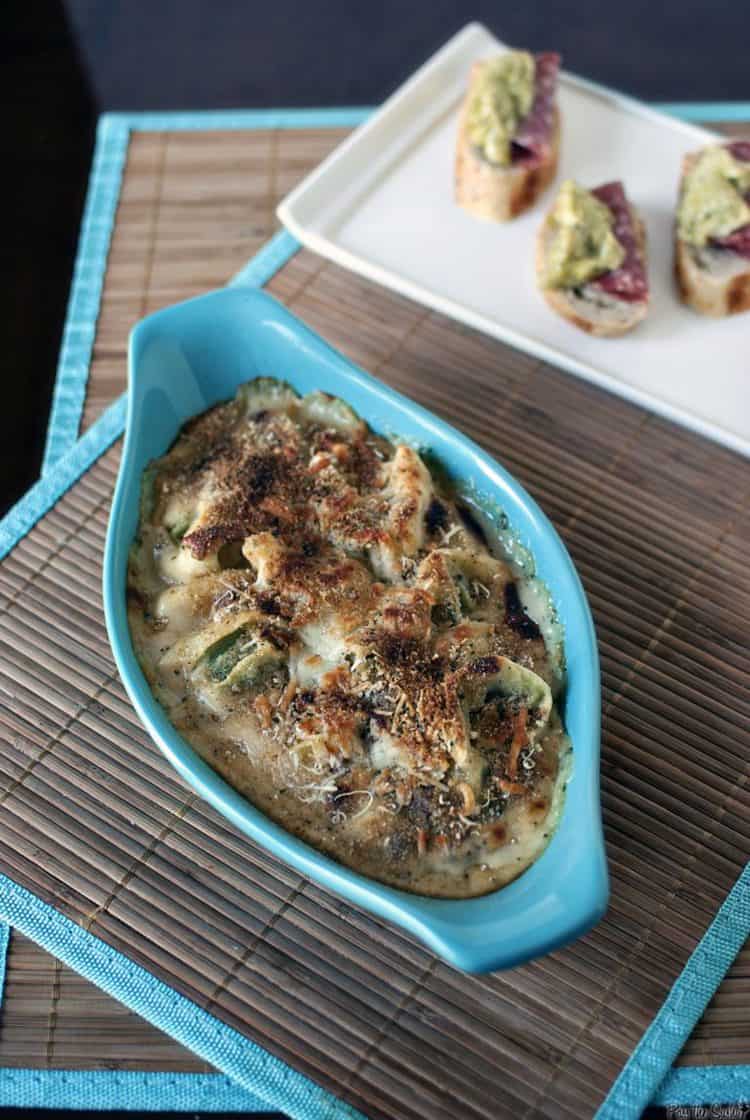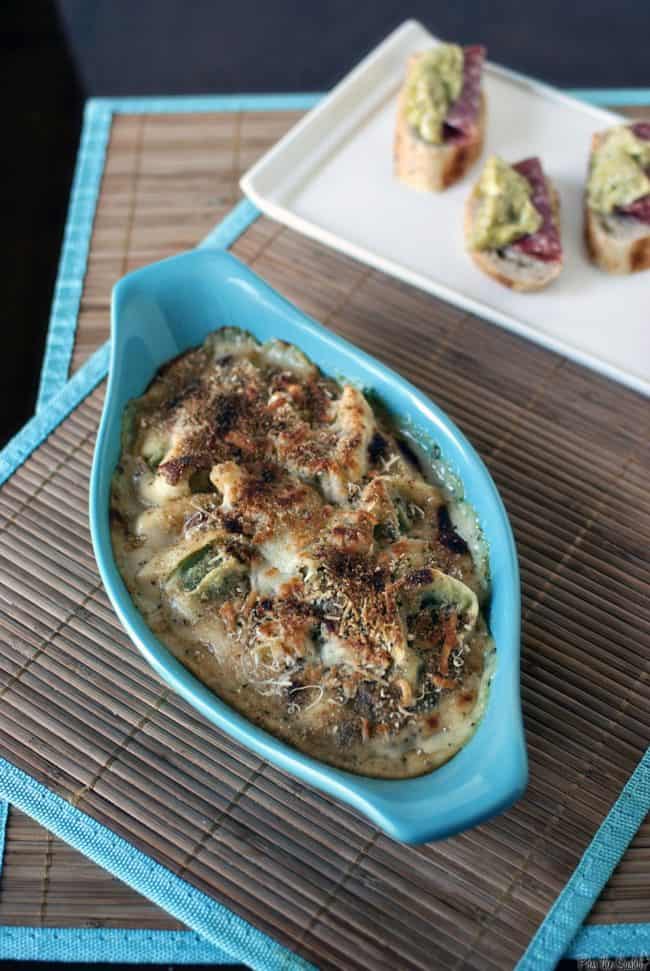 Oh, and because I have to be fair, 'fishes' is indeed a word. Google says so. A word I was thought to never use, but a word….
Be sure to check out my guest post tomorrow over at Eat Yourself Skinny!