Bolognese Sauce is a hearty Italian meat sauce that's loaded with flavor. Served with your favorite pasta, it's a comfort food dish that you're going to love.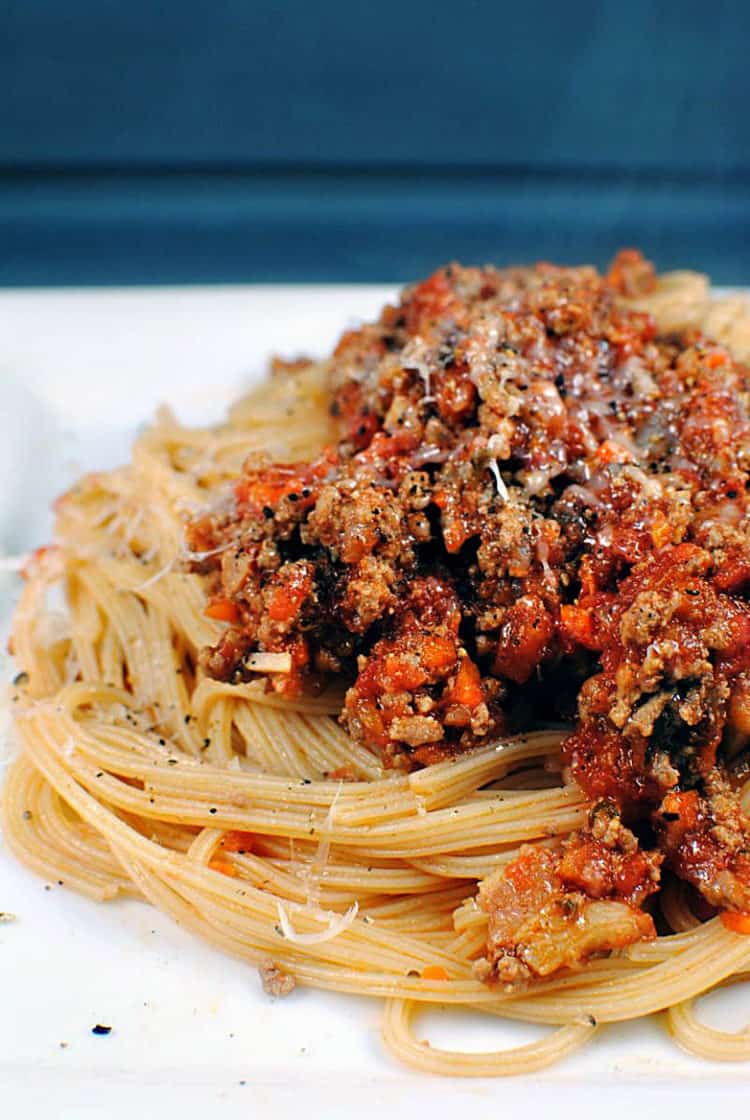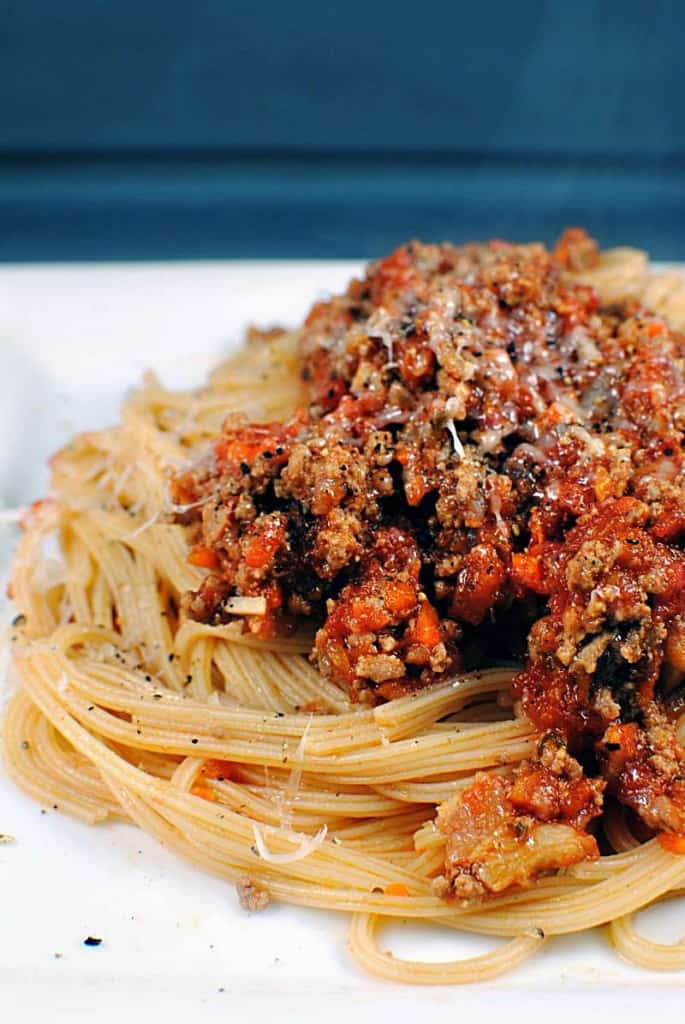 The following statement will show you just how screwed up I am, but, I love me some telemarketers. I thoroughly enjoy screwing with them. I know, I am not a good person.
My parents used to get a certain news paper calling their house 6 or 7 times a week wanting them to subscribe to their paper. Apparently, their general disinterest did not stop the telemarketers from trying though. Finally I'd had enough and answered the phone in my best child like voice.
The telemarketer asked to speak to my mommy or daddy to which I relied, "Mommy hasn't been home in three days and I'm really really hungry." Sniffle.
I know, that was just plain wrong. The telemarketer lost his cool and in a panicked state offered to call 911. I just politely told him to stop calling and hung up at that point. Problem solved. They never called back. Victory was mine. 🙂
Now, for a meal that will make you all warm and cozy with victory, how about some pasta with Bolognese sauce?!
Pasta with Bolognese Sauce
From Cook's Illustrated
Ingredients:
1/2 ounce dried porcini mushrooms
1 1/4 cup sweet white wine (see note)
1/2 small carrot, peeled and chopped into rough 1/2 inch pieces (about 1/4 cup)
1/2 small onion, chopped into 1/2 inch pieces (about 1/2 cup)
3 ounces pancetta, cut into 1 inch pieces
1 (28 ounce) can whole tomatoes with juice
1 1/2 tbs unsalted butter
1 small garlic clove, minced or pressed through garlic press (about 1/2 teas)
1 teas sugar
1 1/4 lbs meatloaf mix (or = amounts 80% lean ground beef, ground veal, and ground pork)
1 12/2 cups whole milk
2 tbs tomato paste
Table salt
1/8 teas ground black pepper
1 lbs strand pasta like linguine or spaghetti
Grated parmesan, for serving
Preparation:
Cover porcini mushrooms with 1/2 cup water in a small microwave safe bowl; cover bowl with plastic wrap, cut a few steam vents with parking knife, an microwave on high power for 30 seconds. Let stand until mushrooms have softened, about 5 minutes. Using fork, lift porcini from liquid and transfer to seconds small bowl; pour soaking liquid through paper towel-lined mesh strainer. Set porcini and strained liquid aside.
Bring wine to simmer in a 10 inch nonstick skillet over medium heat; reduce heat to low and simmer until wine is reduced to 2 tbs, about 20 minutes. Set reduced wine aside.
Meanwhile, pulse carrot in food processor until broken down into rough 1/4 inch pieces, about ten 1 second pulses. Add onion; pulse until vegetables are broken down to 1/8 inch pieces, about ten 1 second pulses. Transfer vegetables to small bowl. Process softened porcini until well -ground, about 15 seconds, scraping down the sides if necessary. Transfer porcini to small bowl with onion and carrot. Process pancetta until pieces are no longer than 1/4 inch, 30 to 35 seconds, scarping down bowl if necessary, transfer to small bowl. Pulse tomatoes with juice until chopped fine, six to eight 1 second pulses.
Heat butter in 12 inch skillet over medium-high heat; when foaming subsides, add pancetta and cook, stirring frequently until well browned, about 2 minutes. Add carrot, onion, and porcini; cook stirring frequently, until vegetables are softened but not browned, about 4 minutes. Add garlic and sugar; cook until fragrant, about 30 seconds. Add ground meats, breaking meat into 1 inch pieces with wooden spoon, about 1 minute. Add milk and stir to break meat into 1/2 inch bits; bring to a simmer, reduce heat to medium, and continue to simmer, stirring to break up meat into small pieces, until most liquid has evaporated and meat begins to sizzle, 18 to 20 minutes. Stir in tomato paste and cook until combined, about 1 minute. Add tomatoes, reserved porcini soaking liquid, 1/4 teas salt and pepper; bring to simmer over medium-high heat, then reduce heat to medium and simmer until liquid is reduced and sauce is thickened but still moist, 12 to 15 minutes. Stir in reduced wine and simmer to blend flavors, about 5 minutes.
Meanwhile, bring 4 qrts water to rolling boil, covered, in stockpot. Add 1 tbs salt and pasta, stir to separate, and cook until al dente. Drain, reserving 1/4 cup pasta cooking water, and return pasta to stockpot. Add 2 cups sauce and 2 tbs remaining pasta water, if necessary, to help distribute sauce. Divide pasta among individual bowls and top each portion with about 1/4 cup remaining sauce. Serve immediately, passing parmesan separately.
Note: Sweet white wines such as Gewuztraminer, Riesling, and even white Zinfandel pair especially well with this Bolognese sauce.
To obtain the best texture, be careful not to break up the meat too much when cooking it with the milk in step 4. With additional cooking and stirring, it will continue to break up.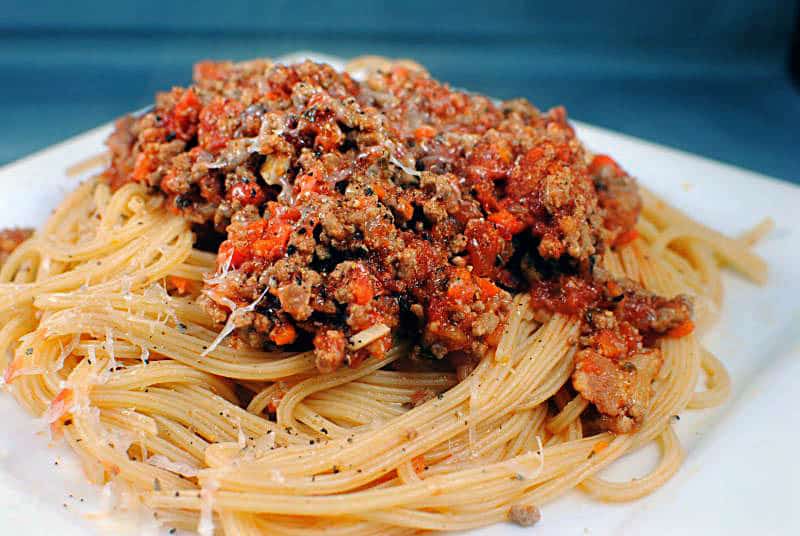 **Cook's Illustrated titles this  "Weeknight Pasta Bolognese Sauce", and for me, that's fine (I don't mind eating at 8:30), but it was over a 45 minute process from start to finish. For a pasta dish on a weeknight it's not quick meal – especially if your just getting home from a long days work and may have little ones running around – so I'm leaving 'weeknight; out of the title.
Later that night:
Handsome, "Why is your sock on the floor in the kitchen?"
Me, "For the same reason there's a sock in the sink."
Handsome, waiting for more of an explanation.
Me, "I spilled the Bolognese sauce, duh."
It's a sneaky sauce. You've been warned.