You can have a magical time at everyone's favorite childhood destination without ever buying a ticket. Here's how I get the most bang for my buck with a quick 24 hours in Orlando, Florida!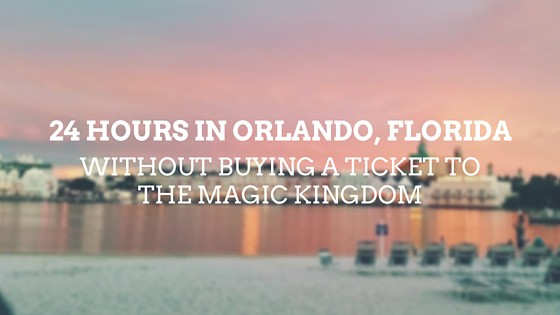 Last October I had a quick 24-hour layover in Orlando where all of my plans fell through at the last minute! At first, I was content to grab a room and spend the day catching up on all the things (seriously, there is something dreamy about the idea of being in a room and being able to get all-the-things-done, which in reality is never how it works).
But a buddy of mine, Chef Dennis, a recent Orlando transplant and all around food blog ambassador  invited me to come spend the time with him and his new bride. Little did I know it would be the most fun 24 hours you could pack into one place - without ever buying a ticket to Disney World!
This is how to make the most out of traveling Orlando without Disney.
First - all the magic - none of the price tag! Dinner at Disney Boardwalk! No lie, who doesn't want to go to Disney? I have been begging to go for ... years. But on a quick layover, it just wouldn't make sense to fork over the moolah for it.
Head to the Boardwalk
So, Dennis and his wife did the next best thing, they took me to dinner at the Boardwalk. Disney's Boardwalk that is. A free area to enter and dine with all the lush landscaping and care of the Disney Resorts.
You can enjoy street performers, see the fireworks in the distance, and enjoy all of the magic without actually being in the parks. No, I didn't get to hug a life-sized Stitch, but I did get to smile ear to ear filling like a child all over again while just taking the whole night in. Plus, they arranged for this stellar sunset to happen just as we walked in. Welcome to Orlando!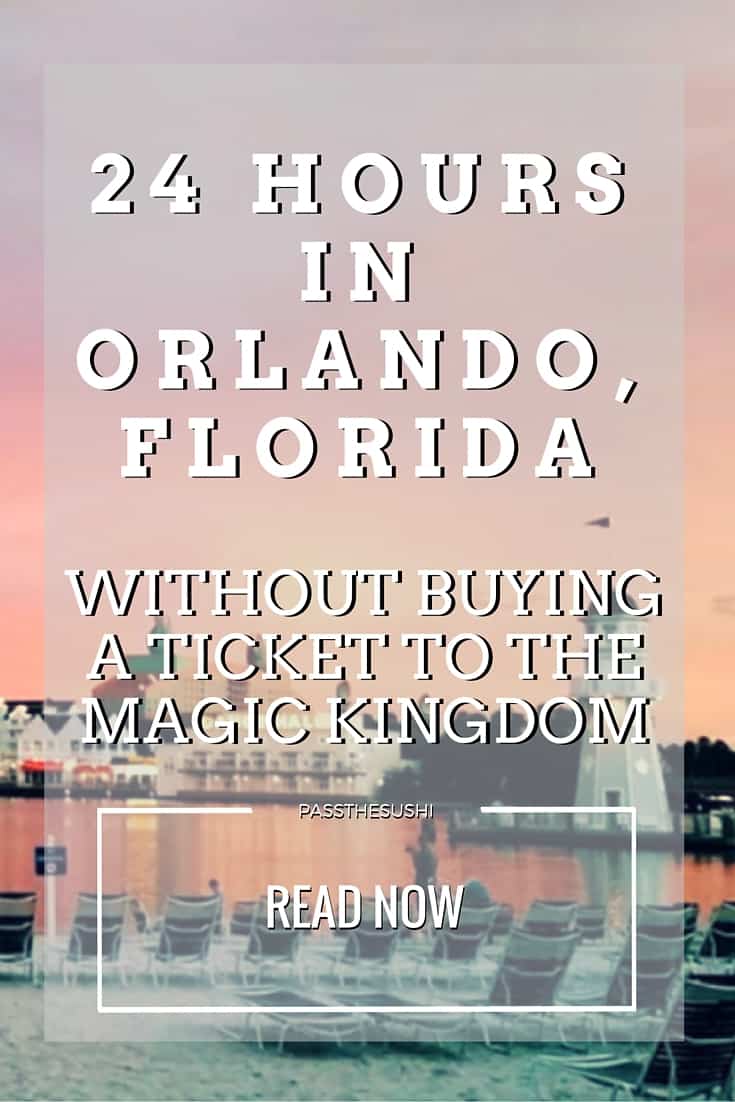 Ride an Airboat through Alligator Country.
Ok, not really alligator country, but it made for a fun headline.
The next morning Chef asked If I would like to go on an AIRBOAT ride. Now, shameful admission right now, part of me got all excited that I was going to relive Archer like dreams!
It was awesome. I have never seen the everglades and taking an airboat from Boggy Creek Airboats and learning about the region with airboat captain Nick, from invasive snails to gater hunts, was so much fun. It was like a school field trip for adults (bring kids - they would totally love it).

I even met this adorable little girl! Paid a donation to hold her and everything (because if I am going to run around like a tourist for 24 hours in Orlando - I am going to do touristy things!) She was docile and so soft! I had no idea that reptiles could be soft.
Dine at Celebration
We headed where else - but to Celebration. Another slice of Disney Magic where you can enjoy all of the ambiance. 
Celebration is a curated neighborhood designed with Disney Magic in mind. In fact, it looks like you are still in Disney when you are there. The whole neighborhood feels rather Stepford Wives. But, given where I was, I was ok with it.
I soaked it all in. Imagined what it would be like in December when they make it snow. Loved life. And tried a heck of a meal at Celebration Town Tavern.

Visit Disney Springs
Later that night, Chef and Lisa made sure to go out with a bang!
We headed down to Disney Springs - where a ton of buildings were under renovations. We navigated the crowds and walked right into Morimoto Asia.
Little did I know it had only been open 3 days. It felt like stepping out of a vacation spot and right into a Bond movie. It was upscale and I was underdressed. When I go back to Disney, I am making sure to pack a little black dress and really making this more than just dinner - but an experience!

They treated us like royalty at Morimoto Asia ( I think Chef was flexing his Florida brand muscles - because he's pretty much an all-star down there). We got seats right at the sushi prep counter and enjoyed the show.
Most of all young Chef Shane Stinnett did an amazing job of being on top of everything and taking the time to make us feel like more than just diners. I hope to see him rise to the top in the culinary field. His professionalism in the high-stress atmosphere of the brand new kitchen was admirable as things were working themselves out around us in real time. Talk about reality TV. This was what those shows are made of.

And then we actually saw Chef Morimoto! Which you know, makes the experience just that much more surreal.

Finally, we ended it all with the perfect treat. We watched live music and families participating in sing-offs and enjoyed a chocolate ice cream cone from the world famous Ghirardelli chocolate makers. Chocolate in a chocolate cone with sprinkles. Now that is what I call a perfect 24 hours.
Without spending too much money, and never actually paying to go into a Disney Park, I was able to get a sample of some of the best things you can do in Orlando in just a short period of time! That totally beats slumming it at a cheap hotel!
In the early morning, I thanked Chef and Lisa and popped on my next flight to Jamaica. Check out my Must Do Moments at Sandals Ochi Beach Resort