Traveling to an all inclusive beach resort? They are dreamy – but here are some top secret Moments to Not Miss in Sandals (and any other resort you head to)! Find the hot spots and key experiences that make these vacations totally memorable!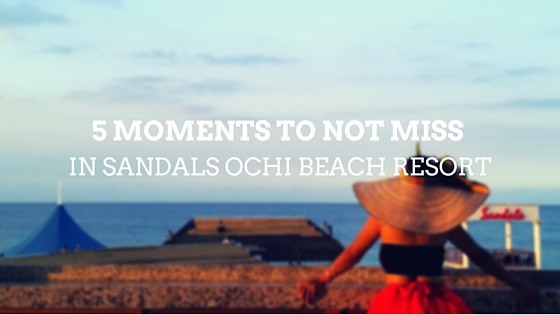 Last September a group of food writers got together for an empowering brainstorm session while basking in the sun and white sands of Jamaica at the Sandal's Ochi Beach Resort. It was everything I expected from a resort – private beaches, clubs, and people making sure you have everything you need to be pampered and spoiled for your entire stay. The group of us, led by Jamie of My Baking Addiction, and Kristan of Confessions of a Cookbook Queen,  were able to pull ourselves away from the scenic views of the sun over the clear blue waters for a few killer chats about blogging business – where I was reminded that I really need to get things in order – but who wants to hear about work when beaches are 30 feet from the door?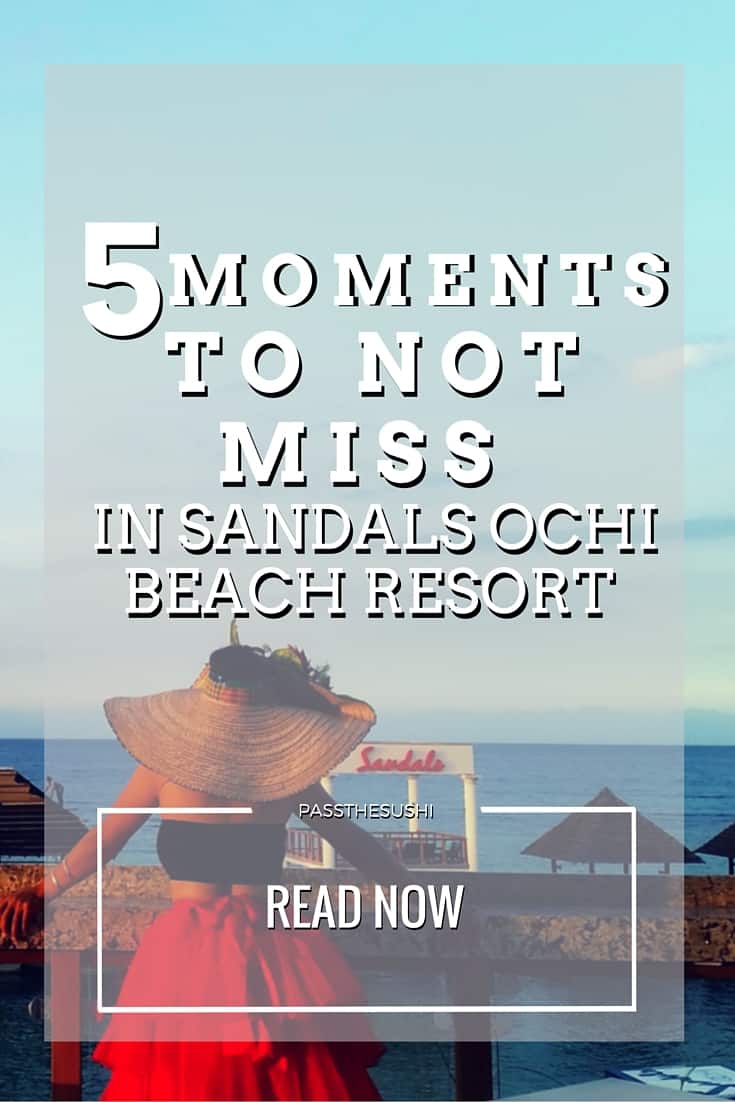 What was it like to stay at an all-inclusive resort? It was the definition of spoiled. There are people for everything. People to shuttle you to your rooms. People handing you food and beverages. People to entertain you. You truly don't have to think of a thing. Everything has been thought of and taken care of from the moment your plane lands in Jamaica, where a representative of Sandals meets you and escorts you to the lounge area until you can meet the shuttle for the drive to the resort. The beds were sprinkled with fresh flowers. The views were immaculate. The staff was wonderfully upbeat and helpful. It was overwhelming for me, opposite to any travel I had done before, but I can see it being a wonderful way to spend a few days with some friends and a romantic partner.
Besides lounging on the beach all day long while sipping on some mighty fine cocktails, there are some moments you should find time for while visiting Sandal's Ochi Beach Resort in Ocho Rios, Jamaica.

1 Sunrise Yoga on the Beach. OK, who wants to wake up before sunrise and put on yoga pants while enjoying a most likely liberal vacation. No one. But, it was one of the most wonderful yoga sessions I have ever experienced. Only a handful of us joined for the early wakeup call, but the character leading the session made the whole thing. Besides the view overlooking the whole property atop a gazebo while everyone slept, joining on a transformative personal journey of regrounding myself while stretching it out in the sun was one of the coolest moments I had in 2015. I'd do it again in a heartbeat.
2 Eating Sushi in Jamaica at Soy. You won't be without choices at an all inclusive when it comes to food. Sometimes, too many choices for that hard earned bikini bod. So decided where to spend those calories is important. I don't want to nibble here and there on things that aren't going to blow my mind. But sitting in an Asian themed, dimly lit, swanky restaurant with my girls truly transported me. We weren't just on a tropical island, no we were in far off lands enjoying sushi and creative cocktails together before putting our toes in the sand before bedtime. The perfect spot for a meal when you need something a little more fancy and want to dress up.

3 Relaxing at the Rabbit Hole. Do you love everything about the Great Gatsby? The idea of roaring parties, indulgence, sexy dark rooms, and whispered secrets? Welcome to the Rabbit Hole, the after hours bar that you only know how to get it, if you know how to get to. Tucked into a knoll on the side of the property, it was completely off my radar, until I stepped in, and then I immediately fell in love. Jazz trumpeting out from the first floor with a lead vocalist who had an amazing set of pipes blasting out classics like Etta James, men with tailored pants and thin suspenders shaking cocktails behind the counter, swanky decor and people. It was the place where a couple can go to be someone they aren't. The kind of place that begs for a slinky dress and a well-fitted jacket. This was the heaven I had been searching for.
4 Making time for "Me" time. When on a tropical resort that offers hot stone message on a covered deck over the ocean, why not? When it Rome, right? Sadly, The deck spots were all booked for when I could enjoy this splurge but, I was still able to book an appointment in the spa location. Ok, I wasn't laying on a deck overlooking the ocean. But I was in my own private little room with my masseuse who did an amazing job at my first hot stone massage. It was relaxing and just the sort of thing I gifted to myself. Something I would have never spent my hard earned bucks on at home, but just the thing to make an island vacation seem really special. In hindsight, I am very grateful I made time for this hour.
5 Learning about the Sandals foundation. I am passionate about helping others when I travel, and to be honest, I found this vacation hard. I wasn't with my partner and we weren't enjoying ourselves together, so it was work, and when I am working, I want to be benefitting someone. I was back and forth over feelings of selfishness about being at a resort. Then I got to learn about the wonderful Sandal's Foundation – a fundraising project by Sandals to directly benefit the locations in the Carribean. They are working to help social development in education, environment, and community. I met one hard working staff member of the Sandal's resort who personally goes to a local school, bringing supplies and helping out, and her passion for the project really resonated with me. I was excited to hear that Sandal's was working to give back the communities it was placing its locations in. The visit to the local school to see exactly who the foundation was put in place to benefit – priceless.

What did you think of these Moments to Not Miss in Sandals Jamaica? What resort are you heading to next and what are you most looking forward to?