Sausage lentil soup is a quick and easy dinner to make and it's hearty and filling enough to be eaten as a meal on its own.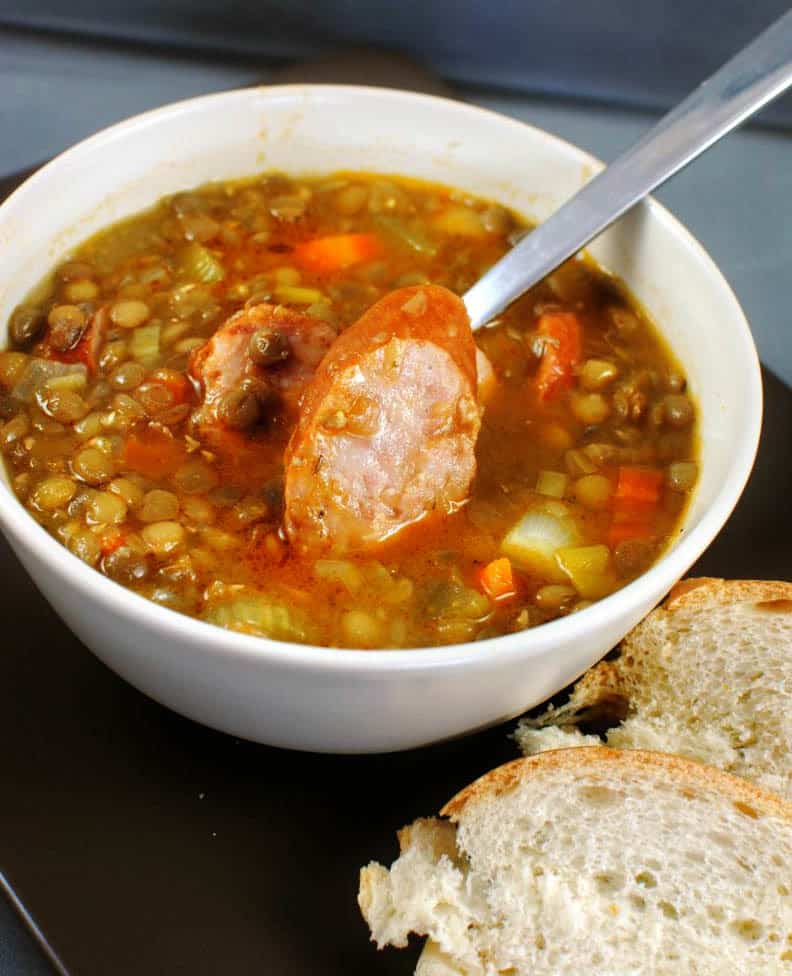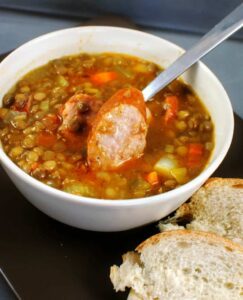 As I have mentioned in the past, blogging here on Pass the Sushi has introduced me to some new and interesting things.
It has also introduced me to some pretty basic things as well, like lentils. Going into today's recipe for lentil soup, I had no idea what lentils were or even what they tasted like. I didn't Google "what's a lentil?" or research what I was getting into, I just grabbed a bag of lentils from the shelf at the market and set out to make Ina Garten's recipe for sausage lentil soup with them. I'm daring like that.
At the dinner table, Handsome asked me what a lentil was. I politely told him I had no clue. When asked what the back up plan was, I replied that I didn't have one.
Thankfully, dinner was delicious.
Sausage Lentil Soup
From Barefoot Contessa; Episode: Tale of Two Soups
Ingredients:
1 pound French green lentils (recommended: du Puy)
1/4 cup olive oil, plus extra for serving
4 cups diced yellow onions (3 large)
4 cups chopped leeks, white and light green parts only (2 leeks)
1 tablespoon minced garlic (2 large cloves)
1 tablespoon kosher salt
1 1/2 teaspoons freshly ground black pepper
1 tablespoon minced fresh thyme leaves
1 teaspoon ground cumin
3 cups medium diced celery (8 stalks)
3 cups medium diced carrots (4 to 6 carrots)
3 quarts Homemade Chicken Stock or canned broth
1/4 cup tomato paste
1 pound kielbasa, cut in 1/2 lengthwise and sliced 1/3-inch thick
2 tablespoons dry red wine or red wine vinegar
Freshly grated Parmesan, for serving
Preparation:
In a large bowl, cover the lentils with boiling water and allow to sit for 15 minutes. Drain.
In a large stockpot over medium heat, heat the olive oil and saute the onions, leeks, garlic, salt, pepper, thyme, and cumin for 20 minutes, or until the vegetables are translucent and tender.
Add the celery and carrots and saute for another 10 minutes.
Add the chicken stock, tomato paste, and drained lentils, cover, and bring to a boil. Reduce the heat and simmer uncovered for 1 hour, or until the lentils are cooked through and tender. Check the seasonings.
Add the kielbasa and red wine and simmer until the kielbasa is hot. Serve drizzled with olive oil and sprinkled with grated Parmesan.

In case anyone reading this is as much of a newbie as I can be at times, check out the Wiki page on lentils.