Chicken manicotti is Italian comfort food at its best. Chicken, cheeses, and a rich tomato sauce tucked into pasta shells and baked up with even more cheese. Dinner never tasted so good.
We've all danced around our kitchens fantasizing about being the next food network diva (I mean some of them are so boring, a log could be more entertaining). Personally, I'm convinced they are missing a market. Sunny is close, as she cooks for herself and friends often entertaining. Brian Boitano would be close too if he were a little younger, as he caters to crowds.
The scene food network is missing is the girls who are still in college, not married, don't have kids, are on the highway to the career of their dreams that want to be the hostess with the mostest. The girls that have pink crap plastered on their walls, photos of their high school prom and sorority sisters tucked away everywhere, match their overpriced bras with their over priced panties, spend 45 minutes doing their makeup just to slap sweats that say juicy across their bums to trek to class as if they woke up that way.
While I'm not one of them, in my magical dream world I could be the hostess of the Food Network show that did. The young crowd that wants to be sophisticated and still end the night too drunk to remember what really happened.
Yeah, I could teach them what their toaster oven is really capable of. Like chicken manicotti!
Cook's tip for making chicken manicotti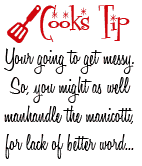 Chicken Manicotti - adapted from myrecipes.com
1 (8-ounce) package cannelloni or manicotti shells
4 cups finely chopped cooked chicken
2 (8-ounce) containers chive-and-onion cream cheese
1 (10-ounce) package frozen chopped spinach, thawed and well drained
1 cup (8 ounces) shredded mozzarella cheese
½ cup Italian-seasoned bread crumbs
¾ teaspoon garlic salt
1 teaspoon seasoned pepper
1 jar red sauce
Garnish: chopped fresh basil or parsley

Preparation

Cook pasta according to package directions; drain.

Stir together chicken and next 6 ingredients.

Cut pasta shells lengthwise through the other side. Spoon about ½ cup chicken mixture into each shell, gently pressing cut sides together. Place, cut sides down, in 2 lightly greased 11- x 7-inch baking dishes. Pour Roasted Red Bell Pepper Sauce evenly over shells.

Bake, covered, at 350° for 25 to 30 minutes or until thoroughly heated. Garnish, if desired.
And then it hits me as I am making my chicken manicotti, Food Network would never have me, because I'm pretty much a 14 year old boy on the inside - because,  as I'm slicing and filling these tubular hand sized pastas, I realized how I would describe how much to put inside each and laughed out loud knowing I will never been the next food network star.