Teriyaki beef stir fry is a delicious dinner that cooks up so quickly, it won't heat up your kitchen while you're cooking it. This is a good thing on an exceptionally hot day.
I'm pretty sure it was hotter then the surface of the sun on Thursday when my BF's mom and I went out plant shopping - which I wasn't anticipating - therefor wasn't dressed properly for... I'm pretty sure I melted. Ew.
I love warm weather, but holy hot flash, Mother Nature... give us a warning next time :p
We did go to an amazing garden where we bought all kinds of beautiful plants, grasses, herbs, and leafy things. Then we went to Home Depot and it was tragic in comparison (both variety and price), but she helped me pick out some nice new tools. And finally lunch.
It was a great day. I am very, very excited for all of my new plants (once they are all in *cough* tomorrow, I will take pics). I think if all goes well it will be a very pretty garden. And because someone doesn't like to be shown up on the productivity scale - we have a functioning pond in the back yard at the moment. We just hope the water hasn't evaporated from it by the morning.
Let's get on with making a teriyaki beef stir fry for dinner, shall we?
Type A Mommy's Teriyaki Beef Stir Fry - From Type A Mommys blog.

Ingredients

½ cup soy sauce
½ cup sugar
2 tablespoons mirin
1 teaspoon ground ginger
2 teaspoons cornstarch
1-2 garlic cloves, minced
2 pounds steak, sliced thin in bite-size pieces (I use top sirloin mostly)
½ head broccoli chopped up however you like it

1 red pepper thinly sliced

½ onion thinly sliced
1 cup snap peas
½ mushrooms
1 tablespoon vegetable oil

Instructions

1. Slice up your steak. Try to make the pieces the same size, where possible.
2. Heat up your vegetable oil in a 12-inch skillet, over medium-high heat until smoking.
3. Put your soy sauce, sugar, mirin, cornstarch, ginger and garlic cloves together in a small bowl and stir. Set aside for now.
3. Cook steak in batches. Do NOT crowd the pan - it will result in rubbery steak. Cook each batch for about 2 minutes per side. Set aside cooked steak in a bowl, and start your next batch. I usually wind up doing about 4 batches, all in all.
4. Once you've cooked all your steak, turn the heat down to medium and stir up your teriyaki sauce, then add to skillet. Stir sauce around skillet, making sure to scrape up any browned bits left in your skillet.
5. Simmer sauce over medium heat until thickened, dark and syrupy. This should take as little as 5 minutes, or as many as 10. Once thickened, simmer veggies for a few minutes until done to your likeness ( I still like mine relatively crunchy). Add meat and any accumulated juices back to pan and stir well. I usually let the meat simmer in the sauce for one minute or two while I finish preparing my rice to go with. Serve immediately.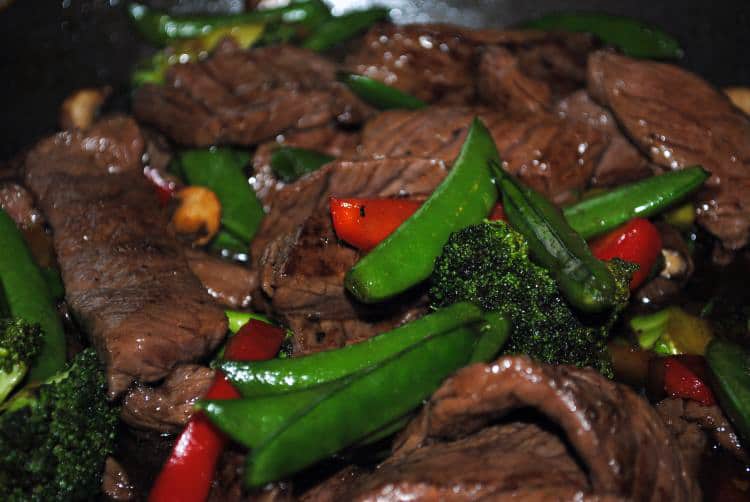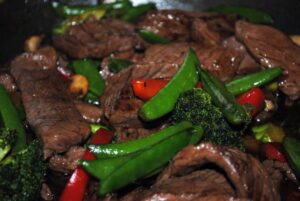 I saw this beef stir fry recipe on a SiTs featured bloggers site and wanted to try it right away. Knowing we'd be grilled out this weekend, I wanted to keep the food as far away from 'Americana" as I could get. This was flavorful, easy and quick. The prep work is what you'll spend 90% of your time on. Enjoy!
On a completely random side note, if you have never experienced cats with lasers, go treat yourself to some amusement.