This cranberry-apple quick bread recipe is super easy to make. It's loaded with apples and cranberries, so it's like having a bite of Fall for dessert.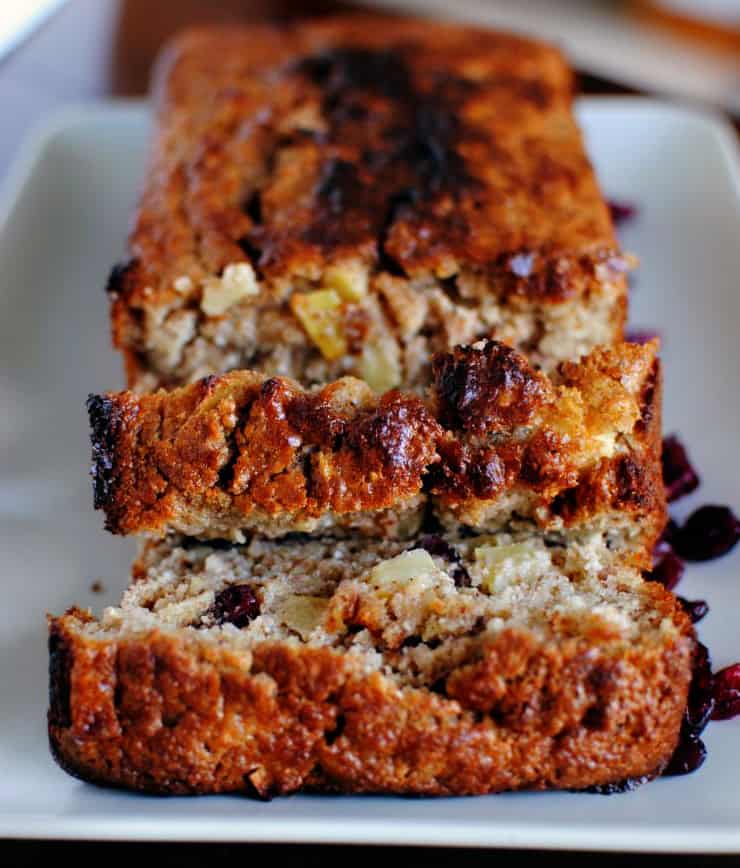 Let's talk Iron Chef America. Last night I caught another episode of the new Iron Chef competition and I just don't like it. I don't think a reality TV competition brings out the best in anyone nor does it make you an Iron Chef.
Are they making Ming Tsai out to be evil or is it just me? He is probably the most widely known chef on this season and has written some really awesome cookbooks – not to mention previously winning an Emmy for East Meets West. Maybe Chef Tsai really does have an evil streak and will do anything to win 0r do the producers at Food Network just want you to believe that? I'm sure if Tsai wasn't on the show someone else would accidentally be knocking artichokes into the trash can just to screw over the competition. I just think its a shame that reality TV makes me hate the entire cast. How can I want any of them to be the next Iron Chef if I don't even like them?
Back to my original point – being on TV doesn't make you an Iron Chef. I don't even think half of the current lineup of Iron Chefs are 'Iron Chefs.' Flay always defaults to sauces, Cora is boring to watch, Symon is growing on me and Garcis lacks personality. I am not saying these people can't cook – by all means they can throw down in the kitchen (no pun intended), but they just don't have that fun entertaining style that the old school Japanese Iron Chef had.
Yes, I left out Batali and Morimoto for a reason. I believe they are the two Iron Chefs of the bunch (well, while Batali was still on the show at least). Batali and Morimoto aren't reality TV stars. They are chefs. What makes them great on Iron Chef is that they are both great to watch. Their interaction with the ingredients, their staff and the camera makes them great all while constantly putting amazing food in front of the judges. I miss that kind of TV.
OK, Iron Chef America rant over. Promise.
But I bet Morimoto makes a killer cranberry-apple quick bread.
Hearty Cranberry-Apple Quick Bread
from: Tastespace
Ingredients:

2 eggs
1/4 cup butter, just barely melted
1/2 cup ricotta
1 tbsp vanilla
1 cup buttermilk
3/4 cup all-purpose flour (or whole wheat pastry flour)
1 cup ground almonds (or almond meal)
1/2 cup + 2 tbsp (for topping) brown sugar
1/2 cup rolled oats 1 tbsp. baking powder
1 tbsp. cinnamon
3/4 tsp ground ginger
1 tsp salt 2 cups chopped apple
1 cup fresh cranberries
Preparation:
Preheat the oven to 375F
Butter the loaf pan.
Whisk the eggs, butter, ricotta, vanilla and buttermilk together.
Add the dry ingredients together, including the cinnamon, ginger and salt and mix to combine. Gently mix in the buttermilk mixture until incorporated.
Fold in the apples and cranberries, but do not over mix.
Fill the loaf pan and sprinkle remaining 2 tbsp. of the brown sugar. Bake on the middle rack for 45 minutes until golden on top and springy to the touch. Test for doneness with a toothpick, as the type of pan and oven vary. Do not overcook, as it will continue to cook a bit more when you remove it. Remove and cool.