Meaty Louisiana Gumbo is loaded with chicken, Andouille sausage, pork sausage, and ham. This is a "stick to your ribs", hearty comfort food meal!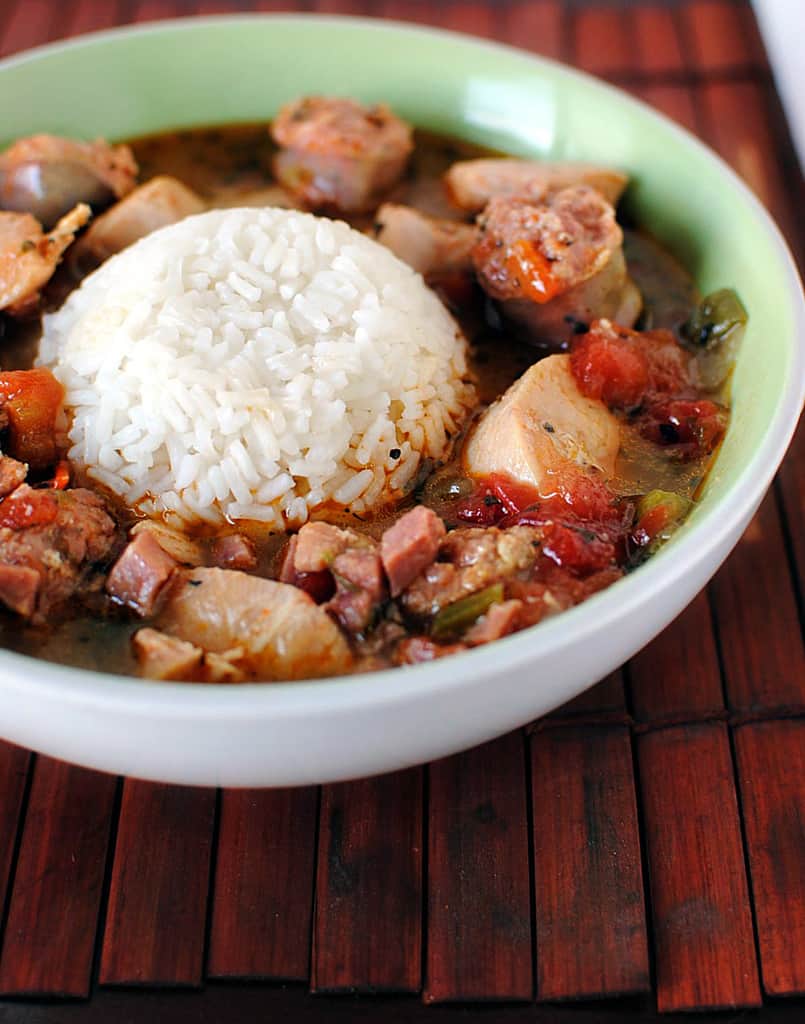 It's so cold here today that there were ice crystals on the inside of the back door for a large portion of the day. Now, I'm not complaining - it's winter, but it's bloody cold. The only good thing about the winter is the warm comfort food.
Cold weather brings out the best in hearty soups, stews and (not great for my waistline) comfort foods. Can't eat a pile of mac and cheese in the summer and not feel horrible about that bikini mocking you in the closet. In the winter, the hoodie easily hides the guilt.
I wasn't raised in the south, but I should have been (at least I'd be warmer). My love of southern food is a bit ridiculous. I can't turn down red beans and rice, nor can I pass up an opportunity to make a mouth watering, meaty Louisiana gumbo.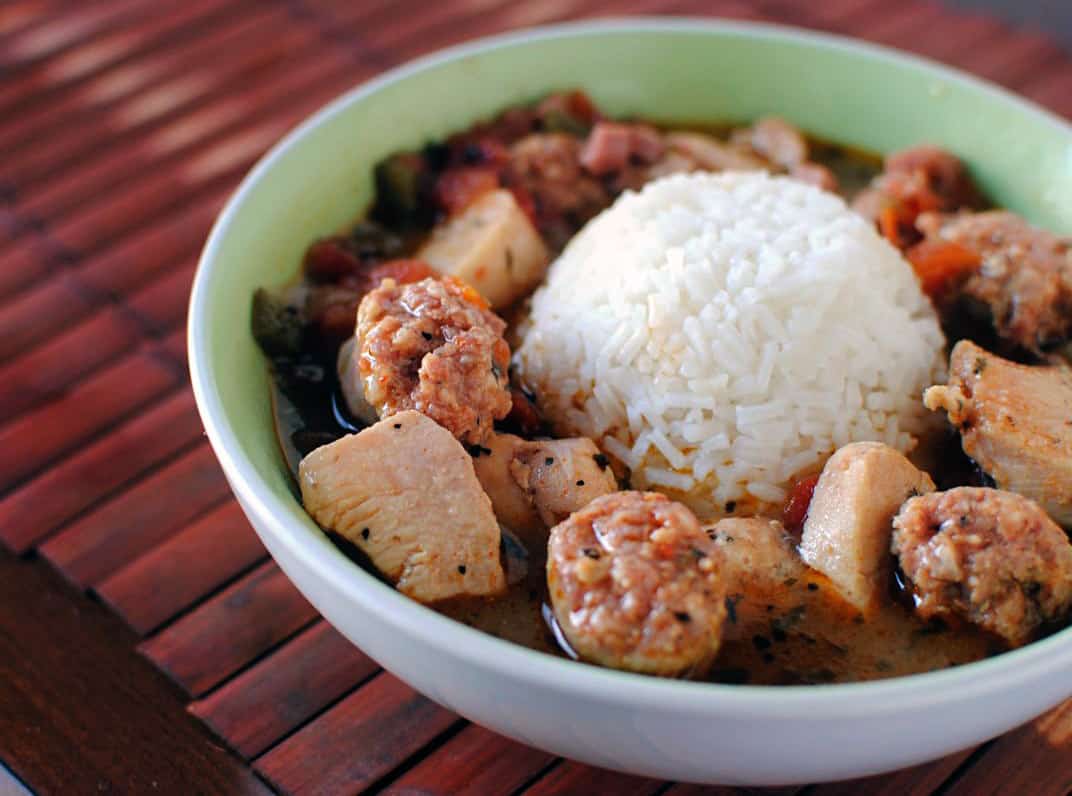 Meaty Louisiana Gumbo Recipe
From Cooking Up A Storm
Ingredients:

1 tbs salt
1 teas black pepper
¼ cayenne pepper
1 (3 - 4 lbs) fryer chicken, cut into serving pieces
¼ cup vegetable oil
½ lbs andouille sausage, sliced into ½" pieces
½ lbs fresh pork sausage, slices ½" thick
½ lb smoked ham, coarsely chopped
¼ cup all-purpose flour
¼ cup chopped yellow onion
½ chopped green bell pepper
½ cup chopped celery
1 (10 ounce) can Ro-Tel diced tomatoes and green chile
2 cloves garlic, chopped
6 cups warm chicken stock
2 bay leaves crushed
1 teas dried thyme leaves
½ teas dried basil leaves
½ cup chopped fresh parsley, plus more for garnish
Green onions and file for serving
Preparation:
Combine the salt, black pepper, and cayenne in a shallow dish. Sprinkle the chicken pieces with the mixture. (Reserve the remaining seasoning mixture, if any.)
Heat the oil in a large heavy pot or Dutch oven over medium heat and brown the chicken pieces evenly, in batches if necessary. Using a slotted spoon, transfer to a platter and set aside. Add the sausages and ham to the same pot, and brown evenly. Using a slotted spoon, transfer to a platter and set aside.
Slowly add the flour and, stirring constantly, make a dark brown roux. Add the onion, bell pepper, celery, tomatoes and garlic. Cook, stirring until the vegetables are tender. Slowly add the stock and bring to a boil.
Add the browned chicken, sausages and ham. Simmer for 1 hour. Add the leftover seasoning mixture, if any, of salt, black pepper, and cayenne, as well as the bay leaves, thyme, and basil. Simmer for 15 minutes. Add the ½ cup of parsley and simmer for 10 minutes.
Serve the gumbo over a scoop of potato salad.** Garnish with parsley and green onions and allow people to add file to taste.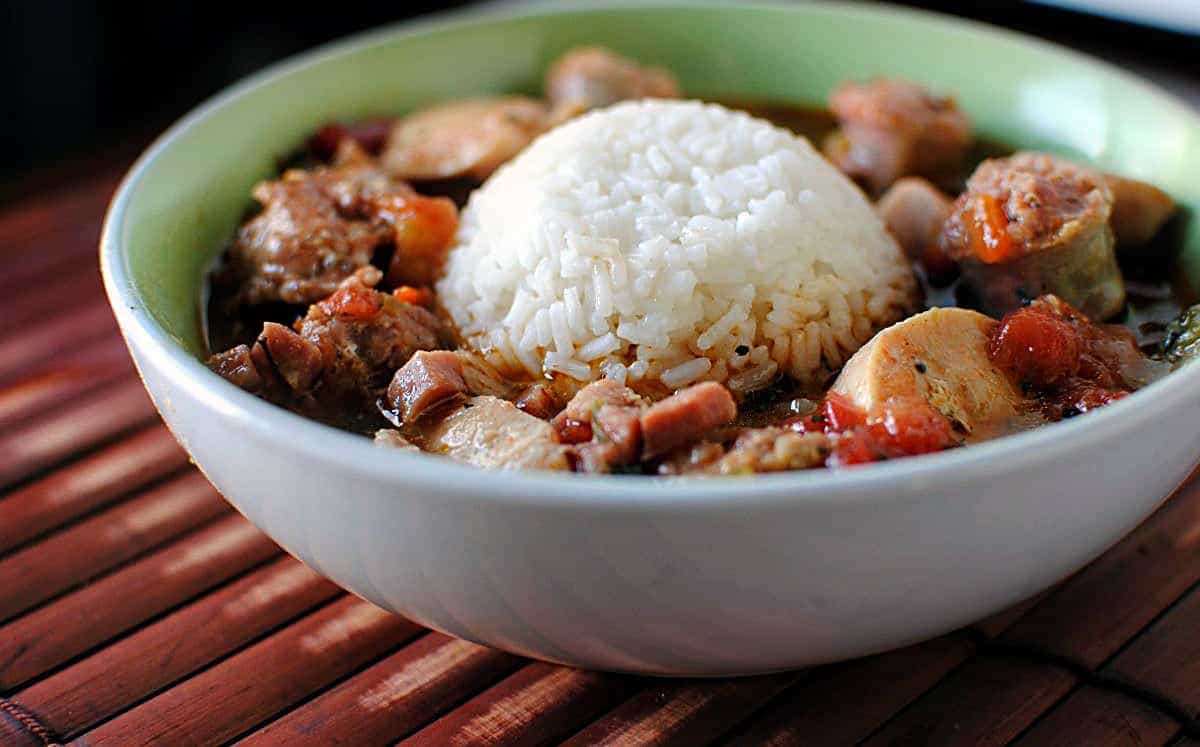 **That's right, it says potato salad. This recipe came with a potato salad recipe to serve together and it wasn't until I got home that I realized I'd forgotten the potatoes. Sadly, we went with rice.
Like all good things, making this meaty Louisiana gumbo takes time.
I like it better on day three rather than right out of the pot on day 1. The flavors have to get to know one another before the party really begins - and once it does, good luck putting down that spoon.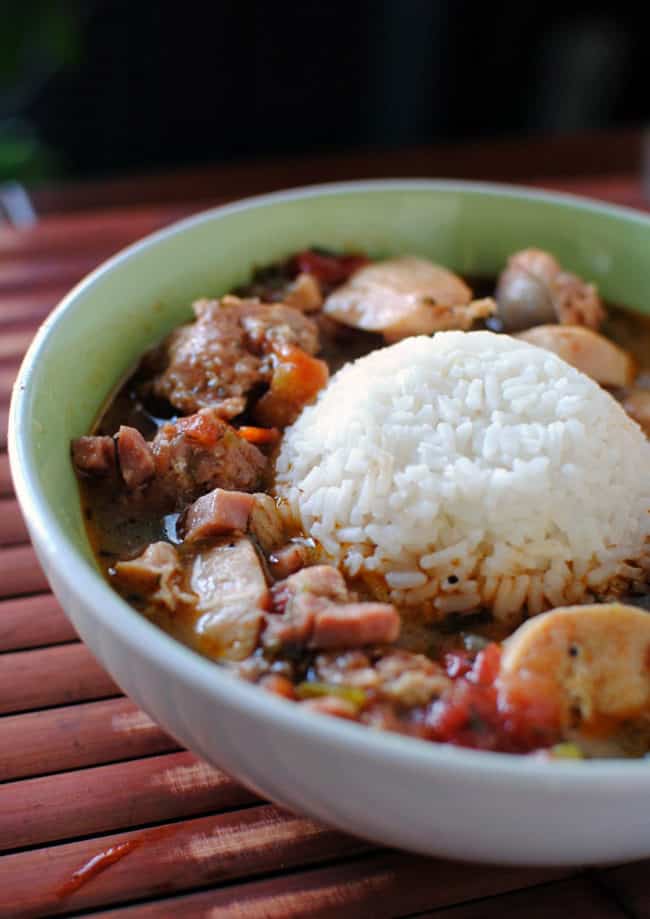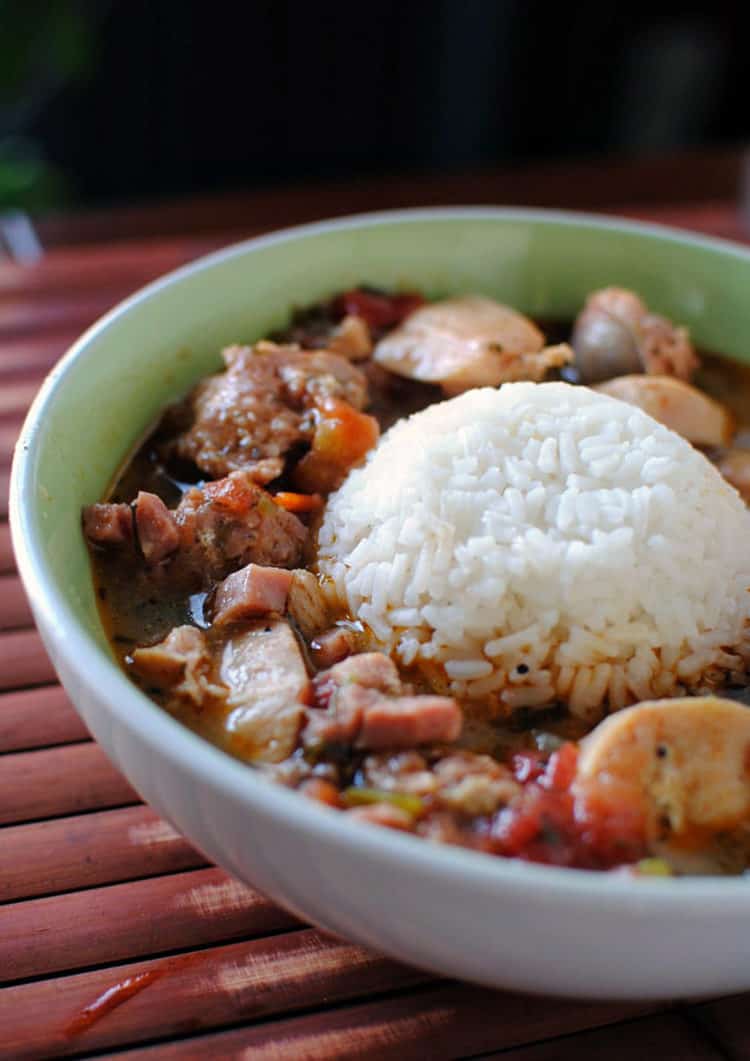 Thanks for all the love and comments yesterday with the Foodbuzz Top 9! I've added some newness to the site. There is now a Facebook 'like' thingy on the right hand side bar and for my daily randomness, make sure to follow me on twitter.