Uncomplicated and perfect in its simplicity, Flourless Chocolate Cake is a rich special occasion dessert that is perfect enough to stand alone.  And better yet, it's really not complicated to make at home.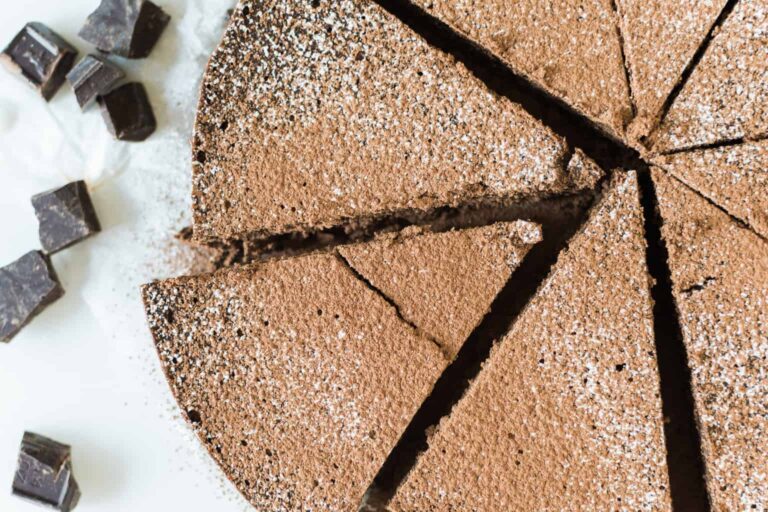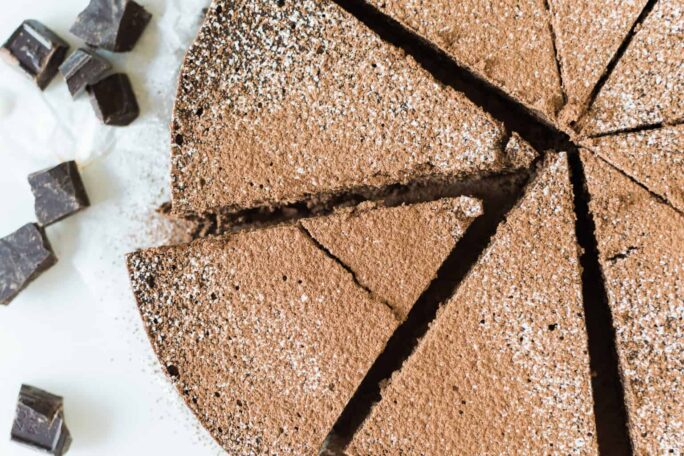 Ever debated over dessert, agonizing over each of the delicacies on them menu, finally, making a choice, to sink your fork into that first bite and for it to be horrible?
That happened once. And really, it's dessert. They are all good. How does that even happen?
Out with friends and having a great time, we decided to split a flourless chocolate torte (my first one). It came out with a fresh spring of mint in a dollop of whipped cream with a raspberry reduction sauce. Except it wasn't.
It was duck sauce.
Like, seriously. Duck. Sauce. 
Someone must have mixed up the bottles or something because it was the worst flavor combo I have ever had. And being with friends, and not wanting to seem crazy, we all tried a teeny bite just to confirm.
Sadly, I have never ordered flourless chocolate torte or cake anywhere since. One bad experience with duck sauce and that ship had sailed for me. Which is sad, because it's pretty much the staple on every single menu right now. And it's a rich dense chocolatey dessert.
Determined to not let myself live the rest of my days a sorrowful flourless chocolate cake-less bitty, I got into my kitchen and went to the best resource a baker can have besides a little Julie Child in the DNA, Cook's Illustrated. Thinking I wanted a core taste of this classic cake – but with a little twist to see if I could make it a "Mexican" version of flourless chocolate cake with the kick of spice and a bit of cinnamon.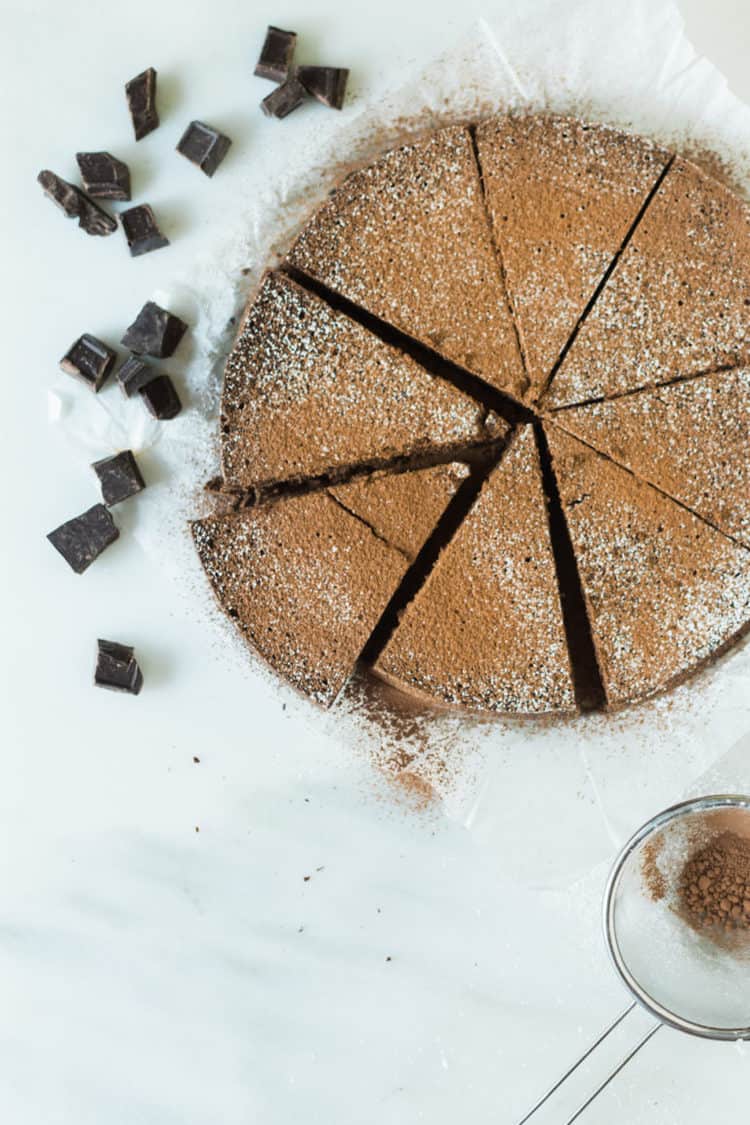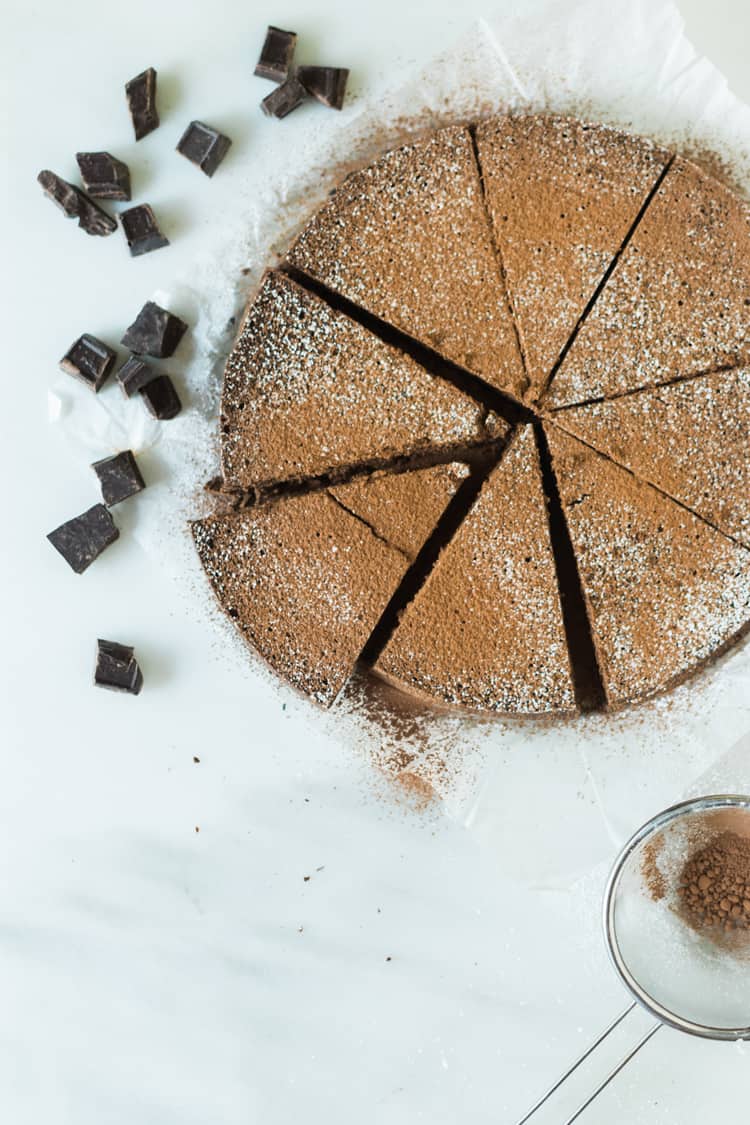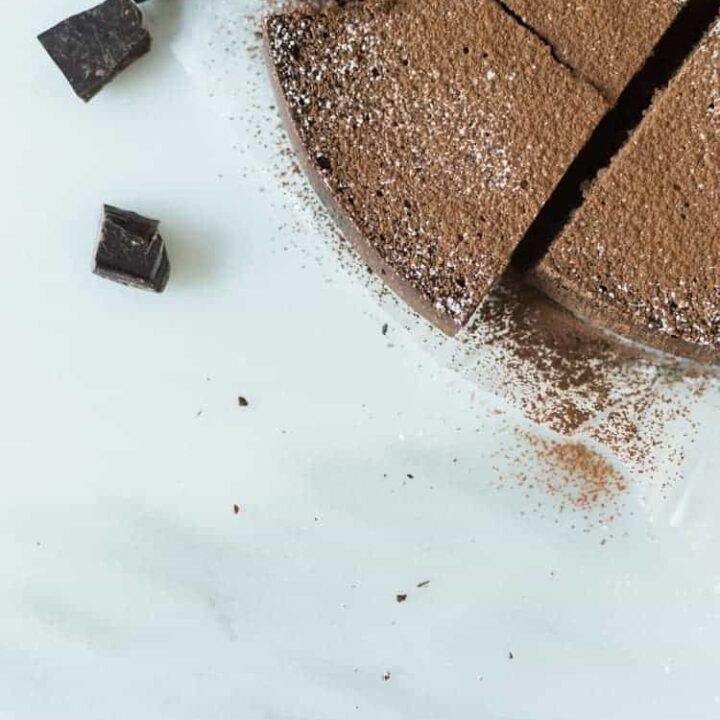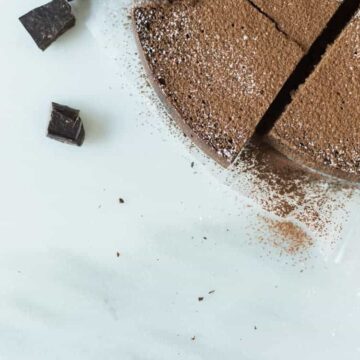 Cinnamon Spiked Flourless Chocolate Cake
Originally, this recipe called for strong coffee, and where that sounding amazing, I was inspired by Mexican brownies - with their hint of heat - to mix things up and see what I could create.
Print
Pin
Rate
Ingredients
8

cold large eggs

1

lbs

bittersweet chocolate

-

roughly chopped

16

tbs

unsalted butter

1/4

cup

cinnamon schnapps

1/4

teas cayenne

pinch

of salt

Confectioners' sugar

-

cinnamon, and cocoa for dusting
Instructions
Line a springform cake pan with parchment paper and grease. Carefully wrap the pan in a double layer of aluminium foil to seal the bottom and prepare for a water bath. Adust your oven rack to the lower middle slot and preheat the oven to 325 degrees. Set a kettle of water to boil, you will need it when you are ready to bake for the water bath.

In the bowl of your mixer, beat the eggs on high until they doubly in volume, about 5 minutes.

Melt the chocolate and butter in the top bowl of a double boiler over just simmering water until smooth. Gently stir once or twice to ensure even melting. Off heat, stir in the cinnamon schnapps until combined. Add the cayenne and the pinch of salt and gentle stir to combine.

Fold in the eggs in three batches, working to fold in completely each time.

Pour the batter into the prepared pan and nestle into a large roasting pan. Carefully pour enough of the boiling water to come halfway up the sides of the cake pan.

Bake for 22-25 minutes.Remove the cake carefully from the water bath and set on a wire rack. When cooled, wrap and place in fridge over night.

30 minutes before ready to serve, remove the sides of the cake pan and flip onto a serving tray, removing the paper. Just before slicing, dust with confectioners' sugar. Mix a tablespoon of cocoa powder with a teaspoon of cinnamon and dust the cake.
Notes
Nutritional informations provided as a courtesy and is only an approximatation. Values will changes based on ingredients used.
⭐ Tried this recipe? Rate it ⭐
Help out the next person and give it a star rating below!