Cranberry bean pasta fagioli is a hearty comfort food soup. Cranberry beans are added to a traditional Italian soup with pasta, kale, and pancetta. Beyond delicious!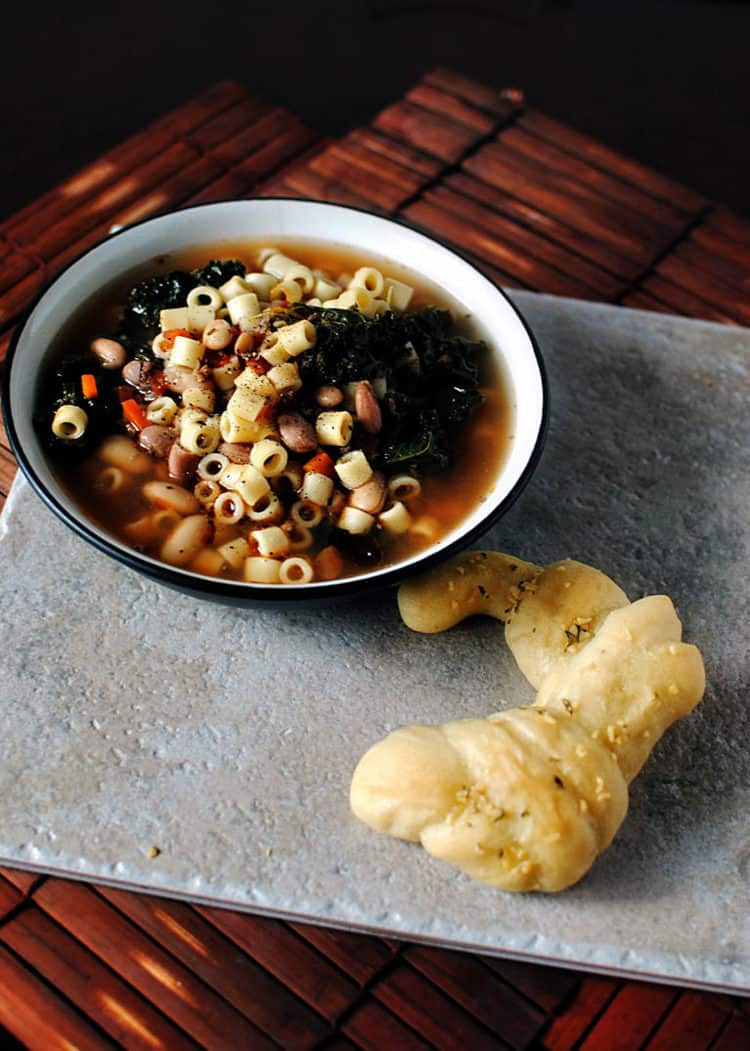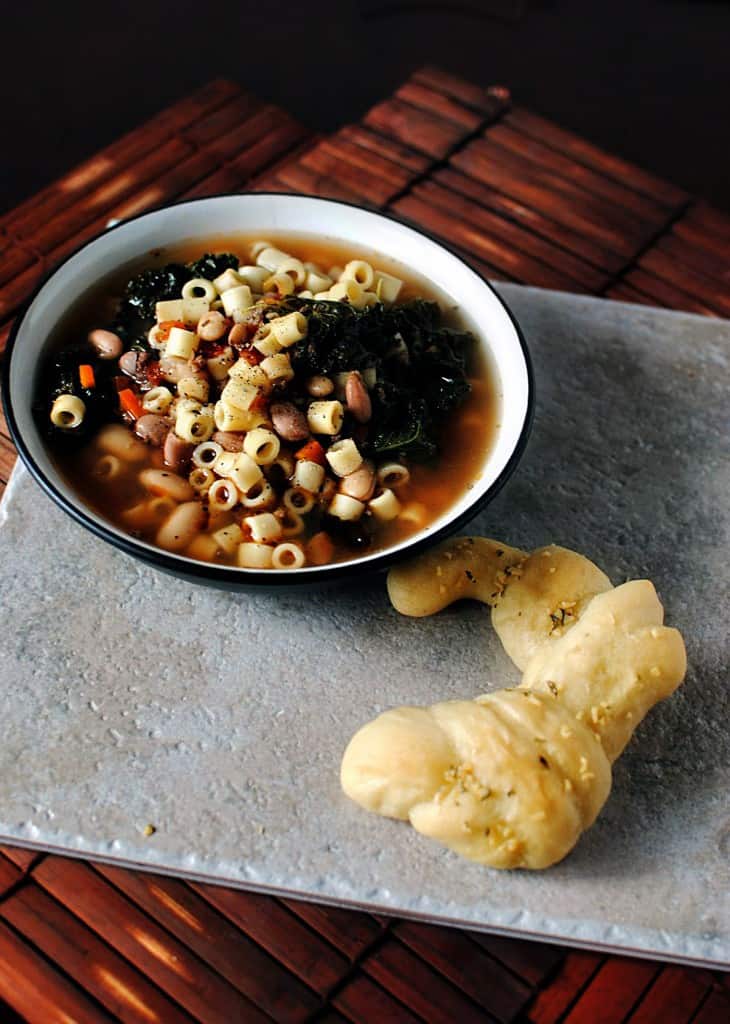 I've caught a mean case of Spring Fever. It's normally cold through March in my neck of the woods, with warmth breaking through here and there. Well, Mother Nature herself went and teased us with a 60 something degree last week and ever since I have been craving my flip flops like crazy.
As much as I want the warmth, I am also now rushing to get in all of the winter recipes I haven't made yet. I may want to be grilling burgers outside from now until forever but there are so many comforting soups, stews and other hearty meals that I won't want to make when its 99 and humid. Like this cranberry bean pasta fagioli.
Oh, and are you wondering what a cranberry bean is?
It's not a cranberry, but does have the color of one. It's creamy textured bean that's sweeter than pintos or kidney beans. They're white with cranberry colored speckles. They're sometimes called Borlotti beans.
Cranberry Bean Pasta Fagioli
Ingredients:
5 tablespoons extra-virgin olive oil, plus more for drizzling
5 cloves garlic, smashed
1 small onion, roughly chopped
1/4 teaspoon red pepper flakes, or more to taste
1 teaspoon finely chopped fresh rosemary
1 2-ounce piece pancetta (optional)
5 canned whole San Marzano tomatoes, crushed by hand
Kosher salt
3 pounds fresh cranberry beans in pods, shelled (or 1 cup dried cranberry beans, soaked overnight)
2 bay leaves
1 piece Parmesan cheese rind, plus 1/2 cup grated parmesan, and more for topping
2 cups small pasta, such as shells or ditalini
1 bunch kale, stems and ribs discarded, leaves chopped
1/4 cup roughly chopped fresh parsley
Freshly ground pepper
Preparation:
Heat 3 tablespoons olive oil in a large pot over medium heat. Add the garlic, onion, red pepper flakes, rosemary and pancetta, if using, and cook 2 minutes. Stir in the tomatoes and cook 2 more minutes; season with salt. Add the beans, 3 quarts water, the bay leaves and parmesan rind. Cover and bring to a boil, then reduce the heat to low and simmer until the beans are tender, 1 hour 30 minutes to 2 hours.
Uncover the pot and bring the mixture to a boil over high heat. Add the pasta and cook until al dente, about 8 minutes. Add the kale and cook, stirring occasionally, until tender, 5 to 6 more minutes. (The soup should be thick and creamy; thin with water, if necessary.)
Remove the bay leaves, Parmesan rind and pancetta, if used. Add the grated Parmesan, parsley, the remaining 2 tablespoons olive oil, and salt and pepper to taste. Top with more olive oil and Parmesan.
What I did differently:
I added
1 cup finely diced carrot
1 lb ground hot sausage, browned
upped the pasta to a 1 pound box because I was feeding some very hungry men and wanted them to get the most out of this meal.
I served this with these cute little Garlic Knits from Runs with Spatulas.