Aka, the only cake that ever really mattered.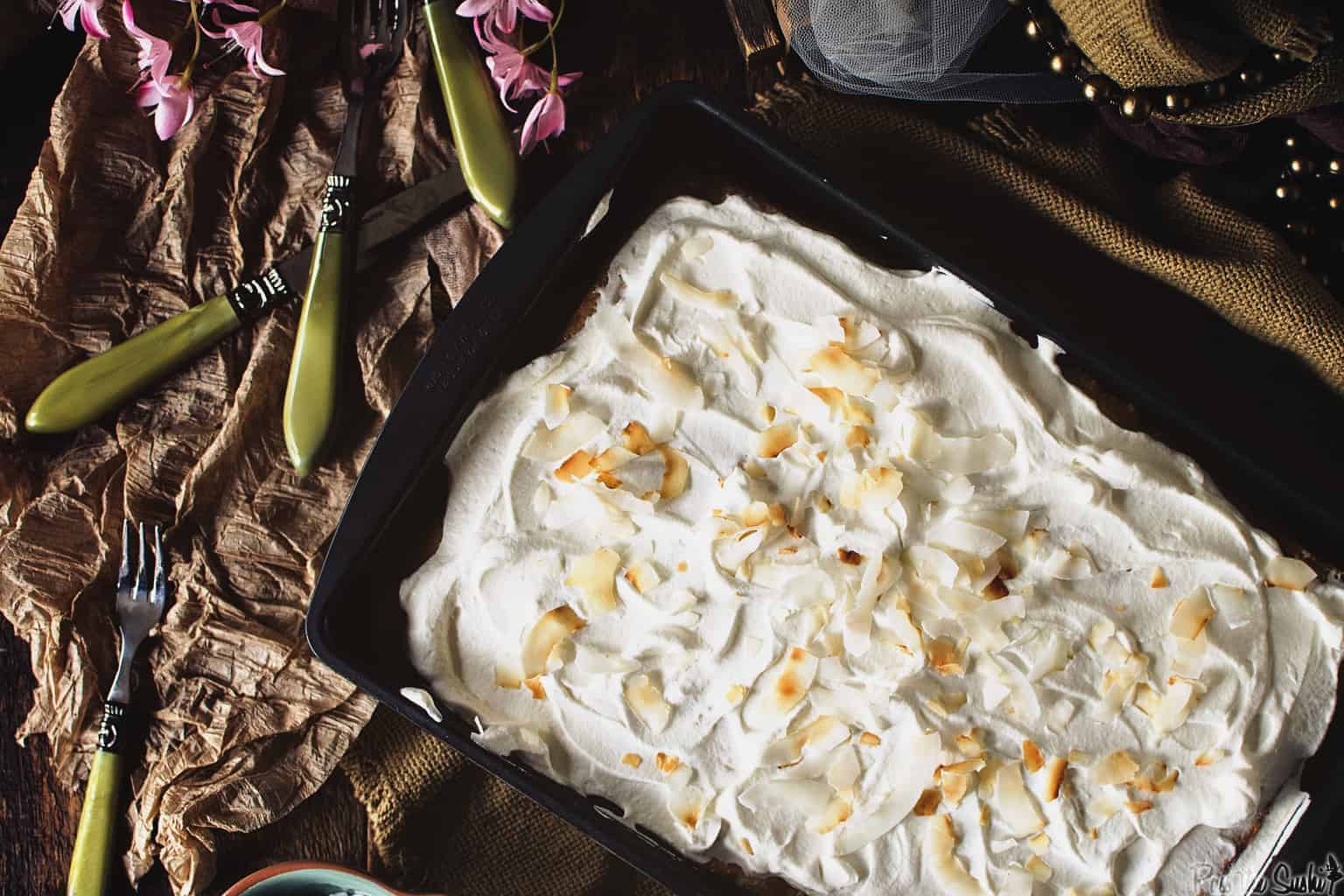 If you had to pick one, only one, cake to have for the rest of your life, what would it be? For years, red velvet would have been my winner. Hands down. But then I was introduced to tres leches cake. It's like the be all end all of sinful cakes. Tons of eggs, sugar and all the milks. I hate to say it, but I think even though cream cheese icing is where it's at, tres leches cake just knocked red velvet out of the number one spot.
This weekend we were able to spend some much-needed quality time out on a hike with a friend. It was a small chunk of the long wonder that is the Appalachian Trail called Annapolis Rock. I ended up with a wicked sunburn and a huge yearning for more hikes. I realized at dinner my phone had stayed on airplane mode for most of the day and that I had no desire to fill the social media streams with pictures of my pancakes (though, in hindsight, they were awesome and I should have). It's amazing how a few hours of fresh air and green instantly cures simple obsessions and our constant need to push buttons – at least for myself. The view… that I did snap a photo of….
Worth it. (And I think I totally earned a slice of this cake too)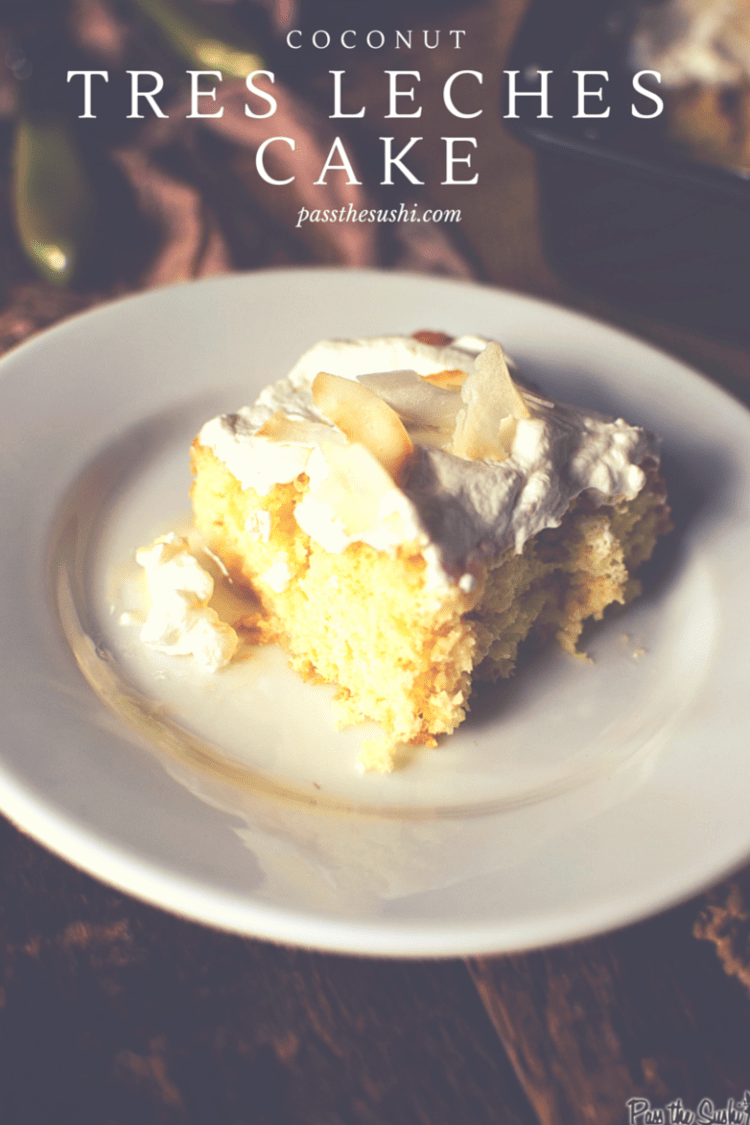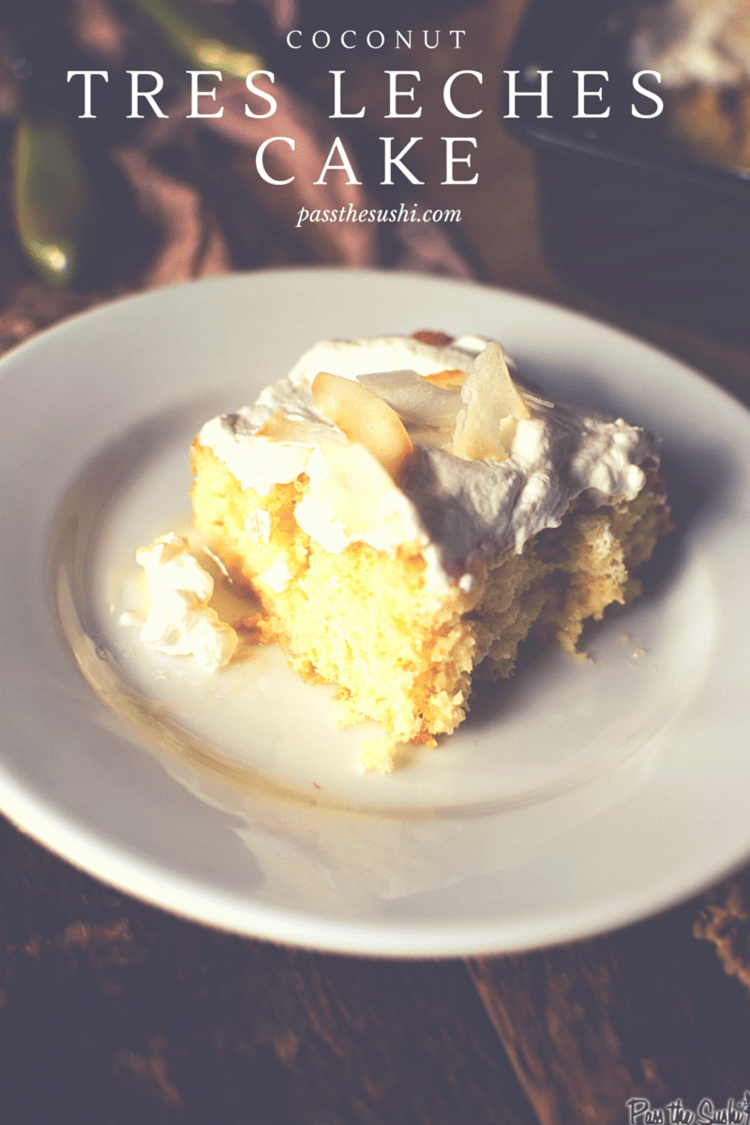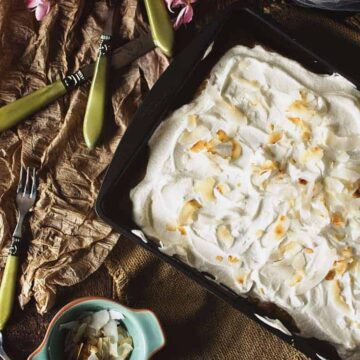 Ingredients
1

cup

flour

6

large eggs

1

cup

sugar

1 14

oz

can sweetened condensed milk

2/3

cup

evaporated milk

1/2

cup

unsweetened canned coconut milk

2

tbs

dark rum

-

divided

1

cup

shaved coconut

1 1/2

cups

heavy cream

1

tbs

powdered sugar
Instructions
Heat oven to 325 degrees F. Grease a 9×13 baking dish and set aside.

If you have two mixing bowls for your stand mixer, this is the time to break them out. Otherwise, just know there is a rinse coming up.

Seperate the eggs. Place the yolks in the bowl of your stand mixer and the whites in another bowl (Or additional mixing bowl if you have one).

Add the sugar to the egg yoks and beat on high until smooth, pale yellow, and thick, about 5 minutes. Transfer the egg yolks to another bowl, and clean out the mixing bowl well. Dry the bowl completely and add the egg whites. Whisk on high for 1 1/2 minutes, until moist peaks form.

Add about 1/3 of the egg yolk mixture to the whites and gently mix to combine. Add the remaining egg yolk mixture and fold until combined.

Whisk the flour in a bowl then sprinkle over the egg batter. Fold in, until no streaks remain, but being careful to not overbeat (and deflate) the batter.

Pour the batter into the prepared pan and bake for 20 to 25 minutes, until golden and pulling away from the sides of the pan.

Poke holes all over the top of the cake and allow to cool for 15 minutes.

Meanwhile, whisk the milks and 1 tablespoon rum together in a large bowl. Pour evenly over the cake.

Allow the cake to sit for 45 minutes longer. Wrap with plastic wrap tightly and let stand in fridge for at least 4 hours.

When ready to serve, toast the coconut in a preheated 325 degree oven for 3 to 5 minutes. whisk the heavy cream and powdered sugar.

Whisk the heavy cream, remaining tablespoon rum and powdered sugar in the bowl of your stand mixer until peaks form. Spread evenly over cake and sprinkle the coconut over top. Slice and serve.
Notes
Nutritional informations provided as a courtesy and is only an approximatation. Values will changes based on ingredients used.
⭐ Tried this recipe? Rate it ⭐
Help out the next person and give it a star rating below!