Walk through the streets of most European towns from mid-November on, and you will see elaborately decorated holiday villages erected selling wares from nativity candles, holiday ornaments, sweets, meats, and always gluhwein. It's a magical escape into the holidays that I just don't get when rushing over to my local mall and milling about between aggressive shoppers, that is until I discovered Ann Arbor in December.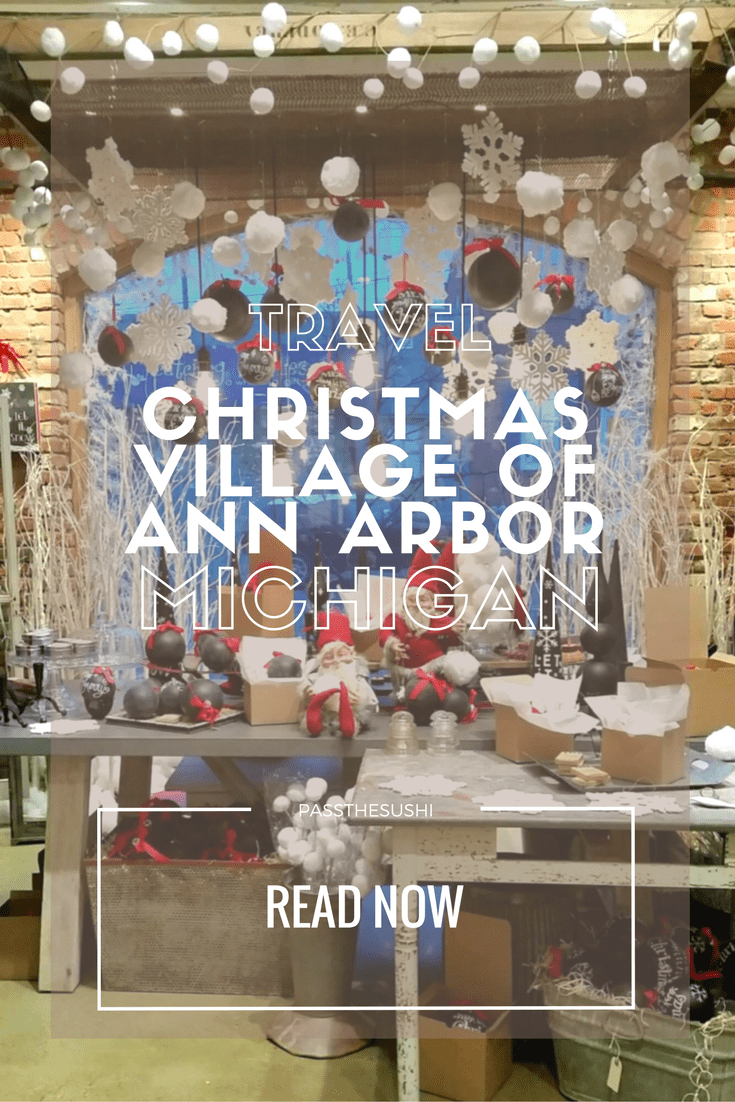 Late one night while exploring Ann Arbor, Michigan in early December, I noticed the streets weren't thinning of people. They were becoming more crowded. The auto traffic had dispersed, but the pedestrian traffic was becoming overwhelming. It seemed everyone had come out tonight. The shops were each and all popping their doors open and holiday music was blasting from every speaker. The University of Michigan medical students were lined on the street corners, collecting donations.
"It's Tag Weekend!" A local happily shouted to me as I looked on confused as if that announcement alone summed up all of the surrounding hustle. My guide explained that every December, for Tag Weekend, the students line the street corners and collect money for children in Washtenaw County. It comes with a genuine local pride, as it's was their 89th annual Tag Weekend, the students have been showing up to collect donations for longer than some cities have been around.

Donators are promptly handed a tag, hundreds already proudly walking with their tags pinned to their lapel. Once you have a "tag," no one asks you to give again, however, passersby with no tag will find themselves urged at every corner of the bustling shopping district by the jubilant students. As someone not wearing a tag (just yet), at every street corner a gentle reminder and encouragement to show support for the festive weekend was issued. I didn't find it harassing, actually, the level of enthusiasm from everyone was downright contagious. I proudly pinned a tag to my jacket and walked on.

As I continued, as I ducked into a small home goods shop, Thistle and Bess smelling of wonderful candles and odds and ends, a quirky owner greeted me with a smile, a cookie and a little passport that encouraged me to visit all of the local shops. The whole city was buzzing with holiday cheer and energy.
Finally, I entered the Kerrytown Kindlefest, an organized Christmas market filled with stalls promoting homemade crafts, sweets, treats, and even gluhwein. Local artists encouraged to display their wares, grandmother's sharing their classic pies, children given lanterns to parade about, musicians playing holiday classic and friends chatting together around bonfires.

I noticed the owner of TeaHaus scooping a massive pile of kraut over steaming brats and curiously asked her what she was doing there. She lit up with a smile and told me how she had traveled to Europe and seen the markets there. Like myself, she was invigorated by the elaborate handmade decorations, smalls shops, delicious foods, but mostly the joy it inspired. She'd been so inspired by her travels, she brought the idea of the markets back to her city, helping to shape Kindlefest with those holiday markets in mind.

Taking it all in, this was the community I had seen created in the festive markets while traveling abroad, and it had been transported here for one night, to Ann Arbor. The city was fun and festive, leaning in on itself to build this enthusiasm and pride. The people were merry, proudly wearing their Tags and chatting from shop to shop. A real triumph of a neighborhood coming together, shopping local and celebrating the season.
As I nibbled on a Bavarian style pretzel and sipped the spicy mulled wine from my mug, I added Ann Arbor to my list of places to visit again, even if it was just for a weekend.

While exploring Ann Arbor, I was able to dine at several fabulous restaurants (where I became obsessed with Lamb Dolma), enjoy passionate conversation from young entrepreneurs, and fly over the Big House in a vintage plane from Willow Run Airport. Even if you can't make the first weekend of December for Tag Weekend and Kerrytown Kindlefest, Ann Arbor has thousands of locally owned shops, creative restaurants, and inspiring stories.
I was graciously hosted for my time in Ann Arbor, but as always, the thoughts and opinions are my own.