Christmas dinner at its finest includes making Glazed Cornish Hens with Pomegranate-Rice Stuffing. Elegant, but incredibly easy to make, and gorgeous, too.
Christmas wouldn't be the same (in this modern world of ours) without Christmas dinner and the specials on TV. I love finding the same classic movies on over and over again, starting around Thanksgiving. Nothing quite makes you smile like the distant hum of all the Whos down in Whoville, or when Linus gives his Christmas monologue. That is the meaning of Christmas, Charlie Brown.
So what do Christmas specials have to do with food? Not a whole lot. But, these Cornish hens reminded me of the humble Christmas dinner that Bob Cratchit served to his family. That's another Christmas classic my dad would always watch late at night, after everyone was in bed, and he stayed up making sure all the presents looked just so.
Cornish game hens are the perfect portion for a small family/friends get together for the holidays. And they cook faster than a big roasted turkey. The pomegranate-rice stuffing is an interesting take on traditional stuffing and really dressing thins up a bit.
I hope your Christmas dinner is magically perfect.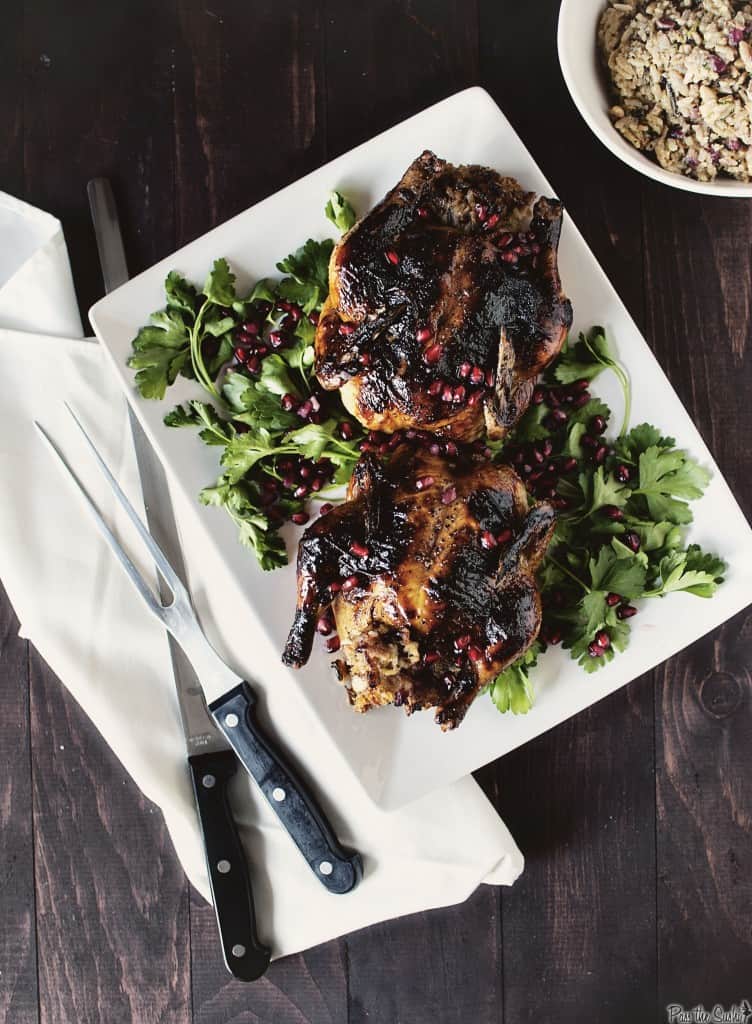 Holiday meals can become quite the extravagant feasts. If you are looking to fill yours out a little, try these recipes! So Good!

Home-Style Mashed Potatoes and Roasted Green Beans
Slow Cooker Rum Soaked Fig Cranberry Sauce
Double Cheddar Biscuits
If you've tried my Cornish Game Hens with Pomegranate-Rice stuffing recipe or any other recipe on passthesushi.com please don't forget to rate the recipe and let me know where you found it in the comments below, I love hearing from you! You can also follow along for more good eats and travel tips on Instagram @passthesushi & @girlcarnivore, Twitter & Facebook.
Yield: 4 Game Hens
Glazed Cornish Hens with Pomegranate-Rice Stuffing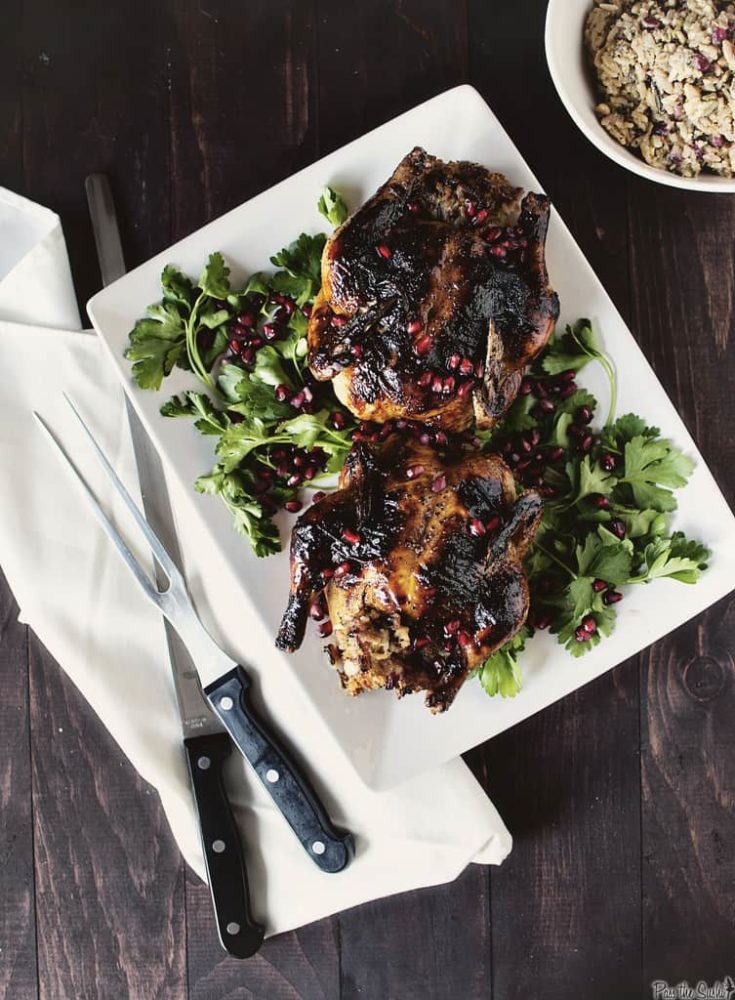 Christmas dinner at its finest includes making Glazed Cornish Hens with Pomegranate-Rice Stuffing. Elegant, but incredibly easy to make, and gorgeous, too.
Total Time
2 hours
20 minutes
Ingredients
¾ teaspoon ground cinnamon
Kosher salt and freshly ground pepper
4 Cornish hens (about 1 ¼ pounds each), rinsed and dried
3 cups low-sodium chicken broth
1 ½ cups wild rice blend (I used a box of Uncle Bill's Wild Rice blend without the seasoning package).
6 tablespoon unsalted butter
1 large shallot, minced
1 clove garlic, minced
¾ teaspoon ground ginger
¾ teaspoon ground cumin
½ cup pomegranate seeds, plus more for serving*
2 tablespoon chopped fresh parsley, plus sprigs for serving
2 tablespoon chopped fresh cilantro, plus sprigs for serving
3 large egg yolks
¾ cup fresh orange juice
1 tablespoon pomegranate molasses
Instructions
Mix the cinnamon, 4 teaspoons salt and ½ teaspoon pepper in a bowl; sprinkle all over the hens and inside the cavities.
Place the hens on a rack set on a rimmed baking sheet and refrigerate, uncovered, at least 2 hours or overnight.
Bring the chicken broth and 2 cups water to a boil in a saucepan; add the rice blend and cook as the label directs. Drain and rinse under cold water.
Preheat the oven to 400 degrees F.
Melt 4 tablespoons butter in a large skillet over medium-high heat. Add the shallot, garlic, ginger and cumin and cook, stirring, until soft, about 3 minutes.
Remove from the heat; add the cooked rice, pomegranate seeds, and chopped parsley and cilantro; toss to coat. Season with salt and pepper.
Add the egg yolks and stir to combine.
Make the glaze:
Bring the orange juice and pomegranate molasses to a boil in a small skillet over medium heat. Cook until reduced by half, about 5 minutes.
Remove from the heat and swirl in the remaining 2 tablespoons butter.
Stuff the Hens:
Fill the cavity of each hen with about ½ cup of the rice mixture (reserve the rest); tie the legs together with twine.
Roast 20 minutes, then brush with the pomegranate glaze.
Continue roasting, glazing every 10 minutes, until a thermometer inserted into the thigh registers 165 degrees F to 170 degrees F, 1 hour to 1 hour, 10 minutes. (Rotate the hens halfway through cooking; if the skin gets too dark, cover loosely with foil.)
Spoon the reserved rice into a pie dish, sprinkle with water and cover with foil.
After the hens have roasted about 20 minutes, transfer the rice to the oven and cook until heated through, about 45 minutes. Keep an eye it because it goes for browning to dark brown in a matter of moments as evident by my pics.
Transfer the hens to a platter and add some parsley and cilantro sprigs and pomegranate seeds.
Notes
*I got enough seeds from one pomegranate to use for the rice and to serve. To remove the seeds, cut the pomegranate in half over a paper towel and in a bowl of cool water, rub your thumbs over the seeds to extract them, as seen in this video.
Nutrition Information:
Yield:
8
Serving Size:
1
Amount Per Serving:
Calories:

559
Total Fat:

35g
Saturated Fat:

13g
Trans Fat:

0g
Unsaturated Fat:

20g
Cholesterol:

284mg
Sodium:

227mg
Carbohydrates:

24g
Fiber:

2g
Sugar:

6g
Protein:

35g
Nutrition information provided is an estimate from nutritionix.com. For specific health concerns, please put the recipe into your Dr recommended nutrition calculator.
Now that Christmas dinner is taken care of...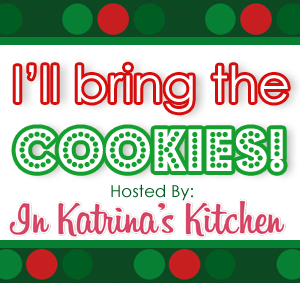 Exciting News! Today I bring the cookies to Katrina's Kitchen! Please go check out my Grasshopper Pie Cookies on her site. I can't tell you how excited I am to be featured on Katrina's site and how much fun it was coming up with this cookie recipe for her cookie exchange. I would love for you to go over and check out my recipe and all the other wonderful cookie recipes my foodie friends have been sharing all month on Katrina's site.